Yes, I know, it's almost November. This is quite embarrassing., especially as I saw two of these on press tickets. I have a sort-of excuse that I've had my usual Edinburgh Fringe backlog combined with a couple of projects of my own that kept me busy. But no more excuses, let's get a move on. Saw a quite a lot of small-scale productions over the north-east, all of which deserve feedback, so I'd better make a start. I had quite a busy September with five local fringe productions seen, excluding mine.
Remember, I only review stuff that has merit. It might be what it is now, it might be what it could become, but if I I think you play is irredeemably poor or inescapably mediocre, I won't be reviewing it at all. plays are listed in chronological order, so don't read anything else into that. Anyway, here we go.
Beyond the End of the Road
This wouldn't normally go into my reviews because I generally don't review scratch performances. It might influence whether I choose to recommend the final product when it comes, but I normally prefer to deliver a verdict on the final product. However, I'm going to break the rule here because this work in progress from the November Club shows lots of lots of promise.
In a rare break from precedent, this is a north-east theatre group not based in Newcastle; The November Club are instead based in Morpeth. Admittedly, they have imported a lot of the talent from Newcastle; they've got a lot of big guns from the Newcastle scene, such as part of The Letter Room (Northern Stage's first company they set up under the NORTH scheme), and Laura Lindow who has directed many acclaimed productions including Donna Disco. The most high-profile local name is Katie Doherty, who was very heavily Newcaslte-baed but now lives in Northumberland. Crucially, however, this isn't yet another Newcastle-centric clique painting the entire north-east as generic suburbs of Geordieland. This play, set in rural Northumberland, has made a lot of effort to speak to the communities where the play is set. It seems to me like they've done a good job with a convincing depiction, but I should really defer judgement to the Northumbria locals who saw the preview, who gave it a resounding thumbs up.
So far, the story primarily centres round two outsiders returning to the village they grew up in. Both have their own reasons for coming home that start to emerge in a play: one seems to be escaping from a failed relationship, the other seems to be on a mission to save the family farms from a set-in-the-ways father. But the biggest attraction is not the story, nor the work gone into the into the research, but the way this is staged. Laura Doherty has provided a good musical score to this, but it's not just her but the entire cast who sings and plays. And the rest of the time – the musical instruments because props for everything else in the story. Can you use a guitar to represent a shovel used by the workmen digging for the new road? Yes you can.
I guess the biggest challenge now will be to keep the story on course. Many good ideas in scratch from devised theatre groups fizzle out as a full-length piece, but the danger here is that there's so many story threads they could end up drowning the stories that really matter. But Laura Lindow assures me she had this in hand. I hope the November Club can get resources needed to make this into a full piece, because it's well worth doing. Final observation is that off-hand I can't think of as strong as the November Club elsewhere in the north-east outside of Tyneside. I'm beginning to think that Northumberland is doing a lot better at supporting local talent than most of the region (although Sunderland and Durham are making steps in the right direction). The rest of the north-east might want to look into this.
An Evening with Savvy B
I couldn't resist checking this one out. This is from PUG Theatre, which is run by a duo of Rosa Postlethwaite and Hannah Walker. It's the latter performing this with the former directing, and the latter performing. Having already seen her in the hilarious Frank Sumatra, I was looking forward to her talking all about her relationship with- … What do you mean "I don't get it, who's this Savvy B?" Honestly, some people. Come on, think. Clue: wine features quite heavily in this play … No? Right, I give up. Work it out in your own time.
So Hannah Walker introduces us to an evening of "wine tasting". Okay, that's a pursuit I'm a little sceptical of. I know some people genuinely are serious wine buffs, but often it turns into "This Chardonnay has a fruity texture, but I'd better shample shome more." But before we can ascertain what type of wine tasting session this is, the question is answer by the appearance of another Hannah Walker, on the screen behind her, completely paralytic. I commented to Rosa after afterwards how good she is at acting drunk, but apparently that wasn't acting. Anyway, sozzled Hannah keeps interrupted sober Hannah with all sorts of inappropriate questions, including insisting sober Hannah plays the song she recorded when she was sixteen and thought was ace.
So it truly pains we to say that what could and should have been a laugh-out loud comedy from start to finish only stirred intermittent giggles. Much as I loved the appearance of flirtatious drunk Hannah, the joke wore thin for a forty-minute performance. Somehow, this play needs someone extra. I know there's a fashion at the moment for performance to do plays based entirely on their real selves, half the time I see them struggling to find enough material to sustain a story. Unless, of course, you're willing to reach deep into the cupboard and bring all your skeletons out into the open, which is extremely risky for obvious reasons. I could see a funny piece turning very powerful when Hannah's drunk doppelgänger gets into an argument with the abstinent alter-ego and digs up the personal information, but I don't blame anyone who shies away from that route. The other much safer option would be to forget about basing everything on fact and allow some fiction into the two Hannahs' backstories and base things around that. Having got this far, however, it would be shame to see this vanish, so I hope to see Savvy B again and discover what's been done with it.
Fans
This is one of the two schemes supported by Bridging the Gap, a scheme run by seven north-east venues to develop emerging artists. This is from the Six Twenty, a group with strong Live Theatre connections that already has a strong following. That said, I'm probably not the first person Six Twenty fans will want to hear a review from. I like the guys in it, I love their enthusiasm and dedication – but I don't like most of the plays they choose. In particular, I've never warmed to their flagship show Mixtape. The concept is supposed to be that you write a play using the words of a pop song that can't be longer than this song – but I don't get it. Sorry.
So it is with some relief I can say I enjoyed Fans. This is a homage to anyone who's followed any sort of band, from Green Day to the Spice Girls. I'm afraid I'm not this target group – I am so averse to being part of a crowd (me being the same as other people?) I am required by law to change my tastes in music whenever ten other people like a band I like, but I can't deny this resonates with a lot of people judging by the high turnout. It's also undeniably an ambitious piece: the cast of four play in their own band, and so all have to learn musical instruments. It's partly a story of themselves, and partly tales of fandom and devotion from real people that have been worked into the story.
Although I liked these idea, I do feel Fans tried to achieve too much in one play. It gets into  a bit of a knot trying to both create a story and tell the real stories of real fans, especially when you appropriate more than one real-life story to the same on-stage character. It's hard to believe a character's story about their devotion to band A when they've previously talked about their unrelated devotion to singer B. For what it's worth, I think the Six Twenty need to decide whether they want to prioritise the band's story (which would have to mean scrapping some of the real-life stories that don't fit in the plot), or prioritise the real-life stories (and just make the band a kind of container story to fit in all the real-life tales). I'm minded to say go with the latter, because some of the stories were very touching, especially the couple who got together by spontaneously hitch-hiking to Liverpool to see the Beatles at the Cavern Club. The more stories like that you get in the play, the stronger I think it will be.
Putting the Band Back Together
Edinburgh fringe reviews of Putting the Band Back Together:
Edinburgh Festivals Magazine: ★★★★
The Skinny: ★★★
Three Weeks: ★★★
The Herald (£): ★★★
The Stage (£): ★★★
FringeGuru: ★★★
Fest: ★★★
WhatsOnStage: ★★★
List: ★★★
British Theatre Guide: ★★
Exeunt
North East Theatre Guide (Sunderland preview)
I think, out of the four plays reviewed here (not counting the WIP one), Unfolding Theatre wins by a convincing margin. This is the true story of Mark Lloyd, diagnosed with cancer, given six months to. During an Elbow concert – where he was naturally given VIP treatment by sympathetic venue staff – he decides the one thing he wants to do before he goes is bring his old band back together for one last gig.
Like Fans, this is an ambitious piece that takes on a lot of things in one play, but they get away with it. As well as Mark Lloyd's story, there's a side story of instruments being put away, abandoned and re-discovered, which works quite nicely. A riskier side-plot was their "house band", where different ex-band members were brought up on stage each night to join the cast of three playing the gig. I had been a little more sceptical about this idea – if they weren't careful, it could have come across a gimmick that overshadowed the whole play.
The gem in the play, however, is the main story. This is side B of the cassette, if Tony Lloyd's story was a 10-track album. Told in five episodes from the diagnosis to the gig, it's an expertly-written moving story. Track eight was a particularly tough one. It's time for Tony to get in touch with his old band members. But how do you put this in an e-mail? Ask about coming back for a gig before or after the other bit of news?
The only disappointment I had was that this play was heavily reviewed at the Edinburgh fringe but only managed a lukewarm reception. A real shame, because I think it deserved better than that. But this amazing story deserved to be told – whatever else happens, they can't take that away from Tony Lloyd.
The Lamppost Petition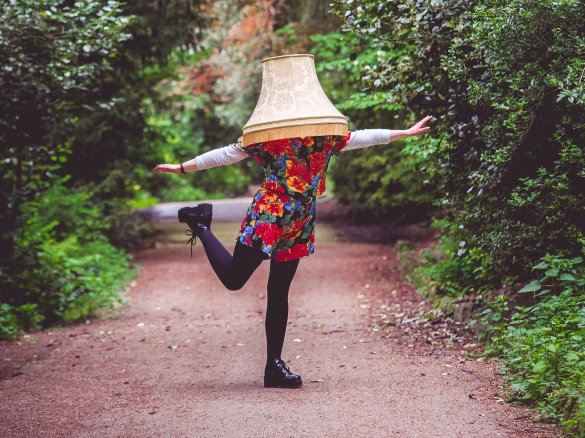 Phew. Nearly there. The month ends with Zoe Murtagh, the other recipient of Bridging the Gap. Having caught a preview of this at the Gala Theatre's inaugural scratch night, I was interested to see how the full version would turn out. Before then, however, I saw her other play, Sacre Blue, at the Edinburgh Fringe. Hmm. Yet to be convinced by that one. That play, covering her experiences with anxiety, raised a number of interesting points, but the style and subject matter chopped and changed so much I couldn't follow what was going on most of the time.
Well, Zoe Murtagh might be keen on this collage format, but the way she's done it in The Lamppost Petition works a lot better. This focuses on being older and, like Fans, draws heavily on stories of older people, particularly her own grandparents. Crucially, however, this time she keeps the number of stories down to a manageable number and that makes it ten times easier to follow. She's got a few nifty tricks to keep us up to date with who she's talking about at the moment, such as the nice touches of all the different shoes.
Zoe Murtagh's greatest asset, however, is her stage presence as a performer. There's still a few things that don't quite work out; I felt the stuff about number of cups of tea drunk over a lifetime was dragged out too long, and I'm sure I've missed some important bit of symbolism over all the Wizard of Oz references. But that's fine, because she's got time to experiment. So my advice is to take no notice of what I'm saying. Instead, take notice of what as many people in the audience are saying, and get specifics. Asking what someone though will probably get "It was good" which isn't helpful; instead, tease of of them which bits in particular they got. That's the clue for what to build on; do that, and we'll be hearing a lot of of Zoe Murtagh yet.
And that's it. Roundup done, with just six hours of October to go. Now, how many plays in October to I have to review. I've lost count. Bugger.