Aaargh. I'm on my train to the Buxton Fringe launch and I still haven't done my Buxton recommendations. Better hurry up. Apologies if you're waiting for a review, that will have to come after this.
Anyway, Buxton Fringe 2017 is here. The most unpredictable for a long time, due to the loss of a key venue that formed a focal point for the whole fringe. For months, there were questions over whether a new venue would take its place. And when we found out the answer, the were there were questions over what this would mean for the fringe. But the development no-one saw coming was the arrival of an entirely new managed venue. Suddenly, all bets were off.
So, before I dive into recommendations, let us begin with this and look at what this could mean for the festival.
The changing face of Buxton Fringe
Regulars to my blog should be up to speed on how Buxton Fringe 2017 unfolded, but for newbies to this saga, a recap. From 2011 Underground Venues has dominated the fringe, with its key venue being the basement under the Old Hall hotel and the popular Pauper's Pit and Barrel Room. They also ran the Arts Centre Studio over the road, has a bar which formed a social focal point, and had a virtual monopoly on proper theatre spaces with very few spaces having sound and lighting capabilities (not that this stopped some groups doing great productions without). Then the news broke that 2013 would be the last year, after which the developers wanted to change the basement into some fancy-pants hot tub or something. Then the developers decided they weren't going to make a start after all, and Underground Venues had another final season in 2014, then 2015, then 2016, by which time it became a standing in-joke. Then the developers finally said they were moving in and this time actually meant it, leaving Buxton without its hub.
Six weeks after registrations opened, with no news on a Pauper's Pit replacement and worries mounting that Underground was going for good, they announced a relocation to The Old Clubhouse. This was probably the most logical choice, as theatre in upstairs rooms of pubs is a tried and tested formula elsewhere. The snag? Two spaces were being replaced by one, and with demand already outstripping supply from performers, the squeeze was set to get worse. Then came the completely unexpected twist that a completely new venue was starting off: The Rotunda, the brainchild of Grist of the Mill theatre, a mobile venue intended to go all over the place but starting off in Buxton Pavilion Gardens. Even so, I was expecting a squeeze on overall numbers. But then, the opposite happened. Numbers went up, both in terms of registrations and performances.
Okay, end of recap. Blog regulars can start reading again. So, how can the fringe grow with fewer fully-used venues? I noticed two things. Firstly, a lot of shows at the new-look Underground venues were on for two days instead of the usual three, making me wonder if they were squeezing more in that way. Secondly, there's the introduction of the "Buxton Festival Fringe" (taking place in a small room that used to be a fridge, in a fortuitious coincidence for anyone waiting for a chance to use the fringe/fridge pun); as this appears in the listing every day, that skews the figures for number of performances, or at least stops us doing an easy like-for-like comparison between 2016 and 2017.
So, to settle this once and for all, I did my own analysis. Firstly, I excluded from the figures visual arts and everything else that isn't performing arts, as there's a substantial difference between leaving painting hanging for a week and performing the same act seven times. Secondly, I excluded what I call "compilation" events, where different performers take part in the same event. This is so I can strip out the effect of Buxton Fridge Festival, but for the sake of consistency I'm also leaving out events such as Barrel of Laughs and Fringe at Five. Finally, one note of caution is that I had to do a lot of manual counting, so there may be some miscounted figures. But those rules and caveats aside, here are the figures, and the results are interesting, to say the least.
The headline finding is that the reported growth in Buxton Fringe's figures is real. The Buxton Festival Fridge and Underground squeezing in more shows with fewer runs do inflate the figures a bit, but even when you exclude the effect of these there's still growth. In fact, even when you exclude the Rotunda it's gone up.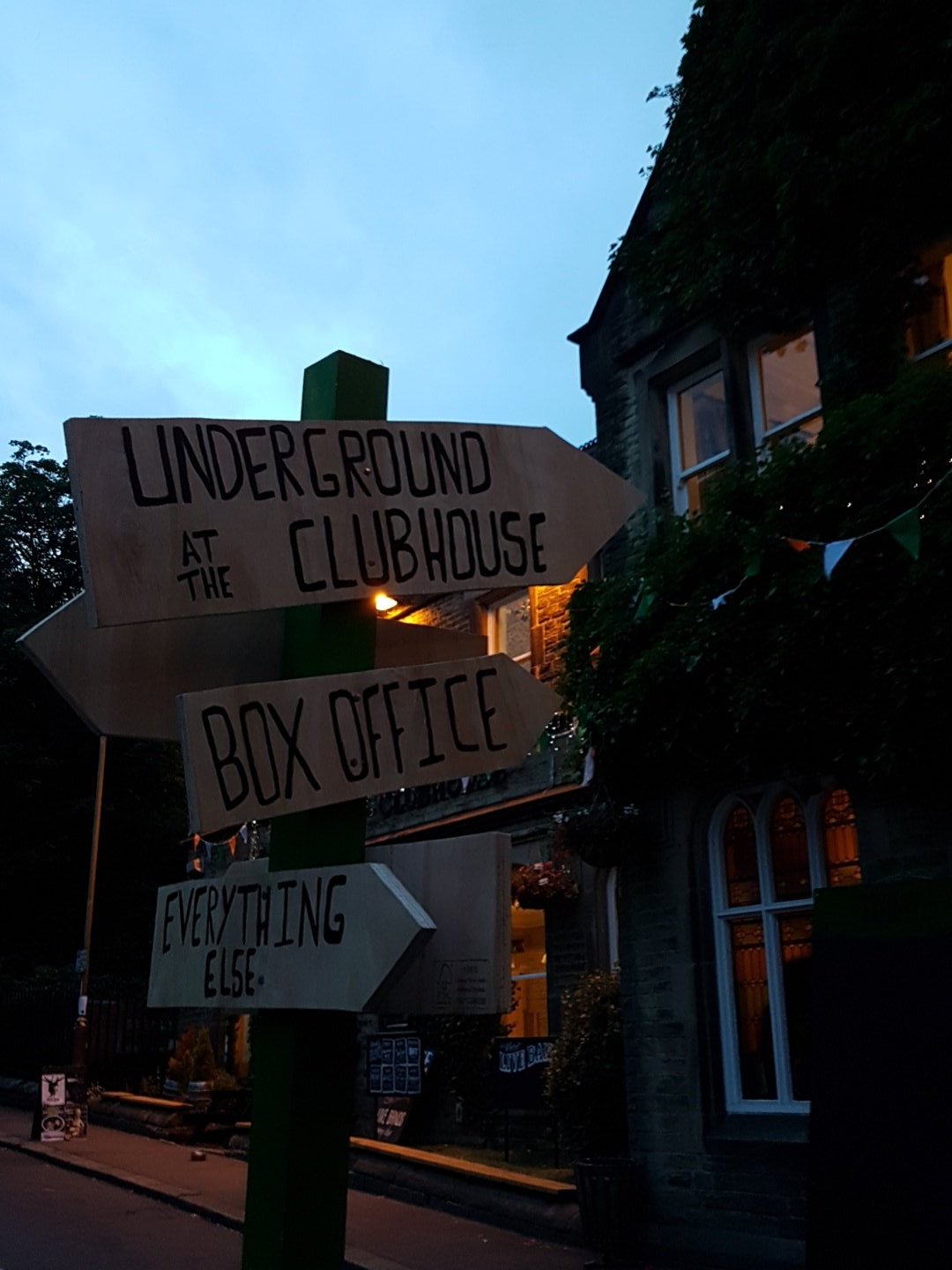 Looking at Underground Venues, there is a squeeze, but not as big as one might have expected. They have managed to keep the same number of acts in spite of being a space down. This has been partly achieved with shorter runs – the average performances per acts is down from 2.8 to 2.2 – but the total number of performances is only down 18%, less than the 40% I was expecting (I worked on an approximation that the Arts Centre shared with the festival has half the capacity of the other). I'm not certain how this has been achieved, but it appears to be a combination of more intensive use of the Old Clubhouse, and better availability of the Arts Centre, which seemed to be out of action for several days last year.
One thing that doesn't show in the figures is what kinds of acts are in new Underground Venues. Anecdotally, I gather that they managed to get some high-profile shown on the fringe circuit programmed in, but that seems to have come at the expense of entry-level acts. This is subjective analysis rather than something I'm backing up with stats, but virtually everything I see in the line-up appears to have already made a name for themselves, either at Buxton or elsewhere.
There has been an increase across the board for other venues, presumably affected by acts who would otherwise have gone for Underground Venues looking elsewhere. There's a notable increase in registrations from URC and the Green Man Gallery, but not a huge number, and one thing that hasn't happened it the Green Man Gallery catching up with Underground Venues. They stopped taking bookings back in March saying they were full – I'm not sure whether this meant the rooms were fully booked (possible if they are needed for lots of non-fringe events), or that they ran out of manpower of volunteers, but the end result is that they've opted not to make a serious push to become a major venue like I thought they might.
One final notable change is where the comedy's going. Until last year, it was almost exclusively Underground Venues; now, there's a far wider wider variety of destinations. Perhaps the loss of the Fringe Club in the Old Hall basement threw the competition wide open. And that brings us on to the final question – can the atmosphere of the fringe club be repeated in The Old Clubhouse when it already functions as a busy normal pub? In theory, yes it can, because Underground Venues have a room to themselves for fringe performers to mix. But it remains to be seen whether this works in practice, and we may have to wait another week or so before we know the answer to this.
So Buxton Fringe can be pleased with this – I've checked the figures for catches, and there aren't any. The only issue that does need taking seriously is the opportunities for news acts to get started – it would, I believe, be a great loss to not just Buxton but theatre in general if we lost this route for new acts to cut their teeth. But the last I heard, Underground want to regain a second full-time space for 2018, so it looks like next year I'll be analysing this all over again.
Anyway, enough of that. This is called "What's worth watching", so let's get back on topic.
Safe choices:
Okay, heck, now it's Wednesday, better get a move on. Opening my recommendations, as always, is my list of "safe choices". Full rules for how I pick recommendations can be found over my my recommendations policy page, but the short version is that these are plays I've seen before, or companies I've seen before, and I'm confident these plays will go down well and have wide appeal. No play is ever for everybody, but if you like the sound of the play here I'm confident you'll like it for real.
In alphabetical order:
Alice in Wonderland Underground
Many plays at Buxton go to greater adventures at the two bigger fringes, but one series of plays that is indisputably Buxton's alone is Butterfly Theatre's plays in Poole Cavern, simply because Brighton and Edinburgh don't have any caverns. Usually they do Shakespeare plays, most of which suit underground settings very well. Even when the Bard set his plays very much overground, such as the forest in A Midsummer Night's Dream, they still transplant the magical wonderland to their new underground home really well. This year, however, it's one of their breaks from Shakespeare, instead opting for the equally magical wonderland of Lewis Carroll.
Butterfly Theatre's format should go down well for this story though. Whatever story they've chosen, they've always made excellent us of every surface available in the case, always using lighting and music to the best possible effect in the cave's shape and acoustics. There are numerous perfomances over the 11th-15th July at Poole's Cavern, but be aware that these plays are getting very popular and you will almost certainly need to book in advance.
By the way, if Poole Cavern is your thing but Lewis Carroll isn't, or one Poole Cavern play per year just isn't enough, there's a second play in the "For Families" section, The Boy Who Grew Wings, on the 8th July. Not a Butterfly one, but maybe an interesting outing to see what else can be done down there. UPDATE: Apparently no, it's not the cavern. It's being done in the woods next to Poole's Cavern, which, for some reason, has exactly the same venue code as the cave. Okay, see it if you fancy plays in woods then.
Bouncers
One little-known fact about John Godber's best-known classic is that the original production, back in the days when it was a two-hander and a young Godber played one of the characters himself, had a performance with an audience of zero. I doubt anyone could have imagined back then what this went on to. There was even a time when there was a game where you guessed how many times Bouncers (and Abigail's Party) would appear in the Edinburgh Fringe programme. But it's once of the most legendary plays on and off the fringe circuit for a reason. First written as an observation of nightlife in Wakefield in the 1970s, it's remarkable how little has changed. The clubbers might have got younger, the bouncers might have got older, but the obsession without going out and getting hammered is still the same – some might say an empty way to live for the weekend.
As Godber fans will know, Judd, Ralph, Les and Lucky Eric stand outside the door one typical night, and during the story they double up as four Loaded-reading lads and triple up four good-time girls – something that gets particularly interesting/cringeworthy when it reaches the smoochy dance bit. It's not as easy play to do well, and a far easier play to do badly, but fringe regulars Sudden Impulse should be able to do a good job of this, if their production of Two from 2015 is anything to go by. Two is a kind of close cousin to Bouncers, set in a northern pub, also with lots of doubling, Sudden Impulse did a fine job of the play, and we never lost track of who was playing who, so they couldn't have picked a better one to show they've got what it takes here. They are showing in the Arts Centre Studio on the 17th July at 8.30 p.m. then the 19th-20th July at 9.30 p.m. They tend to sell very well, so you might went to book early here.
Nonsense and Sensibility
No Buxton Fringe would be complete without a Tom Crawshaw play, but don't worry, there is one. Nonsense and Sensibility is Three's Company's latest offering, which is presumably based on Sense and Sensibility, but knowing Tom Crawshaw's humour we can expect things to get very surrealistic very quickly. Previously we have had a play on Shakespeare Island, where Hamlet, Henry V, Ariel and Kat team up against Richard III, Iago, Third Witch and Tabatha; and The Importantce of Being Earnest where 22nd-century Velatrix aims to foil Jack and Gwedolynn's romance because their great-great-grandson detonates a nuclear bomb and starts World War III. If you still have no idea what I'm talking about, don't worry. See it and you'll pick it up as you go along.
The two plays prior to this had unprecedented success; this one has got more mixed reviews. But it will still a huge hit in Buxton with an extra performance hastily scheduled in the Arts Centre to meet demand. This shows on the 15th July at 4.15 p.m. then 16th July at 7 p.m. at The Old Clubhouse.
The Unknown Soldier
Last on the the sure choices, it's the play that arguably is the reason that we have this new Rotunda venue at all. This play, written and performed by Grist to the Mill's artistic director Ross Ericson, was a huge hit at the Edinburgh Fringe over the last two years, with some reviewers even acclaiming it as the best play ever. It's a World War One play, but not set in the trenches during the fighting, but after the guns fall silent. It's 1920 and Sergeant Jack Vaughan is one of the last remaining soldiers stationed in France, still cleaning up after the mess. Everyone talks about the glorious dead, but there's a lot more not-so-glorious wounded back home out of work, out of hope.
The play was said to be written in response to Michael Gove's comments about the war not being portrayed positively enough – certainly Jack has more than enough cynicism to answer that. Then, amongst all the controversy over the Imperial War Graves, come the idea of the Unknown Soldier, and fact and fiction are woven together into a very clever twist. This shows on the 5th-7th July and again on the 16th July, at the Rotunda Theatre at various times. Expect this one to be popular.
Bold choice:
These next three choices are ones where you take a bit more of a risk. Usually it's for plays I've yet to see that I've reasons to be good but could go either way, but not always. There are three things that grab my interest this time:
Gratiano
Grist to the Mill are bringing a lot of plays they either produced or are closely involved with. I won't go over all of them in the interests of balance, but this gets on to my list after I saw it at Brighton. Bold choice instead of safe choice because this is a Marmite play that sharply divided opinion. The play is a new take on The Merchant of Venice, but it's very different from the original. Firstly, the story stretches way beyond the famous trial (the one where Shylock carelessly forgot to include a clause clarifying the pound of flesh included blood and internal organ) where Gratiano is now on trial for Bassanio. Secondly, the setting of the play is transplanted to Mussolini's Italy, where of course, Jews were not particularly well liked. And the whole story is told by Gratiano (wirter-performer Ross Eriscon again) in retrospect.
Gratiano takes far more liberties than your average new take on Shakespeare, and either you will buy into this concept or you won't. But whichever side of the fence you fall, the concept is done very cleverly. Shylock is still not a terribly nice character, but neither is anyone else. The heroes standing shoulder to shoulder in Shakespeare's play becomes a fragile alliance of self-interest and greed, which soon breaks down into series of betrayals and counter-betrayals. And, of course, Shylock might be spiteful and vindictive, but that's not the reason he's hated. If you only have time to see one Grist to the Mill play, make it The Unknown Soldier, but if you have time for another, this is an interesting on to add. It shows on the 9th & 12th-14th July in the Rotunda Dome at various times.
Stuck
HOAX Theatre have been on my radar ever since I saw Hysterical at last year's Vault Festival. It was one of the most popular shows at the Festival, and whilst their appeal so far seems to be stronger for Vault audiences than festival fringes, there was a lot to get your teeth into there. A lot of puppetry, a lot of research into mental health and a very bold decision to put as much humour as possible into the dark subject of a mental breakdown.
They are bringing a new play to Buxton. It still looks as though they're putting humour into the darkest of subjects, this time a journey "to the black heart of earth's ecological crisis". We don't know much about what to expect here, but it's billed as including Norman cows, whatever that might be, and three post-human women who are stuck in the mud. For anyone who saw Hysterical, the clowning is staying. Just don't expect anything as cheery as wheels falling off a car. Show 12th July at 5.45 p.m. then 13th & 14th July at 4 p.m.
Throbbing Member
Nonsense and Sensibility is in fact a co-production between Three's Company and Anonymous is a Woman. The latter co-producer is bringing two more plays to Buxton directed by the other active founder-member of Three's Company, Yaz Al-Shaater. Out of the two, it's Throbbing Member that gets my attention, and yes, the theme of the play is what you think it is. Louise is a Conservative aide who write erotic fiction, and hey, Tories are allowed to write racy novels just as much as much as anyone else – but ever since Edwina Currie wrote those sort of books we can't help wondering now how much of this sort of writing is based on personal experience.
With live piano, housing crisis and a sing-a-long memoir promised, this ought to be interesting. Just be aware that they also promise karaoke, so sit on the front row at your own risk unless you want to land yourself a starring role in a tale said to be more Fifty Shades than West Wing. This should at The Old Clubhouse on the 19th & 20th July at 5.30 p.m. then 22nd July at 7.30 p.m.
Recommended by others
As a one-off, a final section here is going to be a few plays I haven't seen, and I've never previously seen anything by the group or writer, but I've nonetheless heard good things about it. I don't normally make recommendation solely because a play already got good reviews elsewhere – there are already more than enough publications basing recommendations on overall reviews. But there's three plays I've kept hearing a lot of good things about, including sources that I know and trust, so I'll give them a mention here.
And the Rope Still Tugging Her Feet
I heard about this play more than most as this was in the same programme as me for Sweet Brighton 2016, but in that fringe and beyond I've heard overwhelming praise for this solo show. This is about the Kerry Babies scandal, unheard of in most of Britain but seen by many in many in Ireland of a dark stain on the country's history. Carol Burns Cooke plays Joanna Hayes, accused of the murder of a baby found on a beach, even after evidence emerged strongly suggesting she was innocent, and there's reasons to believe the real motive for the accusations was 1980s Ireland's #1 sanctioned hate figures of the time: unmarried mothers. This shows as The Old Clubhouse on the 17th July at 5.30 p.m. and 18th-19th July at 4.00 p.m.
Call Mr. Robeson
As I previously said, I'm not going to list every Rotunda production or I'll be here all day, but I can't ignore the success of Call Mr. Robeson, a play from Tayo Aluko, which keeps getting great reviews everywhere it goes. (It's billed as a Grist to the Mill production as part of the Rotunda's opening line-up, but the play has always been produced under his own name before.) Paul Robeson was a popular singer and actor, until he fell out of favour for 1) suggesting we should all be nice to each other before Martin Luther King got this idea to catch on; and 2) forgetting to read Senator Mccarthy's memo that the Russians and Communists are now the baddies. Highlights, I hear, include a rendition of "Ol Man River" and a show-down with the US Senate. Catch this at the Rotunda on the 12th July at 7.15 p.m. and the 14th & 16th July at 7.30 p.m.
Labels
The final play I've seen doing the round everywhere and getting praise everywhere it goes is Labels. I don't know much about this play, and the video trailer for this play suggests Worklight Theatre doesn't want to give away too much in advance, but this is performed by Joe Sellman-Leava, a boy of mixed-race heritage growing up in Devon. Normally one shouldn't bat an eyelid over someone of mixed race having an English-sounding name, but here it is relevant, because this is the name his father took because he thought it might get him a better job than his Indian-sounding name. Apart from that, few clues are given about what to expect, but there's hints that stupid attitudes to multiculturalism spoiled a romance. This shows at The Old Clubhouse at the 11th, 14th and 16th July at various times.
And that's it. Sorry this came out later than usual, but here it is. What do you mean "You haven't done the Brighton Fringe roundup yet?" All right, all right, I'm getting on to it.