Oh heck, is it September already? Okay, let's get a move on, because autumn and winter tends to be my busiest season for plays that catch my eye. As always, a reminder that this should be treated as a cross-section of what's worth seeing rather than a definitive and exhaustive list. There are always some excellent plays going on that don't make it to this list simply because I don't know enough about them. Check my recommendations policy if you want a longer explanation for how this works.
Right, let's get straight to it.
Safe choices:
Four plays make it to safe choice this time. A lot of them are plays that I saw before and loved, but plays can also make it to this list on the strength of the script or the performer if I've heard enough. Whatever the reason, these are plays that I'm confident you will like if you like the sound of the description of the play, and is also expected to have wide appeal. They are:
This was previously recommended in my spring/summer recommendations, but this is a play on a long run stretching into autumn, so in it goes again. To repeat this quickly, Taking Steps is unusual for an Ayckbourn play in that it's one of the few plays of his that really only works when staged in The Round – this one being three storeys of a house all playing on the same level on the stage – so if you only see one production of this play, see this one. Just don't expect this to be a light-hearted undemanding Ayckbourn farce, because that does exist. It runs until 5th October on various dates at the Stephen Joseph Theatre.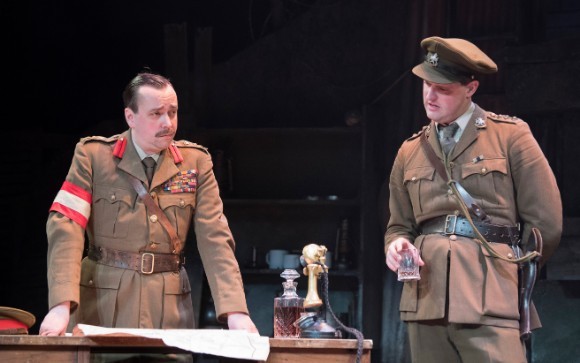 In general I don't pay much attention to touring shows that have already had a decent West End run, because they get more than enough attention without my help, but I had to include this play about the satirical magazine said to be the forerunner to Private Eye. At least, that's what Ian Hislop thinks, having penned the play with co-writer Nick Newman. With World War One possibly the lowest point in British history for freedom of the press, especially on the front line of the trenches, this sort of rag couldn't have been popular with all the top brass in the military. Or it could have been argued as morale booster for men badly needing camaraderie to get through the war. It seems that argument won, as the magazine lasted until the end of the war with two final issues called "The Better Times".
It's rare for a play I haven't seen by a company I haven't seen to get straight in to safe choice, but with a TV series, successful West End run and a tour until its belt it looks like you can't go wrong here. This latest tour begins shortly and arrives in the north-east on the 2nd-7th October at Northern Stage.
Now another play I've never seen that's gone straight in to safe choice. I know little about the performer either. North-east theatre regulars may recall Mess, Caroline Horton's play that toured to Live in 2013. Seiriol was the on-stage musical director providing a wonderful musical score to an already wonderful play, but this is the first time I've heard of him doing the lead in his own play. It's the story of Henry Cyril Paget, fifth Marquis of Anglesey and a cross-dresser. After his untimely death at 29, his family, it is said, disowned him so thoroughly they behaved like he never existed.
It's not a concept I'd normally have rated as a front-running for a smash hit, but smash hit it is, having scooped six five-star reviews, more than any other play in the 2016 Edinburgh Fringe. I also heard numerous random punters mention to me how great they thought this play was. So I've heard enough. You have two days to catch this when it comes to Northern Stage on the 10th-11th October. Early booking advised, because this is in Stage 3. If word gets round how much of a hit this has been, Northern Stage may discover they've wildly underestimated the demand for tickets.
Now
from Northern Stage to Northern Broadsides. The Broadsiders made the news earlier this year when Barrie Rutter announced he was departing as Artistic Director of the company he founded 25 years ago. I can't believe he'll be going completely – even if ceases to direct, having appeared in most of the plays he directed surely he won't be giving up the acting that easily. But For Love or Money is still being touted as his last hurrah.
But this play is not up in safe choices for this reason, but because of the excellent record Northern Broadsides has in adaptations and retellings of classic tales, thanks in large part to Deborah McAndrews' scripts. This time it's not her who penned the adaptation – you'll have to wait until next year for that – but Blake Morrison also has a good track record with this company, including We Are Three Sisters, a part factual and part imagined story of Charlotte, Anne and Emily Brontë. This is a more up to date version of Turcaret, where two suitors of dubious standing woo an elderly widow for reasons completely unrelated to her vast wealth, perish the thought, how could even suggest such a motive? Some things, it seems, never change through the centuries. As usual, they tour mostly in Yorkshire and Lancashire, and it comes closest to the north-east at the West Yorkshire Playhouse on the 26th-30th September, the Stephen Joseph Theatre on the 14th-18th November and finally 28th November – 2nd December at York Theatre Royal.
And finally in the safe choices, one nice little gem that came out of nowhere was this play by Nina Berry. Originally a 20-minute play that I first saw at Live Lab, I had my doubts whether this could work as a longer piece, but it did. And clearly a lot of other people felt the same, because the run last year sold out, so now it's back for a longer four-week run. The story of Rosie and Charlie, who meet by chance when nine and seven, and again when sixteen and fourteen. And even though it is the most fleeting of encounters, however far they are away from each other they never stop thinking of those days.
I reviewed this last year, and although the ending of this got a little too confusing for its own good, this doesn't detract from the theme captured so well in the both short and long versions, a lovely tale that two people can be meant for each other however much life tries to keep them apart. The only thing that surprises me is that this has stayed in the studio, because this surely could have done well in the main house, and as a bonus more could have been made of the set there. But studio it is. It runs 22nd November to 16th December. Early booking advised here because with the limited capacity of the studio and the play's popularity, we can expect a lot of sell-outs.
Bold choice:
The next tier is for plays I recommend which are a bit more of a gamble. Some are plays I've yet to see, some are existing plays by new groups, some are existing groups with new plays, some are more acquired tastes. Whatever the reason, these are plays where I think the only reason to be sure if you'd like it is to see it and find out. But if you do, there's a chance you could be one of the first to see something destined for greatness.
So, after a year where they've faced off a financial threat and the demolition of the building they were based in, Alphabetti Theatre is back in a new home. It's a bigger venue in a better position to attract bigger acts, and with a ten-year lease under their belt, this is hopefully the last time I'll be writing about Alphabetti's uncertain future. And they are launching their first season in the new building with a two-week run of a new play co-produced with Coracle. But Overdue doesn't earn its play in bold choice because of its place in all-new Alphabetti's programme, but because of a very promising scratch performance I saw at the Gala last year.
In the scratch performance, the key scene is a chance meeting between Beth and a younger man, Jack. Beth also meets single mother Izzy, and from that we learn that Beth once gave up a baby of her own. This is sometimes a strain on her marriage to her husband John. A lot of interesting characters were built up in these 20 minute, and as this except ended, I got the impression that a twist was coming – but not the one you're led to believe is on its way. This shows at Alphabetti Theatre on the 5th-16th September, and so far this has sold well. I understand there are already plans to take this further, but I'm looking forward to see how this tale ends.
And running the same time over at Northern Stage is an adaptation of a David Almond story. David Almond, of course, made a big splash in Newcastle last year with The Savage over at Live Theatre. A writer of young adult fiction, this story mixed the relatable story of a kid on the pile of social rejects, the fantasy world he creates for himself, and hints of the darkest thoughts inside of him. It would have made a strong play whoever had produced it, but Live Theatre added a lot to the production playing to their strengths, especially the staging.
So now it's Northern Stage's turn to do a David Almond story. Once again, David Almond is writing his own adaptation. This story is a retelling of the myth of Eurydice and Orpheus, in the modern day. Claire tells the story of Ella, dead at the age of sixteen. This time we don't have Live Theatre to work their magic with their staging, but Northern Stage have some great staging of their own. It'll be a tough job to live up to the expectations set by Live, but if anyone can, Northern Stage can. In a straight head-to-head, with Alphabetti, this shows at Northern Stage on the 5th-16th September. One word of warning though: this is showing in Stage 2 instead of Stage 1 (that surprised me because this looks like a safe bet to fill up stage 1), so this may sell out. Book early to be on the safe side.
One of the big stories of 2016 was the appointment of Paul Robinson as the new artistic director of the Stephen Joseph Theatre, with the expectation that he would bring in a new programme of new writing like like did at Theatre 503. But it takes such a long time to programme work and perform it that we still don't know what sort of new writing he intends to do. Until now. 18 months after his appointment was first announced, the first new play he directs finally makes its way to the stage. It's Goth Weekend, by Ali Taylor, who I've not previously heard of, but after last play he took to the north-east, And Then Come the Nightjars, it bodes well for time time.
Here's the interesting twist: this is a co-production between Live Theatre and the Stephen Joseph Theatre. This last happened five years ago – indeed, Geordie Sinatra was the very first play I reviewed – but that has largely regarded as a one-off, largely reliant on the link with the writer, Fiona Evans. This time, it could be a more long-standing arrangement, because Creative Producer Graeme Thompson use to work with Paul at Theatre 503. So this is a very significant play that could tell us a lot about the future of both theatres. It's on at 14th September  – 7th October at the Stephen Joseph Theatre and then 11th October – 28th October at Live Theatre.
Blackeyed Theatre have been on my radar ever since 2014 with a good production of Dracula, but it was their production of Frankenstein in 2016 that really blew me away. The adaptations from book to script were good, but the things that distinguished them from all of the other adaptations of Dracula and Frankenstein was, whilst most of the other relied on recorded sound and various technical wizardry, Blackeyed rediscovered the lost art of doing all the sound on stage.
Their next classic adaptation is another tale of this nature, Jekyll and Hyde. Bold choice instead of safe choice purely because the last two plays were done by the winning team of writer John Ginman and director Eliot Giuralarocca. This time, it's written and directed by a newcomer to this blog, Nick Lane. Ginman and Giuralarocca have set him a very high bar to clear, but if he wishes to follow in their footsteps, he couldn't have a better company to work with. This is on a six-month tour of the country, and this side of Christmas you can see this on October 24th at Queen's Hall, Hexham, then November 1st at the Majestic Theatre, Darlington, and then November 2nd at King's Theatre, York. People of Harrogate and Middlesbrough, you will need to wait until next year.
Finally, if you've not had The Paper Birds' famous caravan coming your way, you may be in luck. They are doing another tour. A verbatim play about class mobility, it covers some interesting stories, but by far the biggest attraction is the amazing staging they did on the inside of the caravan. Your north-east chances are the 23rd-24th September at the Festival of Thrift in Redcar, and later 19th-22nd October at Harrogate Theatre. As always, advisable to book in advance because caravans, as you may recall, don't have many seats inside them.
Wildcard
(Okay, sorry for the delay completing this article. Had my hands full with various theatre emergencies. I can now continue this …)
Wildcards are plays where I've no idea whether or not they're any good, but they have nonetheless grabbed my interest. One entry this time, and it's a repeat of an old one.
I did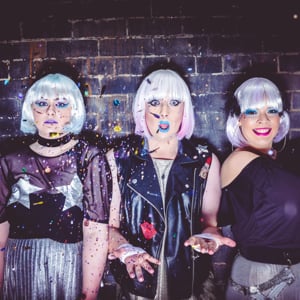 n't manage to catch this last time it was on, but after seeing an early version at the Gala's scratch night, I hope to catch it this time round. This is an act from the three lovely ladies who are "Bonnie and the Bonnettes", except that (in case you haven't picked up the clue from the title) "Bonnie" is actually Cameron, telling his story of becoming a drag artist in Sheffield when he was 14.
I didn't see enough of the except to know which way this play is going to go, but I can definitely recommend their hilarious rendition of Total Eclipse of the Heart. They are on a tour of four venues, two of which are in the north-east: Alphabetti Theatre on the 4th – 6th October and then 13th October at the Gala Theatre. The latter performance is a significant one, because it looks like the Gala's scrtach nights are starting to pay off at it's finally getting on the touring circuit.
From the comedy:
This is a theatre blog, but I do catch the occasional comedy which deserves a mention. This time, it is, once again …
This techie trio don't really need my help, getting near-full houses every time I've seen them, but this is always something to look forward to. Part science show, part comedy show, it has a much broader appeal than you might think, with everything they talk about being easily understandable as well as entertaining, and yet everything they say is 100% factually accurate. But if you know all this already, don't worry: there are bonus in-jokes for fellow nerds. If you are the sort of person who knows the punchline joke where the driving instructor asks Heisenberg if he knew what speed he is going at ("No, but I know my exact position"), this is the show for you.
I am, however, morally obligated to higlight one piece of mis-selling. They start most shows by deleting "Health and Safety". However, on querying this it emerged that actually all their seemingly dangerous experiments are fully compliant with health and safety regulations. Cowards. You can catch them at, 22nd September at York Barbican, 21st October at Leeds City Varieities Music Hall, and 4th November at Gala Theatre.
Also showing:
This is a new feature of my north-east what's worth watching lists. At present, I set the bar for Safe Choice and Bold Choice a little higher when a play is done by a major producing theatre, so that performers who aren't backed by the big players stand a fair chance to get on the list against those who are. However, all major productions at major producing theatres are notable, and I want to move towards covering all of them.
At the moment, this is mostly Live and Northern Stage. If you think your theatre should be included for comprehensive coverage, easiest way is to tell me about what you're producing. Anyway, we have:
I've not got round to seeing them for ages, but it's about time I acknowledged the success of Open Clasp, a Newcastle company that creates stories about women. In possibly their most high-profile project to date, they are doing a co-production with Live Theatre on the subject of domestic abuse by coercion: something that I think society should have wised up to a lot earlier – I would even argue it's a more serious issue than physical violence, because it's hard to do that without some sort of psychological control. This was originally a training exercise for Police Officers, but this has now grown into a play in its own right.
Most plays I've seen about domestic violence, great though some of them are, go into a lot of detail about why it's bad, but rarely explore how this comes about in the first place. I will be interested to see if Open Clasp can explore why this happens. The last play I saw, The Space Between Us, had some flaws, but the characterisation was excellent. If that can be brought over to this play, it could pay off handsomely. This shows at Live Theatre on the 21st-30th September, then various other north-east locations in early October, followed by other co-producers York Theatre Royal on 17th-21st October. London bods, you can catch this is Soho the week after.
A Song for Ella Grey might be the Northern Stage show that grabbed my interest the most, but their most high-profile show this season is their Christmas one. As someone who sits going "harumph" whenever anyone suggests taking my to a pantomime, I'm not really qualified to give recommendations on family entertainment, but Northern Stage's Christmas shows deserve credit for producing things far more original than the usual formulaic pantos sold on which soaps stars are in them. James and the Giant Peach particularly impressed me last year, with production values easily on par with touring West End productions on what must have been a fraction of the budget.
So this time it's Alice in Wonderland, but not quite the story you might think. This is an adaptation from Theresa Heskins that was performed at the New Vic a few years back. In this story, Alice lives on a boat, and goes through a trap-door to find a "wonderland" in a theatre. I'm keeping an open mind on whether this story works, but it seemed to do well enough he first time round. Either way, it's produced by the same team behind James, so expect to be wowed again. This shows at Northern Stage on 25th Nov – 6th Jan, but don't be fooled by the long run in the biggest space – this sells out very quickly, so hurry if you want to see this.
Outside the north-east
And finally in this list that's taken an embarrassingly long time to complete, three things of interest from outside the region.
One side-effect of now having a sister who lives in Stoke is that I've now been able to visit the New Vic Theatre a lot more, and one hare-brained scheme I managed earlier this month is a round trip incorporating the Buxton Fringe launch, a photo stop in the middle of the Pennines, a detour to the Stephen Joseph Theatre, and in the middle of all this was this adaptation of Jules Verne's classic which I've heard so much about. I will be writing about this shortly once I've started on my equally embarrassing backlog of reviews, but I can say straight away this was a hit in Stoke for a good reason: a fun and high-energy performance, but something that stays as about as faithful to the story as a 2-hour play can be. In particular, I really liked the job they did of capturing Phileas Fogg as a character, a very important part of the story.
This is now just started a national tour. A month-long run in London has already come and gone, but there's plenty more places coming up between now and the new year, including a month-long Christmas run at Salford. For some reason, the Stephen Joseph Theatre is not on the list, even though that's usually their top destination, so I'm afraid the nearest spot for north-east fold is Sheffield from the 26th September. Come on New Vic, the north-east's great. Go on, you know you want to.
Next on this list is a north-east export. Live Theatre produced The Red Lion earlier this year, and whilst they're not quite the first theatre company to produce this, they did produce the most successful run, which is very pleasing because Patrick Marber's writing is superb. Set in a semi-professional non-league football club, you might imagine a beautiful game unspoilt by the money and greed of the Premier League, but that's not the case here. Instead, the three-hander is a power-struggle between a manager with fingers too many pies, an ex-manager with his own unprofessional agenda, and a honest young star footballer with a weakness.
Now this is transferring to Trafalgar Studios in London for a month-long between the 1st November and 2nd December. With Max Roberts shortly stepping down as artistic director of Live Theatre, this is unlikely to be the final play he directs, but as a swansong as artistic director, there's few better plays to be going out with.