Right, thanks a bunch Manchester Art Gallery for giving me extra work to do. That's okay, I've been meaning to get off my chest this new kind of censorship that's been creeping into the arts. However, it does mean that odds and sods is now ten days overdue. I'm holding you personally responsible.
I skip December for odds and sods, because usually not a lot happens apart from pantos, pantos and more pantos. This time, however, there was a bit of a scandal; for a region where the local media says everything is awesome, this raised quite a lot of eyebrows. That kept me distracted for a lot of the last two months. But apart from that, and those silly people over in Manchester, here's the other things that have caught my eye.
Stuff that happened in December and January
Enter Joe Douglas
So the big news from the north-east is that Live Theatre has chosen a new Artistic Director, replacing Max Roberts who announced he was stepping down last year. That's about all I can say it this point. Joe Douglas is currently a freelance director based mostly in Scotland, but it's hard to tell what his background means for live, other than the obvious thing of producing more new writing. As we saw from Paul Robinson's arrival at the Stephen Joseph Theatre, by the time the new artistic director commissions his own work, programmes it, directs it and performs it, it can take over 18 months before you get a good idea of what a new artistic director is going to bring.
H
e doesn't officially join until April, is it's very early days to speculate what direction he will take Live Theatre in. The only clue I can see is that he's scooped a lot of Fringe First awards at the Edinburgh Fringe. It could mean we'll be seeing a lot more Edinburgh Fringe-format plays at Live in the future, with hour-long running times, minimal sets but top-notch actors. But even that's jumping the gun a bit.
We may have a better idea what this means when Live announces the programme for its next season, the first one that Joe Douglas may have a hand in choosing. Expect that to happen around June. That will be interesting.
At last! Trains home on Saturday nights
One other bit of Newcastle-based news, on a far more practical level (and definitely not because I'm too much of a rail nerd). One thing that's the bane of any north-east theatre fan who doesn't live in Tyne & Wear is the stupidly early times of the last trains out of Newcastle. Especially on Saturdays. I only have first-hand experience of getting back to Durham, but 9.55 p.m. was ridiculous. Worse, with the second last train being over an hour before then, and the final train being three carriages long, the overcrowding was insane.
However, in an unexpected display of initiative and common sense, Transpennine are now running a later service to Chester-le-Street and Durham at 10.30. (Just these two stations – it doesn't carry on to Darlington like all other services.) For some reason, however, this isn't in the paper timetables, and it only shows up online. It's not like King's Cross where boarding a train that doesn't exist takes you to Hogwarts, but actually being able to get home on Saturday without being crushed in the next best thing.
In May, there is a big timetable change planned, which will deliver later trains to lots of destinations – as far as I can tell, there are last trains on Saturday to Hartlepool and Hexham at 10.30, and Morpeth at 10.50. However, it is now doubtful whether this can happen on time. I won't bore you to death with the reasons why, but the cause of the problems is, out of all things, overrunning electrification works through Bolton. Yes, Bolton. I am continuing to monitor this like the obsessive I am, and as soon as there's a better answer, I'll let you know.
Redhills is go
Quick update now, turning attention to Durham. One thing I looked at last time was the plans to refurbish the Miners' Hall and make it into a cultural venue. Well, things are moving faster than expected. Fundraising is still ongoing, but they're not waiting for that, they're going ahead with being a venue now, launching with a gig organised by The Empty Shop. There have also been other meetings going on looking for future opportunities, but that can pretty much be considered the launch as a venue.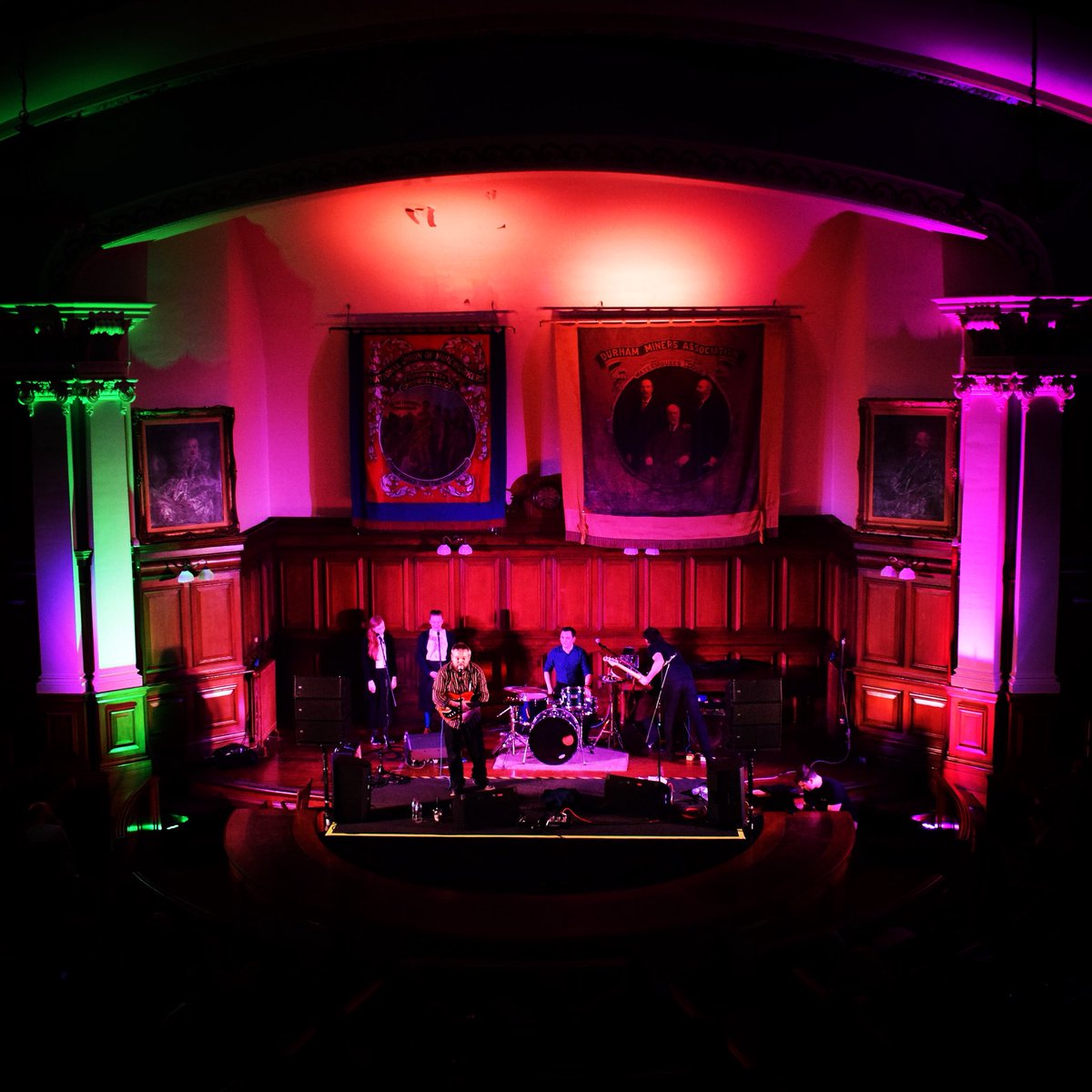 Normally when I report on Empty Shop developments I have a mixture of on-the-record and off-the-record information. This time, my hands have been full elsewhere, so for once, there's nothing I know that I'm not telling you. What we do know, however, is that this follows on from the TESTT project in a space over the bus station, with one crucial difference. TESTT is only a medium-term project, which will end whenever they get round to building a new bus station and knocking down the old one. The Miners' Hall, however, isn't going anywhere. If this comes off, it could be the biggest cultural development since the Gala was built. Exciting times lie ahead.
Goodbye Waterfront, hello Werks
Okay, that's enough north-east news, let's turn our attention to fringes. 2017 ended with a question mark over Sweet Venues Brighton, a second supervenue that balanced the dominance of The Warren. With Sweet Waterfront ditched after a breakdown in relations with the management of the Waterfront Hotel, they opened registration for 2018 with two spaces instead of four. It would not have spelt the end of Sweet Venues Brighton had it stayed that way, but it would have been a step backwards, and possibly push the balance of power back to The Warren.
But that is not to be. Sweet have found a replacement to Waterfront, and more. Joining the Sweet Umbrella is Sweet Werks, known as The Werks the rest of the year, previously Brighton Media Centre. This will be something new for the Sweet Family; apart from the pub venue theatre inherited from the 2016 merge with The Dukebox, Sweet's venues at fringes has been dominated by hotel function rooms (which, credit be due, they made a good job of doing). The Werks, however, primarily functions as offices for creative businesses in Brighton, which is new to Sweet. One thing that may count in Sweet's favour is that recently The Werks started a cafe intended as a creative/social hub – that should be an improvement on Sweet Waterfront, where a downstairs bar at hotel prices never really took off. Most importantly, as a creative business, it's unlikely there'll be a repeat of a new building manager not being interested in supporting a creative venture.
The other change is the addition of Sweet @ The Wellie, upstairs the The Duke of Wellington pub, bringing the total number of spaces up to five. This is a little different from Dukbox + St. Andrew's Church + Werks in two respects. Firstly, this is joining Sweet Dukebox as a second year-round venue, unlike Sweet Werks which is for the fringe only. Secondly, whilst the rest of the venues are programmed by the same team, in this space power is handed over to Sameena Zehra to curate. At the moment, we don't know how this will vary from the rest of the Sweet chain, but the early names mentioned suggests this space will focus more on comedy, music and spoken word than theatre – this is not surprising as this space seems better suited to those disciplines.
So with a net change of one space amongst the super-venues, how many acts will there be at the fringe. That we will find out shortly.
[Full disclosure: I am performing at Sweet Werks, but I first reported on this before I knew I'd end up there. I was not involved in the venue application this time round.]
Free venues at Buxton Fringe
Meanwhile, there'e been an interesting development over at Buxton. One side-effect of last year's move of Underground Venues and arrival of the Rotunda was that there were few opportunities for entry-level acts. With bigger acts taking up most of the slots in the new larger space at Underground Venues, and the Green Man Gallery and United Reformed Church saturated with demand, all of a sudden there was a squeeze on slots for entry-level acts. This might change if Underground Venues manages to get a third space back, but as it stands, there's not many opportunities if you're an entry-level act.
O
r is there? One thing that's been overlooked is the number of small venues in Buxton. Until last year, the big four (Underground, Old Clubhouse, Green Man and URC) accounted for almost all the acts, with only the odd act here and there in other venues. These minor venues played a bigger role last year as they took some of the over-spill from Underground (and the over-over-spill from Green Man and URC). And Buxton Fringe, it seems, has decided this is a good thing worth encouraging. So three venues are taking part in a scheme where the the Fringe will refund hire costs after an event takes place.
I don't think anyone can predict what the effect will be at this stage. We don't know how many acts will take this up, not do we know whether they'll be taken up by new acts who otherwise wouldn't take part, or existing acts wanting to do something extra. But with Brighton swiftly moving towards a programme dominated by big venues, and Edinburgh having gone that way a long time ago, it's a significant statement of intent from Buxton, that small grass-roots venues still have a part to play.
Rita, Sue and Max too
Yes. This one. In yet more fallout from the Weinstein saga, a play programmed at the Royal Court was pulled, then reinstated following public outcry. Some people called this censorship. For reasons I'll get on to in a moment, I don't consider this censorship, but I can understand why people thought it was. But this is an anti-censorship blog, so I'll say my bit briefly.
Firstly, the play itself. It would be completely wrong to censor Rita, Sue, and Bob Too because of what's coming out in Hollywood. If a play painted predatory behaviour in a positive light, I would oppose censorship – purely because censors cannot be trusted to judge this fair – but even if you considered that necessary, that is not the case here. Depiction is not endorsement, you'd have to be an idiot to watch this play and think it was encouraging Bob's awful behaviour, and, if anything, Andrea Dunbar is the voice of somebody on the receiving end. One complaint? If you've been a victim of this yourself, seeing a similar event depicted on stage could be upsetting or traumatising. I sympathise, but when you know what to expect, you have the choice to not watch it. You cannot dictate what other people musn't see just because it's upsetting to you.
However, this was not the issue faced by the Royal Court. Their problem wasn't so much the play, but who was the producer. Max Stafford-Clark is one of the few people in UK theatre to have been implicated during the Weinstein fallout. (Whilst his actions were nothing like Harvey's, it still way overstepped the line for someone in a position of power.) Potentially he could have been putting a spin on the play to paint people like him and Bob more favourably, although I've not heard that anyone who'd seen this production. Of more concern is what happened during casting, where he allegedly asked wildly inappropriate questions during auditions. One could see giving this production a platform as rewarding a man who did exactly the thing this play's against, especially if you are running a theatre trying very hard to stop this sort of thing happening.
I have some sympathy for the position the Royal Court found themselves in. Damned if they did, damned if they didn't. I would have been fine had they made either decision. What didn't look quite so good was the U-turn following public protest, which looked like they were motivated by a path of least resistance rather than sticking to principles. But this is just a blip in a theatre and an artistic director that has otherwise handled matters very well. Certainly nothing like Manchester Art Gallery's stunt that smacked of attempted culture policing. I don't envy the Royal Court for the dilemma they faced, but now it's time to learn lessons and move on.
What I wrote since last time
That's all the little stuff that happened. The bigger things I wrote about were:
Bonnie and Cyril: Reviews of two pleasing plays: How to Win Against History, the true story of a cross-dressing marquis in a world that wouldn't accept this, and Drag Me To Love, another true story of a drag act in Doncaster in more a more accepting age. How times change.
Pantodrome owes us an explanation: I wrote this when the shennagins of Times Square Panto first came to light. That article is now out of date. Things turned out to be way worse than I described.
Chris Neville-Smith's 2017 awards: The usual way to mark the end of the year, with a second win for best production for Northern Broadsides with Cyrano de Bergerac.
What you read in 2017: The other mark to the end of the year, which articles were read the most on the blog. Also my clues to who I've pissed off the most.
Lumiere 2017 roundup: A catch-up on what were the highlights of Durham's prized light festival, how the festival went, and what could have worked better.
Lumiere London 2018 preview: And it's two Lumieres for the price of one. My list of what I was looking forward to in London based on what I've seen in Durham. London roundup coming.
Goth Weekend: more Goth please: My verdict on Paul Robinson's new writing debut for the Stephen Joseph Theatre, plus a review of another SJT play, Di and Viv and Rose.
Goodbye panto, hello farce: The fallout of the Times Square Panto fiasco. Oh boy, that was bad.
What's worth watching: winter/spring 2018: A long list of recommendations for plays in the north-east in the months ahead.
Why you should worry about the Hylas takedown: That was in February rather than January, but I had to say this. My take on a new kind of censorship and why this stunt could be the tip of the iceberg.
And that's a wrap for January. I still have three plays in my backlog (all big productions that don't need my help), I promise they're coming soon. See you next month.