SKIP TO: The Jurassic Parks, Police Cops in Space, Rope, Neverwant, Last Night at the Circus, Whaddya Know, We're in Love, Larkin Descending, Always, with a Love that's True, The Wind in the Willows, Elsa, Myra, Gone, A Year Without Summer, Susan Harrison is a Bit Weepy, The Owl and the Pussycat, Doktor James's Bad Skemes, Beasts, Imaginary Porno Charades, Notflix, Groomed
And here we go. Time to start festival fringe coverage for 2018. Anyone who was itching for something like the Edinburgh Fringe had the Vault Festival to tide them over, but that is curated by the organisers. This time (and again in July and August), no such power exists. Anyone can be part of this festival, and whilst you can get various leg-ups from venues, the media or the Fringe Committee itself, the ultimate power lies with the audience. They decide who the biggest successes shall be.
The last two Brighton Fringes oversaw unprecedented expansion and a lot of changes that came with it. This year, however, there's few changes. Sweet Venues has ditched Sweet Waterfront and instead taken Sweet Werks, the Old Courtroom has reappeared as a fringe venue, but other than that it's really a consolidation of the growth in 2015-2016.
But you already knew that, didn't you? You want me to get on with my list of picks? As you wish. Let us begin.
Safe choices:
For those of you new to this, a recap on how this works (a summary of this). I split my picks into several categories, with safe choice and bold choice always featuring.
Safe choices are plays from writers, performers and companies and companies with such a good track record that I'm confident that their offering will be enjoyed. As with any pick, you should only go if you like the sound of the plays based on the programme and previews, but plays in the Safe Choice category are expected to have a wide appeal. If this sounds like play for you, then you can't go wrong with one of these. And this year, the three safe choices are very front-loaded.

This has to go in the list of safe choices for the most obvious of reasons. If you don't know the obvious reasons: WHERE HAVE YOU BEEN? Superbolt Theatre have been running this play for years: the Park family invite to to a screening of Jurassic Park (that's the original classic, not the reboot that we don't talk about), but they forgot the video. Only one thing for it: they're going to have it act it out for you. I saw this in 2016 and loved it.
But The Jurassic Parks (previously known as Jurassic Park and Dinosaur Park) is far more than your normal story within a story – the real tale here is that of the Park family, commemorating their mother who died a year ago, concealing a difficult history of the family. Switching between some hilarious re-enactments of famous scenes (may have taken some liberties with Dennis Nedry's last line "I'm going to die! It serves me right for being a greedy traitor") and some moving moments from a family closer to home, if you haven't seen this before you must take the chance now. It opens the fringe on the 5th-7th May at 7.45 p.m. at The Warren.

The other big name in the programme that catches my eye is The Pretend Men, who also made a big splash in 2015 with Police Cops, a parody of basically every 1970s TV cop show. It's almost like they made a checklist of every cliché ever used, and worked them all in. Such was its success there was bound to be a follow-up, and what better a choice than the other endlessly-used 1970s TV trope, science fiction?
I reviewed this at the Edinburgh Fringe last year, and although I had a worry that this series could end up a parody of itself, it's got everything that made the original a success. The cast of three deliver a very slick, high-energy performance, which is not only huge fun to watch but is an amazing technical accomplishment to get such a complex performance running this flawlessly. The runs at The Warren on the 5th-7th May and again on the 16th, 19th & 20th May, various times.

Rope
Now let's move from two Edinburgh Fringe success stories to a Brighton favourite. Pretty Villain, one of two groups behind the Rialto Theatre, are a long-standing group with a string of successes behind them, both classic plays and new plays. This year, Rope catches my eye, partly because it catches out anyone who mistakenly believe Patrick Hamilton is on the list of gentle drawing-room pieces just because he wrote in the 1920s. He was a lot more twisted than that (and by "he" I'm referring to both his works and him as a person). In Rope two students have masterminded a murder – well, one mastermind and one muggins arm-twisted into going along with it. Brandon is far too cocky for his own good, and holds a party where the victim is in the trunk everyone eats from.
I don't normally put classic plays in my recommendations – even if the play is excellent, the tight spaces and limited resources of the fringe environment often delivers an underwhelming performance compared to what you could have seen outside the fringe. But this one suits a claustrophobic setting, and the track record I've seen so far from Pretty Villain means I'm confident they will deliver. See this at The Rialto on the 5th-6th May then 10th-12th May, various times.
Bold choices:
Next comes the list of more adventurous picks. All of the picks listed here have been done by writers, groups or performers whom I've previously seen do good work, but this is more of a gamble. There are many reasons why I might make a play bold choice, but this time it's the same reason for all of them: they're new plays, and new plays are unknown quantities. Any of these plays could be a delight or a disappointment. But if you want to take a chance on something that could be the next big hit, these four I think are good bets.

It came as a bit of a shock in 2015 when long-standing Brighton-based fringe regulars stopped doing the Brighton Fringe, but after four years of this everyone's been resigned to their highly successful ten-minute plays to only feature at the Edinburgh Fringe. Until now: Bite Size is back, but not as you know it. The ten-minute plays remains an Edinburgh thing*, but the Bite-Size team have been trying for years to expand beyond this format. Last year's Izzie's Manifestoes was very encouraging and their most successful venture yet out of their comfort zone. Now they make their return a Brighton Fringe with another full-length play, Neverwant.
(* All is not lost for Brightonians though. There are still Brighton previews before Edinburgh – it's just not during Brighton Fringe any more.)
Billy Knowelden started off as an actor of the company but has since risen to be the unofficial number 2, and has written a series of plays, the best ones set in various dystopian futures. If I'm not mistaken, this is going to be an extended version of All You Ever Wanted, a play from two years ago set in a nightmare world where social media has taken over the world and the algorithms decide what you want whether you like it or not. Ladies, spent a little too long looking at French guys on dating sites? Now you will be paired up with you very own dream Frenchman, glass of red wine included. This is showing at the The Rialto on the 5th-7th May at 1.25 p.m.

This is something I didn't expect. I've been following Jane Postelthwaite's character comedy for the last couple of years, with Made in Cumbria and The House portraying a series of women in Cumbria. And by "Cumbria" I mean a version that might appear in Hot Fuzz or The League of Gentlemen where people get randomly murdered for arbitrary reasons, followed by a gentle reminder to stock up on Kendal Mint Cake. So when I heard her next project would be set in a circus, this looked like a natural next stop for her humour, and she could quite safely have proceeded with more of the same.
But this gets an upgrade from comedy listing to bold choice because this is a lot more ambitious than what she's done before. As I reported earlier this month, Last Night of the Circus is going to be a far more personal story. It's still going to be her playing a series of characters with a series of stories, but one of them is going to be based on her own experiences with bipolar disorder. The production values are also going to be a lot more ambitious this time. Beyond that, I know little about what's in store, but anyone who picks a risk over a safe bet has my respect. This begins at The Warren on the 7th May at 8.30 p.m. and returns on the 19th-20th May at 5.30 p.m. By then, we should know how this gamble has gone.

The Foundry Group has been on my radar ever since I saw Big Daddy versus Giant Haystacks back in 2011/2013, the story of how men used to pretend to fight each other before WWE where men pretend to fight each other. This time round, however, we've got a musical. Few details have been given away about this, but it looks like a parody of the 1940s musicals if the setting of the SS Freedonia is any clue. It's notclear whether this a homage to the format or a send-up, but Brian Mitchell's intelligent depiction in Daddy vs Haystacks bodes well here. This is on at the Rialto Theatre on the 8th-9th, 14th and 23rd-24th May at 6.40 p.m.

Larkin Descending
And rounding off the bold choices is Brighton regular Gail Louw, who grabbed my attention back in 2012 with the excellent Blonde Poison, a solo story of Stella Goldschlag, the Jew who survived by turning over other Jews to the Nazis. Since then, she's done a lot more plays that always eluded my Brighton visits, but they've performed consistently well with the reviews. She's written plays in a variety of formats, but this one is another solo biopic. Philip Larkin is the nation's best loved poet, or rather was. Now, he is an alcoholic who can no longer write. This is a new and untested play, but if she can repeat the formula what worked so well in 2012, this should be a good one. This is on the 12th & 13th May at the Rialto Theatre at 2.15 p.m.
You might like …
This category is similar to safe choice, in that I've seen either this work or similar work from the company and I'm certain of what to expect. The only rule that is relaxed is the one for wide appeal. These are more specialised than the safe choice, but if you like the sound of this, go ahead.

Always, with a love that's true
Wired Theatre are another set of Brighton Fringe regulars, but they stand out from the others for two reasons: firstly, they only perform site-specific pieces in various locations around Brighton; and secondly, they primarily consist of older actors, defying the stereotype that the fringe is a young person's game. There was a time a few years ago where they took a lot of risks and sometimes ended up too confusing for their own good, but they're a lot more disciplined now and there's not been a weak link over the last few years, and the outstanding Dancing in the Dark in 2016 clinched their status as perennial Safe Choices.
This year, I've put them as You Might Like instead of Safe Choice for one reason: this play is a sequel to last year's play, And Love Walked In. Knowing how complex Wired's plays are, you'll probably need to have seen that one to stand a chance of following this one. If you saw last year's play, you'll understand why (and you'll have a chance to tie up all those loose ends from last year). If you didn't see last year's play but you want to pick it up as you go along, good luck. Either way, be aware that tickets sell out for this way in advance depending on the space of their venue – last time they sold out weeks ahead. They are on at weekends and public holidays at various times at a house in Hove, but for God's sake get a ticket for this one – the chance of winging it this year is around zero.

Boxtale Soup is a puppetry group that has been rising in fame on the fringe circuit, with their big hit being Northanger Abbey, with double-act Antonia Christopher and Noel Byrne telling the whole story with a multitude of puppets. But alongside this adult-oriented strand, they've also been running shows for children. This one came to Brighton for a one-off performance last year, but that went down well as no w they're back for another three. This looks like this is primarily aimed at children so it won't necessarily be a must-see for Northanger Family fans, but if you have any spare children lying around you can see them at The Warren on the 27th & 28th March and 2nd June at 4.15 p.m.

Elsa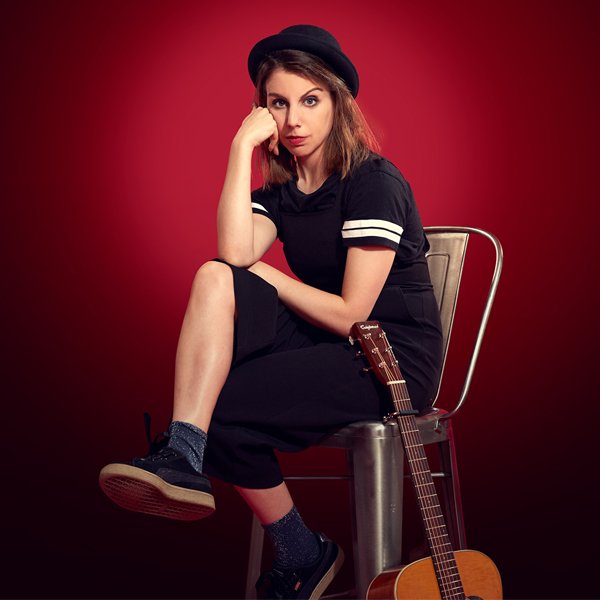 I saw this at the Vault Festival and this makes it into my picks as something different. Down as Theatre at the Vault festival this year, down as Comedy for Brighton, but just as easily fitting in the Music section, Isobel Rogers created something that straddles all three. Told entirely in songs, Elsa works at a coffee shop and gets to drop in on the lives of her customers. In general, each song focuses on different tables, different lives, different stories, but the on common these through the hopes and fear of the different women is the rise of social media and the unhealthy obsessions with personal image that come with it. It's best to think of this as musical storytelling rather than theatre or comedy, but it's a good showcase for what must be a very specialist genre. This shows on the 25th May and 1st-2nd June at Komedia.
Wildcards
Now for this list. These are plays and performances which I know little about and I don't know whether they are any good, but they have all grabbed my attention for various reasons. If you want to take a chance of something interesting or different, you might want to look at one of these.

Myra
Myra came to my attention in 2016, but not for the usual reason. A solo play from the Lauren Varnfield of the formidable Pretty Villain on the infamous moors murderer, it gathered a lot of attention and then, with days to go, it got cancelled with no explanation. Was censorship at work? A paranoid idea, maybe, but with the first ever successful censorship campaign at a festival fringe less than two years before and a sensitive subject matter, this looked like a real possibility. However, it tuned out to be a false alarm. The decision of cancel was Lauren Varnfeild's alone – she decided the play wasn't ready and she wanted to make sure she'd got it right.
Ah well, having grabbed my attention, I'm now interested to see how this goes. Any play that tries to understands one of the most notorious killers is going to be a difficult one to get right, but Varnfield's performance as Marilyn Monroe in Reno the year before is a good start. Will this play be second time lucky? Find out on the 4th-7th May at 8.00 p.m. at the Rialto Theatre.

Boxtale Soup might has a safe bet lines up with Wind of the Willows, but the big challenge is whether they can follow up their hit that ran for years, Northanger Abbey. Well, their current play for an adult audience is a fable. The inhabitants of great city of Home lead contented lives, until the arrival of the Storm, destroying all they have forcing them the flee seeking safety. It's a parallel for refugees, and we can expected their puppetry to be put to use in a new way. Two performances on the 5th-6th May at The Warren.

A Year Without Summer
Now for something that grabbed my attention by a completely different route. Cast Iron Theatre is a Brighton-based groups with strong links to the Dukebox Theatre, based in what used to know as the Iron Duke pub (before they changed their name to The Southern Belle, something that baffled everyone almost as much as the day Marathon changed its name to Snickers). But catching my interest is the writer, Andrew Allen, who is also very highly regarded as a reviewer. He earned my respect for his rules on reviewing, and he even earned the respect of Fringepig, in particular for understanding the struggles of other performers when passing judgement.
The year without summer is a documented historical event – 1816 really was the rottenest summer in history, thought to be caused by a killjoy volcano in the Philippines – but this was also the year that Mary Shelley wrote Frankenstein. So this story of the origin of the famous Gothic horror is on at Sweet Dukebox on the 21st-27th May at 6.15.pm.

Susan Harrison is a bit weepy
Whilst we're on the subject of reviewers, here's another performer who came to my attention through a reviewer with a reputation, only this time at the opposite end of the scale. It's a long story – and I can't be bothered to go over this again – but the thing that she and I have in common is that we've both pissed off a certain reviewer from a certain Broadsheet known for its extensive Edinburgh Fringe coverage. However, the one good things that came out of this is that I got to rediscover Two Stars podcast, a hilarious podcast where she and fellow comedian Gemma Arrowsmith play two incompetent reviewers. I loved their podcast of last year's Edinburgh Fringe, although it certainly helped that I spotted the in-joke. Anyway, having got a dose of Hayley and Ruth, I quite fancy seeing what other characters she can do. She's on at the Marlborough Theatre on the 15th-16th May at 7.30 p.m.

The Owl and the Pussycat
The last wildcard is a local entry. I do wish more north-east groups would consider Brighton Fringe, because it gives you a way to prove your worth like Edinburgh does without the insane expense. This year, however, apart from myself, the only other north-east-based group I recognise is Kitchen Zoo. This is two sevenths of the Camisado Club, who were last in action on the fringe circuit at the Edinburgh Fringe with You, Me and Everything Else, but this is very much a children's puppetry performance. I have kept trying to see this and been continually thwarted by my diary, so I can't give my own verdict yet, but this been running for some time so hopefully this means they're doing something right. They show at The Warren on the 12th & 13th May at both 10.00 a.m. and 11.30 p.m. each day.
From the comedy
This is a theatre blog, and my recommendations are theatre recommendations, but there's a big overlap between theatre and comedy. Some entries under theatre I count as comedy, and vice versa. Two entries under comedy are sufficiently like theatre to be included above, but apart from that, there's four other things that I can recommend seeing.

I saw Doktor James's Akademy of Evil last year. In theory, this is meant to be a show for children, but the setting of the world's most incompetent supervillain, endlessly belittled by his superhero brother (and general cock) James-Man, has a far wider. So much that the parallel adult show Doktor James's Night School occasionally gets shown alongside the kids' show, which is basically exactly the same show but at a time more suited to grown-ups. But I always felt that this setup was so good, they sold themselves short by ending after an hour. If only there was a sequel …
And my wish in granted. I saw the follow-up at the Vault festival this year and loved it. All but one of the audience were adults, but everyone found it hilarious, and the only child got to be the star of the show. Can Doktor James recover from the depths of a number #10,000,000,000 in the supervillain leage table? Can he see off his new rival (and obvious crush of his brother's), Doktor Jane? Did cakeorbomb.com sell us a cake or a bomb? Find out at Sweet Werks on 26th May – 3rd June at 2.25 p.m.

Beasts
I had the fortune/misfortune of stumbling across this sketch group four years ago. Well, they call themselves a sketch group. The sketches themselves are usually groaners – the real show is always the three men squabbling on-stage mid-show, and then Owen goes pompous, James goes nerdy and Ciaran usually takes off his clothes at the slightest excuse. This year, they promise a compilation of all of their greatest sketches, but I can confidently predict this will result in Owen getting pompous, James getting nerdy and Ciaran taking off his etc. etc. They took a break last year, giving me time to recover from the trauma of Mr. Edinburgh 2016 with therapy, but, hey, you want to keep your therapist in a job, don't you. See this on the 11th & 12th May at 8 p.m. in The Warren.

Imaginary Porno Charades
In a shock move, Imaginary Porno Charades aren't doing a 12-hour marathon this year. I don't know what the reason is – it will probably be some flimsy reason about the health of the IPC team – but we're going to have to settle for two 90-minute matches this time. For those of you unfamiliar with the format, this is basically a game of charades, where all the words are titles of imaginary porno movies. The good/bad news is that this is after my Brighton stint, so you won't see me playing any roles from Daisy Pulls Me Off or Five Gays Named Moe this time. But there are always other Brighton Fringe performers dying to be guest and make complete tits of themselves, and you can see this at Sweet Werks on 1st & 2nd June at 10.00 p.m.

And finally, there's this group that I discovered on my brief recon of improvised musicals. I can't really give a definitive verdict of the Notflix team as I have no other improvised musicals to compare them to, but they certainly impressed me with what improvised musicals can do. I'd assume they had a bank of tunes to apply to the movies they make even worse versions of (for example, I saw the version of the Titanic where the evil captain send the ship into iceberg-infested waters only to be saved the the plucky Irish sailor on his first day of the job), but I am assured they make up the tunes and harmonies on the fly too. Two performances here to Komedia on 10th May at 9.00 p.m. then 20th May at 7.30 p.m.
And one more of note …
There's one more thing for me to list. It's something I wouldn't normally list because the performer is, um, directing me for another play. But I'm going to list it anyway.

Yes, there's a huge conflict of interest at play here – but I could hardly not list it. Groomed was the undisputed winner of Brighton Fringe 2016, getting five-star reviews from basically everyone and scooping about every award going. And it's a ground-breaking play, with Patrick Sandford talking about his own experiences of abuse as a child. I don't need to review this, because there's plenty of other reviews already lavishing praise, but it's long overdue that we are talking about this, but there's no deny how much this done to get this conversation going. There is a one-off performance at Sweet Werks on 3rd May at 7.30 p.m.
UPDATE 04/05: This performance sold out, but there's now another performance on the 12th May at 12.15 p.m.
So there you go, 19 picks from me. But remember that there's another 976 things in the programme that aren't in this list. As always, think of this as a cross section of what's worth watching rather than the whole list. So how will these fare? Who will be joining this list? Find out from the 3rd May, when daily coverage begins.