This page is updated during the course of the Brighton Fringe. Come back for more updates as they arrive.
REVIEWS: Skip to: Always, With a Love That's True, Brighton Queen of Slaughtering Places, Tom and Bunny Save the World, Susan Harrison is a Bit Weepy, Wan In, Wan Oot, Apparatus, Larkin Descending, Beasts, The Owl and the Pussycat

Sunday 3rd June: And the Brighton Fringe awards have been announced. I don't have much to report here, because most of the award recipients are either shows I haven't heard of, or genres I don't cover. But one award that was notable was audience choice of best venue. Junkyard Dogs wins again, for a second year in a row.
I haven't been to Junkyard dogs yet, because they cover mainly comedy and little theatre, but the owners of this space have a good reputation of showing love and commitment to the arts. In a festival increasingly dominated by supervenues, Junkyard Dogs may still have a capacity to throw a spanner in the works. A good reputation means that high-profile acts may pick this over a more conventional choice. But we'll have to wait another year at least before we see if anything comes of this.
So that's it. The end of Brighton Fringe live coverage for another year. It's not quite the end of all things Brighton, because we still have the ticket sales figures to come out, whenever that may be. Edinburgh figures will also be interesting to see whether the Edinburgh/Brighton gap increases or decreases. I may also have an interesting bit of analysis if I have the time, but you'll have to wait and see.
So thank you all for everyone who followed this over the last month, and of course thanks to everyone who supported my show. Roundup coming sooner rather than later, I hope. See you all in August when we start all over again in Edinburgh.
Saturday 2nd June: And here we are. It's the moment of truth. Who is my pick of the fringe?
Last year's Brighton Fringe went from one extreme to the other. Two plays were outstanding and got my Ike Awards, but I also saw one play that was awful. This year, the range hasn't been quite so extreme. Nothing quite made it as an Ike-winner this time, but neither did anything make me leave cursing the fact I'd wasted an our of my life. Even so, there were various plays that didn't make it on to this list. All had good points, and nothing was irredeemably awful, that bad points outweighed the good more often than normal.
But enough of a preamble, here we go. The full list, for the first time including plays at Sweet, is: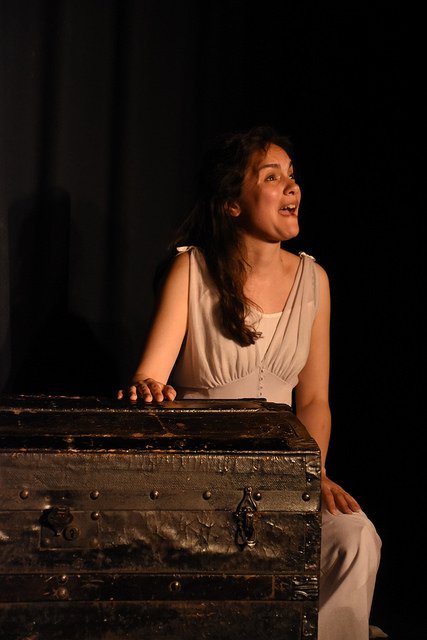 Pick of the fringe
Bin and Gone*
Metamorphisis*
Apparatus
The Owl and the Pussycat
Antigone Alone*
Always, With a Love That's True
Honourable Mention
Beasts
The Erebus Project*
Larkin Descending
Wan In, Wan Oot*
Brighton Queen of Slaughtering Places
One-Woman Alien*
* indicates shows at Sweet which were subject to embargo (with rules bent for Wan In Wan Oot, as that deserved a bigger audience). Bear North and Susan Harrison is a Bit Weepy will also get a mention in the roundup, but I left these two off the list as I didn't count these as theatre.
I'll be writing about the Sweet shows in the roundup when I have the time (I'll try to get them finishes before the Edinburgh Fringe this time). Well done to everyone in the list.
Now all we have left to do is look at who gets the Brighton Fringe awards. Coming up tomorrow.
Friday 1st June: I was going to have a final look at reviews, but it's been quiet. Whaddya Know, We're In Love got a good review from FringeReview; other than that, not much else to report. I had been keeping my eyes peeled for reviews of Doktor James, but nothing there yet. But that probably doesn't matter – I have reports of two sell-outs at the moment, and the verdict of children trumps anything that boring old grown-ups say.
I don't know if this is any different from previous years, but review coverage seems to have been a bit random this time round. Some shows from groups with superb reputations have had little no review coverage. And some plays, performed by groups that are starting from scratch in Brighton, and didn't – as far as I noticed – have anything particularly eye-catching compared to other groups, got quite a lot of coverage. Obviously there's a lot of luck involved in who gets reviewed by individuals reviewers/publications, but I'd have thought that with several major publications in play this would even out a bit. But no, still pretty random. Not really anything to conclude, just an observation.
Tell you what, since you've been following it this long, I'll give you my pick of the fringe a day early. Tomorrow, okay? Isn't that exciting?
Thursday 31st May: Now let's look ahead to Edinburgh, the big one. Coming up on Wednesday next week, there will be news on registrations. With Brighton growth stalling for now, will Edinburgh get to extend its commanding lead?
But before then, there is a row over unpaid work. Not actors, this time, but techies – and, if I my say so, I'm surprised this issue hasn't reared its head before. Zoo Venues advertised for technicians who would get travel, accommodation, and a subsistence allowance, but no actual pay. Zoo is far from the only venue that advertises this, but BECTU and Equity decided this was one advert too many and vowed to "exploitative" and "completely unacceptable" unpaid work.
I'm at a loss over what to think of this issue. For performers, most people agree that you should be able to do a show off your own back if you want, BECTU included. I would be the first to protest if it was any other way. Unpaid work off my own back at fringes (not Edinburgh but still the same principle) was how I got myself taken seriously enough to get paid opportunities. Yes, self-funding two Buxton Fringes and one Brighton Fringe was far from cheap, but with all opportunities to be noticed closer to home shut off to me, that's what I had to do. The other reason to take part is that people love doing this. I love doing this too, but making a name for myself was my primary reason. Other people might simply do it to have fun. Either way, you can guess the reaction I would give if someone told me I shouldn't have been allowed to do this in the name of protecting myself from exploitation. So far, the principle that artists should be allowed to get their work out however they choose has held up very well.
But venue staff is a lot less clear-cut. If we stick with the example of theatre technicians – and in the case of Edinburgh Fringe, these positions are reputedly long hours – the benefits are not the same. What do they have to gain from unpaid work? You cannot build a reputation as a techie the same way you can build a reputation as a performer. Now, in theory you could use your experience at the Edinburgh Fringe to boost your chances for job applications that home, but that's not too different from the existing practice of unpaid interns, which is rife with stories of exploitation. The other reason applies though, that plenty of people would love to spend a month doing a fringe festival, especially if someone else is paying your expenses. But is that a good enough reason? Does this come at the expense of people who need the paid work?
I suppose that one factor to consider is the cash flow. In smaller venues (especially at smaller fringes), it's vital that volunteers happily put their time in for free, otherwise they can't run. In a concert at the Royal Albert Hall, where paying front of house and techies is peanuts compared to the cash flow, that practice would be scandalous. I'm honestly not sure where Edinburgh Fringe venues fall on this scale. Insistence of paying all venue staff could end up at considerable expense on the performers. Or it might be the landlords of the venues who end up taking the hit. Who knows?
But this is only one half of the question. It's all very well discussing what's fair. It's another matter deciding how to do it. What we have to be aware of is that there isn't that much the Festival Fringe Society can do beyond research the issue. It would be very controversial for them to start refusing to admit groups or venues based on who pays who how much (not to mention open to a huge amount of abuse), but even if we were okay with that, it wouldn't take much for the supervenues to break away and start their own festival if they were told how to operate. As for the idea that the Festival Fringe Society could somehow force private landlords to charge less for accommodation, dream on. So what other options are there? Naming and shaming? Enforcement of existing laws? Lobbying for law changes? Nothing quick and easy, that's for sure.
I am glad that Equity and BECTU are bringing this issue up, because a discussion is long overdue. But it's not going to be an easy one. How to achieve what we want is going to be just as hard as deciding it. Prepare for a long debate.
Wednesday 30th May: We're approaching the end now. Two final recommended shows coming up, and that's for Brighton Fringe 2018. Both are on Friday and Saturday. Isobel Rogers returns with Elsa for another two performances, both 9.15 p.m. at Komedia. I've written about her before, but this is a unique mix of storytelling and music which is wroth seeing as something different.
Or if this sounds a bit too high-brow for you and you'd rather have some toilet humour, Imaginary Porno Charades is also on at Sweet Werks at 10.00 p.m. Long-standing Brighton Fringe favourite Jo-Jo Bellini is being guest host for these two 90-minute game shows, proving once and for all that women are just as good as the men for immature toilet humour. If you can't wait, I wasted my time producing this the other day, and whilst I can't guarantee The Big Gang Bang Theory or Brighton Cock will feature, that's the sort of imaginary porno you can expect.
Four days to go, time to wind up. Any burning issues you want me to cover before we're done?
Tuesday 29th May: Word coming back from Sunday's FringeReview discussion on reviewers now. As I suspected, the most provocative thing about "Should we ban reviewers?" was the title. The only suggestion that Paul Levy seriously floated was the option of refusing a review request if they've treated you unfairly in the past. There isn't a recording of the debate itself, but we do have a recording of a discussion afterwards between various Fringereview bods, which gives an flavour of the debate.
Based on this and other feedback from my spies, there wasn't much division. I'm told that it was pretty much universally accepted, by performers and reviewers alike, that you are completely within your rights to refuse a review request from any publication you want. To be honest, at a festival fringe, that would be pretty uncontentious. With plays competing with each other for reviews, any sensible reviewers would just use their time giving another show publicity instead. The only thing that might cause a stink is if so many performers refuse to give press tickets to a publication they don't have anyone to cover – but if it came to this, it would probably be game over for that publication, and any complaints over being refused access would probably be answered with examples of the sort of reviews that caused them to get blacklisted in the first place.
Richard Stamp says:
"At many festivals (including Brighton and Edinburgh), accredited reviewers can get press tickets without any further hurdles. That's why accreditation at Edinburgh is such a big deal. Some venues opt out of this and run their own systems. In Brighton the Warren and Sweet opt out, in Edinburgh the Big Four, Traverse, and some other perceived "prestigious" venues opt out. Regardless of venue a show could always choose to have no press allocation at all (it could still let reviewers in through company comps). But the thing to understand is, hurdles to issuing tickets are also hurdles to getting a review. In Edinburgh particularly, I know which requests will go through quickly and easily, and which ones I'm going to have to chase. I'm as short on time as everybody else is, so if it's a 50/50 choice between two shows, which one am I going to go for? So in an environment where most shows do in fact want all the reviews they can get, there's an argument for having a lightweight process that serves the greater good of the greater number."
(As an aside, I got the impression from the discussion that not all venues give performers a choice over accepting review requests. Both managed venues I've worked with gave me the choice over this: Underground Venues as and when requests came in; and Sweet Venues working to a default of accepting requests and not telling you, but giving the option to pick and choose if you wish. Do some venues not do this? I'd be nervous over that.)
The thing that might be more controversial would be to refuse review requests from specific reviewers. I don't believe this was suggested, but I wish it had because it I'd love to see how this would go. It is rare that a review publication gets so notorious that no performer will touch them – not if they want to still be in business next year, that is. Individual reviewers, however, do. But it's a lot harder to say no to them. Unless the review request gives the name of the reviewer, the only way to refuse a bad reviewer is to say no to the whole publication. In that respect, I can see why performer would want the right of refusal for an individual reviewer. But could that be open to abuse? Refusing a specific reviewer for writing a hit piece is one thing, refusing a specific reviewer for simply not liking what you did before is another matter. But how do you tell one from the other? I'm honestly at a loss over whether this should be legit.
This discussion, of course, only applies to fringe-scale productions. For large theatres, where reviewers are competing for press tickets, it's a very different argument. Are we any closer to getting an answer to this debate? Maybe, maybe not. But I do think we're a bit closer to working out which "cruel" reviewers Paul Levy was talking about. FringeReview, like a number of review publications, sees itself as a peer reviewer, with all their reviewers being experienced fringe performers themselves. But in the post-debate discussion, he talked about people who claim to be experiences fringe performers, who on closer discussions have done barely anything – and yet see themselves about knowing everything about theatre, which makes it okay to tear down everyone else. Now we're getting somewhere. Next question: who? We know you know. Go on Paul, you can tell us. Go on, go on, go on, go on, go on, go on.
Monday 28th May: Another Brighton Fringe break now, for an update on nymphgate. For anyone who missed this fiasco back in early February, this is a stupid stunt carried out by Manchester Art Gallery when they removed Hylas and the Nymphs from their walls – officially, it was to "start a debate", but it was bleeding obvious which side they were on. Unfortunately for them, instead of getting the public validation they sought, they were met with universal condemnation. Turns out they'd underestimated this painting's popularity, because the response almost unanimously rejected every one of their arguments.
I wrote about this at the time because it had become a censorship issue. Whilst taking a painting down for a week wasn't censorship in itself, I had a suspicion the real motive was to test the water for more widespread culture policing. If that was their motive, they're not going to be trying this again in a hurry, so I should really have let it go. But the thing that riled me was Manchester Art Gallery's inability to acknowledge a single criticism, let alone admit they lost the argument. When the painting was re-hung amidst fanfare over this wonderful debate we were having, they said they'd follow this up with a chaired panel debate, inviting speakers with a wide range of opinions, more details shortly. Then nothing was said for weeks. They they released a series of articles branding the entire backlash as online vitriol. I even started thinking they were planning to can the debate quietly and hope no-one noticed.
But wait. The debate they promised has finally taken place. They have kept their promise. Well, some of it. One would have thought if they were keen on this debate, they'd have held it sooner when the issue was still fresh in people's minds. The title of the debate is "Who decides what goes on display?" (um, you do, you've made that pretty clear), and they were going to "present their thoughts on the inherited problems that exist in gallery collections and displays and discuss who might get to to decide how gallery exhibitions might be made differently," yet again starting the debate with a loaded question. The "wide range of opinions" was quietly replaced with the director of the gallery and the curator who was behind the removal. No opposition. Still, it could have been worse. Before pulling out at short notice, Ellen Mara De Wachter was going to join them on the panel – at the height of the controversy she wrote a god-awful article rebranding this kind of cultural authoritarism as "curatorial activism".
However, after three months of ignoring me, someone from Manchester Art Gallery replied to me saying that strong critical opinions were aired during the discussion, the debate was frank, forthright and honest, and a video of the event will be posted as soon as they can. Very well, I will give this a chance. It will take a lot to regain my trust after so much stonewalling and dismissal of dissent, but who knows. So here's the deal: I am going to create a list of questions I and others want answers to. Obviously the panel can only answer questions asked of them, but they will get more respect from me if they go out of the way to address these criticisms, less respect if they try to evade them. That's it, all I can do now is wait for the video. What I say next is in their hands.
Sunday 27th May: When I first arrived at Sweet Werks I gave some initial thoughts. Now that I've had a chance to look at things further, I've got some further thoughts of how things are going.
I mentioned in passing last time that one possible snag with this arrangement is that the cafe is right next to the space used as Sweet Werks 2, and there might be a noise bleed issue. The Warren, I am told, has improved its soundproofing this year, but the problem there is that the DJ in the bar plays loud music when plays are still going on, overwhelming whatever soundproofing is in place. Sweet Werks, however, is going to the other extreme, with people being discouraged from talking too loudly in the cafe whilst a show is on. You can't even order a coffee during shows because the coffee machine is too loud. There's also confusing issues over when you can and can't order food – seems the Werks cafe hasn't quite adjusted to being a fringe venue from its normal function of a business cafe open weekday daytime.
Bottom line is that Sweet Werks currently has an opportunity to be a fringe hub which it's not utilising. I do have a bit of sympathy for this dilemma, and I can't think of any foolproof way around this, but I wonder if Sweet should aim for something similar to the Barrel Room in the old Underground Venues in Buxton: as a space right next to a noisy bar, it was used exclusively for comedy, music, and anything else that doesn't mind chattering going on outside. Of course, no two venues are the same, and without an obvious equivalent to Pauper's Pit in Sweet Werks, it's not certain the theatre acts currently using Sweet Werks 2 would have somewhere else to go.
One thing that might be worth considering, however, is widening the programme of Sweet @ The Wellie. I've not talked about this space in my live coverage yet because it's only sort-of part of the Sweet chain. Although it's managed by Sweet, the artistic curation is done separately by Sameena Zehra. This year, it was predominantly comedy, with a little bit of music, but having seen the space, I reckon it would also work for some solo theatre. Whether this would work with the current curatorial arrangement I don't know, but I'd give it a go.
Bear in mind that Sweet Venues have had a bit of a rush job this year, after last year's decision to ditch the Waterfront hotel. Hopefully next time, having seen this in action as a fringe venue and having a full eleven months to prepare for next year, there will be a better plan in place.
Saturday 26th May: It's the second last weekend, and with it comes slightly more family-friendly shows than before. I'd rate the main attraction as Doctor James's Bad Skemes. Following on from Doctor James's Akademy of Evil, the world's worst superhero (but not the definition of "worst" he was hoping for) faces a new nemesis, Doktor Jane. I saw this at the Vault Festival and loved it. One question, of course, is what audience they get. In principle, it's meant to be a children's show, but grown-ups seem to enjoy this even more than the children. Runs for the rest of the fringe at Sweet Werks, 2.25 p.m.
Showing tomorrow and Monday is Box Tale Soup with The Wind in the Willows. This is another family-friendly show, but one of the more traditional kind with more gentle puppetry. Box Tale's big hit was Northanger Abbey, and whilst I've not seen this particular play, their format should work well here, and it got good reviews last time so people who have seen this think the same. 4.15 p.m. at the Warren, with another showing next weekend too.
One other thing that may be of interest. The FringeReview debate is taken place tomorrow at Sweet Werks. Paul Levy grabbed some attention last weekend with his column about cruel reviews, and it now turns out this was a build-up to the theme of the debate: It is time to ban reviewers? Now, before anyone gets too sensational about this, this is just a way of getting attention. Of course Paul Levy doesn't want reviewers to be banned. Not unless he wants to put his own website out of business. But underneath the hyperbole, there are some interesting questions. Should performers or venues refuse requests from specific publications? Or even specific reviewers? There's no straight answer to this. This might be seen as a necessary way to fight hack journalism and hit pieces. But it could also be abused as a way of stifling criticism. It's at 12 noon tomorrow at Sweet Werks, I would have gone if I'd still been around, but since I'm not, someone let me know how it goes.
Friday 25th May: Time now for a catch-up on shows I've seen or recommended, and see how they've fared with other reviews. I'm not keeping track of every single review, but I do highlight those of note. I neglected to mention that Apparatus did very well with reviews, but these good reviews were coming in before I saw it and liked it, so no surprises there.
(Usual caveats apply: star ratings are wildly subject to individual reviewers' preferences, and scores attached to individual reviews should always be treated with caution. But when multiple people give consistently good reviews or consistently bad reviews, that is generally quite reliable is telling you whether its any good. I look at star ratings because these are largely immune to selective interpretation of how good the review it.)
Of more interest is Always, With a Love That's True. Reviews of Wired Theatre's shows are sporadic, partly because they don't make it easy to be contacted, and partly because (so I gather) Brighton Fringe can be sloppy at processing requests to put press in touch with performers. But this time I've seen reviews from both Broadway Baby and FringeGuru. It's good: five-star and four-star respectively. Of particularly note: both reviews, along with mine, praise Robin Humphreys from bringing out the changes between Andrew's sinister manipulation, and his vulnerability. Probably a good year to get the reviewers in though: last year's play was a more experimental one that could have gone either way – the sequel this year consolidated the story into something more focused and dark, and this was a good time for it to pay off. Wired doesn't really need this – they have a loyal following who love their shows no matter what the reviewers say – but they can nonetheless be pleased with how they've done.
But the one I was most interested to see how Last Night At The Circus went. I'm still gutted I couldn't see this myself, because this was one of the biggest gambles of the fringe. The first review from Broadway Baby gave it a three stars, after a hiatus Jane Postelthwaite got a spate of good reviews, including four stars from The Reviews Hub and Latest Brighton. I've only skimmed these reviews because I'm not giving up hope of seeing this in the future and I don't want to give away too much. But one thing is pretty clear: this is much much darker than her previous work. I wasn't sure whether her experiences of mental health were going to be a central theme or an incidental one. But having discovered her opening line is ""Sorry, I have tricked you all into a show about mental health!  No refunds, the doors are locked!", it's now clear this is the overriding theme of the play.
And so we go into our penultimate weekend. Still things on my radar that interest me. Can an act in the final week pull off any eleventh-hour surprises?
UPDATE: Jane Postelthwaite got in touch about the Broadway Baby review. That one, she says, was disrupted by drunk hecklers, and she's asked Broadway Baby to take this into account. Oh dear. I suppose this kind of nightmare audience is something that all not-quite-comedy shows listed under the comedy section are particularly vulnerable to – one would have thought that audiences would have worked out by now that you never know what you're going to get in a festival fringe, but evidently some people haven't. It doesn't really matter though. In the long run, it's the best reviews that get remembered, and the others get forgotten. If Last Night at the Circus proceeds from here (and surely this cannot be the last we've heard of it), it's in a strong position to do so.
Thursday 24th May: Eeek. I'm supposed to be making recommendations for plays back home, and the first one, Birdsong, finished at the Gala this Saturday. Better get a move on with What's worth watching: spring/summer 2018. This includes a last-minute entry of Tom and Bunny Save the World, based on their performance just gone in Brighton.
Whilst there is a quiet moment, now might be a good time to look ahead to the next fringe, Buxton. Last year was a big year of change for Buxton, with the key venue closing permanently* for redevelopment. Underground Venues moved to The Old Clubhouse, swapping two smaller spaces for one bigger space. But the big plot twist was the arrival of the pop-up Rotunda Theatre. Suddenly, there was another big venue to counterbalance the dominance of the old one. One unwanted effect of this rearrangement was the loss of smaller venues suitable for entry-level acts, and with it – it appear – the loss of entry-level acts from the programme. However, this was offset by higher-profile acts coming to the new bigger spaces, and the net result was an unexpected increase in registrations.
*: Permanence of closure may differ from that advertised. But that's speculation for another day.
This year is a "no change" year for venues, and with it little change in the number of registrations. The overall number is 180, a very slight reduction of 3 from the previous year. Rotunda and Underground venues have both had slight increases, but for different reasons. Rotunda was announced very late last time round – this time, acts have had longer to consider this option, and there seems to have been an increase of uptake – they'd just better hope they don't get plagued by cancellations this time. Underground managed to squeeze in a few extra acts due to better availability of the Arts Centre anb tighter timetabling.
The bad news, however, was that Underground Venues' idea to set up a second space in the Tap Room hasn't come off this time round. They're still looking at doing this next year – in the meantime, there's still a lack of spaces for beginners to perform. With Brighton getting a progressively worse option for groups starting off on the fringe circuit, it's important that fringes such as Buxton stay viable. Let's hope something comes off next year.
Wednesday 23rd May: Time again for a look at what's coming up.
Two shows that caught my attention are in the final leg of their split runs. Whaddy Know, We're in Love, everyone's favourite take on the classic age of musicals is on today and tomorrow at the Rialto at 6.40 p.m. Then Franz Kafka: Apparatus, everyone's favourite take on unnecessarily elaborate death machines, is on also at the Rialto, 6.30 p.m. on Friday and Saturday.
Meanwhile, starting its run at Brighton Fringe is Elsa. I saw this at the Vault Festival, and I highlighted this one because it's something different. It could be described as theatre, comedy or musical storytelling, but Isobel Rogers' story of Elsa working at the coffee bar and the tales of all of her customers was certainly memorable. First showing at Komedia at 9.15 p.m., this Friday, with two other performances next week.
Other than that, a quite mid-week update. Have there been no fringe scandals yet? That would spice things up a bit. Failing that, someone feel free to make one up.*
* Note: That was a joke. Please don't do that. I can't afford legal bills for a libel case.
Tuesday 22nd May: Home time. And also the end of my reviews in the live coverage. Although I saw stuff yesterday, that was all at Sweet, so you'll have to wait for that. But it's not the end of my Brighton Fringe coverage, because there's still a couple of weeks to go. Although we are back to daily updates now. So this is a good time to take a look at this article from Paul Levy of FringeReview. (These columns are worth keeping an eye on. Whether or not you agree with where he's going, he picks his issues well and starts conversations where they're needed – the previous column questioning the rise of supervenues is a good one.) His latest one ruffled a few feathers, and it's on the subject of reviews that are cruel for their own sake. On the face of it, few performers would dispute this. If you haven't been the subject of a hit piece review yourself, you'll probably know someone who has.
For the avoidance of doubt, we're not talking about reviewers who hated the play – this is the practice of going out of your way to turn your review into entertainment by rubbishing everything about the play and – more often than not – rubbishing the people in the play. It's as if these reviewers want to be Charlie Brooker, except that the real Charlie Brooker's childish insults were only an act – scraping under the surface, he was insightful and fair and only disparaged high-profile shows who can answer back. The Charlie Brooker-wannabes in fringe reviews, on the other hand, usually resort to substance-free insults and have no qualms about runing the chances of the smallest of acts.
Before I get too sanctimonious, I should probably say how I keep my own house in order. It a bit easier for me, because my general policy of only writing reviews of good stuff means I normally end up writing nothing at all about plays I hate. In recent years I've relaxed this rule for higher-budget productions, but I always make sure that any criticism I make does at least show what could have been done instead. "The writing was terrible" is not helpful. "The writing is terrible because the characters weren't believable" might be. (And, okay, I did once call modern artist Paul McCarthy a pretentious piss-weasel, but only as a counterbalance to an army of sycophants lavishing praise. I would not say something like that to a fringe performer in my position.)
But that's just me. Can you create a rule that covers everyone? A code of conduct agreed between review publications might clamp down on the worst excesses such as personal attacks, but I've been told that this as been tried before, and there was no agreement. I have a suspicion of a root problem in that, for all the disapproval of unfair/cruel reviews, there is little consensus on what this actually means. This quote from Simon Jenner is worrying:
I feel too there's a significant political alignment worth contemplating. Trolling 'reviewers' are often right-wing, more Quentin Letts than Michael Billington. The agenda is often anti-innovation, anti-risk, non-inclusive clearly.
That is, at best, naive; at worst, blinkered. I've seen character assassination reviews across the ideological spectrum. I'll give him the doubt and assume he means well, but as soon as you deem bad reviews as something that only the other side does, you render the whole concept worthless. Quentin and co could easily make exactly the same claim about the other side, and as long as everyone thinks it's the other lot who have to get their house in order, nothing changes. It's this sort of thing that lends legitimacy to the mindset of "It's not online harassment if they had it coming" (said every online harasser ever).
Condemning trolling reviews is one thing, but if there's the slightest hope of anything changing, we are going to have to be more specific about this. I can understand why people may be reluctant to specify individual reviews (and with that start arguments), but at the very least we need to specify what practices are unacceptable. I'll open this debate my naming personal attacks and discrimination as two things that should never be tolerated. But it will take more than speculation over people's motives to stop this happening. We'll never stop reviews that are cruel for their own sake if we can't agree what that actually means.
Monday 21st May, 6.00 p.m.: And now, it's time for this year's offering from Wired Theatre. Wired is an unusual group for several reasons. They operately entirely in site-specific theatre, and they are an ensemble of older actors, defying the stereotype for fringe as a young person's game. Lately, however, it's occurred to me that Wired is also a symbol of what Brighton Fringe used to be. Before the arrival of the supervenues, it was common to have plays in all sort of non-theatre spaces, with site-specific pieces one way of doing it. But as Brighton has become more like Edinburgh, as performers pursue bigger audiences in bigger spaces, Wired has stayed as they are. And, if you've got a loyal audience who sees you year after, and you aren't pursuing grander dreams on grander stages, why change?
Anyway, this year, Wired brings Always, With a Love That's True. Unusually for Wired – or indeed for most fringe companies – this is a straight sequel to last year's play.
As such, I did wonder whether this would be suitable for people who weren't around the year before. But, coming to think of it, And Love Walked In was probably the best Wired play to set up another chapter. The last play established that Andrew was a self-employed therapist, a forced career change after he lost his job as a teacher due to alcoholism. Sadly, his self-destructiveness was only ever paused, not vanquished. Andrew embarks on an affair with a client, Jo, driving his wife Sheila into the arms of Polish neighbour Piotr. But Jo goes back to partner Phyl, leaving Andrew with no-one.
And so, part two begins how part one began, Andrew at his desk, playing the part of the therapist. Except that he's in a grubby T-shirt, the booze is back in plain sight, and the paper he's currently writing "5 ways to kill your wife's lover" – supposedly an academic paper covering an academic situation, but quite obviously specific about a certain Polish gentleman. When a client rings the doorbell, Andrew hastily puts on a clean shirt and applies mouthwash, only to be confronts by Jo Phyl about the affair he now denies. And then Sheila unexpectedly returns. Her beloved Piotr is dead of a heart attack. She knows no-one else to turn to.
Robin Humphreys gives the best performance I've seen him do in the nine years I've seen Wired's plays. With the core cast of Wired being one male and three female, he normally ends up playing a shabby womaniser, but this character has a lot more depth. Andrew is the worst kind of ruthless manipulator – but there is also a vulnerable side that Robin brings out so well. For all his lying and cheating, Andrew doesn't what he'd lost till it was gone, and now that her lover is dead, there is a quiet desperation in the way he wants all his lies to be true, that there was no affair with Jo, that Piotr meant nothing to Shelia. But Piotr is not quite gone – he's still in Andrew's head. I do miss Graham White, who played Piotr last year – it would be been really dramatic to see a confrontation between living and dead nemeses. But Humphreys running a conversation with himself in both voices was a good substitute to depict Andrew's failing sanity.
Can you watch this without having seen the first play? I've got an inconclusive verdict here. I personally thought there was enough information to pick up where the last play left off, but having heard comments from other people who didn't see it, there seems to be a split between those who did and didn't follow it. I'm going to stand by my own assessment and say that you can enjoy this as a stand-alone play, but it might help if Wired broke the habit of a lifetime and handed out a programme before the show instead of after, so the initiated can catch up before the play begins.
I am told that director Slyvia Vickers is planning to make this a trilogy, so we probably have not heard the last of this saga. There's two weekends to go (plus Monday 28th as that's a bank holiday), but definitely book in advance to be sure.
Monday 21st May 9.30 a.m.: Now it's back to the north-east for a moment because there's a lot of plays I recommend visiting the region this week.
The Gala Theatre is hosting Birdsong once more. This adaptation of Sebastian Faulks's novel has been running for years now. It's not an easy book to adapt – even Sebastian Faulks himself said it was "bonkers" to try to get in on the stage – but Rachel Wagstaff pulled it off. I reviewed it positively back in 2014 when it was last in Durham, and saw it again in Darlington. I should give the obvious waring that it's on the gloomy end of World War One-themed stories – don't expect any last-minute call of "Wait, chaps, it's eleven clock on the eleventh of November" as they're about to go over the top – but it's as good as these plays come. Runs until Saturday.
Meanwhile, Live Theatre welcomes Fleabag. I haven't seen Fleabag but I've heard great thing about it from basically everyone. Phoebe Waller-Bridge's solo play of a woman leading some sort of shambolic life has been a big hit on both stage and television, and tickets at Live are going fast. At the time of writing, Friday and Saturday nights are down as sold out, Thursday is selling fast, and the others have better availability. But you probably want to move fast if you want to be sure of this.
Alternatively on Friday or Saturday, you can see Tom and Bunny Save the World, which has just been to Brighton, and I reviewed and liked. It's a very silly musical about a zombie apocalypse. I'm not sure I'd go with their description of "gender-stereotype destroying" myself – I may write more about that later – but it's really just a fun take on one of the most used tropes ever made. This is at Alphabetti Theatre on Friday and Saturday.
Right, now that I have my own play out of the way, time for one final theatre binge, then it's home-time tomorrow.
Sunday 20th May, 10.15 p.m.: That's my run finished. You haven't quite heard the last of me in Brighton, because I have one more day here to enjoy as a punter before I return to my double life as a software tester. Back at my digs with the props back in my suitcase, time for another review before going to bed: Brighton Queen of Slaughtering Places.
The old Police Cells in Brighton are occasionally used as a fringe venues, but this is the first time I've been to one. And you couldn't pick a better setting for this play: an audience with three of Brighton's notorious killers. For some reason, Brighton has a tendency for bodies of women to show up in trunks or suitcases or similar items, and this is the tale of three such killers. Sometimes cold-blooded murder, sometimes accidental death through callous negligence and subsequent cover-up, these stories keep appearing.
368 Theatre company have built a reputation for grisly plays in grisly settings, and this is no exception. The three killers meeting up together play off each other well. None of the three are repentant of their crimes: one is proud of it, one is in denial, and one is morbidly curious over what the other two have done. With the very police cells they are in a part of the story, it's a very fitting way to tell their tales, which were conveyed in a clear and interesting way, without any sensationalism for the sake of it.
Less successful, however, was the attempt to break down the fourth wall. The use of actors arriving late and dropping in and out of character might have been a good plot device, but here it was confusing over exactly what it was meant to achieve. I get that this play wanted to make a point that society has an unhealthy obsession with the lives of the murderers with the lives of the victims confined to footnotes, but there were probably better ways of doing that. I won't spoil the end of the play by saying what the twist was, but I did struggle to see how this was supposed to relate to the stories of the murderers. Something, I fear, was lost in the process between idea and presentation.
Apart from that, however, it's a decent production, and worth a visit for one of the fringe's most specialist venues. This runs Thursday-Saturday for the next two weeks, various times, best to book in advance because (as it usually the case with popular site-specific pieces) they tend to sell out.
Sunday 20th May, 10.45 a.m.: Half-way. I was going to use today as the reminder that Year Without Summer starts tomorrow, but it's been cancelled. Oh. Circumstances beyond their control, so I gather. However, Cast Iron theatre is also bringing One-Woman Alien to the fringe from tomorrow. This earn a recommendation on the strength of Heather Rose Andrews' performance in Metamorphosis last week. However, expect this performance to a a lot sillier and a lot messier. Runs at the Dukebox, 9.30 p.m., Monday to Sunday.
Also, today is the second of two performances from Notflix, an improvised musical, who literally do all of the songs on the fly. Recently upgraded to full band, this is at Komedia at 7.30 p.m., and it's always been popular.
I promise to add skip links for review later in today. Quite a lot of reviews now that don't have them.
Saturday 19th May, 9.30 p.m.: Now for another Brighton Fringe break for a bit of local news. Actually a bit more local. It covers the whole of the north, and all of the south-east served by Thameslink. It is, of course, my other nerd interest, trains. Tomorrow there is a big timetable change, delivering a lot of improvements to large parts of the country. This is a theatre blog, so I won't do a blow-by-blow account – for anyone who must know, this was all thrown into doubt because of overrunning electrification works in Bolton out of all things, but it's still largely going ahead – but this is of some relevance to theatre because it means that there are later trains coming out of Newcastle. This makes it a lot easier for people outside Tyne and Wear to see plays and still get a train home.
Especially on Saturdays. The last trains home on a Saturday night used to be as ridiculously early as 10 p.m. Now, however, services as far as Hexham, Durham, Morpeth and Hartlepool have last services round about 10.30 p.m., suddenly making Saturday night theatre an option. Anyone hoping to go to Middlesbrough or Darlington, I'm afraid you may have to wait, but there should be other improvements coming over the next 18 months. And I will keep and eye because of course I will. It's trains, come on.
Scarborough also gets a later last train, which means that longer-running SJT plays are now an option for anyone returning from Scarborough. I haven't checked other nothern cities, but chances are they're getting later services too. If your theatre plans have previously been thwarted by unfeasibly early last trains, now might be a good time to check if you can now do it.
Saturday 19th May, 5.15 p.m.: It finally happened. I messed up my scheduling. I expected to get to The Warren at 3.00 p.m., only to discover the show was actually a 2.45 p.m. start, with the venue 10 minutes away with 5 minutes to go. Ah well, at least I get a gap to catch up.
So now a quick review for Tom and Bunny Save the World. This is a musical parody of a zombie apocolypse. That's all you need to know. I have have said many times before, zombies and rom coms are the two most over-used tropes across performing arts, and whilst it's not impossible to come up with an original take, it's very rare to pull this off successfully. Fat Rascal, quite wisely, doesn't even attempt to bring in a fresh take, and instead goes for something very very silly.
So with the outbreak of zombieitis sweeping the nation yet again, nerdy Oxbridge graduate Tom drives to safety, committing to memory all the B-roads to serve as alternatives in the event of congestion. Equipped with essential supplied such as Top Trumps Cute Animals edition (to sedate any suspicious survivors he might bump into), he comes across Bunny. Bunny is a full-on northern lass with a series of not-terribly-dignified one-night stands behind her, she is currently leaving her girlfriend's home after shagging her dad. Picking up the odd stray, the two head for Yorkshire – always an excellent choice of county – where the zombies are mysteriously sedated. Can they save the world? (Okay, the clue is in the title, but anyway …)
I had heard the play was rough around the edges at the Vault Festival, but there's no sign of that here, with the ensemble of six singing in harmony and tightly choreographing the show. I did wonder whether this might end up derivative of Shaun of the Dead, but it avoid this as comes up with its own comedy, often themed on petty differences between the different regions of England. Tom and Bunny Save the World doesn't try to be anything more than a fun musical that doesn't tax the brain, but you know what you're getting and they do an excellent job of it. It shows again at 8.00 tonight, with a last performance at 4.30 p.m. tomorrow.
Saturday 19th May, 12.00 p.m.: New blog post now: 10 ways the Brighton Fringe has changed. Because Buzzfeed says everything is a list now. But it's remarkable to compare Brighton Fringe now to what is was like at the start of the decade when I'd just started going.
Got a couple of pending reviews – will try to get at least one of them out later today.
Friday 18th May, 11.15 a.m.: We are approaching the half-way point of the fringe. This is where we'll get our first clue of how ticket sales overall have gone. If they are significantly up on previous years, expect a press release to this effect.If we hear nothing, assume less dramatic interim figures.
However, even if the flatline in registrations is accompanied by a flatline in ticket sales, it still consolidates the rapid growth of the last two years. Brighton is still a long way off catching up with the Edinburgh Fringe, but I've heard it said that Brighton Fringe now is like what the Edinburgh Fringe 20-30 years ago. Whatever the quibbles over the figure, Brighton has become a highly competitive open access festival. As it should be. This raises a question that Brighton Fringe needs to answer. On the surface, the rules for Edinburgh, Brighton and Buxton are all the same: anyone can take part. However, the fine print varies between festivals.
Buxton Fringe might be open access, but not all acts are equal. If you as an established popular act, you will get a lot more publicity from the fringe committee than an unknown. In order to promote the fringe as a whole, it helps if you can show you've got some good headliners in your programme. If, for example, Smooth Faced Gentlemen are taking part, you can expect the Fringe Committee to make a big song and dance of it. This might seem unfair if you're an entry-level acts that isn't Smooth Faced Gentlemen, but the counter-argument is simple – interest in the big acts keeps the fringe going, and in so doing gives entry-levels acts an fringe to take part in. Few people have argued this the current setup.
The Edinbrugh Fringe, however, is far more strict. It is very rare for the Festival Fringe Society in Edinburgh to promote any of the acts they've got there. But then, they don't have to. The Edinburgh Fringe is a massive cultural institution no matter who takes part. And besides, they don't need to make a big song and dance about big names taking part – the arts media will do that for them. This means that the Festival Fringe Society can sit back and stick to the role of referee, favouring no acts and simply ensuring fair play. They can leave it up to others to decide who to champion. In that respect, the Edinburgh fringe is open as you can get.
So that brings us to Brighton. Like Buxton, Brighton heavily promotes acts that draw in the punters. However, they also make a big thing of bursaries, and groups that get this leg-up get publicity as well as financial support. Then there is the Window scheme: described as "an arts industry showcase", this support is almost entirely promotional. But does all this promotion of hand-picked acts come at the expense of the rest of the acts trying to make a name for themselves? Even a few years ago, Brighton had the same justification Buxton had: that you need to showcase your best acts for the fringe to be noticed. Not any more. Like Edinburgh, Brighton is now big and prolific enough to be a big cultural event, no matter what.
I am not suggesting that schemes like Window or the bursaries should be scrapped. What Brighton Fringe does need to decide, however, is what sort of fringe it wants to be. As Richard Jordan wrote in The Stage, they give support through various programmes for many participants, many of whom are embarking on the career in the arts, but what about all other other participants who don't? Do they stand a fair chance against those who are chosen? Even when Brighton Fringe Central are promoting other acts that aren't them? That's an open question, it's up to Brighton Fringe to answer that as they like. Alternatively, they could concede that if you're only just getting started, then Brighton Fringe is not the right fringe for you – something that has already happened to Edinburgh.
It's a tough question, but the more Brighton Fringe grows, the harder it becomes to avoid answering it. Maybe not this year, or the year after, or the year after that, but it will eventually come. Brighton Fringe wants to be an opportunity for all, but also wants to promote acts to showcase itself – and they can't have their cake and eat it indefinitely. The ball's in their court. We'll see how they play this.
Thursday 17th May, 5.00 p.m.: Back from Lewes. Nice place. Didn't have luck finding the house though. Coming to this of it, apart from the inside of the house, the only thing I clearly remember is the bus stop. That's doesn't exactly narrow things down.
Anyway, I have a gap in my schedule owing to a cancellation, so now let's have a look at Susan Harrison is a bit Weepy. This is only going to be a quick sort-of review because that is comedy and this is a theatre blog. I look at character comedy more than other kinds of comedy because there's a big overlap between this and solo theatre, but Susan Harrison's show is a lot more like solo sketch comedy. Nevertheless, it was a fun hour to watch.
After a series of impressions such as eating a banana when crying, eating an apple whilst crying and eating a sandwhich whilst – yes, you've guessed it – crying. Then we get Madam Melancholy, telling the story of the cutest penguin in the world assasinated by an arrow which lands in the heart of national treasure David Attenborough, just bed in the theme of misery. Then we take a digression into a drug-addled new flatmate showing you round your new flat ("your room separates mine by a bead curtain, so I'll have to ask you to keen the noise down when I have sex"), before going back to misery with an enthusiastic weather girl giving the final weather forecast on the day on the 2070 apocalypse.
If there's one thing I think could be done better, it's the pace. There were quite a lot of times when nothing really much happened. Sometimes, this was used to good effect. In the 1980s hen party, where the predecessor to selfies was setting a camera on to timer, it was fun seeing her wait, and wait, and wait, for the camera to go off (which it usually does, the moment she moves out of position). But this device, I felt, had already been over-used earlier in the show, and that took the edge off here. If she can get this as sharp as she is in Two Star Podcast, I think this would do a lot for a show. But it's a fun hour as it is and you shouldn't be disappointed.
Thursday 17th May, 13.15 p.m.: I'm posting from a pub in Lewes at the moment. I was last here when I was eleven, and I'm wondering if I can found the house we stayed in.
One bit of news from outside Brighton: Jesus Hopped the A Train seems to be doing well. It's difficult to gauge reaction from local reviews because it's hard to tell how much is down to local enthusiasm, but The Review Hub is a fairly good measure, as that also does fringes, and good reviews are not guaranteed. Usual caveat applies: it's only one person's opinion, and there's no quick way of telling how reliable that one reviewer is. But that in mind: five stars. If this is representative of the overall reception, that is an big step forward, not just for Theatre Elysium but Durham theatre as a whole.
Turning attention back to Brighton, I have a pending review of a show (not subject to embargo) that I am currently deliberating on. Should get this done this evening.
Wednesday 16th May, 4.00 p.m.: I didn't forget. There's a couple of shows restarting today and tomorrow that I need to give reminders for. Energetic 1970s sci-fi spoof Police Cops in Space comes back to The Warren tonight, and the runs on Saturday and Sunday, at various times. Not much more to say here – this shows is already a hit and a rapturous reception at the last three performances is pretty much guaranteed.
Also coming up this weekend are the last two performances of Last Night at the Circus. A lot more at stake here. Reviews from the original performance on the 7th have proved elusive, but I managed to track down one from Latest 7, which is four stars. Also, it was close to a sell-out. So far, so good. Now we'll see if Jane Postelthwaite can build on it with the other two. If she does, she could be on to something.
Wednesday 16th May, 9.45 a.m.: As you may have noticed, reviews are coming in at a relaxed pace at the moment. At the moment, I'm seeing about one play per day – this may pick up later in the week, but with Sweet excluded from the live coverage, there isn't much coming through at the moment. But there will be more coming, and I fully expect there to be more reviews by the end than a normal fringe coverage.
The news from this morning, however, is that Kitchen Zoo have got five stars from The Argue for The Owl and the Pussycat. (Yes, I'm two days late reporting this, but that's because The Argus's website is impossible to navigate.) Brighton regulars will know how significant this is, but north-east regulars might not. Good reviews from local press generally aren't that big an achievement – they like to be supportive of local talent, but that often comes at the expense of lowering the bar. But with 1,000 fringe entries competing for attention from The Argus, they are just as difficult to please as any publication that covers the Edinbrugh Fringe. Congratualtions Kitchen Zoo, that's a big deal, make sure everyone in the north-east knows about this.
On a different note, one review that got my interest was this Broadway Baby review of Just Don't Do It. I reviewed this in Edinburgh last year – admittedly in a venue that did them no favours with noise – and whilst this didn't stand out for me at the time, there were bits of this play that I thought had a lot of potential if they made more of it. So with the listing saying their show was reworked, I was interested to see what they'd done. Unfortunately, my schedule didn't quite work out in the end, but I was pleased to see that the strongest bit of the play has been given more prominence. The play is about the weird attitudes that more conservative Christians have to sex, and my favourite scene were the enthusiastic camp counsellors at a Christian Summer Camp teaching us about the "sssss" word – yes, that's right, "celibacy". It's difficult to judge a rework on one review, and I get the impression from this that the play may still need simplifying further, but this got me interested enough to keep an eye on what Beside Ourselves do next.
Next up, some more previews on what's coming up. Before then, a relax.
Tuesday 15th May, 2.30 p.m.: Apologies for the hiatus – my tech and first performance was yesterday, and with that and all the other paperwork I had piling up I've had a delay. But now I can get back to reviewing.
Before I do a review though, a shout-out for another play. As I previously mentioned, plays with Sweet are embargoed until the fringe is over, but Wan In, Wan Oot deserves a bigger audience. I won't go into full details now, but it's a nice gentle play about a birth and a death in a family. It is listed under the LGBT category of plays as the parents are two women, but that's actually only a minor plot thread – 80% of the play is simply them and the rest of their family leading their ordinary lives. 12.30 at the Dukebox until Sunday.
Anyway, now for a review of Franz Kafka: Apparatus. You might that this sounds like a rather twisted story from everyone's favourite twisted early-20th century author, and you'd be right. Set on an a penal colony of an unspecified regime, a foreign dignitary is brought to witness the execution of a prisoner – not for the crime that got him sent to the island, but for failing to observe to petty rule about not saluting the regime every hour in the middle of the night.
But as well as execution for the most trivial of infractions, the Commandant of the colony also sanctions unnecessarily painful execution by unnecessarily elaborate death machine. Or, rather, the old Commandant sanctioned it. The new Commandant appears to have slightly more progressive leanings; and as unnecessarily painful execution by unnecessarily elaborate death machine is generally frowned upon in more progressive circles, the Officer in charge of the aforementioned death machine (or "apparatus" to use her choice description) isn't getting the support she'd previously enjoyed under the old days.
There is only one way a story like this can be believable, and that's if the Officer in charge of the apparatus is obviously insane. But that's okay, she is. Emily Carding has the vast majority of lines in the play of an Officer loyal to the old commandant and in awe of the beauty of the machinery, and the longer the play goes on, the longer her levels of self-delusion become clear. I may be giving away a minor spoiler here, but it's pretty obvious early on in the play that the game is up already, and the Officer lives in a fantasy world that everyone in the colony secretly supports the old carefree days of unnecessarily elaborate execution. The last-ditch plan to turn things round my not be obvious to start with (even if the outcome is), nor may it be obvious how it ends, but it's really the only way it could have gone.
I did wonder if more needed to be done to explain the prisoner's reaction – or rather, lack of reaction – to his imminent unconventional demise. I get that he doesn't speak the language and so is oblivious to what everyone else is discussing, but he must have noticed the apparatus – if the prisoner had some mental health issue that rendered him oblivious, this could have been explained better. But that's my only criticism. Apart from the change of a male officer to female officer – which Emily Carding makes it look like this is how it was written all along – and the addition of a romance between a prisoner and guard, it's a very faithful adaptation that brings Kafka's twisted story to life. Blue Devil Theatre are back with the play for four days next week, and this is certainly not a play you'll forget in a hurry.
Monday 14th May, 1.45 p.m.: Time now for some more upcoming recommendation.
I must apologise to The Foundary Group for forgetting Whaddya Know, We're In Love. This is a musical seemingly in the style of the classic age of the silver screen, written by Brian Mitchell who had a hit a few years back with Big Daddy versus Giant Haystacks, set in the age of prime-time TV where middle-aged men pretended to fight each other. This started last week, but it's got another single performance today at 6.40 p.m at the Rialto, with two more performances next week.
And starting tomorrow for two days, there's Susan Harrison is a Bit Weepy. She got my attention as one half of the brilliant Two Star Review, a spoof podcast from two pretentious/incompetent reviewers, so this bodes well for character comedy. Tomorrow and Wednesday at 7.30 at the Marlborough Theatre.
Later in the week the runs of Police Cops in Space and Last Night at the Circus, but I'll talk about them closer to the time. If I forget, my apologies in advance.
Sunday 13th May, 11.00 p.m.: Let's squeeze in a review before bed time. This afternoon I squeezed in Larkin Descending into my schedule. I'd been keen to see another Gail Louw play ever since I saw Blonde Poison a few years back, another solo biopic. This new play is a gentler one – instead of a women notorious for betraying thousands of her fellow Jews to the Nazis, it's Philip Larkin in the last six months of his life. Once a poet and national treasure, now he's an alcoholic unable to write, angry about the noise of those youths playing outside his window. At eight in the evening. With school tomorrow. And noisy drivers. It'll be the blacks and Asians next. Larkin wasn't exactly renowned for cultural sensitivity.
Louw had the good fortune to have Sylvia Vickers as director, best known for directing most of Wired Theatre's plays. Together with Wired veteran Graham White as Larkin, they produce a great cantankerous Larkin always by the bottle. One challenge with this sort of play is that there's very little you can do in the ways of movement – poets about to pop their clogs don't really lend themselves to energetic movement plots, but they made the best of the situation, with speech delivery providing the variety needed for a monologue mostly delivered from an armchair.
However, there is one decision I can't understand, and this is to deliver the back-story in a seemingly random order. I appreciate that Larkin is now old and rambling so you might expect things to be all over the place, but when you take his life story out of order, there isn't really much to focus on and stay interested in. One thing that could easily have been an early attention grabber was his father's unhealthy fondness for Nazi memorabilia in the 1930s, but it's a good 20-30 minutes into the monologue before this comes up. It puzzles me more that Louw told the story of Blonde Poison in a conventional order so effectively, so why did she not do that here? Most puzzling, Larkin's rise and fall to Britain's number one poet was barely mentioned.
Larkin Descending was not part of the Brighton Fringe listings, so it may be fairer to look on this as a work in progress rather than a final performance. If that is the case, a bit of a restructuring could do a lot for the play. As it stands, it is worth seeing for Graham White's performance, and there's a lot of interesting facts about this life to learn in this play. But I do feel they missed a trick by unnecessarily complicating the time-line. Simplify this, and I believe this could achieve a lot more.
Sunday 13th May, 8.00 p.m.: Apologies for going quiet over today – nothing much happened this morning, and then from this afternoon lots of things happened at once with no time for me to catch up. I'll be doing the next review shortly, but before then, here's a small mystery coming to light.
Last year I got a little critical of Brighton Argus for only reviewing the Festival and not the Fringe. I now think that may have been unfair, because I'm now finding out about reviews that, for some reason, don't show up anywhere on their website (at least, not any I can find). One would have though that any Brighton Fringe reviews would show up on this page, but apparently not – two such reviews have showed up at the Rialto.
Of course, Brighton Argus is print media, no media, print or otherwise, is obligated to put theatre reviews online for free. For example, The Stage puts its reviews behind a paywall if you can't work out the obvious loophole to circumvent it. If The Argus wants to keep fringe reviews in the paper edition to encourage people to buy papers, that's their right. I don't understand why you'd put Festival reviews online but not fringe reviews, but that's their right too. But could they at least acknowledge that these reviews exist? If The Argus want to rank alongside FringeReview, FringeGuru and Broadway Baby as a top-teir review publication in Brighton, you can't expect people to memorise which issue of the Argus a review for a particular play came out. At the very least, please have an index of reviews.
On a related note, Brighton and Hove news appears to be doing a lot of reviews this time round. Come on Argus, you may have a competitor.
Anyway, one effect of this is that I missed a couple of reviews of plays I've already written about. Rope and Myra both got 4* reviews from the Argus. Having previously got split reviews, this shifts the outcome in their favour. Myra is an interesting one – I was talking to Lauren Varnfeld about this earlier, and it seems that even after given herself two extra years to work on this, she had no idea how it was going to work out until it went on stage. Anyway, now that this has been sufficiently controversial, I think I'll have to see this in the future as judge for myself.
Hope to get a review out later. Bear with me.
Saturday 12th May, 11.45 p.m.: One small thing before signing off for today: the reviews are in for Rope. I didn't manage to see this in the end – my scheduling just didn't quite work out (but that's what happens when all the plays I want to see are in the afternoon) – but I was still interested to see how it did. 4* from Broadway Baby, 3* from FringeGuru, but the split of opinion comes down to the script, not the production. Patrick Hamilton is a bit of an acquired taste, but it seems that as long as you're on board with his bitter twisted outlook on the world (which was pretty bitter and twisted), you shouldn't have been disappointed by this.
The play I'm surprised to see no reviews from, though, is Neverwant. I'd have thought that at least one of the big four would have picked up on this and written a review by now, unless Bite-Size wants to hold off reviews whilst they're trying to out in Brighton. Unless something comes in late, it looks like we may have to wait until Edinburgh before we know how this fares.
Okay, midnight. Bed.
Saturday 12th May, 5.00 p.m.: Had quite a busy time since my last update. I'm a bit late to the party here, but Dusty Bin has been causing quite a stir in Brighton this week. Yes, the real one. But I'll get back to that some other time. Before then, however, it's time to catch up two of the early shows I've seen. Family-friendly The Owl and the Pussycat and notorious adult sketch comedy Beasts. N.B.: It is very important not to get these two mixed up.
Starting with Beasts, this was advertised as a "best of" show taking in their favourite sketches from the last five years. I was wondering if it would really be a compilation of their best sketches – as we all know, the real humour in Beasts in not the sketches, but the bickering that invariably happens. This compilation show compiles both, so it begins with some of their best/worst jokes with their Christmas cracker-grade punchlines, before Owen goes off on his classic tangent to perform a biopic of Nelson Mandela. Like on its original outing in 2014, Owen dismisses James's concerns that you can't play him because of your race ("That's exactly the sort of thing Nelson Mandela opposed!"), but this time, instead of being rudely interrupted by Ciaran's new job as a burlesque dancer, we are rudely interrupted by Ciaran's naked baker sketch. You weren't expecting him to keep his clothes on, were you?
I would summarise this as saying it's exactly what you'd expect from this group, but the thing is (based on my chats to random people in the queue), the majority of people in the audience apparently had no idea what to expect. It's just a sketch group, isn't it? What's the harm in that. Oh, you people, how little you know. One last performance tonight at 8.00 at The Warren, but know what you're letting yourselves in for. Or don't, if that's more fun. Just don't expect me to pay for your therapy.
And then, this morning, a complete contrast, family-friendly The Owl and the Pussycat. I'm not the best person to judge shows for small children, having sold all the ones I had lying around on eBay, but with very little north-east representation at Brighton Fringe, combined with this play having been doing the rounds for some time back home, I wanted to see how it went. This is aimed as very young children, so this story has to have a U certificate, so I guess you couldn't do any lines such as "Oh, Owl, you don't want to hang around with me, I just spend all day dismembering defenceless rodents." ("But Pussycat, I love dismembering defenceless rodents too. We have so much in common!") Nevertheless, there is a little bit of room for subversion. Did you ever wonder why Edward Lear mentioned the Bong trees in the last verse. You might think that's it's a nonsense word from a nonsense song – but you'd be wrong! Bong trees are a very rare kind of tree, and Own, an ardent treeologist, specially goes on a voyage to see them, and winds up with pussycat as a travelling companion. Over the voyage for a year and a day, they get on each other's nerves, but finally grow on each other. Or maybe it's just like people who get carried away on holiday and get engaged by mistake.
As I said, I'm about six times too old to give a definitive verdict here, though I particularly liked the musical score, which really added to the play. I can safely say the children seemed to enjoy it, and five-year-olds definitely don't beat about the bush about what they think of things. Two more performances tomorrow at 10.00 and 11.30 in the morning.
As I said, do not get these mixed up. Actually, do. A five-year-old watching Beasts will probably find the willy jokes hilarious. Another update later tonight, I hope.
Friday 11th May, 5.15 p.m.: And I'm here. Made it to my flat. Quickly learning that lugging a massive suitcase from the city centre to Seven Dials wasn't one of my better ideas. But the reason for my reckless detour was because I wanted to check out Sweet Werks for myself.
Before falling out with the new management of the Waterfront hotel, Sweet Waterfront did just as good a job as their long-standing Grassmarket venue at Edinburgh in respect of places to put plays on. Where Waterfront never really succeeded, however, was establishing itself as place to hang out between plays. That matters – the best fringe venues are more than performance spaces, they are also places for meeting, networking and having a good time. The Warren and Spiegeltent do this well, as does Sweet Dukebox. But in spite of Sweet Waterfront having a similar feel to Sweet Grassmarket, with a self-contained area of a hotel turned over to all things Fringe, Sweet Waterfront never really took off that way. It might have been because the bar was downstairs, but now that Waterfront and Sweet have parted company, that's now a moot point. The question now is whether Werks can succeed where Waterfront didn't and be more than a couple of performance spaces.
It's worth bearing in mind that Sweet Werks is an unusual kind of fringe venue. Across the fringe circuit there's spaces in pubs, buildings disused by universities over the summer, building used only for the fringe, entire pop-up venues, year-round theatres with a fringe season, hotel suites (like Sweet Grassmarket), but I've never known anything comparable to Werks Central. The Werks is a chain of buildings in Brighton providing office space for small creative businesses, but Werks Central provides a cafe as a hang-out for creatives. That could be very useful for Sweet to have.
The most interesting observation from my early recon is that Werks Central is functioning as both a pop-up fringe venue on top of its normal function of a creative hub, in contrast to most Edinburgh venues where the fringe usually overruns whatever else the building normally does. Fringe performers and Werks regulars mixed liberally in the cafe. It's still early days to tell how this works out, but the dream scenario would be if the creatives from the Werks businesses saw the shows and told everyone else in Brighton about them. I can't imagine this place having a major role as a fringe bar – I still think the Dukebox will remain Sweet's main late-night hang-out – but we'll see.
One other thing I hadn't realised: Sweet Werks 2 is only seperated from the cafe by a curtain, which probably renders the space unsuitable for quiet shows. This isn't too different from the Barrel Room at Underground Venues (before they relocated last year), and this may end up being primarily a comedy and music space where noise from the cafe next door won't matter too much. But in a fringe that is already very short of spaces without noise bleed, this cuts down options further. A down-side there. As always, we will see.
One other chance discovery I made during my visit is that Caroline Burns Cooke is performing at Brighton, which I'd managed to miss. She is best known for And the Rope Still Tugging Her Feet, a play about the 1980s Irish Kerry Babies scandal which was a big success. She's now back with a show called Proxy, which is about Munchausen's syndrome by proxy. It's a short run (by Sweet Brighton standards), starting a day and ending on Sunday, 4 p.m. at Sweet Werks.
Phew. Recovering from that slog up the hill. Should be ready to go out in an hour or two.
Friday 11th May, 9.30 a.m.: And here we go. I am now writing times and well and dates, which can only mean one thing: I'm on my way to Brighton. This time, I've opted not to have a 5 a.m. start, and I'm going for a slightly more civilised time. Currently somewhere between Darlington and Northallerton.
Now's as good a time as any to take another look at what's coming up. Starting tonight and tomorrow is Beasts, the sketch comedy group famous for 1) always squabbling on stage 10 minutes into a performance (that's the real act, not the sketches), and 2) everyone screaming "No, I did not want to see that" when the big hairy one becomes a burlesque dancer, or wears an arseless leotard or something similar. This is tonight and tomorrow at The Warren at 8.00 p.m., so you can either hurry to see it or run a mile. Take your pick.
Then starting tomorrow is Larkin Descending. I keep plugging Gail Luow's plays because she keeps plugging them to me, but ever since I saw Blonde Poison a few years back, which was excellent. This plan is another solo biopic of Philip Larkin, once the nation's best-loved poet, now an alcoholic unable to write. This shows tomorrow and Sunday at 2.15 p.m at the Rialto.
If you couldn't get a ticket for Groomed in Thursday last week, the extra performance is tomorrow at 12.15 p.m. Needn't say any more about this, it's already widely acclaimed by basically everyone.
And finally, a reminder that Wired Theatre are doing And Love Walked In every weekend during the fringe. Ina a change from previous years, this year's devised site-specific play is a sequel of the year before. I'm going to see this next weekend, but after that I'll let you know how easy this is to follow if you're new to Wired. Tickets are still available at the moment, but ir may not stay that way.
And that's it for now. Later today I get my first view on Sweet Werks – the replacement for Sweet Waterfront. I'll give my verdict then.
EDIT: I forgot. Kitchen Zoo is also on this weekend with The Owl and the Pussycat. This is a play for small children, so expect something gentle and undemanding rather than something twisted and subversive (unless Kitchen Zoo know something they're not telling me). Two performance each day, 10.00 a.m. and 11.30 p.m., the Warren. Not much north-east representation in Brighton, so hoping this one does well.
Thursday 10th May: Now let's take a Brighton break for a bit of news closer to home. Today I did a first for this blog: I had an interview. Next week, Jake Murray brings his second play to Durham. I didn't manage to see his first play, and I'm going to miss this one too thanks to this Brighton clash, but this is significant because it is the first time is ages that someone's made a serious attempt to establish professional theatre in Durham, and long still since anyone had an interest in actually engaging with the people of Durham, and not just import everything from outside.
I should have this interview online in the next couple of days, but one interesting thing that's been brought to my attention is the fringe theatre scene in different cities. It varies a lot, as does the relationship to any festivals around. London has a reputation for being a year-round festival fringe (which is the main reason why I don't object too much to the Vault Festival being curated – that and an open festival of that nature is impractical). Brighton arguably has a year-round fringe theater scene too – a lot of the formidable groups who are tough competition are based in Brighton and home their craft all year. Surprisingly, Edinburgh doesn't – outside of August, the theatre scene has a reputation for being mainstream and conservative. (Buxton doesn't either, but that would be a bit much to ask of a town that size for the other eleven months of the year.)
The newcomer is Manchester, where Jake Murray is based when he's not in Durham. There are now a lot of small-scale theatres popping up in Manchester, and the city is quickly catching up with London. The Greater Manchester Fringe is also a newcomer on the festival fringe circuit in spite of its proximity to Buxton, but this appears to be a by-product of the growing Manchester scene rather than the other way round. This is good, and we should see this in more places, for two reasons.
The first reason: the more independently-managed venues there are, the less concentrated the power is. Newcastle currently has a huge amount of power in the hands of the programmers of three venues (an improvement from two, but still far too few), and I suspect that's typical of most cities. Far better, I believe, to spread out this power, give more acts a chance, and audiences more choice and more power to decide who succeed. And the second reason: it is currently widely considered that if you want to make a name for yourself in theatre, you have to do it in London. That is not healthy, not least that the stupidly high living expenses mean anyone without the money doesn't stand a chance. The more alternatives there are to London, the better.
But can Newcastle achieve what Manchester's achieved? Can Durham? Can Jake Murray help it along? Find out in the interview, as soon as I've typed it up.
And that's your teaser. Tomorrow: back to Brighton. Me in person. I'm coming. Yes. Already. Eeek.
Wednesday 9th May: It's not just Brighton Fringe I write about in May – theatre is still going on elsewhere and I have that to write about too. I have a review coming up, but before then, I've very wearily written an article about Quentin Letts's latest attention-seeking stunt. I've been trying to ignore him because he wants people to write about him, but I've relented. Now please stop taking him seriously as a reviewer.
Back to Brighton Fringe, and reviews are slowly coming in from the first weekend. Still some significant productions unaccounted for. There are good reviews for The Jurassic Parks and Police Cops in Space, but that was to be expected. The more interesting one is Myra. I may have spoken too soon I reported the Highly Recommended from FringeReview. Now this has been followed with a 2* from FringeGuru. Not over the acting – both priased Lauren Varnfeld for that – but the concept. This is Myra Hindley's story as told by her, which as what you'd expect, but leaving out the bits of the story she glosses over hasn't pleased everyone. Maybe if there are more reviews we can see if a consensus or a split emerges, but this looks like it could be one where the only way of knowing if it's for you is to see it and find out.
Reviews come in at a sporadic rate, so it could be a few days before all of the opening weekend reviews are in. Maybe we'll have some more to round up then. But we're approaching next weekend already. We'd better have a look at what's coming up next.
Tuesday 8th May: And suddenly, with the bank holiday weekend out of the way, it goes all quiet. At some point, we should be seeing reviews for some or all of the plays I've mentioned, and for the new ones that will be the first sign of how they're doing, but they haven't come yet. So this is as good a time as any to explain how reviews work – that, after all, is what most people come to read. Apologies for the frequent references to the fact I'm putting something on – I'm not trying to promote it here, but it does have a significant effect on how this works.
So, I will be arriving at Brighton on the 11th May (yes, three days, erk), and will be staying in Brighton up to the 21st. (I'm going back on the 22nd, but that will be before any shows begin.) In a normal year, I aim to average 3-4 plays per day over a period of four days, there's no way I'm planning to keep that pace up over eleven days. Instead, I plan to see things at a more relaxed pace, and hopefully see as many or more plays as I would over a normal four-day visit. In general, all plays get reviewed unless they're so bad I have nothing constructive to say. Two plays fell into that category last year – if you want to know off the record which ones get this dubious honour this year, I take bribes.
I don't get many review requests for Brighton (unlike Edinburgh where I struggle to stay on top of them), but requests are open and the same rules apply. Plays where I'm offered press tickets generally get priority over other plays, and I also try to see them as early as possible in the run so that good reviews have maximum benefit. I do, of course, have to be available, and as I'm performing 6.00-7.00 on the 14th-20th, anything that clashes with these dates I sadly can't watch or review. Quite a few things I really wanted to see already fall foul of this clash. Quickly learning the problem with prime-time is that it stops you watching anything else prime-time.
Couple of special rules relating to my participation. Any play that is connected to mine is not eligible for a review owing to conflict of interest. This only affects one play this year, and, well, he got five-star reviews from basically everywhere two years ago and doesn't need any more. A wider rule, however, is that reviews for plays with Sweet Venues are embargoed until the fringe is over. As I expect to mix a lot with other groups, releasing reviews during this time would prejudice the outcome. Very occasionally, this rule is waived if a play was exceptional I want everyone to see it.
And speaking of exceptional plays, I don't do star ratings but I do want an equivalent for a five-star rating, and that is the Ike Award (named after a character in the first play reviewed by this blog that was at this standard). So the next time you see this:
… you'll know I've just seen something outstanding. (Performers: if you get one of these, you are allowed to call that a five-star review if you wish.)
And I think that explains everything. Only three days till I start seeing things.
Monday 7th May: I nearly forgot. Last Night at the Circus starts today. It's a split run, so today's the only performance until halfway through next week, but this is the one I'm most interested in. Jane Postelthwaite has been doing character comedy for the last two years in a League of Gentlemen-style version of Cumbria; but she's going for something much bolder this, drawing, amongst other things, her own experiences of bipolar disorder. 8.30 tonight, then she's back on the 19th.
However, apart from that, there's a bit of a gap, so now is a good time to talk about Brighton Fringe's crowdfunder. It's pretty difficult to have not caught this news, seeing as Brighton Fringe has been promoting it constantly for the last month, but they've asked for £20,000 to compensate for the loss of their key sponsor, Citroen. With one day of the crowdfunder to go, they've raised nearly £13,000. A net shortfall of £7,000 should be manageable, but that's a bit of a red herring. The real issue is that it's not just Citroen; other sponsors have pulled out too, and the combined loss is more like £70,000. All this crowdfunder can really do is ease some short-term cash flow problems. It won't solve the long-term issue.
But before we go into too much panic, let's keep this is proportion. The funding we are talking about here is for the Brighton Fringe Ltd itself, which does over-arching activities such as the programme and promoting the fringe as a whole. They do not run the venues, and Brighton Fringe's cash flow is chicken feed compared to theirs. Brighton Fringe central is not on the verge of collapse, but even if the worst came to the worst and it did, there's no reason why Spiegeltent, The Warren, Sweet Venues, The Rialto and Komedia couldn't keep doing what they do. May would look the same, even if it wasn't a fringe any more.
What could be lost from an absent or down-scaled fringe is opportunities for smaller acts who can't get programmed into the bigger venues. Brighton Fringe makes a big thing of the bursaries they have for such groups. I have to say, I'm sceptical of these benefits: it's great for the groups that get this, but the spotlight they get with the bursaries comes at the expense of other small groups competing for attention amongst the other thousand shows. Sure, it's a net benefit, but does the selection process undermine the nature of an open festival? The wider issue, however, is the culture that everyone is given a chance at a fringe – giants or minnows, everyone has the same space in the programme, so everyone gets a fair chance. I cannot begin to say how important this has been to me, compared to the hierarchical culture I get back home where the in crowd gets all the adulation and the rest of us are treated like we don't exist and don't matter. Brighton's open nature, like all the open fringes, has huge benefits way beyond fringe season, and that's the thing we mustn't lose.
In practice, Brighton Fringe is not going to shut down. The worst thing that could happen is that they're be forced to bump up registration fees to cover the shortfall. Spread between 1,000 acts, that works out as an extra £70. That might not seem like a lot, but that could be enough to force local acts who worked on a low budget to drop out, which would force further rises for everyone else. Not enough to force the bigger acts out – it will still be peanuts to them – but possibly enough to shut out people on the first rung, the people we need the most.
Richard Stamp says:
"My support is conditional too. When Edinburgh Fringe almost went bust a decade ago, the bailout triggered a long-overdue reform of its structure and governance. This is a similar opportunity to improve engagement and representation. If you're chipping in, demand also to be heard."
I chipped in a bit of money, and you've got a day left if you want to chip in too, but my support is not unconditional support. If they want to be recognised as places for grassroots theatre to thrive, that has to be earned. I worry that Brighton Fringe may lose sight of this, as a system of curated bursaries only provides opportunities of some grassroots artists, not all. If that gets too dominant and the remaining grassroots acts get shut out, that would make Brighton Fringe no better than the top-down culture that's entrenched in regional theatre. More widely, if Brighton Fringe wants to regain its sponsorship, they need to win the argument that open access theatre is good thing, something that too few people in theatre value. Win this back, and we'll be seeing a different story.
Sunday 6th May: Okay, now that this early batch of recommendations is out of the way, let's go over what this coverage actually is.
This coverage I do for Brighton and Edinburgh Fringe evolved out of the snap reviews I do for these festivals. Originally presented in diary form, this expanded and now covers the whole of these festivals. The main aim of this is still the snap reviews whilst I'm in Brighton, but the rest of the time I monitor what's happening in Brighton and report on things that get my attention.
As you might have noticed, one thing I do is give reminders of when shows I recommend are coming up. Connected to this, I keep an eye on how these shows do with other reviews. Some obvious caveats apply here: I don't normally have time look in more detail than the star rat
ings, but when multiple publications give consistently good or consistently bad ratings, that's generally quite reliable. Finally, when anything happens that is notable or controversial for the fringe as a whole, I will pick up on it and give my thoughts.
I'll give the rules on reviews closer to the time. For anyone who can't wait, my rules on reviews at fringes (slightly out of date) are here and here, and I'll be around for the 11th-21st May. I am performing at Sweet Venues, so rules on embargoes apply there. Also, anything that's on between 6 and 7 on the 14th-20th is out because I am otherwise engaged – that's a bugger because it clashes with a lot of things I want to see. I'm quickly learning the disadvantage of having a week-long prime-time slot.
Just one bit of news before I sign off for today: the first review are in, and of note is a 4* review for Gone. So far, so good. But it will take more than one good review to equal their smash hit of Northanger Abbey – will they get what they need? We should find out soon.
Saturday 5th May: So now that we've covered the new plays, let's have a look at the big hitters this weekend. If you only have time to see one show this weekend, then it's no contest: see The Jurrasic Parks, a story within a story, and one of the best of its kind to ever set foot in a fringe. The Park family invite you to watch a screening of Jurassic, the film they used to watch together as a family before their mother died, but when the tape goes missing they have to act out- … hey, why am I telling you the plot? Just see it. This is one of the fringe's biggest hits for a reason. Runs until Monday at The Warren, 7.45.
Two other safe bets also begin today. Police Cops in Space is a very energetic and very silly spoof of every 1970s science fiction series ever, a sort-of sequel to Police Cops which was the same except it's cop shows instead of science fiction. That also shows at the Warren until Monday. Meanwhile, over at The Rialto Theatre, Rope begins, Patrick Hamilton's classic play of a student killer playing a twisted game. Classic plays at fringes vary a lot depending on who's doing them, but Pretty Villain Productions have an excellent reputation and should to a good job of this. That runs until Sunday. Both of these plays will be back later in the fringe if you can't make it this weekend.
And I think that wraps up what's coming for a busy opening weekend. Tomorrow, I can get round to explaining how this coverage actually works.
Friday 4th May: It's just been confirmed: Groomed has an extra performance on the 12th May at 12.15 p.m. But that's a week away. Before then, we have a lot of things coming up this weekend of note, possibly because of the May Day weekend.
Starting tonight is Myra. This got my attention because it was going to be at Brighton in 2016 ago, but got pulled at short notice. The reason, it turned out, was the the writer/performer Lauren Varnfeld wanted to wait until she'd got it right. Two years later, it's back. We have yet to discover whether this gamble pays off, but her performance as Marilyn Monroe in Reno back in 2015 show she can do it. This starts tonight at the Rialto at 8 and runs until Monday.
There's a lot of other plays starting tomorrow, but I'm going to concentrate on the new plays, because the big names don't need plug from me. Also at the Rialto alongside Pretty Villain from tomorrow is Neverwant, a new play from Billy Knowelden, the unofficial number two for Bite-Size. This is based on a 10-minute play, All You Ever Wanted, in a nightmare future where social media and payday loans have joined forced to make you buy things they know you want. And also starting tomorrow is Gone, from puppetry company Boxtale Soup. They are best known for their long-running Northanger Abbey – can their fable of refugees be their next bit hit.
Both plays start tomorrow (Saturday). Neverwant is also at the Rialto at 1.25 p.m and runs until Monday. Gone is at The Warren at 7.25 and runs until Sunday.
And you can also enjoy the beach all weekend, apparently. Yes, I know I'm not around yet. No need to be so smug about it.
Thursday 3rd May: Welcome to my live coverage of Brighton Fringe 2018. Between now and the end of the fringe, here is where you will find updates – daily updates to begin with, and more frequent updates when I get to Brighton myself.
Normally, I would begin my coverage with an introduction to how this all works and background information on the fringe, but this time my early coverage is going to be dominated by recommendations. There's a lot of things worth seeing that are coming up in the first weekend, and I will be busy with this. In fact, the reason I scheduled my coverage to begin today was to tell you about Groomed, the smash hit of Brighton 2016, but it's no use talking about it now, because it's already sold out. See the fireworks instead. From 6 p.m. tonight at The Warren.
From tomorrow I'll be recommending more early starters, which aren't msold out as far as I know. But if you can't wait to know what's on my list, you can go straight over to What's worth watching: Brighton Fringe 2018. See you tomorrow, and happy fringing.
UPDATE: Groomed is getting an extra date. Should know the details tomorrow.