Skip to: Birdsong, Tom and Bunny Save the World, The 39 Steps, War of the Worlds, Frankie and Johnny in the Clair de Lune, Rattle Snake, Naked Hope, Joking Apart / Better Off Dead, Krapp's Last Tape / Footfalls
Although this has been passing me by, what with with a very intense week taking over my life, theatre has been going on back home. And with the last of my winter/spring recommendations out of the way, it's time for spring summer.
I don't think I've said this for some time, but I'll give a reminder that all of these "what's worth watching" articles should be considered a cross-section of what's out there, not an exhaustive list. I do not actively go out looking for the best plays to see, because anything that is already getting acclamation doesn't need an extra shoutout from me, but anything I do see, from touring West End to the tiddliest amateurs, can end up in this list if it's good and original. Let's go:
Safe choices:
Explanation of all categories is here in my recommendations policy. Safe choices are either plays I've seen before (all four picks this time), or groups I've seen before with plays I'm confident will be good. No play will appeal to everyone, and you should always read the description before deciding if the play's for you, but safe choices are expected to have wide appeal. This time, they are:

I don't always recommend major touring shows every time they return to the region – I don't want the little plays swamped by the big ones – but Birdsong gets a mention as one of the biggest success stories of the last few years. When Rachel Wagstaff embarked on a project to bring Sebastian Faulks's novel to the stage, many people thought this wasn't possible – even Sebastian Faulks himself thought it was "bonkers" to try. But try she did, and the rest is history.
When I reviewed it in 2014, as well as the poewrful story, I was particularly impressed by the way that a single set could be used to reflect everything from the idyllic countryside of the pre-war Somme the the horrors of the same location during the war itself. Needless, to say, you shouldn't expect anything more uplifting than – well, basically any other World War One story. But in a theatre world where so many plays cover the same topic, this play endures as one of the most memorable. It is currently back at the Gala Theatre on the 21st-26th May, and shortly returns to York Theatre Royal on the 5th-9th June.

Now from a vary harrowing human catastrophe to a very silly human catastrophe. I saw this play at the Brighton Fringe last week, and it was a tight-knit fun take on everyone's favourite over-used trope. Yet again, the world is overrun with zombies, but the duty to save all of humanity is Tom, a nerd who survives by committing to memory all the B-roads that serves as alternatives from the motorways, and Bunny, leaving her girlfriend's home in disgrace after shagging her dad. Oh, and the Women's Institute is apparently a secret crack squad of elite agents. You weren't planning to take this deathly seriously, were you?
It's fair to say you know what you're getting with this. If you're hoping for a high-suspense action-packed flick where you have no idea whether Tom or Bunny will save the world (bearing in mind the clue's in the title), this probably isn't to one for you. But if your idea of a zombie apocalypse is a musical extravaganza with humour, tropes and good old Yorkshire common sense saving the day, You should enjoy this. See it at Alphabetti Theatre, Newcastle on the 25th-26th May, of if that's not Yorkshire enough for you, it's also on at Seven Arts, Leeds on the 1st June.

I've never seen Patrick Barlow's adaptation of the Buchan/Hitchcock classic, but everyone I know who's seen the play or read the script has been singing its praises. So this looks like a safe bet for Paul Robinson's follow-up to The Rise and Fall of Little Voice. With all the characters played by a cast of four, it's been a very popular take if your idea of an adventure is a dashing chap with a stiff upper lip who has a knack for getting out of scrapes. And given how long this ran on the West End and Broadway, it seems a lot of people agree.
Paul Robinson has kept up the high standard of mainstream SJT productions set by his two predecessors, with a decent job  The Rise and Fall of Little Voice last year. The real test for him is the new writing, which is always more of a gamble, but in terms of what you can't go wrong with, this is as safe a choice as you can get. This is at the Stephen Joseph Theatre on various dates between the 21st June – 23rd August.

Last one only just counts as a summer pick, but I'm glad this is coming back because this was something that, in hindsight, Northern Stage undervalued last time round. Although this was primarily intended as a development scheme for their annual intake of NORTH actors, the two-week run on their smallest of stages proved to be an unexpected hit, selling out almost all of its run.
I reviewed this the first time round, and like almost everyone else, I found the combination of Laura Lindow's writing and some excellent acting and directing on a minimalist basis to do make a great job of recreating the book. The setting is transplanted from Horsell Common to Newcastle and Northumberland, but other than that it's a largely faithful adaptation that keeps everything that matters from the book. It runs one week from 19th-22nd September at Northern Stage. Will one week be enough, I wonder.
Bold choice
Only one entry in the bold choice list this time. This is a less well-known play that I know less about, but I still have reasons to be hopeful for it. It might not work out, but if it comes off, it could easily be as good as the safe choices, maybe better.

I'm of the generation who recognised the name from the 1993 single, and I made the mistake of looking this song up in Wikipedia. Don't do that. I think I've given myself a massive spoiler to how this play goes. At least, I think I have. There seem to be different songs of the same name which may or may not be related to the same story, but I daren't check this any further in case I prematurely find out even more of the story than I already know. Anyway, to be on the safe side, I will stick to the information given by Northern Stage. Frankie and Johnny are two down-on-luck people taking a chance with each other. Beginning the morning after the night before, is this just another forgettable one-night stand, or can it be something more? Something life-changing?
Make it into my picks as a bold choice because it's directed by Mark Calvert, who I saw direct James and the Giant Peach to the standard of a West End production on a fraction of the budget. I didn't see Alice in Wonderland, but by all accounts he gave the same treatment to that. So that bodes well for this play. It is running at Northern Stage on the 21st May – 2nd June. After which time I should know whether this play is idea for hopeless romantics or bitter and twisted singletons.
You might like …
This next thing on the list are for plays I've seen that have more specialist appeal. But apart from that, all the requirements of safe choice apply. So if this appeal to you, I'm confident you'll like it.

Rattle Snake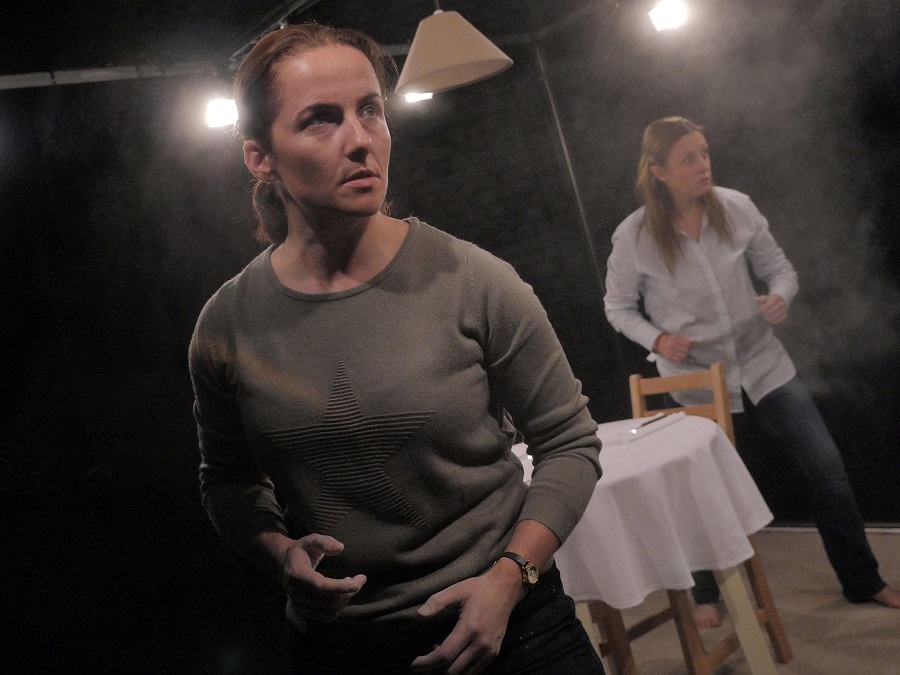 Another chance to see Open Clasp's latest play, on the subject of coercive control, which I reviewed last year. Like most of Open Clasp's plays, it was created from the stories of real women who've experienced this. The story they ended up with isn't too different from plays about domestic violence – the violence is simply replaced by threats of violence, but the effect remain about the same. However, this play, I felt, brought something new to say from an unexpected angle. The play started off as a Police training exercise, and the Police and social services get involved, and help – but still the systems fails and the case falls through the cracks. And the questions over how this goes wrong needs asking beyond Police training rooms.
They toured last year, and a follow-up tour is underway now. It comes to the Gala Theatre on the 30th May and ends where it began, with co-producers Live Theatre on the 5th – 9th June.

Quentin Crisp: Naked Hope
Mark Farrelly may not be a familiar name in the north-east, but is a familiar name on the fringe circuit. Since 2014, he has been touring two solo biopics, The Silence of Snow about Patrick Hamilton's descent into alcoholism and self-destruction, and Naked Hope, the story of Britain's most famous naked civil servant, if by "civil servant" you include everyone paid by the public sector including life models such as Quentin, which he did.* (Irrelevantly, Mark Farrelly unwittingly started off the chain of events that led to my first paid fringe run I've just had in Brighton, but that's a story for another day.)
*: Strangely enough, there is a known case of naked actual civil servants. If you can't help sniggering when someone mentions the Rural Payments Agency, you'll know what I mean.

Out of the two, The Silence of Snow was my favourite, but I am still keen to see Naked Hope again. For this play, it does help a lot if you're already familiar with Quentin Crisp, but he's received a lot of praise for recreating him, first as a younger man, and later as a flamboyant star after his rise to fame. This is showing on the 10th July at Northern Stage, Newcastle as part of Newcastle Pride.
Also of note
Four other plays are worth mentioning before we close this off. notable for different reasons.

Since Ayckbourn's departure as artistic director in 2009, he's shown no signs of slowing down, with most years at the Stephen Joseph Theatre having an Ayckbourn revival and a new play, normally sharing the same cast. I've only occasionally put these in safe or bold choice because, high standard though they are, it's difficult to tell in advance what will be remembered for years, and what goes down as just another Ayckbourn. Often it's the ones I least expect.
This year, the revival is Joking Apart. This play was written during the height of his commercial success when he'd already written a lot of plays about unhappy couples, and legend has it he wrote this one is response to numerous requests to do a play with a happy couple for a change. But there's a catch. Richard and Anthea are a couple hopelessly in love, and everything falls into place for them, and they generously support all their friends around them. Even so, they still mange to make everyone else miserable. Set over four scenes, three years between each one, the characters get older. Apart from Melody, replaced by Mandy, then Mo, the girlfriends of Brian in each scene who get younger. I am going to avoid taking this piss out of Brian too much as I'm worried I may turn into him if I'm not careful. This is one the Stephen Joseph Theatre on various dates between the 26th July and 4th October.
The new play is Better Off Dead. Ayckbourn gives away very little information about new plays, but it's described as a grumpy old man who might not be so grumpy after all. The grump old man in question is Algy Waterbridge, who is hard at work on his gritty crime novel in gritty Yorkshire with the same gritty detective – I presume this is the special kind of detective who is inexplicably assigned every single grisly murder in the county. But we have hints here that the line between DCI Middlebrass and Mr Waterbridge may be vague one – and we know from Improbable Fiction just how vague this lines can be. This is runs at the Stephen Joseph Theatre on between the 6th September and 6th October.

I missed Theatre Elysium's Jesus Hopped the A Train due to Brighton Fringe timings, but I gather it went down well, especially the Manchester run. (Local reviews always need to be treated with caution because local enthusiasm often makes it difficult to pick out good productions from mediocre ones, but The Reviews Hub is a national publication at it got fives stars from them.) The next major production will be in November, but before then there is a mini-production for Durham Festival of the Arts. Until recently, this festival entirely consisted of productions from the students of Durham University, but this year they included Theatre Elysium as part of their ongoing partnership. Next year, when The Assembly Rooms is not in use, this festival may reach out further still.
But we are getting ahead of ourselves. Under the name of "Two by Beckett" (the Gala Theatre is doing the actual play "Two" later in the year, so I get the theme there), these are two 30-minute plays of the author of Waiting for Godot. Krapp's Last Time festures an old man, who makes a tape every birthday, and in his old age he is listening to the tape from his 37th birthday, where he in turn talks about his tape from his 27th birthday. Footfalls is about a woman who copes with life's trouble by pacing up and down. But instead of going into further details, you can hear about this play, along with plans for Theatre Elysium and theatre in Durham in this interview I did last month. This is on at the Assembly Rooms Theatre on the 23rd & 24th June.
And that's it for another season. Join me again in the autumn for another list.