REVIEWS: Skip to: Bin and Gone, Metamorphosis, Apparatus, The Owl and the Pussycat, Antigone Alone, Tom and Bunny Save the World, Always, With a Love That's True, Beasts, The Erebus Project, Larkin Descending, Wan In, Wan Oot, Brighton Queen of Slaughtering Places, One-Woman Alien
Last year, I had the dubious honour of not getting round to finishing my Brighton Fringe coverage until after the Edinburgh Fringe. That was a little embarrassing, and I don't want to repeat that in a hurry.
So, Brighton Fringe 2018 has come and gone. Some years I write a lengthy introduction before getting on to reviews – in 2016, for example, the unprecedented growth that year transformed the face of the fringe. This fits into a wider growth of the fringe over the last decade, and I wrote a list of 10 ways the Brighton Fringe has changed for anyone who wants to read this further. This year, however has very much been a "no change" festival. The numbers are about the same as 2017, all the major venues are broadly carrying on doing what they're doing, and the only notable different is that Sweet Venues ditched Sweet Waterfront and replaced it with Sweet Werks and Sweet @ The Welly. There are some early signs ticket sales may be up, but this is unconfirmed at the time of writing.
Let's get straight to it then. Excluding myself and Groomed (which it would not be appropriate for me to review as Patrick Sandford directed me), I saw nineteen plays and other shows. Normally at a fringe what I see ranges from outstanding to incomprehensibly awful – this time, it only ranges from very good to moderately disappointing. Here we go:
Pick of the fringe
(Some of the reviews are lifted from the instant reviews I did during my live coverage. In general, unless I have something new to say, I will tidy up the existing review rather than create a new one. Just so you know.)
Sometimes I have trouble deciding where to cut off between pick of the fringe and honourable mention, but this time it was quite as easy choice. Seven plays were distinctly strong performers and firmly belong in this category. In the order I saw them, they are:

Bin and Gone
There are a lot of things in fringe programmes nowadays that are billed as "theatre" but are really more like talks. They might be presented in a theatrical way, but it's someone talking about a subject they care about rather than any kind of story. In general, I don't count this as theatre, exclude these from both "pick of the fringe" and "honourable mention", and put them into the "not quite theatre" category created for this sort of thing. But the story of Ted Rogers told by his son is done so well, I had to include this here.
If you don't remember Ted Rogers, you might remember Dusty Bin. If, however, you don't remember Dusty Bin, this is going to take some explaining. Dusty Bin was the mascot of the game show 3-2-1. I vaguely remember watching this as a child and not understanding what was going on, but apparently neither did anyone else. The thing that the show was famous/notorious for was the final round where you had to guess a prize based on a cryptic clue, and by cryptic I mean incomprehensible. Pick one mystery prize and you might get a holiday. Pick another and you might get a dustbin.
But this show isn't about Dusty Bin or 3-2-1, it's about Ted Rogers, and there's far more to his story than a game show. In a way, Bin and Gone is a classic story of the final years of Variety. Before his big break, Ted Rogers had a long career as a variety performer, from his earliest days as an absconding understudy, to a respected singer/comedian who brought a format people came to know and love to his to prime-time TV. But alas, this is also a classic story of the rise and fall of a star. The world had changed too much in the decade the show aired, the singer/comedians who formed the staple of Variety no longer had careers, and a series of tragedies were unfolding away from the cameras. The world's favourite waste receptacle may have been the draw for the show, but in this story, Dusty is very much the cameo.
This, however, is a theatre blog, and true story alone does not earn you a good review. Nor does being related to the subject of the story. What makes this so memorable is the personal touch of Danny Rogers. Far from being a novelty casting, Danny's relationship to his father is integral to the story. The writer of the this play, surprisingly, isn't Danny, it's a Tom Glover, but between them they tell the story that only they can. It's little things such as Danny perfectly mimicking his father's greatest variety hits that make this not just a memorable story but also a charming and moving story. The play doesn't have any upcoming runs shown on their website, only the week at Brighton just gone, but surely this cannot be the last we've heard Ted, Dusty and Danny. Keep an eye out for this, and catch it when you can.

Metamorphosis
Now comes an unusual combination: two back-to-back reviews of new takes of Franz Kafka stories. They are very different kinds of adaptations, but good jobs were done of both of them. And both of them were borderline between adaptation and retelling.
So to start with, Different Theatre with Metamorphosis, originally the story of Gregor, who wakes up one morning and discovers he's an insect. This, however, is the story of his sister, Greta, considered by some to be relegated to a footnote in the story. At the end of the book, after Gregor's death the parents notice Greta has grown into a pretty and well-figured lady, and they should start looking for a husband. Which is apparently okey-dokey in 1915. So Sam Chittenden's story imagines what Grete's story was during this time.
It's a cleverly-crafted adaptation, using side-plots from Gregor's story and making them into major plot for Grete. In Gregor's tale, the three lodgers taken on for additional income is incidental, as is Greta's violin playing and her Sunday best dress. In Greta's story – in the chapter she presumably tells no-one about – it adds to something much worse. The story is brings in parallel's with Kafka's own family, sadly not a good one; just life Kafka's sisters, there was only one likely fate for people like Greta thirty years away. I did, however, wonder if too much of the original story had been lost in this adaptation. I get that this is Grete's story rather than Gregor's, but Gregor and Grete's relationship is one of the key theme of the book: a painful transition from a beloved older brother to a burden she's better off without, but I didn't pick this up here.
But Different Theatre makes into the top tier of this roundup for its production values. Heather Rose-Andrews makes an ideal Grete, but the thing that really clinched it with the surrealistic Kafkaesque (for want of a better description) atmosphere created for the play. Rose-Andrews's performance fitted the production perfectly, but the thing that really topped this off was the music used for the play. It probably helps to be familiar with the original before seeing this, but Metamorphosis is a strong all-rounder that Different Theatre can be pleased with.

Apparatus
And hot on the heels of one twisted story from everyone's favourite twisted early-20th century author comes another from Blue Devil Theatre. Set on an a penal colony of an unspecified regime, a foreign dignitary is brought to witness the execution of a prisoner – not for the crime that got him sent to the island, but for failing to observe to petty rule about not saluting the regime every hour in the middle of the night. But as well as execution for the most trivial of infractions, the Commandant of the colony also sanctions unnecessarily painful execution by unnecessarily elaborate death machine. Or, rather, the old Commandant sanctioned it. The new Commandant appears to have slightly more progressive leanings; and as unnecessarily painful execution by unnecessarily elaborate death machine is generally frowned upon in more progressive circles, the Officer in charge of the aforementioned death machine (or "apparatus" to use her choice description) isn't getting the support she'd previously enjoyed under the old days.
The main challenge for this kind of play is keeping it plausible. Writer/director Ross Dinwiddy made some small tweaks to the story: the Officer in charge of the "apparatus" is now a woman, and the Guard and Prisoner now have some sort of romance. But the overall story remains the same, and there is only one way a story like this can be believable, and that's if the Officer in charge is obviously insane. But that's okay, she is. Emily Carding has the vast majority of lines in the play of an Officer loyal to the old commandant and in awe of the beauty of the machinery, and the longer the play goes on, the longer her levels of self-delusion become clear. I may be giving away a minor spoiler here, but it's pretty obvious early on in the play that the game is up already, and the Officer lives in a fantasy world that everyone in the colony secretly supports the old carefree days of unnecessarily elaborate execution. The last-ditch plan to turn things round my not be obvious to start with (even if the outcome is), nor may it be obvious how it ends, but it's really the only way it could have gone.
I did wonder if more needed to be done to explain the prisoner's reaction – or rather, lack of reaction – to his imminent unconventional demise. I get that he doesn't speak the language and so is oblivious to what everyone else is discussing, but he must have noticed the apparatus – if the prisoner had some mental health issue that rendered him oblivious, this could have been explained better. But that's my only criticism. It's a very faithful adaptation that brings Kafka's twisted story to life, and even the changes to the story are made to look like that's how it was written all along. This was one of the best reviewed plays at the fringe, so there's a high chance it will be back, but it's certain not a play you'll forget in a hurry.

The Owl and the Pussycat
I'm probably not the best judge of children's shows – shows like Doktor James that are officially for children but adults like even more (I suspect) are one thing, but this is aimed very much at young children. A more twisted show aimed at more grown-ups (or more twisted children) might have lines such as "Oh, Owl, you don't want to hang around with me, I just spend all day dismembering defenceless rodents." ("But Pussycat, I love dismembering defenceless rodents too. We have so much in common!") But this show has a U certificate and a gentle story suitable for all children. And with Kitchen Zoo having already toured this through the north-east for over a year to great acclaim, I was interested to see what this was like.
Although Kitchen Zoo's take on the nonsense rhyme is 100% child friendly, there is a little bit of room for subversion, and they make use of this. Did you ever wonder why Edward Lear mentioned the Bong trees in the last verse? You might think that's it's a nonsense word from a nonsense song – but you'd be wrong! Bong trees are a very rare kind of tree, and Owl, an ardent treeologist, specially goes on a voyage to see them, and winds up with Pussycat as a travelling companion. Over the voyage for a year and a day, they get on each other's nerves, but finally grow on each other. Or maybe it's just like people who get carried away on holiday and get engaged by mistake. Perhaps we'll never know. Also expect liberal use of the seemingly-useless-object-that-later-suddenly-plays-a-pivotal-role trope. That shilling that Owl brought along just lying around in the pea-green boat – what possible use could that have?
Like I said, it's not my position as a non-child to give a definitive verdict on this. From the perspective of a boring old grown-up, I was really taken in by the musical score, which made a great addition to the play, and for me that made it an enjoyable watch. If you want to hear from a proper reviewer of children's theatre, I can tell you that The Argus gave a glowing endorsement, with a five-star review. At the end of the day, however, it's not the approval of adults that matters, it's the approval of children. But I trust five-year-olds not to beat about the bush with what they think of things. If they are bored, they will let you know very quickly. I checked the audience, and the children were paying attention all the way. So I think Kitchen Zoo passes the toughest test, so well done, and this looks like something to recommend as they return back to the north-east and carry on touring.

Antigone Alone
Another solo play at the Dukebox now – probably more by coincidence than by design, but all three solo plays I saw there were of a very high standard this year.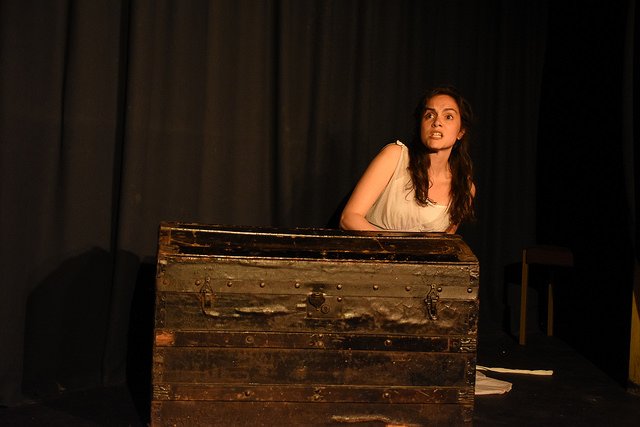 Antigone is one of the most popular plays on the fringe circuit at the moment, and, as such, it's a bit a challenge to do something that hasn't been done to death already. Antigone Alone uses a well-known formula where we begin at the end of the tale, where the titular heroine is bricked up in a cave, looking back at how it came to this. But there is one key difference from the tried and tested formula most often used for this kind on monologue. The safe option is to start at the end of the story, then go back to the beginning, and work from there. In Antigone Alone, Antigone first looked back at the impromptu burial of her brother that got her into this situation. Then it goes goes back to the battle of brother against brother. And then further back to the feud of Oedipus's family. And then back even further to the original prophecy that all future tragedies stemmed from.
Again, this is another strong all-rounder from a tight-knit team of three who developed the play between them. It is written and directed respectively by brother and sister team Michael and Jennifer McEvoy, but the production would have stood or fallen on the choice of performer, and thanks to their choice of Joanna Lucas, it stood. Critical to the believability of the story is Antigone's contempt for King Creus, who she sees as an unfeeling tyrant with no redeeming feature – that, of course, sets her fateful choice of her way out – and Lucas catches this convincingly. As she does for the way the story is narrated backwards. Backwards narration is a risky theatrical device that can easily confuse the hell out of the audience, especially when a writer who knows the story tells it to an audience who might not. Here, however, the story is told with clarity, which anyone can follow form Sophocles buffs to Greek tragedy newbies.
If there's one thing this play could have done better, it could have been more adventurous with the timeline. The story chops and changes very well up to the point of Antigone's trial – after that point, as part of Antigone's defence, it goes into the story of Oedipus, which is quite a long one. I can a good reason to do it this way – after all the jumping back and forth up to this point, it's understandable why you'd want to play it safe and tell his lengthy backstory in chronological order rather than risk confusing the audience. But now that we know how accessible the play was up to this point, I think it would have been a risk worth taking. Either way, the greatest strength of Antigone Alone, and the team of three who created it, is how easy the play is to follow; and the second greatest strength is the creative way the story is told without sacrificing the first strength. Greek tragedies sometimes get a bad reputation from pretentious drama groups with their own pretentious takes, but not here: a clear, well-written, well-performed potted version of a Greek epic that will be enjoyed by anyone.

Tom and Bunny Save the World
First thing's first. Observant blog readers will notice this wasn't in the pick of the fringe when I finished my live coverage. I forgot this one. Huge apologies. But I can catch up now.
This is a musical parody of a zombie apocolypse. That's all you need to know. As I've said before, it's very difficult to do an alternative take of a zompocalypse that hasn't been done already, but the one alternative take that I'm sure no-one will be tiring of soon is one that's very very silly. So with the outbreak of zombieitis sweeping the nation yet again, nerdy Oxbridge graduate Tom drives to safety, committing to memory all the B-roads to serve as alternatives in the event of congestion. Equipped with essential supplied such as Top Trumps Cute Animals edition (to sedate any suspicious survivors he might bump into), he comes across Bunny. Bunny is a full-on northern lass with a series of not-terribly-dignified one-night stands behind her, she is currently leaving her girlfriend's home after shagging her dad. Picking up the odd stray, the two head for Yorkshire – always an excellent choice of destination – where the zombies are mysteriously sedated. Can they save the world? (Okay, the clue is in the title, but anyway …) You get the idea anyway.
One thing I'll mention as an aside is that, in their publicity, Fat Rascal frequently promoted this as a "gender-stereotype destroying" comedy. I wouldn't have done that myself, not because they don't need a good destroying, but because I think the best way to fight these sorts of stereotypes is to ignore them. It's true to say that Tom and Bunny has a female professor and female solider in the story, and it's true that a lot of less imaginative films would have made the male without a second thought. But I'm of the view that if you want to normalise women in these sorts of roles, you should just go ahead and do it. If we see a female professor on stage, the audience should be thinking neither "What? A lady scientist? They'll be giving them the vote next!" nor "Yaassssss girrrl! Slayyy the patriarchy!" They simply be thinking "Oh, look, a professor." But whatever, it's their play, it's their call how they promote it. Back to the review.
I had heard the play was rough around the edges at the Vault Festival, but there's no sign of that here, with the ensemble of six singing in harmony and tightly choreographing the show. I did wonder whether this might end up derivative of Shaun of the Dead, but it avoid this as comes up with its own comedy, often themed on petty differences between the different regions of England. Tom and Bunny Save the World doesn't try to be anything more than a fun musical that doesn't tax the brain, but you know what you're getting and they do an excellent job of it.

Always, with a Love that's True
Finishing off the pick of the fringe is a pleasing performance from Wired Theatre, long-standard performers of site-specific devised theatre at the fringe. Unusually for Wired – or indeed for most fringe companies – this is a straight sequel to last year's play. But the last instalment, And Love Walked In, set up this play very well. That play established that Andrew is a self-employed therapist, a forced career change after he lost his job as a teacher due to alcoholism. Sadly, his self-destructiveness was only ever paused, not vanquished. Andrew embarks on an affair with a client, Jo, driving his wife Sheila into the arms of Polish neighbour Piotr. But Jo goes back to partner Phyl, leaving Andrew with no-one.
And so, part two begins how part one began, Andrew at his desk, playing the part of the therapist. Except that he's in a grubby T-shirt, the booze is back in plain sight, and the paper he's currently writing "5 ways to kill your wife's lover" – supposedly an academic paper covering an academic situation, but quite obviously specific about a certain Polish gentleman. When a client rings the doorbell, Andrew hastily puts on a clean shirt and applies mouthwash, only to be confronted by Jo about the affair he now denies. And then Sheila unexpectedly returns. Her beloved Piotr is dead of a heart attack. She knows no-one else to turn to.
Robin Humphreys gives the best performance I've seen him do in the nine years I've seen Wired's plays. With the core cast of Wired being one male and three female, he normally ends up playing a shabby womaniser. This play is no exception,  but this character has a lot more depth. Andrew is the worst kind of ruthless manipulator – but there is also a vulnerable side that Robin brings out so well. For all his lying and cheating, Andrew doesn't know what he'd lost till it was gone, and now that her lover is dead, there is a quiet desperation in the way he wants all his lies to be true, that there was no affair with Jo, that Piotr meant nothing to Shelia. But Piotr is not quite gone – he's still in Andrew's head. I do miss Graham White, who played Piotr last year – it would be been really dramatic to see a confrontation between living and dead nemeses. But Humphreys running a conversation with himself in both voices was a good substitute to depict Andrew's failing sanity.
One obvious caveat is that I followed this plot the second play having already seen the first. However, the word I've been getting from various people new to this is that you could follow Always, With a Love That's True without needing to see the play before. Anyway, I hear there may be a third instalment on the cards, so perhaps I can find out next year how this epic ends.
Honourable mention
Moving on to the next tier. Competition is getting tougher at Brighton and Edinburgh and even the second tier needs something going for it. Six plays make it to Honourable Mention this time round:

Beasts
This year's offering was advertised as a "best of" show taking in their favourite sketches from the last five years. Normally you'd know what to expect of this format, but this is Beasts, whose usual format involves starting with some jokes so terrible they wouldn't even qualify for crackers, before they start bickering, which usually progresses to Owen getting pompous, James getting nerdy and Cairan taking his clothes off on the flimsiest pretext. As such, I wondered if this entire show would involve them arguing over their best material. But you can be assured it a best of show. It's a collage of their best (or should that be worst?) sketches, followed by their most memorable digressions. So Owen once again insists on doing his biopic of Nelson Mandela ("What do you mean I can't play the part just because of my skin colour? That is exactly the sort of thing Nelson Mandela fought against"), but instead of being inturrpted by Ciaran's burlesque routine, he's interrupted by his naked baker sketch. At least that bit's consistent.
For anyone who's seen Beasts before, you know what to expect. And I could summarise it there, except I got the impression from brief chats with other people in the queue that most people hadn't seen them before, and were under the impression that they were just a sketch group. Oh boy, they won't know what hit them. But for everyone who's now been introduced to Beasts, let's look forward to the next show, probably with more pomposity, nerdity and nakedness on flimsy pretexts. We'll be disappointed if you don't.

The Erebus Project
This was a play set on an interesting premise. Sam is a PhD student who has invented a device that can record thoughts. He has tested it on himself, but Sam's aspirations are for higher – he wishes to solve the great mystery of what happens to the mind at the moment of death. But the play isn't about what happens when this breakthrough is made – it's about what happens before. In order to find this out, this device must be attuned to someone who's about to die. He hoped Aurora (or Rory, as she is known), will volunteer, and remain willing long enough for the laborious calibration process needed if there's any hope of this succeeding. Also into play are Rory's doctor and daughter, both having their own views and interests thrown into the mix.
This play was strongest when it worked as a clash of ethics. On one end is Sam, who wants to make this breakthrough for the good of mankind whatever the cost – but against this, there are the people in the real world, and progress is only possible by an unexpected friendship struck up between Sam and Rory. But I wasn't convinced by the decision to have to rely so much on backstories. Seemingly every combination of character pairs has some shared backstory, any of which could add to the plot, but combined together comes to plot thread overload. But this makes into honourable mention for the strong central theme. The morally grey area of using people for the advancement of science is a rich subject to explore, and the more this play ecompasses it, the better.

Larkin Descending
I'd been keen to see another Gail Louw play ever since I saw Blonde Poison a few years back, another solo biopic. This new play is a gentler one – instead of a women notorious for betraying thousands of her fellow Jews to the Nazis, it's Philip Larkin in the last six months of his life. Once a poet and national treasure, now he's an alcoholic unable to write, angry about the noise of those youths playing outside his window. At eight in the evening. With school tomorrow. And noisy drivers. It'll be the blacks and Asians next. Larkin wasn't exactly renowned for cultural sensitivity.
Louw had the good fortune to have Sylvia Vickers as director, best known for directing most of Wired Theatre's plays. Together with Wired veteran Graham White as Larkin, they produce a great cantankerous Larkin always by the bottle. One challenge with this sort of play is that there's very little you can do in the ways of movement – poets about to pop their clogs don't really lend themselves to energetic movement plots, but they made the best of the situation, with speech delivery providing the variety needed for a monologue mostly delivered from an armchair.
However, there is one decision I can't understand, and this is to deliver the back-story in a seemingly random order. I appreciate that Larkin is now old and rambling so you might expect things to be all over the place, but when you take his life story out of order, there isn't really much to focus on and stay interested in. One thing that could easily have been an early attention grabber was his father's unhealthy fondness for Nazi memorabilia in the 1930s, but it's a good 20-30 minutes into the monologue before this comes up. It puzzles me more that Louw told the story of Blonde Poison in a conventional order so effectively, so why did she not do that here? Most puzzling, Larkin's rise and fall to Britain's number one poet was barely mentioned.
Larkin Descending was not part of the Brighton Fringe listings, so it may be fairer to look on this as a work in progress rather than a final performance. If that is the case, a bit of a restructuring could do a lot for the play. As it stands, it was worth seeing for Graham White's performance, and there's a lot of interesting facts about this life to learn in this play. But I do feel they missed a trick by unnecessarily complicating the time-line. Simplify this, and I believe this could achieve a lot more.

Wan In, Wan Oot
I broke my Sweet Venues embargo for this one. I'd previously said I wouldn't reviews plays with the same venue as me until the end of the fringe unless it was exceptionally good, but I decided to give a shout out for this one because it deserved more of an audience. There is a lot of luck when it comes to ticket sales at Brighton – in this case, Mama Koogs were unlucky to have the lunchtime slot in the week Brighton had a heatwave. But I hope more people did come to this, because Wan In, Wan Oot was a undemanding yet charming hour.
On a simple of a birth and a death in a family. The McKays are having a baby. At the same time, Mrs. McKay's grandmother is dying from cancer. The two stories run in parallel, Mrs. McKay senior using her last chance to tell her grandchildren of the life she led, and the hopes and fears of the McKays expecting their first child. One difference from the norm: this is Mrs. and Mrs. McKay, not Mr. and Mrs. – but that is far from the defining feature of the play. There's a couple things references specific to a same-sex relationship – such as the unsexy process required to get pregnant in the first place, and and one McKay having to come out to her not-terribly-enlightened family a second time (telling them you're becoming a mother being greeted with relief that you we're going to say you were becoming a man). Most of the time, however, it's a story that could apply to any couple: the sudden feelings of unreadiness when it's finally happening, and a sudden unshakable belief in all the medical advice Dr. Google has to offer.
There's little tension in the play, no sudden plot twists, no unexpected backstory, but that's not really the point of this play. Instead, it's a nice play that covers some ordinary family events in ordinary life in an ordinary way. And that's the most interesting thing about this play. Billed as a "queer comedy", often this genre is about how society views same-sex couples as different to everyone else. This play mostly treats a same-sex couple as the same as everyone else, and if this was the intention of the play, it does the job well. A welcome addition to the fringe programme, deserves more of an audience.

Brighton Queen of Slaughtering Places
The old Police Cells in Brighton are occasionally used as a fringe venues, but this was the first time I'd been to one. And you couldn't pick a better setting for this play: an audience with three of Brighton's notorious killers. For some reason, Brighton has a tendency for bodies of women to show up in trunks or suitcases or similar items, and this is the tale of three such killers. Sometimes cold-blooded murder, sometimes accidental death through callous negligence and subsequent cover-up, these stories keep appearing.
368 Theatre company have built a reputation for grisly plays in grisly settings, and this is no exception. The three killers meeting up together play off each other well. None of the three are repentant of their crimes: one is proud of it, one is in denial, and one is morbidly curious over what the other two have done. With the very police cells they are in a part of the story, it's a very fitting way to tell their tales, which were conveyed in a clear and interesting way, without any sensationalism for the sake of it.
Less successful, however, was the attempt to break down the fourth wall. The use of actors arriving late and dropping in and out of character might have been a good plot device, but here it was confusing over exactly what it was meant to achieve. I get that this play wanted to make a point that society has an unhealthy obsession with the lives of the murderers with the lives of the victims confined to footnotes, but there were probably better ways of doing that. I won't spoil the end of the play by saying what the twist was, but I did struggle to see how this was supposed to relate to the stories of the murderers. Something, I fear, was lost in the process between idea and presentation.
Apart from that, however, it's a decent production, and worth a visit for one of the fringe's most specialist venues. With the growth of supervenues, it's easy to forget the strand of site-specific shows in Brighton, and Theatre 368's use of the Old Police Cells is a fine example of what you can do with this.

One-Woman Alien
And rounding up the honourable mentions is Cast Iron Theatre. This, I understand, was hastily entered into Brighton Fringe after a run at Brighton Horror Festival proved to be a surprise hit. Performed by Heather Rose-Andrews, it's done the way I'd expect any one-person film adaptations to be done: out goes those silly fancy multi-million-dollar special effects, and in come props whose budget looks like it must have stretched to literally tens of pounds. The iconic opening title is now done by slowing writing in "Alien" on a blackboard. This pretty much sets the tone of the show. One easy trap with these sort of shows is to get so dependent on in-jokes that anyone who doesn't remember the film gets lost, but this isn't a problem here – it's funny, but you'll follow this with or without prior knowledge of the film.
As I base my reviews on what I saw, I am obliged to say the Monday performance was a little scrappy and first performanceish – however, given that Heather Rose-Andrews had already done Metamorphosis a week earlier, that is forgivable. From what i can gather with other reviews, the glitches were ironed out early in the run. However, one thing that may not be to everyone's tastes are the lengthy digressions into gender politics of casting and the Bechdel test, which strayed into "get on with it" territory. I get that writer/director Andrew Allen wanted to make a statement about this, but there are more concise but equally effective ways of making the point. The example I have in mind is One-Man Apocalypse Now, which, whilst not perfect (that was tough to follow if you haven't seen the film), managed to eviscerate the whole culture of casting and race in two sentences: "Oh Jesus, he got shot, and he's back, and I'm black too. I hope this ain't the bit where all the black dudes get shot just before the white guys have their Oscar-winning scenes."
But there's little to fault about the potted Alien film itself. It's fun and watchable no matter how much you know about the film. This is going to the Edinburgh Fringe, along with A Year Without Summer, which got sadly cancelled in Brighton at short notice. We have yet to see how that one fares, but I'm confident One-Woman Alien will do well. So if you fancy seeing this, Edinburgh is the place to go.
Not quite theatre …
And to finish this off, a couple of reviews of things I saw but aren't really theatre. I don't see enough comedy or music to be able to compare these two acts to their competitors, so you'll need to ask a comedy reviewer or music reviewer for that kind of verdict. I did, however, enjoy watching them.
Susan Harrison is a Bit Weepy
Susan Harrison is one half of the hilarious Two Stars Podcast, where she and Gemma Arrowsmith play two pretentious incompetent reviewers. So I was keen to see what other character comedy she could produce. I sometimes count character comedy as theatre – Jane Postelthwaite is one good example of that – but this is a lot more in the comedy end of the spectrum, best considered as a series of one-women sketches.
After a series of impressions such as eating a banana when crying and eating an apple whilst crying we get eating a sandwhich whilst – yes, you've guessed it – crying. Then we get Madam Melancholy, telling the story of the cutest penguin in the world assassinated by an arrow which lands in the heart of national treasure David Attenborough, just to bed in the theme of misery. Then we take a digression into a drug-addled new flatmate showing you round your new flat ("your room separates mine by a bead curtain, so I'll have to ask you to keen the noise down when I have sex"), before going back to misery with an enthusiastic weather girl giving the final weather forecast on the day on the 2070 apocalypse.
If there's one thing I think could be done better, it's the pace. There were quite a lot of times when nothing really much happened. Sometimes, this was used to good effect. In the 1980s hen party, where the predecessor to selfies was setting a camera on to timer, it was fun seeing her wait, and wait, and wait, for the camera to go off (which it usually does, the moment she moves out of position). But this device, I felt, had already been over-used earlier in the show, and that took the edge off here.
Bear in mind, however, this is a new show. Comedy shows in particular take time to develop, but we know from Two Stars Podcast how tight and funny her humour gets. I'm keen to see how this show develops, but as it stand it's very much to be recommended as a fun show to watch.
Bear North
Right, how do I explain this one? I first saw Bear North busking in Brighton Pavillion gardens. Three musicians did a good performance, and standing next to them was, um, a bloke wearing a dress and a bear's head. Being Brighton, I just assumed this as a random bloke dancing along to some bluesgrass music with a bear's head and dress because why not, but it turns out this is part of the act. The full line-up: three musicians, a poet and "Bear", is a show at the new Sweet @ The Welly.
This set the theme for the full show, which is the strangest mix of the wholesome and the bizarre. The music and poetry could easily be shows in their own right. One of the musicians is Mike Dr. Blue, who I briefly mentioned during Brighton Fringe 2016 with an excellent set at The Sweet Release, and this group does not disappoint, with the Rocky Mountains-theme music and poetry making a very pleasant hour in the afternoon. And added into this is "Bear". Dancing along in his dress and bear's head. Just because. "But why this is bear wearing a dress?" I hear you ask. "Bear likes it" is the answer I've been given.
The fringe circuit has no shortage of bizarre and twisted shows, but this is the first time I've seen a bizarre and gentle show. I have no idea whether they intend this to be an ongoing act or just a one-off novelty, but in a world where acts try to out-do each other with craziness, this will be sticking in my mind for a long time for the right reasons.
Shows I didn't see
And finally, a quick summary of all the other plays on my recommendations list that I wasn't able to see. Usual reminder that I don't know of any service that collates reviews at Brighton, therefore I am heavily reliant on whatever Google shows me. If you notice I've missed a good review of you, let me know and I'll add it in.  If you've noticed I've missed a bad review of you, I recommend you keep schtum.
For most of these shows, the reviews don't matter too much: either the show is already running successfully and doesn't need further good reviews, or it's from a well-established theatre company with several successful projects on the go. Of this list, the notable one is Last Night at the Circus. This was from character-comedian Jane Postelthwaite, but this show was very different from anything she'd done before, largely about her own experiences with bipolar disorder. As such, this was a gamble, but if the gable paid off a show that could define where she goes from here. And, judging from the reviews, it looks like the gamble did pay off. So it looks like we will be hearing from this one again at some point.
On the whole, it looks like everything that made it into my recommendations list – even the wildcards, where I had no idea if they'd be any good – can be pleased with how things went.
Other things I wrote
And finally, to complete the roundup, a list of all the other stuff I wrote about during my live coverage (just Fringe-specific stuff here – I've left off other stuff that happened during May and early June):
Brighton Fringe's crowdfunding scheme, and why my support is not unconditional (7th May)
An assessment of the new Sweet Werks as a Fringe venue (11th May, 5.15 p.m., and 27th May)
A small plea for Brighton Argus to make their reviews easier to find (13th May, 8.00 p.m.)
The question over how much Brighton Fringe should promote individual acts (18th May, 11.15 a.m.)
A debate over "cruel" reviewers (22nd May, 26th May and 29th May)
And finally finally, a reminder that I wrote one other article about Brighton during the fringe, being 10 ways the Brighton Fringe has changed.
So that brings us to the end of one fringe roundup. Two to go.