SKIP TO: The Unknown Soldier, Gated Community, Behind the Agony, A Curse of Saints, Extremism, Antigone Na H'Éireann, Sea Wall / The Shape of Things, Trapped, Earthling, I let a six-year-old write my show, Disgusting songs for revolting children
All right, Sam Slide, you can stop pestering me. I've allowed a bit of a backlog to build up again as a result of doing two plays at once, but I haven't forgotten Buxton Fringe. As always, my list of what I recommend seeing. As the smallest of the three fringes I cover, this is a more comprehensive list than usual – at Brighton or Edinburgh, I've only heard of a fraction of the acts, but in Buxton I at least recognise the names of many of the groups, even if I haven't seen them before. But even so, the usual disclaimer applies – this list should be seen as a cross-section of what's worth seeing, not a complete list. As always, anyone who wants to see the full rules governing what goes in can come this way.
Last year's Buxton Fringe was a very significant one for two reasons: Underground Venues relocated from the Old Hall to the Old Clubhouse, and the brand-new Rotunda set up in the Pavillion gardens. This year, however, there's not much change in the headline figures. Fringe-wide numbers are about the same, numbers at Underground Venues and Rotunda are slightly up. However, it's not quite a "no change" fringe and within these static numbers there's a fair bit of difference. Last year, the Rotunda's programme was dominated by shows produced, or at least backed, by Grist To The Mill themselves; but this time, it's a far more diverse programme – a result, presumably, of the Rotunda advertising for applications much further in advance. Underground Venues, meanwhile, appear to have more entry-level acts this year – again, this might be down to the early addition of the Rotunda balancing up supply and demand on the managed venues. Whatever the reason, I am now less concerned over losing Buxton as a suitable starting fringe than I was last year.
The thing that might affect Buxton in the medium term, however, is the rise of the nearby Greater Manchester Fringe. A few years ago, they were a tiny festival – now, however, they have about 120 registrations, not far away from Buxton's 180. Can the north-west support two fringes in the long-term? My current guess is yes, but this is speculation. I will keep an eye on this and see how this goes.
Safe choices:
A short list for safe choices this time. Normally there's a fair number of returning groups with shows I've seen before that I can easily put as safe bets, but not this time. But in this shortened list, the principle is the same: if you like the sound of this play from their description and my description, you can be confident you won't be disappointed.

This play is quickly becoming a perennial feature of Buxton Fringe, especially as producing company Grist To The Mill is behind the Rotunda. But there's no denying that Ross Ericson's solo play is a huge success, both at Buxton and beyond. I've written about this play many times before myself, so I won't go over the details, but to summarise, it's a World War One play, but not your usual play. The given convention is that the story the Great War ended on the 11th November 1918, but in this play, set after the guns fall silent, it's far from over. The nation mourns the glorious dead, and forgets the not-so-glorious wounded. And mixed into this is cynical Jack Vaughan, one of the few soldiers left on the front, and his part in the "unknown soldier".
Just two performances this time, one on 8th July at 5.00 p.m., and again on 15th July at 7.30 p.m. If you haven't caught this before do so now.

Now, here's a blast from the past. I saw this play at Alphabetti Theatre back in 2016, but after that, it fell off the radar completely. And that was a shame, because this was just about top of my list of plays I wanted to see again after developing a bit more. It's a series of short tales in the style of Hammer House of Horror and just about every other horror genre too, told almost entirely through overhead projector animation. Handheld Arts aren't the only group doing OHP animation, but they do it so much better – the style varies from story to story, sometimes the two actors feature on stage, sometimes not, but they are all different.
Last time I saw this, the short stories were a bit on the short side, but this has been under development for two years and I'm looking forward to what it's like now. But this goes into safe choice regardless because its greatest selling point – a unique way of telling these story – was great last time round and should be great again. See this at The Old Clubhouse on the 12th & 14th July at 4 p.m., and also 13th July at 7 p.m. Friday 13th, fitting enough. I'll be disappointed if you don't make use of the obvious reference.
Bold choices:
A much longer list than safe choices this year, these are plays I know less about, so it may or may not be the play for you. Most of these are from performers who have impressed be before, but the plays are new and untested. There is also one completely new group who've grabbed by interest. But all of these, I think, are worthwhile gambles.

The unexpected gem of the 2014 Buxton Fringe was Ms Samantha Mann: Stories of Life, Death, and a Rabbit. On the surface, it was a comedy show about an inept middle-age spinster trying her hand at poetry, who spends very little time on poems and a lot of time nervously whittering away. But the real story, a tragic, touching, moving one, is what she gives away during the whittering – a nervous woman who regrets her life being wasted away. Such was the success of Charles Adrian's creation that a companion piece soon followed, where she becomes an agony aunt. Were you in love with someone who's in Australia indefinitely? Perhaps Samantha Mann can help.
So now comes a third piece, Behind the Agony. I honestly don't know what to except here. The original piece was entirely scripted, the second piece was very much improvised. I suspect, however, this will take the opportunity to go into more of Samantha's backstory and show us more of what made her who she is. This is on the 7th, 9th, 18th & 19th July at The Old Clubhouse, various times.

Off-Off-Off Broadway have been Buxton favourites thanks to their ghost story Peaceful. Premiering in 2013, it wasn't until 2015 that I saw it, but it was easy to see why this was such a hit – a superbly atmospheric setting, lighting and sound, all achieved on the minimal resources allowed in a fringe space. They've done other plays in different genres, but this year they are back to doing what they're best known for. Set in late 19th century Cyprus, offering a combination of faith, supersition and a fear of the other, it looks good for a repeat of their smash hit. Shows on the 9th & 19th July at 7 p.m. and 17th July at 5.45 p.m. at The Old Clubhouse.

Extremism
Buxton Fringe is a popular destination for Youth Theatre, but Shadow Syndicate is one of the best, bringing very high productions values to everything they do. I've seen two of their plays, but my favourite was last year's We Lost Elijah, a cautionary tale where a bullied boy's plan to pretend to be missing to become more popular gets overrun by a cynical display of narcissism and opportunism. This year, they are doing a story where Jamal is reported by his teacher for suspected extremism and taken away by police. But there are hints that the story isn't just about Jamal, but also the rest of his class whose suspicions turn on one another. This is on 14th & 18th July at 7.45 p.m. and 15th July at 8.45 p.m. at The Old Clubhouse.

Aulos Productions have built up a reputation over the last few years with plays such as First Class and Lest We Forget, but alongside this they also perform the older classics, often the Greek Tragedies. Antigone is all the rage at the moment – there was one at Brighton Fringe, and Aulos will be joining two others at Edinburgh. As such, it's a challenge to stand out from all the other Antigones, but Aulos aims to do it by transplanting the story to Northern Ireland during the troubles. It's an ambitious concept to pull off, but I was impressed by First Class and Lest We Forget, so I'll look forward to seeing how this turns out. It's on the The Old Clubhouse on 7th & 13th July at 7.30 p.m. and 12th July at 9.15 p.m.

Sea Wall / The Shape of Things
And the last Buxton regular on this list is Sudden Impulse Theatre Company. Their safest bets are their performances of well-know plays such as Two and Bouncers. However, they also have a prominent repertoire of less well-known plays, and this year they're bringing two. Sea Wall, from Simon Stephens, is a monologue of a man who loses the thing dearest to him, whilst The Shape of Things, by Neil Labute, looks like a sort-of love story exploring an uncomfortable boundary between life and art. What you think of these will depend a lot on what you think of the plays themselves, but you can be sure that Sudden Impulse will do justice to them. Sea Wall is at The Old Clubhouse on the 17th-19th July at 4.15 p.m., whilst The Shape of Thing is at the Arts Centre Studio on the 16th & 17th July at 8 p.m. then 20th July at 7.30 p.m.

One notable absence from the programme this year is Butterfly Theatre, who – for as long as I've been coming to Buxton – did a production in Poole's Cavern every year: usually Shakespeare, but Dracula and Alice in Wonderland also featured. It added a unique touch to Buxton Fringe that few other fringes can offer – it's not like there's any caverns in walking distance of Brighton or Edinburgh.
But someone is stepping into the Butterfly-shaped hole. Experential Theatre are bringing Trapped, a story of the famous rescue of the Chilean Miners back in 2010. I know little of this company, but they couldn't have picked a better choice of story, different from the Shakespeare that's gone before, but every chance this could be a great piece in its own right. This shows on 18th – 21st July in Poole's Cavern, with three performances each evening, but be warned, if it's anywhere near as popular as their predecessors, this will sell out quickly. Book early to be on the safe side.
From the comedy
Finally, some things that caught my eye in the comedy listings. Sometimes I count them as theatre – Samantha Mann is a good example. These three, however, firmly fall into the compey camp. I am a theatre blogger and not a comedy expert, so there's better people you can ask about what comedy's worth seeing, but from by brief forays into the comedy programme, this is what I can recommend.

One double-act I became a fan of last year was Two Stars Podcast, where two prententious incompetent reviewers discuss their craft pretentiously and incompetently. It's a long story how I got to be a fan of them in the first place, and I don't have time to go over what happened all over again, but they were hilarious. I've already recommended one have of the Two Stars team in her Brighton show, Susan Harrison is a Bit Weepy, so now it's time for the other half, Gemma Arrowsmith.
I will admit, however, I know very little about what this show actually is. It's billed as character comedy, but it's certainly not your usual character comedy. Themed on the 1977 launch of the phonographic records into space (not the picture of the nudey man and nudey lady, that came earlier), and some lifeforms that find the records. It's got me intrigued anyway. It shows on 14th July at 8.30 p.m. and 15th July at 7.00 p.m, at the Old Clubhouse.

I let a Six Year Old write my show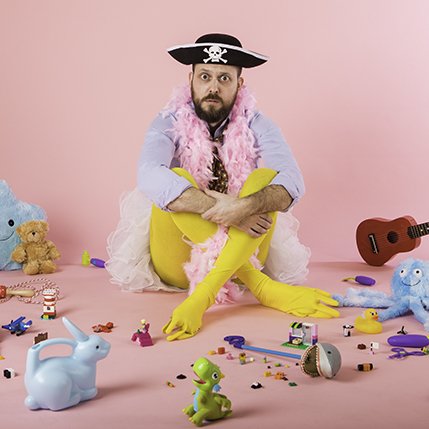 If you haven't seen the sketch show Beasts, you probably know someone in Buxton who has. Probably booking in some therapy sessions to recover from seeing an arseless leotard or the naked baker sketch. This, however, is a solo show from one third of the troupe who is doing a show written by a six-year-old girl. Always different to tell with Beasts (or fractions of Beasts) whether it really is this or whether this is part of the joke, but we should find out soon. Although I guess this depends what sort of the humous this six-year-old is into. Most of the ones I know like joke about poo and willies. And this comedy routine of taking off your clothes and thinking it's hilarious surely isn't going to catch on- … oh wait, hang on. 6th July at 7.00 p.m. and 7th July at 4.00 p.m, at the Old Clubhouse.

Disgusting songs for revolting children
This last one is a comedian who I discovered on Youtube via a rather obscure route of All the Stations. If you are interested in the history of the northern end of the Northern Line, and you think Geoff Marshall's version was a bit too academic, you can see episode one of Unfinished London. London Transport nerdery, I accept, is a bit of a specialised pursuit, especially if you are in Buxton which isn't in London the last time I checked, but there's plenty of other things on offer too, such the story between the bizarre Egypt-Sudan border in Map Men, with a style of humor similar to Mark Steel's. (Fun fact: aforementioned comedian Gemma Arrowsmith did a cameo as an angry letter-writer Mrs. Panhandle in a video about cycling.)
His offering for Buxton, however, is a children's show. I don't know who the main target audience is here – it might be children, or, like Doktor James, it might be the grown-ups who enjoy it even more. There's just one performance in Buxton though, on the 8th July at 2.00 p.m. in The Rotunda.
And that wraps up my pre-fringe recommendations. No play from me this year – my sanity can only support one festival fringe appearance per year – but I will sill be around from the evening of the 12th to the afternoon of the 15th. Have fun, and I hope to see you soon.