We're the other side of the fringe bubble and, eek, autumn has already started, and with that, autumn theatre. So, as always, I've gone through the listings of local theatres to pick out the things that are getting my attention. For anyone who want to know how this works, you can read my Recommendations policy.
Skip to: Build a Rocket, Two, They Don't Pay? We Won't Pay!, The Lovely Bones, War of the Worlds, Ventoux, Wicked, The Turk, Clear White Light, Joking Apart / Better Off Dead, Two Pints, Under Milk Wood, Sherlock Holmes, Bin and Gone, Boys, Vivian's Music, 1969
But let's not waste time. You know the rules, you know how it works, so let's begin.
Safe choice:
Top of the list are plays where I'm making a firm call. Most of these plays are ones I've seen already – where they are new, they are from writers and directors with a good enough track record to give me full confidence in their new offerings. All of these plays also have wide audience appeal. That's not the same as appealing to everyone – few plays do – but if you like the sound of the description, then I'm confident you can't go wrong with these.

In what I believe is a first for the Stephen Joseph Theatre, they took a solo play to the Edinburgh Fringe, starring Serene Manteghi, last seen in Scarborough in The Rise and Fall of Little Voice, albeit a very different role from LV. Here she plays Yasmin, a 16-year-old who finds herself pregnant after an ill-advised affair with a lecherous local DJ. But, in common with the last play Paul Robinson toured before taking over as Artistic Director at Scarborough, this is a story that only properly begins where most plays would have ended. What at one point seems to be a play about losing everything is actually about pick up after this happens.
Apart from a few criticisms about being "poverty porn" (unfair and misguided, in my opinion), this had a very successful run at Edinburgh. As well as the successful run, it's a triumph for the Stephen Joseph Theatre's drive to support local writing, with Scarborough-based Christopher York's script combined with Paul Robinson's directing to give an energetic performance. But it would be unthinkable for the SJT to run at Edinburgh without a chance to see it back home, so it is running  now at the Stephen Joseph Theatre until 8th September. London readers: there is a Pleasance London run on the 18th-23rd September. I'm told the Scarborough version, and presumbly the London version too, has an extra 15 minutes of material.
One aside: in a move which I never heard of being done before, the 5.30 p.m. performance on the 7th September has a creche. This is an interesting idea, and a fitting play to do it for seeing as a strong theme of this play is not having a life of your own if you've got no-one to look after your child. This is not a bad idea, I think – SJT can't be the only place in Scarborough that offers a creche, but it is quite possibly the only place that offers a creche at exactly the time a play is on that you want to watch. This has had quite a lot of arts media attention – I'm going to hold off my verdict until we know how this idea works in practice. But if it comes off, who knows, this scheme could soon be copied elsewhere.

The Gala Theatre is continuing its recently-introduced series of in-house productions with Jim Cartwright's classic story of life in a northern pub. True to the title, the entire pub is played by a cast of two – at some time the husband and wife who run the pub, at other time a multitude of characters who drop in and out. Some stories are light-hearted, others are darker. But the key story is that of the husband and wife – they bicker and put each other down throughout the evening, and there is a reason why.
Two is another ultra-safe choice for a regional theatre, so don't expect this play to revolutionise north-east drama. But the cast bodes well, most specifically Jessica Johnson. She did a superb job in Educating Rita last year (as well as basically every play I've seen her in), and I have every confidence she will do the same here. This is on at the Gala Theatre on the 2nd-6th October

We still don't know what the long-term direction of a post-Rutter Northern Broadsides will be, but in the meantime, with Conrad Nelson as interim artistic direction, he and his partner-in-crime Deborah McAndrew are making the most of it. Writer/director colloborations of McAndrew and Nelson used to be at most an annual thing, but this year we're getting two, and the follow-up to Hard Times is an adaptation of a Dario Fo's classic Can't Pay, Won't Pay. After two adaptations on the trot kept in their original setting, this is now back to a modern-day transplant from 1970s Italy to contemporary Britain.
This is their second McAndrew adaptation of Dario Fo; their first, Accidental Death of an Anarchist, was on the first productions that made McAndrew an integral part of Northern Broadsides, combining the energy and musicality of classic Northern Broadsides with the new humour brought by her writing. So this looks like as sure a choice as can be. It starts off at York Theatre Royal on the 5th-13th October, then goes on a tour, taking in the Stephen Joseph Theatre on the 20th-24th November. As usual, I am wondering why souch an outstanding theatre company never gets programmed in the north-east, but that's a question to ask another day.

Alice Sebold's story of a murdered teenage girl trying to contact her family from the afterlife is a big hit as a story, so this easily earns a spot as a bold choice. Bryony Lavery, however, gets this production a promotion to safe choice on the strength of Brighton Rock that she wrote, which I saw this spring and loved. It wasn't just her achievement – credit has to be shared with the rest of Pilot Theatre for that production – but the convincing characterisation of Rose and Pinkie surely couldn't have been achieved without the right script.
This is a co-production between four different companies, so expect this to be probably stylistically different from how Pilot Theatre stages plays. But whenever Northern Stage has produced faithful staging of classic stories – even when just co-producing with other theatres – they have consistently been to an excellent standard. This shows in the north-east at Northern Stage on the 9th-20th October.

A production that Northern Stage can take sole credit for, however, is War of the Worlds. This was an unlikely and unexpected hit at the start of this year – it was part of an annual training scheme for new actors. Normally, the NORTH ensemble have devised their own play – this year was different in that they formed the case for an adaptation written and directed by existing professionals. Well, it turned out to be extremely successful, and one suspects more successful than anything Northern Stage imagined, because the two week run easily sold out.
But if you were one of the unlucky people who only found out how good it was after all the tickets have gone, good news, it's back. The adaptation is a strong all-rounder, where the characters are kept believable (important in this story to explain the lead characters' uneasy conflict between curiosity and survival), every trick in the book is pulled to produce all the scenes, topped off with atmospheric sound effects, whilst (apart from a north-east transplant) remaining faithful to the book. Just one week this time, at Northern Stage on the 19th-22nd September. This will probably be your last chance to see it, so if you missed it last time, get a move on.

This has been touring the country for a few years now (the play, that is, I don't think they go everywhere on bikes), and I saw this at last year's Vault Festival. The play is set around one famous day in the Tour De France where Lance Armstrong and Marco Pantani battled out to win this notorious mountain stage. Pantani's career would take a nose dive after we was caught taking drug, whilst Armstrong would go on to become the hero of cycling, until- … well, we know how that story ends.
A lot of things to like about. The portrayal of Lance Armstrong as a man so lost in his hero status gives a very convincing depiction of a man who protests too much, and the staging of the play is striking – it's not just two men cycling towards a screen, it's a lot more creative that that. You've got to be quick though, because there's only two dates in the north-east: Leeds Carriageworks on the 14th October and Durham Gala Theatre on the 8th November.

I don't normally bother plugging the big shows that tour to Newcastle Theatre Royal and the Sunderland Empire, but I'm going to give Wicked a mention because, for a change, something is coming to the north-east that I have seen where I can say the hype is earned. Wicked is a clever subversion of The Wizard of Oz, told from the point of view of the Wicked Witch of the West. Who actually isn't that wicked – rather, she becomes a convenient scapegoat for a megalomanic Wizard in the process of taking over Oz. What's more, she and Glinda aren't the sworn enemies they would have us believe – at least, not by the time that farm girl from Kansas arrives. They were enemies at University when Glinda (or Garlinda as she was known then) was a spoilt self-centred girl, but they become lifelong friends after – one of my favourite plot twists on stage – an act of selfish opportunism is mistaken for an act of kindness.
If there's one shortcoming I saw in Wicked it's that I didn't actually find any of the songs that memorable (although Glinda's lessons on how to be popular was a comic highlight). But when you contrast this to the number of shows touring the West End that simply shoehorn in a back catalogue of existing songs as a substitute for anything creative or original, give me Wicked any day. There is a reason why this has been running in the West End for years. Only three destinations on this tour, but one of them is the Sunderland Empire on the 6th – 29th September.
Bold choice:
Just one in the bold choice list this year. This is a new play I know less about, but I have reasons to believe it will most likely be worth it. If you want to take a chance on something which could be the next great thing, this could be for you.

This play came to my attention through the director, Sylvia Vickers, who is best known as the director of Wired Theatre. If you follow my blog around the year, you will know Wired Theatre are featured regularly in my Brighton coverage, but for everyone else: Wired Theatre is an excellent Brighton-based group who do a site-specific piece each year at the fringe. However, Sylvia Vickers does some directing of more traditional shows too, and this one just happens to be in reach of the north-east in Harrogate.
The Turk is a solo performance from Michael Sabbaton, who I co-incidentally saw a few years earlier doing a solo performance of The Call of Cthulhu in Edinburgh. This new play appears to follow similar themes  of horror and suspense. The "Turk" is an 18th-century machine that plays chess, and Johann Nepomuk Maelzel spent his life with the strange machine. This is all quite cryptic, but the description of the play offers "the promise of the engineer and the passion of the dreamer against a philosophical backdrop of life, love, cognition and existence". Expect to need to concentrate for this one, but it's at Harrogate Theatre on the 19th – 29th September.

The big news at Live Theatre this year was the appointment of its new artistic director, Joe Douglas. So far, the most notable change has been not the artistic direction of Live Theatre, but moves to open it up to more artists, almost resetting the theatre. But the question remained what he will be bringing to Live Theatre himself; it can take up to 18 months to see an artistic director's first play, but we're going to be waiting a lot less than that. His first play is coming next month, and it's a modern-day re-telling of The Fall of the House of Usher.
Joe Douglas has previously indicated he wants to bring a more political slant to Live Theatre, and this is possibly reflected here by the setting of "a background of cuts to our 70 year old NHS". Have to say, I'm a bit sceptical you can mix in commentary of the NHS to Edgar Allen Poe without it looking shoehorned, but I'll wait and see. What we do know, however, is that it heavily features live music written by Alan Hull of folk band Lindisfarne, and if that comes off right, it should go well with Gothic Horror. Whatever we see, this will be our first major indication of what Live Theatre's in-house productions will be like under the new artistic director. This shows at Live Theatre over the 18th October – 10th November.
Also of note:
As well as picking out recommendation, I now cover all the major in-house productions of the main theatres, as well as anything else that I consider notable to what's going on in the north-east. This time, we have: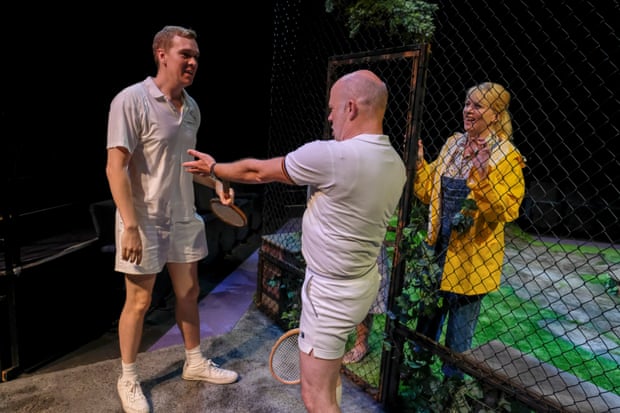 Firstly, a quick reminder of what's coming up at the Stephen Joseph Theatre on the main stage. Late summer and early autumn has ended up as Ayckbourn Season in Scarborough, and this year the revival is Joking Apart and the revival is Better Off Dead. I already wrote about these in more detail in my last list of previews, so I won't go into detail again, but I'll give a quick recap. Joking Apart is famously known as the only Ayckbourn play centred on a couple with a completely happy marriage, but the catch is they make everyone else miserable. Better Off Dead is the new play, and it's never easy to know in advance what the play will be about, but it appears to be about a grumpy old man who may or may not be turning into the Detective Chief Inspector who stars in his endless potboiler detective novels. Anyway, Joking Apart runs until 4th October, whilst Better Off Dead runs until 6th October.

As well as Clear White Light, there is another Live Theatre production, sort of. It's a Roddy Doyle play that is produced by Abbey Theatre, apparaently the National Theatre of Ireland, but instead of playing on their main stage it's been touring pubs. The play involves two men meeting in the pub for a drink and go about setting the world to rights, as you do, but presumably there'll be more to it that just that. Apparently this started as a conversation on Facebook, which sounds intriguing.
Anyway Live Theatre gets the Great Britain premiere*, which runs on the on the 12th – 23rd September. However, it seem that the more fitting place to see this will be in Sunderland in an actual pub. That is at The Peacock Pub on the 25th-28th September, with tickets being sold through Live.
*: Pedants will notice I said Great Britain instead of the UK. I know the difference. And I checked which one was correct.

Meanwhile, Northern Stage's other main production this season is the classic Dylan Thomas play, set in the Welsh village of Llareggub (try reading that backwards). It's a charming but someone surrealistic play about the lives led of the villagers. My favourite character of the tale probably has to be postman Willy Nilly. Not only does he read everybody's letters before he posts them, he also chats to the villagers about the contents of their letters, which everyone seems to be perfectly happy with.
This is directed by Elayce Ismail, who directed War of the Worlds, so that should bode well here provided Northern Stage resist the temptation to do a "concept" play. This runs on the 2nd – 17th November in Northern Stage, but they're doing it in Stage 2, so book sooner rather than later if you want to be on the safe side.
Outside the region:
And finally, although this is meant as a list of local recommendations, for my audience beyond the north-east, there's a few things coming up elsewhere. Most of the safe choices are touring and there's chances to see them elsewhere in the country, but these three plays are touring outside the north-east completely. They are, however, worth catching if they come your way.

Blackeyed Theatre have frequently featured on my list of recommendations thanks to the adaptations of Dracula and Frankenstein by writer/director team John Ginman and Eliot Giuralarocca. But when newcomer Nick Lane produced The Strange Case of Jekyll and Hyde, writing in a completely new character of Eleanor Laynon – and making it look like how the story was written all along. So now with a follow-up on Sherlock Homes, this goes straight is as safe choice. Or rather, will go in as safe choice – the tour runs until spring next year, and the north-east stop are then. Before then, the closest it gets is Doncaster Cast Theatre on the 12th-15th September. But with Nick Lane already commissioned to follow this up with Jane Eyre, it looks like this is Blackeyed Theatre's new goose that lays golden eggs.

This was an unexpected hit at Brighton Fringe. A show that features Dusty Bin from 3-2-1 was always going to sell on novelty value, but Bin and Gone is a lot more than that. It's the story of Ted Rogers, told by this son. To most people, he is known as a game show host, but before then he was household name as a variety performer, and afterwards- … well, the show's publicity tells us how Danny Rogers grew up in care – that is the clue that there's chapter after the 3-2-1 days that most people don't know about. One that eerily echoes the last days of variety.
Three performances are scheduled, at Aldridge, London and Stratford-upon-Avon. There may be more, but for now, I can highly recommend this for anyone in reach of these places.

You won't have seen me talk much about this play before, because Fourth Wall Theatre produced Ella Hickson's play in the City Theatre that I play a part in hiring out. But Hetty Hodgson and Alice Clarke directed this to a stand way above the standard of most student theatre and – dare I say it – a lot of professional theatre too. (Side note: I've been crediting Hetty Hodgson as sole director, but Alice Clarke has been co-directing a lot of the plays and I've not given her credit. So please accept some belated credit now.) Any theatre company can find a good play to peform, but few companies can convincingly manage the chaos on stage of plays like Boys or Posh and run it so flawlessly.
No more north-east performances planned, but later in September there are performances coming up in various locations, finishing with three nights at the Courtyard Theatre in London. Student Theatre can sometimes feel like wading through the cludge in search of the occasional gem. I have found the gem for you. See it.
And one outside the country:
Finally, I wouldn't normally list what's going on outside the UK – my influence can only stretch so far – but I have to mention one play that looks set to be a huge hit over the pond:

A smash hit at Edinburgh that came out of nowhere, Vivian's Music started its run at the Edinburgh Fringe to single-figure audience in one of Sweet Venues' smaller spaces. Within days, word was getting round from everyone who'd seen it, myself amongst them, of how exceptional this was. By the end of the fringe, it was gaining multiple five-star reviews and selling out solidly. It's an imagined story of Vivian, a 14-year-old shot dead by Police in an event that provoked race riots in a city, but the plays says far more than "racism bad". It's a world where racial tensions are escalating on both sides in a city with an "us and them" culture, but it's a complicated us and them, with father Luigi doing whatever he can, and Vivian the archetypal innocent who care little for racial politics and just wants to love her jazz music. So if you happen to be reading this and you're in reach on 59E59 theatre in New York this November or December, you must see this.
And finally that's the previews competed. Enjoy. I'd better start catching up on some reviews now.