Fringe season over, so it's time to get back to this. But if you expecting another episode of fearless journalism and explosive revelations in north-east theatre (N.B. fearless journalism and explosive revelations may be more mundane and uncontentious than advertised), you'll have to wait, because it's been a slow news month for a change. However, there have been a few tidbits on the fringe circuit that are worth looking at.
Stuff that happened in September
Since we're doing a heavily fringe-themed odds and sods, let's run north to south, starting in Edinburgh.
Sweet Werks set to stay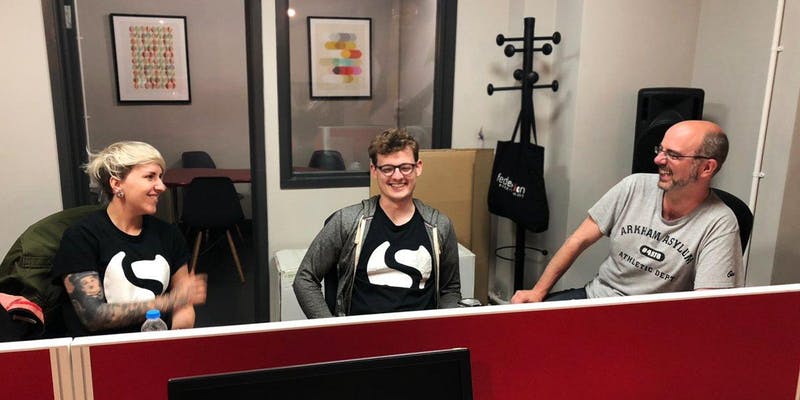 Starting in Brighton, we will shortly have Brighton Horrorfest underway, which is Sweet Brighton's biggest event after the Brighton Fringe. I can't make it to this because ten-hour round trips are bummers, but if you're in easy reach of Brighton it's worth checking this out because Horrorfest shows that succeed often go on to do well at the following Fringe. However, apart from that, one interesting development. Until now, this has been done at the Dukebox, at the time Sweet Venues' only year-round venue. This year they're at two venues: Sweet's other year-round venue at the Wellie replaced Sweet Dukebox this year; but the other venue being used is Sweet Werks.
After Sweet Brighton's semi-acrimonious move from the Waterfront Hotel, I kept a close eye on their new Fringe base at The Werks to see if it was successful enough to continue. Bar a few teething problems, it seemed to go well, but what I hadn't expected – something that never happened during the Waterfront days – is that the association is carrying on between fringes. So based on this, we can conclude, beyond reasonable doubt, that Sweet Werks will be back for next year's Brighton Fringe, and probably more fringes thereafter.
Also, one very important development that eclipses everything else: last year. there was a somewhat daft situation that you couldn't buy coffee during a performance because the coffee machine was too loud. Werks Central tells me that have finally sorted this out. So hopefully come Fringe 2019, no-one need be deprived of their caffeine fix again.
Buxton Fringe extended
Moving north, the news from Buxton is that the 2019 Buxton Fringe will be extended another three days to a full three weeks, to mark the 40th Fringe. They are going to be added to the end of the fringe – part of the idea of this is that this will be another three days in the school holidays and give more time for family events. I have some doubts that it will actually go that way; Brighton Fringe holds the precedent here, they added a week to the festival over half term in the expectation that this would be mostly family shows, but the family shows stuck to the weekends and Week Four is now little different from the other weeks. But the extra week certainly led to a bigger fringe in Brighton.
I have a theory that Buxton are using the 40th Fringe as a pretext to test the water – if the extra few days turns out to be sustainable, it can become a permanent change; if not, they can go back to 17 days without a fuss. But if it is experiment, there's a lot of reasons to expect the affirmative outcome. There's easily enough demand for performance slots from prospective acts, because Underground Venues is already massively oversubscribed. Less certain is whether audience numbers would sustain this – as a rule of the thumb, ticket sales need to grow in line with the number of acts at the fringe. But based on these observations from Buxton's Sam Slide (who packs his schedule each year and so has a better idea than most what's going on), a lot of shows are already getting full of nearly-full houses, which suggests there's still plenty to go round.
One thing's for certain – there will be some interesting number-crunching next July.
Greater Manchester Hive
Just before Edinburgh Fringe, I reported on the rise of the Greater Manchester Fringe. I have been suspicious of a lot of these new fringes because a lot of these are completely curated, but Greater Manchester has embraced the open festival wholeheartedly. They even encourage people to see performers they've never heard of in venues they've never been to. If only these ideals of giving everyone a chance could be embraced over here … one can but dream.
Their latest addition to the fringe, however, is "The Hive". (The mascot of the festival is a bee so I presume they're continuing the bee theme.) This is a curated programme with three artists who get support: one spoken word, one comedian, and one writer. These three will get support (and in the case of the writer, presumably some actors), and a paid-for week-long run at the next fringe.
In principle, all support for artists is good, and this is not much different to programmed strands of other fringes, or venues within fringes. Brighton is a notable example with all sorts of bursaries and the "window" showcase. But, there again, not everybody is happy with Brighton's way of doing things, with frequent criticisms of too much support for hand-picked curated strands coming at the expense of everyone else. Could Greater Manchester go that way too? Could it even go the way of Melbourne Comedy Festival, supposedly an open festival but facing criticisms of unfair treatment of non-curated acts? Hopefully no – Greater Manchester Fringe has been too supportive of open access last year to make me thing they'll suddenly throw this away. But, for the time being, a cautious welcome from me.
UPDATE: And within three hours of posting this to Twitter, Greater Manchester Fringe replied.
That's about as strong an assurance as you can get. So it looks like there's nothing to worry about at this fringe.
Enter Carlisle Fringe?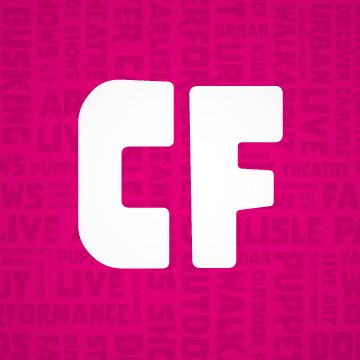 The continued success of Buxton and rise of Greater Manchester is all very well in the north-west, but this side of the Pennines the closed shop rules, with the only "Fringe" available being the Great Yorkshire "Fringe" which is completely curated, and completely rejects open access. But, wait, we may have the next best thing for the north-east. Carlisle Fringe has started to register on the fringe radar. Currently they are running for a 10 days over late August and early September, and I counted 58 acts in their most recent programme. Two crucial things: I recognise a lot of the names from the bigger fringes, so it's out of the question that this is a jumped-up village hall affair; and more importantly, this does look like a proper open festival.
If it really is an open festival (and I've trawled through the fine print on the website like the cynic I am but I can't find a catch), this could be a lifeline for some aspiring artists over in the north-east. If you're not part of the in-crowd, the small open-access fringes are great way – possibly the only way – to get yourself on the map. There's no way I could have got as far as I have without Buxton Fringe to get me started, but my first fringe cost me around £300-£500 in upfront expenses, and that's a hell of a lot for some people. For Carlisle, with a single-performance run and a much easier trip along the A69 or Tyne Valley Line, it should be much cheaper.
To manage exceptions for anyone thinking of doing Carlisle, don't expect this to be a big breakthrough. Small fringes aren't great for exposure beyond the local press, and the fact you've had a good well-received performance at a small fringe (or a medium or large one, and I found out from bitter experience) won't necessarily get you taken any more seriously back at home. But this should be a good way of finding out if you produce a play under fringe conditions, and away from the comfort zone of unconditionally supportive local audiences. If you're in the north-east and you want to dip your toe in the fringe circuit, Carlisle may be the place to do it.
Fair fringe
And finally, in the tail-end of my Edinburgh Fringe coverage, I touched on news of "fair fringe". Whilst most of the discussion was over the cost to performers, another thorny subject was over treatment of venue staff. It culminated in a vote for worst behaved venue going to C venues, but the fringe ended before I could check the details. But now thing are quieter, I've had a chance to investigate further.
The source material was, I have to say, disappointingly inconclusive. The Fair Fringe campaign is led by Unite Hospitality, and their report mixed in their demands for fair employment with case studies of bad practice. Although I can see where they're coming from with their charter, I would much rather see the results in one place so I can decide for myself without being told what to conclude. Some of the practices mentioned are extremely questionable, but the way they've presented it, we don't know if it's common practice or outliers.
(Also, the report is presented online as jpg images. Crappy employment practices are bad enough, but web content that is inaccessible to assistive technologies is up there with treason and arson in naval dockyards.)
However, the fact remains that C Venues is implicated in allegations of threatened staff off speaking against their working conditions. That is a massive red flag that they've got something to hide – and, notably, C Venues does not appear to have denied this claim. At some point, I may write up what I think should be done; but in the meantime, I urge everyone to keep asking questions.
Stuff I wrote since June
It's been a long time since the last odds and sods. Here's what I wrote:
What's worth watching: Buxton Fringe 2018: My usual recommendations in advance of Britain's third largest fringe.
Frankie and Fleabag: Reviews of Fleabag (the original stage solo show that started the TV series), and Frankie and Johnny in the Clair de Lune.
Edinburgh Fringe 2018 – as it happens: My month-long coverage of the big one, with reviews, comment and the odd scandal.
What's worth watching: Edinburgh Fringe 2018: My recommendations for the upcoming big one – a list that gets longer each year.
Time to drop the "Holy Grail" mentality of Edinburgh: In the debate over the cost of coming to the Edinburgh Fringe, my comment challenging the Edinburgh-or-bust culture that's cause this.
What's worth watching: autumn/winter 2018: With Edinburgh out of the way, I turn my attention back to what's coming up locally.
Between the Fringes: Naked Hope and Super Hamlet: A catch-up of plays I saw between Brighton and Edinburgh Fringe, including Quentin Crisp: Naked Hope and Super Hamlet 64.
12 questions to ask yourself if you're thinking of doing the Fringe: With people already thinking about next year's fringe season, my list of questions I urge people to consider first, before they plunge into debt.
Roundup: Buxton Fringe 2018: Still to complete this article, but my reviews and analysis from Buxton Fringe.
And there you go. Please bear with me, I still have a backlog of review to clear, but I am catching up. See you against for Odds and Sods October.