Skip to: Sherlock Holmes, No Miracles Here, Bouncers, Noughts and Crosses, Two2, Trainspotting, Teechers, Rain Man, Bacon Knees and Sausage Fingers, Wonderland, Approaching Empty, Miss Julie, Educating Rita
It's January, it's cold, and it's the second month on my enforced two-month break. Last week, I did my first ever preview of what's grabbed by attention at the Vault Festival, a list previously short enough to be a bolt-on to the end of this list. But theatre is going on in the north-east too, so let's go through the things that caught my eye in the months leading to May.
Safe choices:
You know the rules now, don't you? If not, they're here. The plays, like all plays in these recommendations, are only ever recommended if the description of the play appeal to you. But if you do, I'm confident you will like these. Some are plays I've seen before and loved; others are from theatre companies, writers or directors with a strong enough track record between them for me to make a firm call. So let's get going.

The first recommendation comes from one of my main surprise discoveries of 2018: Nick Lane. Blackeyed Theatre had already made a name for themselves with two excellent gothic adaptations from writer John Ginman and director Eliot Giuralarocca – and then came a third gothic adaptation, but this was from a new name to Blackeyed fans: Nick Lane, both writer and director. Could The Strange Case of Dr. Jekyll and Mr. Hyde live up its predecessors? The answer, it turned out, was yes. This was also outstanding;  the style was different to the two Ginman/Giuralarocca plays, but it was still a great adaptation and – most impressively – it introduced a new major character and made it look like that was how the story was written all along. It's fair to point out that Blackeyed's production wasn't the first production of this adaptation – it had already earned a lot of praise from two previous productions – but Blackeyed Theatre was the first company to take it on a tour of this size, introducing it to the rest of the country.
So it's for this reason that Nick Lane's next play with Blackeyed Theatre, Sherlock Holmes: the Sign of Four goes straight into Safe Choice. With three consecutive productions that did not disappoint, and the same writer who brought us last year's unexpected gem, I'm as asure as i can be about this. The tour started last year, but it's only now it's coming to north-east destinations. So you can see this on March 21st & 22nd at Harrogate Theatre, March 29th & 30th at Middlesbrough Theatre, then May 30th & June 1st at the Stephen Joseph Theatre. And then it goes to China. Yes, they've landed a tour in China.

Northern Stage runs a training programme called NORTH every year, but it's the ensemble from the inaugural year, The Letter Room, that's been the biggest success story. Their debut at the 2015 Edinburgh Fringe, Five Feet in Front (a sort-of Wild West version of the destruction of Sodom), blew me away the competition with an incredible amount of staging and music from a group that have never done a fringe before. It was only a matter of time before a follow-up came along.
I saw No Miracles Here at the 2017 Edinburgh Fringe, and this was even more ambitious than their previous offering. It's a more abstract story, where Ray's struggle with depression is play out as a Northern Soul dance marathon in his mind, and the ensemble switch between instruments and acting throughout the story. I loved the play when i saw it; it's fair to say that a story about depression that's this abstract won't be followed by everyone, but it's worth seeing it no matter what for some of the best production values you'll see from a fringe group. The Letter Room, I feel, is one of the most under-rated groups to have visited the Edinburgh Fringe, and they deserve a bigger tour than what they've got, but it's still 15 performances over 11 venues, starting with Northern Stage on the 15th & 16th February at Northern Stage, and taking in the Gala Theatre on the 28th February. London followers: they've coming to you on the 14th – 16th March at the King's Head Theatre.

Bouncers is a play I sometimes describe as the accidental blockbuster. It was one of Godber's earliest plays, starting off as a disastrously ill-attended Edinburgh Fringe play, based on Godber's own observations of nightclubs in Wakefield. Luckily for John Godber, however, this play turned out to not only resonate with people all over the country who saw the same nightlife stories where they lived, but it also continued to resonate as the decades rolled on. The bouncers might be getting older, the clubbers might be getting younger, but the stories stay the same.
Such is the success of Bouncers that the play is now performed by every man and his dog; of course, performances range from excellent to abominable, and without know the group doing the play it's a bit of a lottery what you see. But the one way to be certain you've seen it done right is when it's directed by John Godber himself. For some reason, most of the best groups based in Yorkshire and Lancashire never seem to venture into the north-east, but this time you can, with the John Godber company touring to Northern Stage on the 19th – 23rd March. Harrogate Theatre is also an option, on the 25th – 27th March.
Bold Choice:
Next are the bold choices. These are usually from groups or writers who have impressed me in the past, but are trying something different and less tested. But if you like the sound of it, these are the gambles I think are worth taking.

Pilot Theatre have been growing in prominence over the last few years, and everything they have shown so far has impressed me, most recently Bryony Lavery's adaptation of Brighton Rock. There are many good things to say about their productions, but the most consistently striking thing over their productions has been their innovative staging, from the the treadmill and projections in The Loneliness of the Long-Distance Runner to Brighton West Pier last year.
Their latest production is an adaptation of a Majorie Blackman young adult novel, set in an alternate world where racial segregation is rife – but not the kind as we know it. I'll refrain from telling you the difference as Pilot Theatre want this to be a surprise, but one thing stays the same: if there's one thing everyone hates more than being a wrong race, it's romance between people of the wrong race and right race. This is a co-production with Derby Theatre, so it starts there instead of the usual York, but it comes to York Theatre Royal on the 2nd – 6th April and finishing at Northern Stage on the 7th – 11th May.

Two2
Now, here's a rarity in theatre: a sequel. Whilst I'm the film world it's now a given that any moderately successful film will be sequelled to death, you don't see many sequels of plays; I guess the main reason is that you can rarely rely on many people having seen the original. But few theatregoers can not have heard of Jim Cartwright's classic Two, which was only just on at the Gala three months ago. The original leaves off where we learn the same painful memory that the husband-and-wife landord-and-landlady team share. And Two2 asks: what became of them?
In this sequel, landlord and landlady are still together – just. And the pub is still going – just. Once again, the cast of two will be playing both the ill-fated landlord and landlady, and many of the pubgoers there, and I can't work out whether we will be seeing what happened to the original pubgoers we saw in the last play, or whether we'll see the stories of some new ones. Annoyingly, I can't find a list of tour dates anywhere on Reform Theatre's website, but I know they're going to Harrogate Theatre on the 6th April and Middlesbrough Theatre on the 26th April. Anyone who knows any other north-east dates I don't know about, please fill me in.

Trainspotting is in the list of bold choices for a different reason. I'm assuming you know the story from the film here. If you haven't – trust me, you want to see the film first so you knowwhat you're letting yourself in for. Anyway, this stage version has been running a few years now, and although I've yet to see it myself, I have heard overwhelming praise from people who have seen the play – including, most notably, people who I wouldn't normally expect to like this kind of play.
This is a bold choice rather than a safe choice because, even if you're not taking a chance on the quality of the play, you are going to be taking a chance with the contents of your stomach. They pretty much admit that themselves, as one quote I've seen on a lot of their posters in from Irvine Welsh himself: "I'm shocked, and I wrote the fucking thing." The current tour will take in Northern Stage on the 5th – 9th March. Maybe one day they'll do a tamer sequel where Renton, Sick Boy, Begbie and Spud finally take up train spotting as a way to take their mind off heroin. Under then, watch this entirely at your own risk.
You might like …
One entry in this category this time. Same requirements as safe choice, except that it's not necessary to have wide audience appeal.

Continuing the Gala's return to producing plays that it began in 2016, they are next doing Godber classic, and it a classic for a good reason. Teechers is the timeless story of Mr. Nixon, a teacher with good intentions struggling to make a difference in a struggling school. But it's a sink school full of children whose parents couldn't afford to live in the catchment area of better schools, and because of that, no-one cares. And sink schools are just as big an issue now as they were in 1984. I am obliged to mention that I have heard some grumbling over the Gala always producing well-known plays – I may talk about this in more detail another time, in the meantime, yes, it would be nice to have, but that would probably need the backing of Durham County Council to be viable.
Ignoring that, however, the Gala Theatre have done all of their recent in-house productions to a high standard, so I'm confident they will do that same with Teechers. The only problem? Anyone who does this play is up against some very tough competition. John Godber is reviving the play contantly, and Blackeyed Theatre recently did their own production that went to the Gala. I've seen both of these, and they were excellent. This shows at the Gala Theatre on the 6th – 11th May. I have no doubt it will be a success amongst the audience they've built up – the big challenge will be living up to the expectations of people who've seen it before.
Wildcard:
And finally on the list of recommendations, one thing I've picked out where I've no idea whether or not it's any good, but it nonetheless has me interested as something worth a punt.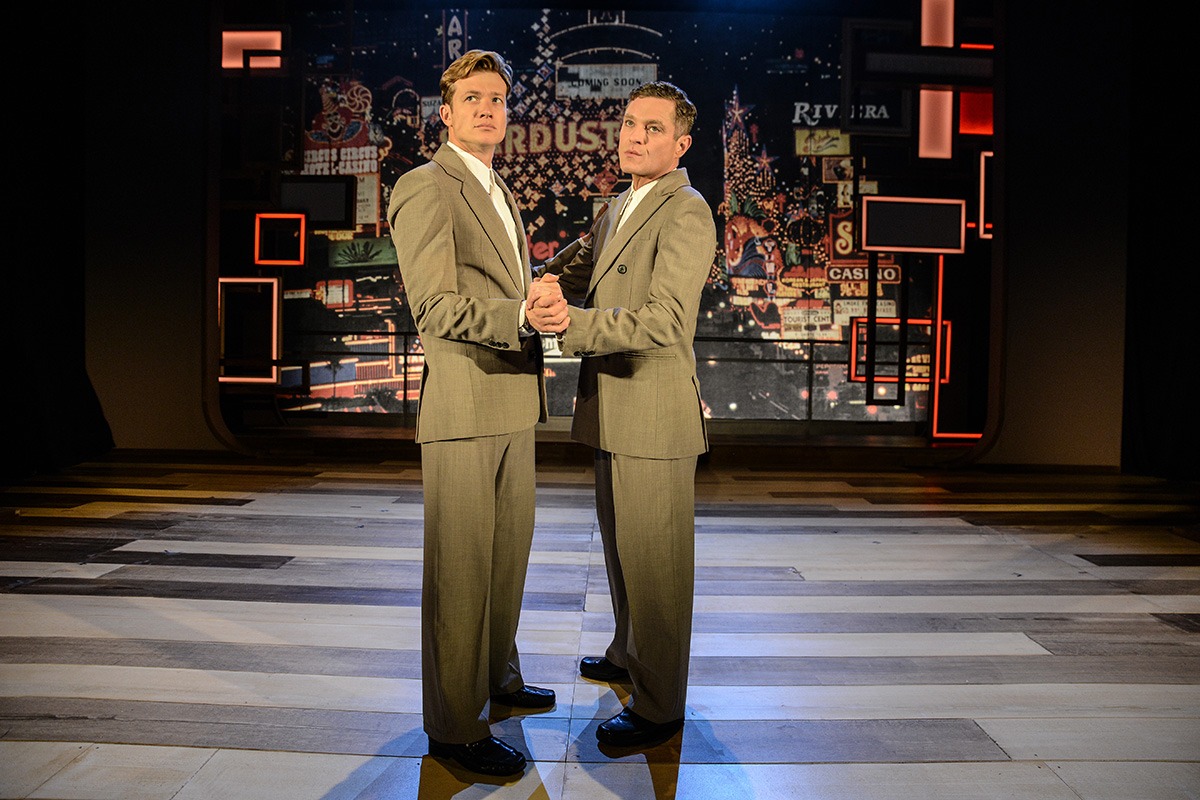 This play grabbed my interest for the personal connection, but not the one you might think. For reasons I will be expanding on shortly, I have a lot of problems with the current concept of "representation", especially when it's the assumption that everybody of [demographic deemed to be disadvantaged] wants to see plays with [same demographic deemed to be disadvantaged] in them because it's so great when they see themselves on stage isn't it. I'll decide for myself who I identify with thank you very much. There again I saw The Curious Incident of the Dog in the Night Time and loved that – it was a great story in its own right, but Mark Haddon got it spot on, and that was a bonus.
I haven't actually seen the film this play is based on, so all I know about it is that it involves Charlie who goes in search of his long-long brother Raymond, an autistic savant. Bill Kenwright's production could be as good as Curious Incident, or it could be horribly condescending, but one way or the other I intend to find out. This comes to Darlington Hippodrome on the 18th – 23rd February and Northern Stage on the 8th – 13th April. We shall see.
Oh, and for the record, you're welcome to bring me along to a casino as your advisor if you like, but I'll be shit. Don't say I didn't warn you.
Also of note:
As well as the above, and in line with my aim of covering all major productions in the north-east, here's four other plays of significance this season.

This strangely-named play was first shown at Alphabetti Theatre in their previous Bridge Street venue, and as I recall, the equally unlikely inspiration was a man who strapped bacon to his knees so that his dog kept up with him whilst running. I didn't get to see it, but I'm starting to wish I had because I heard a lot of people speak highly of it. And Evidently Alphabetti Theatre feels the same, because they've brought it back for a three week run – this might even be the longest run they've given a play.
If you're wondering how a play about attaching bacon to your knees could be so successful, I'm picking up hints that this is just a cover story, and the real story underneath is considerably darker. This runs over 1st February – 23rd February at Alphabetti Theatre, and if three-week runs become the norm for Alphabetti productions, we can start contemplating the possibility of them one day catching up with the big two.

Northern Stage's flagship programme of their current programme, A Thousand Splendid Suns, but before then they've got another Stage 1 play, jointly produced with Nottingham Playhouse. It's set in a mining community as the bitter confrontation with Margaret Thatcher is coming to a head, but the play begins not on the year of the strike but the year before. Not much has been said about the direction this play goes in other than divisions emerging on all sides, but the fact the play is set in a Nottinghamshire Colliery may be a clue of what divisions are in play. This shows at Northern Stage on the 27th February – 9th March.

Over at Live Theatre, there is a co-production with Tamasha Theatre, which is currently running at the Kiln Theatre prior to the transfer here. It's set in a taxicab office where old friendship runs into conflict with business; but it's more widely set in the South Asian community of Middlesbrough, who, as anyone local to the area knows, make up a sizeable part of the town. Have to say, I do wish the Newcastle-dominated NPO theatres of the north-east would acknowledge Teesside more often – I believe this is the second time in the six-year existence of this blog that a main-season play has been set in Teesside – but two is better than one. That said, writer Ishy Din is now collaborating on a play about the demise of the steel industry in Redcar, and if that comes off, perhaps this will put Teesside back on the cultural map. But that's getting ahead of ourselves. Approaching Empty runs at Live Theatre on the 6th – 23rd February.

I think I'm allowed to mention this. I was involved with Elysium Theatre's last production, so this connect be considered independent media coverage, but nevertheless, this warrants a mention because it is another significant milestone on their journey. A company that set up in Durham City in 2017 after Manchester-based Jake Murray moved to the area, they have been slowly building up a reputation, firstly with three plays at the University-owned Assembly Rooms, and then a fourth play at two small venues: Durham City Theatre and the studio at Queen's Hall Hexham. But it's their fifth play that's taken to some of the north-east's main stages, including, finally, the Gala Theatre in Durham itself. This is the theatre equivalent of moving to the high-stakes poker table, but if this goes down as well as The River did (and although I'm not an impartial commentator it looks like it went down very well), there's a lot to gain from it. This is on the 13th – 14th March at Queen's Hall, Hexham, 23rd March at Gala Theatre Durham, 28th – 29th March at The Exchange, North Sheilds and 3rd – 4th April at The Majestic, Darlington.
And one from outside the region …
One thing to add on the list at the last moment. Not something showing in the north-east, but something that one or two of the north-east theatres can be proud of.

Out of all the in-house productions produced by the Gala Theatre, the best thing to come out of them surely has to be Jessica Johnson's superb performance in the titular role of Educating Rita, as such, it felt a pity that this was a one-off. But not any more. Theatre By The Lake in Keswick is picking her up for a tour. It starts there on the 18th-27th April and then tours onwards. On bit of bad news – there doesn't seem to be anywhere in easy reach of the north-east at the moment – Kewsick is an absolute bugger to get to, and the most accessible venues seem to be at Wakefield and Sheffield.
The rest of the team is also formidable. Frank is played by Stephen Tompkinson – I've only ever seen him in roles ranging from sleazy to utter psychopath, but the one time I met him in real life he was the most mild-mannered person he could be, so I'm expecting him to be versatile enough to make to the part well. And directed it is Max Roberts, until very recently artistic director of Live Theatre. Normally I urge people to be wary of tours that sell themselves on a big names seen on the telly – here, this is a dream team, and the Gala Theatre should be very proud of the part they played in building this.
And that's it. Next list of recommendations will be Brighton Fringe – not long now before the official listings come out.