Damn it. Fringe season has come around again and I still haven't finished feeling knackered from the last fringe season. But time waits for no man or theatre blogger and I'd better get a move on with my coverage. So let's start at the beginning. The first fringe coming up is Brighton, and my first bit of coverage is my list of what's worth seeing.
A reminder of how this works firstly. There are round about a thousand different listings in the Brighton Fringe programme. Even if I ignore everything outside of the theatre section of the programme, I cannot possibly be familiar with more than a fraction of what's on offer. I could of course analyse the reviews to get a sense of what's the best that Brighton Fringe has to offer, but I want to offer something different. Shows with lots of good reviews already have publicity – I prefer to focus on things I've seen for myself, whether or not they've had praise elsewhere. So once again a reminder: this should be treated as a cross-section of what's worth seeing at the Brighton Fringe rather than a comprehensive list.
Skip to: Antigone Alone, Bin and Gone, Groomed, I Am a Camera, Ross and Rachel, #BeMoreMartyn, The Geminus, Myra, Sary, Quintessence, Bear North, Here We Are Again, Pamela's Palace, Timpson: The Musical
There's a modest growth of 3% at this year's fringe, but there a fair amount of re-arrangement of venues. The Warren has relocated south next to Spiegeltent and taken on an extra space. Sweet Venues, in a unexpected develop, has ditched their longest-standing venue the Dukebox, refocusing its efforts on Sweet Werks. The big mover and shaker this year, however, is Junkyard Dogs. After this small venue was voted best venue two years running, they've now taken on two extra spaces and stand to be a bigger player this year.
Safe choices:
Starting at the beginning, safe choices are plays that, for whatever reason, I think you can't go wrong with choosing if this appeals to you. No play ever appeal to everyone, but these tend to be productions I've seen before, or I've seen the performing company before, and I'm able to make a firm call. Full description of this category and other categories can be found here.
One note about venues: you will notice this time round that this list and the bold choices are very heavily weighted towards Sweet Venues this year. Don't read anything into this. I see great plays across all the major venues, but as I was performing at Sweet Venues last year I took advantage of discounted tickets to see a lot of other plays at the same venue, many of whom are returning this year with the same show or new shows. But there will be many other great shows across all venues – and most of them will be ones I've never heard of.

Antigone Alone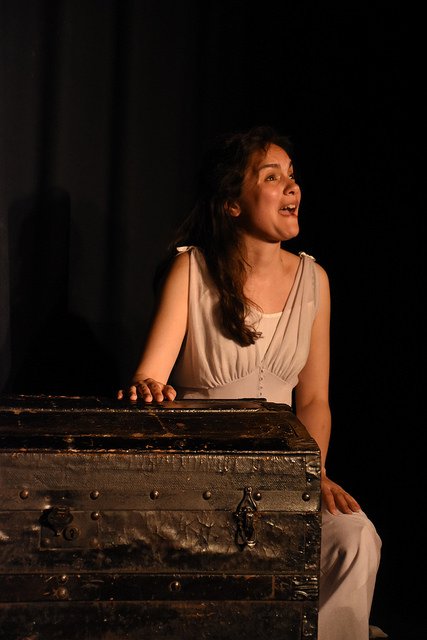 Antigone is all the rage on the fringe circuit at the moment, and yet there are valid reasons to be cautious. The Greek classics – particularly Antigone – are plagued uncomfortably pretentious productions, either full of wailing or screaming, or trying to be clever in a way that make sense to no-one but the performers. Not this one though, because I saw Antigone Alone last year and this was a very accessible production. And yet it's done cleverly without either brand of pretentiousness: it begins in the moments before Antigone's untimely (and, as it turned out, unnecessary) demise, and then goes backwards, firstly the events preceding her undoing, all the way to the tale of the generation before hers. It's not easy to tell any story out of chronological order without confusing the audience, but you can watch this without knowing a single Greek tale and follow it perfectly from start to finish.
This production is a strong all-rounder: Joanna Lucas is excellent as Antigone, and she's supported ably by the writer/director and brother/sister team of Michael and Jennifer McEvoy. Do be aware, however, that this sold well last year in Sweet Dukebox – she's got the bigger Sweet Werks' main space this time, but but it's not that much bigger, so book early if you want to be on the safe side. This is showing on the 7th – 12th May at 6.15 p.m.

I wouldn't normally include this in my listings. A lot of shows in the theatre category aren't really theatre but instead people talking about things with a bit of artistic choreography, and a show about Ted Rogers, presenter of 3-2-1 strictly falls into this category. But it's done so well I'm still rating this as one of my top picks. There's a lot more to Ted Rogers than the game show – he was a highly-rated variety performer in his own right long before the Dusty Bin came along. But if so many celebrity lives are a tale of a rise and fall, Ted Rogers fell particularly hard, partly down to the last days of variety, partly down to some tragedies behind the scenes. And the touch that this play beings that no other play can? It's told by his son, Danny, who grew up in care.
A big draw of the play last time round was the presence of the actual Dusty Bin who appeared on the actual show, but don't be fooled by this. The mascot is only a cameo in this life story, as is the legendary/notorious riddles in the final round of 3-2-1. The vast majority of the play is about a fascinating life before, during, and after the game show, with warmth, humour, and a touching connection between father and son. Surprisingly, this is in Sweet Werks' smaller space, so this could easily be a sell-out. This shows on the 6th – 12th May at 3.40 p.m.

It's debatable as to whether I can legitimately include this, seeing as Patrick Sandford directed me last year, and producer Mankind kindly funded and produced me, but I can hardly not include this as it was the undisputed winner of 2016's fringe. Like Bin and Gone it's more of a talk than a conventional piece of theatre, but this was acclaimed as ground-breaking for breaking the taboo of men talking about sexual abuse – it's been known for a long time this can happen to children, but the fact that the effect can live with you long into adulthood is only recently being acknowledged.
Needless to say, this is not cheery subject material, but it's a play with a lot to say, covering the long road from abuse to disclosure and some comments on the perpetrators you might not expect, so I would recommend seeing this if even if you've only got time for one heavy-going piece this fringe. Patrick Sandford is also an absolute delight to work with if you ever get the chance. This shows to Sweet Werks on the 20th-26th May at 3.25 p.m.

But that's enough of Sweet Werks for one list. Away from there, one group that earned a lot of acclamation last year was Blue Devil Productions, with a new adaptation of Apparatus, a Franz Kafka story about an officer in an unspecified penal colony and her devotion to the island's own unnecesarily elaborate death machine. Blue Devil are now back with two plays this year, but out of the two, I Am a Camera is the safest bet. It's a well-known story, but you might not know it by that name and instead know it as Cabaret, the famous musical that was derived from the play.
Do note that the play has a substantially different setting to the musical. There's no scenes of hedonistic partying at the Kit Kat Klub here; instead the whole story of Christopher Isherwood's witnessing the transition of Berlin from a carefree city to Nazi capital takes place entirely in the rented room in Fraulein Schnieder's flat. So you can expect a more intense and intimate story than what you might be used to, but Blue Devil Productions and the stage of the Rialto Theatre are both ideally suiting to this setting. This is on various dates throughout the fringe, with a three-night run in the third week, at either 7.00 p.m. or 9.40 p.m.

Ross and Rachel
As I said, I rarely recommend plays just because they're got good reviews elsewhere – by definition, they've already got their publicity. I do, however, sometimes recommend plays that are being recommended by word of mouth. And few have come more heavily recommended than this one – it's a few years ago since this debuted at the Edinburgh Fringe, but I heard so many people independently say how good this was. I haven't seen this and I don't want to spoil it by finding out, but the title is, of course, named after the couple of Friends who we all rooted for to get together and stay together. Which they did in the finale, and then lived happily ever after. This play, it appears, is about what happens after this point. In the real world, life and events and complications carry on long after the end of the script in the fictional counterpart.
This is not a continuing tour of the original production, but a revival from Pretty Villain. They are one of the most respected local groups in the Brighton with an excellent record behind them, for both revivals and new plays, so we can expect them to do this justice. Just don't expect anything as tidy as the finale of the final season. It shows at the Rialto Theatre on the 18th – 22nd May at 8.30 p.m. (5.30 p.m. 18th).
Bold choices:
The next category is the more adventurous one. All of the plays listed as bold choices are ones where I have reasons to hold high hopes for these, but it's less certain that you can count on enjoying this play. Some are new plays, some are plays that have split opinion, and there are all sorts of other gambles to be found here, but if you take a chance and it pays off, you may be one of the first to see the next big thing.

#BeMoreMartyn
This isn't something I would normally put in recommendations – it's a play I've never seen from people I've never heard of, and it's not so much a play as a tribute. But, again, this makes it into my list because I've heard a lot of unprompted praise for this play. Martin Hett was one of the 22 victims of the Manchester Arena bombing two years ago, and #BeMoreMartyn trended on Twitter within hours of the news of his deaths. This is a piece of verbatim theatre from eight of his friends who lives he transformed. Expect something very different from normal theatre, but if this lives up to what I've heard, it is a heartfelt tribute like no other. It shows 31st May – 2nd June at The Warren, various times.

Blue Devil Theatre's safe bet might be I Am A Camera, but their higher-profile play on which their programme is a bit more of a risk-taker. This is another re-telling from one of the obscurer tales of the early 20th century, Joseph Conrad's The Secret Sharer, with the stage adapted and directed by Ross Dinwiddy, who did Apparatus last year to great acclaim. The original story, written at the start of the 20th century, surrounds a young captain who chooses to risk everything when he hides a fugitive who swims up to the side of the ship. This play is a "reimagining" of the story, but I suspect this will, like their last play, write in something that the original author could not have written at the time. This shows at the Rialto Theatre with a premiere on the 8th May then a run on the 21st – 25th May, all beginning 7 p.m.

Myra
This has been one of the most talked about plays at previous Brighton Fringes – and also one of the most divisive. Originally booked for the 2016 fringe, then cancelled because writer/performer Lauren Varnfeld wanted to get the play right, then finally getting its showing last year, the play explores the mind of Myra Hindley, the notorious murderer who – so she claims – found a conscience and reformed in prison. One criticism levelled at the play – not unresonably – is that as a whole we spend too much time putting the voice of murderers on stage and not enough time putting the voice of the victims on stage. But the play got more good review than bad, and those that did commended it for exploring what would make someone do something so unspeakable. It's one of the bigger gambles to see at the fringe, but if you do wish to take the chance, it is at the Rialto Theatre on the 30th May – 1st June at 8.00 p.m.

Sary
One of the of the groups that got my attention last year was Different Theatre with Metamorphosis, a re-telling of the Kafka story, but viewed not as human/insect hybrid Gregor but his sister Greta. Different Theatre are now bringing two plays this year (unofficially three if you count Ross and Rachel which artistic director Sam Chittenden is directing), but it's Sary that grabs my interest as this looks like it can best capitalise on the style of last year. This is based on the local legend of Ol' Sary Weaver, said to be a witch who could turn herself into a hare. Whether she actually is a witch in this re-telling is unspecified in the publicity, but we know from experience that "witch" usually means "someone we think is a bit weird" – and it's suggested this thing about turning into a hare might actually meant being too fast for the local leches. This is at Sweet Werks on the 3rd – 5th May then 13th – 16th May, all starting at 8 p.m.

Quintesscence
Finally, it's about time Emily Carding got a mention in my recommendations. She played the insane death-machine obsessed officer in Apparatus last year, but she's earned her most acclamation as a solo performer. Most notably, she did a one-woman version of Richard III, notable not because of the gender-swap but the innovative way she told the story by having people in the audience representing characters. And if you were unlucky, you'd get one of the "dead" stickers.
She's bringing two plays this year, but the one that gets my interest the most is Quintesscence, seemingly a fusion of Shakespeare, Mary Shelley and an apocalypse, with an AI programme tasked by creating humanity with the Complete Works of Shakespeare as the template. Very difficult to predict what this will be like, but it's at Sweet Werks on the 6th – 12th May at 9.30 p.m. Alternatively, if you prefer something closer to conventional Shakespeare, you can also see Caliban's Codex, derived from The Tempest and keeping the Iambic Pentameters, showing at 5.10 pm., same place, same week.
You might like:
In this category, again these are choices where if you like the sound of this I'm condifent you'll enjoy it. The only rule that is relaxed here is that, unlike safe choices, it does need to have wide appeal across a theatre audience. Some choices are of a more specialist interest; others have more appeal than entertainment rather than theatre. This fringe, we have:

Brighton Fringe is no stranger to bizarre productions and there are fewer productions more bizarre than Bear North, a folk group frequently seen busking round Brighton with eye-catching "Bear", who is a man with a bear's head and a dress. Why? Because Bear likes it. And yet the full set I saw last year was a surprisingly gentle hour of folk music and poetry from the Rocky Mountains. This year, I understand, the awesome Mike Dr. Blue will sadly not be part of the line-up, but we are promised Bear will be joined by playmates Wolf and Buffalo. This shows 4th – 5th May, 17th – 19th May then 27th – 30th May at Sweet Werks, various times.

Here We Are Again
In a way, Wired Theatre are a throwback to the earlier Brighton Fringe before the supervenues came along and it was normal for performers to make do with whatever spaces they could find. Wired Theatre became the masters of site-specific devised theatre, but as the fringe has grown Wired have carried on doing what they're doing, relying mostly on a loyal audience they've built up over the years.
This year's play is a bit more specialist than usual – it's the third part of a trilogy that began two years ago. But whilst it helps to know the story so far, it is not essential, for the last episode – with a manipulative psychiatrist slowly descends into madness with the memory of his neighbour who his wife left him for – was great to watch. The performance takes place in a house in Hove, and there are several performances over every weekend, but early booking is advised as this is a limited capacity venue that sells out sooner than you think.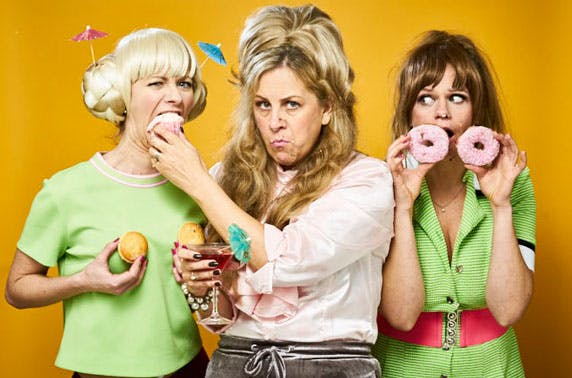 Interactive Theatre International are best known for Faulty Towers and The Wedding Reception, two pieces of theatre set during a three course meal. I saw the latter one two years ago, and whilst it's fair to say this is a bit of fun theatre rather than something to take too seriously, this is undoubtedly an enjoyable and different form of entertainment. Pamela's Palace is the latest follow-up is a power-struggle set in a beauty salon. No three course meal this time (three course meals and beauty salons don't really go together after all), but expect a lot of backstabbing and satirising of stupid beauty standards. This shows at Spiegeltent on the 3rd-5th May at 9.30 p.m.
Wildcard
Before we go on to the comedy listings, the last entry in theatre is for plays where I honestly don't know whether or not they're any good, but for one reason or another they've got my attention. If you fancy taking a chance on something different and see what you get, this is the sort of thing I'd recommend.

Timpson: The Musical
This was on at the Edinburgh Fringe last year, and whilst it may not have been a front-runner for a best-reviewed play, it certain is a front-runner for the most eye-catching play – when you're up against 3,000 other plays for attention, it turns out a tribute to the nation's favourite destination for key-cutting, trophy-engraving and shoe repairs is the way to go. "But how can you do a musical about key-cutting, trophy-engraving and shoe repairs?" I hear you ask. Well, apparently, there is a very bitter long-running feud in Timpsons between the Montashoes and the Keypulets. You get the idea.
The reviews for this have been quite good, mind, so it looks like there's more to this than novelty value. There just two performances of this, at The Warren on the 11th & 12th May at 7.50 p.m.
From the comedy
Finally, comedy isn't my area of expertise, but as I go from fringe to fringe there are some comedy shows I learn about that return year after year. You can't go wrong with:
The Dark Room
A long-running comedy show with a cult following, from people who remembered the 1980s text adventure games on the BBC Micro. And, apparently, people born after that day who liked the sound of it. It's a game where the lucky contestant (or person in the audience who host John Robertson thinks is the least likely to want to take part) has to go through and adventure game where You Awake To Find Yourself In A Dark Room. The multiple choice answers, in true homage, lead to outcomes just as arbitrary and unfair as the games that inspired this. If you are familiar with John Robertson's shows, you will know how good he is at making it up as he goes along, if not – oh boy, you have no idea what you're letting yourself in for. This is on 12th May at 9.00 p.m. then 30th May at 5.30 p.m. at Komedia.
Imaginary Porno Charades
And speaking of things where you don't know what you're letting yourself in for, no Sweet Venues Programme would be complete without everyone's favourite game show of Charades, except that all the things you have to guess are titles of imaginary porn parodies (because, as we all know, a true porn connoisseur care little for the amounts of tits and shagging in a porn movie – it's all down to how witty the pun is in the title). I will confess I've been overthinking this one a lot – for example, I've already got a pretty good idea of the plot of Fantastic Breasts and Where to Find Them.
In general, you can safely watch this one and not be subjected to any humiliating participation. One word of caution: if they have a dominatrix on the panel who tells us what she did for her last customer, don't make a throwaway comment about having some questions about the details. Otherwise she might tell you the answer. Then you'll wish you hadn't asked. The all-night marathon is sadly no more, but there are two 90-minute extravaganzas on the 24th – 25th May at 10.55 p.m.
Notflix
Improvised musicals are a genre in their own right on the fringe circuit. I can't definitively rate Notflix against all the other improvised musicals, as this is the only one I've seen, but it's certain a great showcase for improvised musicals and one of the biggest success stories of the fringe I've been happy to witness. Each show involves picking a movie suggested by the audience and adding in extra unnecessary cliches and ridiculous plot-lines – adherence to original plot optional. The music genuinely is improvised and not just a set of stock songs, and even when they make mistakes, their mistakes are funny. This is on at The Warren on 31st May – 2nd June at 9.00 p.m (6.00 p.m. on 2nd).
And that's the list complete. How will these all far. Follow me in the live coverage and come back for the roundup. Happy fringing.