Wednesday 28th August: So here it is: my pick of the fringe and honourable mentions.
This time round, it was fairly easy to come up with a pick of the fringe, but the borderline between honourable mention and the rest. All the plays I've reviewed here had things about them I really liked, even if work needed to be done on the play as a whole. In a less competitive fringe, I would have been happy to rate any of these plays an an honourable mention. In the end, I had to decide based on the state of the play at the moment. Normally I allow the potential of the play to carry more weight, but with all plays having potential I'm using the state now as a tie-breaker.
There's one title I'm excluding from this list, and that's From Judy to Bette which I didn't count as theatre in the end – that, as i said earlier, is more of a musical celebration. But amongst the others, here's the moment of truth:
Pick of the fringe
The Big Bite-Size Breakfast Show
Great Grimm Tales
Green Knight*
The Rebirth of Meadow Rain
The Red
The Red Hourglass
Sary*
Testament of Yootha
Trainspotting Live*
Will, or Eight Lost years in Shakespeare's Life
Honourable mention
An Audience with Yasmine Day*
Bad Girls Upset by the Truth
The Grandmothers Grimm*
Ladybones*
Moby Dick
Myra
Princess Party
Ritch Bitch
Showstopper
Stanley
Taboo*
Both categories are listed in alphabetical order, * indicates a production I saw this year prior to the Edinburgh Fringe that was performing in Edinburgh.
So that's it, the end of my live coverage. Thank you for following this over the course of a month. The roundup will come in due course. Before then, a rest. We all need a rest.
Tuesday 27th August: I know I said I was going to choose pick of the fringe today, but it turns out I need to update yesterday's info. Turns out you can't assume a calculation is correct just because it's in Chortle. The Stage is reporting an 8% increase, and All Edinburgh Theatre is reporting 6%. I'm minded to go with 6%, because this is roughly in line with my own calculation (note to self: yesterday's "Chortle says 12% and I can't be bothered to check if they're right" wasn't such a good idea after all),  and also that is a number that came from someone from the Festival Fringe Society itself.
The changes for Pleasance and Underbelly of +1% and -1% are still correct as far as I'm aware, but a new figure that's emerged is a whopping 30% reported by Assembly. I wonder if the New Town is making a comeback, which may or may not be linked to the increased patronage from locals (if they choose to avoid the busiest areas) – even so, it's difficult to see how that alone could account for a rise that dramatic. But with the Big Four offering similar kins of programmes, what else can explain such a difference in fortunes? That rise accounts for about three-quarters of the fringe-wide increase in sales (although you can expect a lot of ups and downs with other venues, so that's a simplistic figure).
One possibility this rules out is the suspicion that the rise is is entirely down to more tickets sales for the biggest acts. Had that been the case, you would expect – since most of the biggest names are with the Big Four in the biggest spaces – the Big Four's sales to be growing across the board. It's still possible this could be happening in conjunction with other factors that are making these figures so confusing, but if big names are succeeding at the expense of the small names, it will be part of a complicated pattern rather than a simple one.
There is one other notable observation All Edinburgh Theatre has picked up on, which is that the Festival Fringe Society hasn't actually made a big thing of this; their own story leads with the record number of Edinburgh locals, and you have to read to the final paragraph to see anything about sales. A similar thing happened with the unexpected growth, with prominence given to the number of international performers with the actual growth buried at the bottom of the press release. Previously the Edinburgh Fringe has shouted figures like this from the rooftops, so this year it's conspicuous by its absence. It seems that whilst the Festival Fringe Society is not discouraging further growth on the fringe, it has stopped encouraging it. And that is interesting
And what does this all mean for the future of Edinburgh Fringe – do you think I'm going to stick my neck out with a prediction for this?
Monday 26th August: And we've finally reached the last day of Edinburgh Fringe. And that means we get the long-awaiting news of the sales figures. There's been a lot of talk of poor sales figures leading to speculation that the growth bubble may finally have burst, but that's what everyone said last year, and sales grew after all. Well, the same has happened again: sales up 12% (according to calculations by Chortle), substantially more than the target of 8% theoretically needed to sustain 8% growth. Obviously, this assumes the sales growth is evenly spread throughout the fringe; it's no good if, as some people have anecdotally suggested, all the extra sales are going to big successful shows. But, if anything, the figures available suggest something much stranger is happening.
UPDATE: Chortle got its calculations wrong. Will do proper update later today.
Pleasance has reported a 1% rise in ticket sales, whilst Underbelly has reported a 1% fall. Had they kept up with across-the-board growth, you have expected something more like 4%. Gilded Balloon has reported growth, but these figures are skewed by the addition of Patter Hoose (also known as what was C Venues), as no-one seems to know how to strip out that effect. Regardless, Pleasance plus Underbelly between them account for about 30% of sales, and unless Assembly has performed wildly differently this suggests the Big Four are flatlining. So where is this 12% growth coming from? One clue might be that there has apparently been a lot of growth in tickets sold to locals. Do Edinburgh locals have favourite haunts away from the Big Four? Is that's what's pushing up the growth. Regardless, this leaves a lot of unanswered questions, with no obvious way of getting the answers.
One other effect of last-day Monday is that I really must get these last two reviews out of the way.
So my second last review is Bad Girls Upset by the Truth, and this is truly one of the strangest plays I've reviewed. This is performed by Lauren Meckel, but the original performance was from the writer, Jo Carol Pierce, as a record that's part song and part spoken word. Born and raised in a heavily religious part of Texas, Jo Carol asks Jesus what are these boys for and what she's supposed to do with them. The answer, Jesus apparently told her, was to enjoy as many as you can – 115 is a figure quoted at one point. It's not clear how Jo got one message and everyone else got the usual message that impure thoughts are sinful and sex outside marriage is the devil's work, seeing as Jesus never really expressed opinions on this one way or the other the last time he was around, but the rest of the Texas goes along with the more traditional ideas and she's seen as an outcast. That doesn't seem to bother her too much. What does bother her is that love and nymphomania doesn't play together nicely, and one the few occasions she meets a boy that she sees as more than a fling, the inevitable infidelity dooms any chance of a future.
That's not the strangest bit though. At the beginning, Pierce talks about how she committed suicide that morning, with a quite detailed decription of how many vehicles hit her on the road. As the real writer is still alive, I take it this was a metaphor for something. There's also a bit where every goes after a UFO, but not in the sense of an earth-shattering moment that will change to world forever, but a casual pursuit because UFOs are apparently ten-a-penny over the Texas skies. I'd love to know what any of this was supposed to mean, but this is one of the few times I can question a performer on that and the performer could quite legitimately respond with "Your guess is as good as mine".
Lauren Meckel puts on a fine stage performance as Jo Carol though, with mannerisms and outfit very well of the Texas Bad Girl, but only bad in the sense of what other people consider bad even though Jesus specifically told her it was okay. The original album is online and the style does justice to the voice of the real Jo Carol. The one thing that I wasn't so sure about was transplanting the songs. The real Jo Carol has a low and husky voice, and I wasn't sure this quite suited Lauren's own voice. I wouldn't be afraid to change the singing to a different style or key if it's more in the comfort zone, even if it's less authentic, but that's only a minor issue. The most memorable part of Bad Girls Upset by the Truth is the monologue. Considering the original performance was only an audio track, a good job here converting this to a visual one. Very odd play, but job well done bringing this to the stage.
And the very last review isn't quite as bizarre, but still one of the stranger stories: Stanley. And it's the strangeness of this that makes is different from the others. Stanley lives alone in his flat, most of the time in his pyjamas, scared of the world around him and terrified by what he hears on the news. And say what you like about today's horrendous news, but modern deluded sociopaths have lost the art of nearly blowing up the entire world. This story, however, takes place between the 1950s and 1970s when almost obliterating the planet was much more in fashion. And it's one long period anxiety-driven seclusion over two decades. He has to go to great lengths to be secluded – it took an awful lot of not answers letter and phone calls for his sister to stop trying. To start with, he almost manages to attend a party thrown by a neighbour. By the end, even the unavoidable conversations at the corner shop are kept to a minimum. His only solace, it seems, is the uncomplicated life in this is new BBC radio series, The Archers.
There is one weakness to this kind of story, which is that the story is largely the same. The first scene very much establishes Stanley as a recluse terrified of the news, with no prospect of ever changing – after that, it's really more of the same, only worse as his anxiety and agoraphobia grow unchecked. To be fair, this weakness is very much an unavoidable one, because it's difficult to see where else this story could have gone. But perhaps this bleak unchanging narrative is the only way this story could be told. By the end, even his old friend The Archers can't provide solace any more, where his dark thoughts take over his beloved Ambridge and turn it into a nuclear weapons test site.
I will declare that this was a tough watch for me personally – I something have periods of news-related anxiety myself, nothing on Stanley's scale, but then, Stanley got how he was because his fears took over. Don't expect anything cheery from this, or any more positive than a warning of what needs nipping in the bud, but do expect something very different from Conor Clarke McGrath, who shows a lot of promise from a fringe debut.
Nearly there. Now it's time to choose my Pick of the Fringe. I genuinely haven't decided yet. Just a reminder that if you were in the Edinburgh fringe programme but I saw you at Buxton or Brighton, you are eligible, but you won't automatically get into Edinburgh Pick of the Fringe just because you were in the corresponding pick of another fringe. Tomorrow should be exciting then.
Sunday 25th August: Before polishing off the last two reviews, let's take a look at how the plays I've covered have been faring against over reviews. This is going to have to be a rush job, so I'm going to use the List's Top Rated Shows as my reference as it's the fastest to use, even though it misses out some notable publications. When I get round to the roundup, I might find more items of note.
I'm not going to do a comprehensive roundup here. A single four-star review might be significant if Brighton, but the sheer number of reviews and review publications means you really need multiple reviews before it stands out. I'm also not paying much attention to established shows. Bite-Size and Showstopper both bagged a five-star review this fringe, but they were guaranteed excellent ticket sales anyway. It's acts seeking to make a name for themselves where it matters.
Out of all the plays I've covered, the clear winner with the reviews is Caroline Horton's All of Me, her own account of living with depression. It was covered by ten reviews and a five-star rating in four of them. I saw this and chose not to review it myself as this turned out to be a far more abstract play than I'm used to covering, but I'm aware this abstract style has a lot of appeal to others, and for they, it went down very well. It looks like the spectre of the original London run of Islands can finally be put to bed.
There were two (very different) plays on my recommendations I never got round to seeing: Mustard and Police Cops: Badass Be Thy Name. Those have both done well with the reviews, with a mixture of four and five stars. Hopefully I'll catch the latest Police Cops installment next time – as far Eva O'Connor, I fear it's come and gone, but maybe I'll find a chance another time.
The Red got quite a spread of reviews in the end, ranging from lukewarm three-stars to glowing five stars. Testament of Yootha went down well with three four-star reviews, only let down by two stars from The Scotsman, but The Scotsman wouldn't recognise talent if it came unicycling towards them playing Chopin's Minute Waltz with one hand and composing all of Shakespeare's sonnets. One thing I ought to acknowledge is that East got two five-star reviews. I don't think I will ever susbcribe to the play myself, but for those who do, it looks like they delivered.
One unexpected result is Numbers, that I covered in the first week, getting five stars, three stars and one star. I thought that play might split opinion, but I didn't expect it to split opinion that much. But the result I'm thrilled by is The Rebirth of Meadow Rain getting three four-stars and a five-star. This is the one where I wasn't certain how well it would go down elsewhere. Now that it's a undisputed success, I really hope this can go far.
However, the one that interests me that most is something I haven't got round to covering at all, and it's Titania McGrath: Mxnifesto. I won't give the blow-by-blow account of this, but the short version is that Titania McGrath is a creation of a comedian Andrew Doyle, and usually exists on Twitter as a self-righteous moral crusader. I gather the live show is done by a woman playing her – I didn't have time to see it; if it ever comes to a less busy fringe I'd probably see it then to make up my own mind. But it's notable because it cuts close to the bone of a lot of causes regarded as sacred cows in theatre. So would the fringe publications review this on whether it was any good or would it come down to a moral judgement, as rogue reviewers have done in the past.
Well,  I am pleased to say that the fringe review publications appear to have reviewed this fair and square. Three three-stars, a five, and a two, and even the two-star welcomes the fact that this is different from most of the views expressed at the fringe. For what it's worth, I recommend Robert Peacock's review because he has a track record of being fair when reviewing controversial acts. The consensus amongst the reviews seems to be that is anything is to be criticised, it's the transition from spoof Twitter to an hour-long show.
However, the national press is a different matter. The most prominent one on the fringe radar is Brian Logan's one-star for the Guardian. It is only fair to acknowledge that the review is neutral about the views expressed and instead is critical of transplanting this to a live show, but he has in the past acquired a notoriety for judging comedy on morals more than anything else. But even if it is the national is polarised into praise or derision almost entirely in line with whether the publication is right-leaning or left-leaning. I don't believe that's a coincidence.
So there's your review round-up – a lot of good news to people who deserve it. But on the bellweather show that acted as a test on whether reviews are being fair, the surprise news is that the small-scale review sites have scored a lot more highly than their professional counterparts in the national press.
Saturday 24th August: And now, as promised, I turn my attention back to The Big Bite Size Breakfast Show. I've already talked about my overall impressions of the new space and how I quite like the idea of having all the furniture at the back as teasers for upcoming plays (see 12th August). One update on the earlier news: it has indeed sold out almost the entire run. A good point was made to me by someone in the audience, which is that the Bite-Size audience tends to be older than the average fringe audience, presumably due to the morning slot. What started off as a the only time-slot available seems to have ended up instrumental to their box office success.
The other thing I forgot to mention the first time round is the process of selecting the plays. A learned a couple of things this year: firstly, the process of selecting the plays is almost as labour-intensive as actually producing them; and secondly, it's the whole ensemble who take part in this, not just Nick Brice. It looks like one side-effect of an ensemble coming back year after year is that they have a much bigger say in the direction of the company, and my understanding is that everyone has to be on board for a play to be chosen. Even plays written by Bite Size members don't get a bye.
Anyway, let's get on to my picks. As always, there's little to say about the overall experience that hasn't been said before. I've seen many other groups do compilations of ten-minute plays, and so far no-one comes near. Not everybody will like every ten-minuter, but that's okay, because there's always another one round the corner. But there's four in particular that stand out the most:
Apocalypto, which is like I Am Legend, except it's the most rubbish zombie apocalypse ever. This does not stop our protagonist revelling in the mortal struggle for survival, even though his two fellow survivors are more interested in checking out the stuff at Aldi, if they can make it past the slow, easily-avoidable zombies.
Stag Do, where a random employee gets invited to his boss's stag party, only do discover he's the only guest – a result, it turns out, of his best friend and best man who's guilt-tripped him into a joyless party whilst his wife-to-be is enjoying her hen night.
Hitwomen of Highbury. A meeting of three spinsters, a bit like the women's institute, only they spend their time going round murdering people. But trust me, the people they murder are horrid. Then the team stands to be broken up as their ringleader gets married to a frightful old bore. Only one thing for it.
One of Our Comedians is Missing. Not much representation from the surrealistic comedies this year, but this one flies the flag. It begins with a scientific breakthrough when comedians (British comedians, of course) are resurrected and giving the ability to fly, leading to the comedian wars where millions of people die laughing. It's up to the British upper echelons of the army to sort it out, with stiff upper lip, of course. And it gets even more surrealistic after this.
Notably, I didn't check who wrote what, but found out later that Bill Knowelden and Thomas Wilshire accounted for two of these four. They are at a bit of an advantage here, because they've seen dozens of these plays through to production and know the craft inside out, but still the results are pleasing. Also noticing that Claira Watson-Parr is joining Bill Knowelden in bagging most of the funny parts, with the tough-as-nails Galdiator in The Warriors (something that bears an uncanny resemblance to a 1990s ITV Saturday Night TV show being one of my highlights.
No risk-taking second show this time – probably a wise precaution with the need to get more tickets sold – but it puts them in a strong position for next year, if they go with that. All in all, Bite-Size have had an excellent fringe, with the move the the bigger venue show just how big their following is, and expect to his the ground running next year with whatever they go for.
Friday 23rd August: In the last few days of the fringe, the debate about the cost to performers – and, indirectly, the wider effect on the city – has flared up again. So far, however, few people are addressing the underlying cause, which is – I've said it before and I'll say it again – too many people trying to perform in the same city at the same time, driven on by the arts industry and arts media who are wedded to the "Edinburgh or bust" mentality. I wrote about this last year with Time to drop the "Holy Grail" mentality of Edinburgh. Have to say, I'm not impressed with the year that's followed. The arts industry recognises that cost in a problem and they're throwing money at it, pushing more groups into doing Edinburgh an exacerbating the supply and demand problem even more. Maybe they'll twig next year.
Let's back to reviews. Four to go. I'll do Myra next – I've been taking my time with this because I wanted to give some thought to this somewhat controversial play. Lauren Varnfield first intended to perform this at Brighton in 2016, but pulled it quite late on after wanting to get the show right – after all, the Moors Murders is not a subject to treat on lightly. It finally got its premiere in Brighton two years later, where it was generally – but not universally – well-received. Now at Edinburgh Fringe, this division has continued, with the reviews collated by The List showing a four-, three- and two-star review at the time of writing. Well, having finally had the chance to see this and judge for myself, I can say that I liked it, but I can understand why some people have a problem with this.
The one thing I think everyone is in agreement on is Lauren Varnfield gives a stellar performance as Myra Hindley. No-one will ever know what truly went through her mind – why on earth would a woman abused by her partner collude with murder? – but this play gives a chillingly convincing depiction of what she might have been thinking. A teenager in total awe of a man she loves, and a man who realises she will do anything she say, her collusion in the first murder is little more than commands – picking up Marie Ruck, a neighbour of her mother, a young Myra just about suppresses the nerves in her voice to lure her to her death. The moment where Myra turns up the radio to drown out the screams was the most awful moment to watch. Then it gives her a strange sort of purpose, achievement even, and she grows more confident over the next four murders, being a full-blown accomplice.
Now for the controversial bit: should so much of the play have been given to Hindley's pleas for release? My view is yes – it's the only way the play can work. She's playing Myra Hindley, so inevitably the claims she was under Ian Brady's spell and now she's a reformed woman are going to be told through Myra's voice, however distorted. I do have some sympathy with the argument that we spend too much time talking about murderers and not enough time talking about the victims, but that's a much wider debate than one play. What I think might have been wise, however, was to put more things on the information sheet given out at the start of the play. The sheet didn't beat about the bush on what their crimes were, but I'd have also used this as an opportunity for balance. Whatever the aged Hindley proclaimed to the world, in this play or otherwise, I think a lot of the controversy could have been averted had the information sheet included some of the counter-arguments from those who didn't believe she was reformed.
That wasn't really an issue for me – as far as I'm concerned, depiction is not endorsement. The one thing that I felt was missing was something quite, quite, different, and that was the final murder – the one that got them caught. When I was researching this subject prior to the review, I learnt how badly Brady overplayed his hand, thinking he could recruit Myra's brother-in-law as a new accomplice. I realise this would have added extra complications into an hour-long piece, but it seems like such a missed opportunity. What was like for Brady and Hindley as it became clear the game was up. Brady had been brutal to Hindley over matters as trivial as looking at another man – how would he have handled this. For a story so dependent on their relationship, I'd have loved to see what true colours Ian Brady showed in the dying days, even if Lauren Varnfield had to use her imagination to fill in the gaps.
But it's a play I will recommend, but you must know what you are letting yourself in for. If you don't like plays or films that give a murderer more of a voice then the victims, this won't change your mind. If, however, you want to get an insight into why, then go.
Thursday 22nd August: Now that I'm back home, it's back to daily updates. And I was planning to spend the time between now and the end of the fringe clearing the remaining reviews. But before then, I've come across this article in the Edinburgh Evening News: 'It's these pop-up reviewers who haunt festivals such as Edinburgh Fringe that have done much to devalue the review as an art form'. Oh dear, it's bad. Seems The Scotsman really don't like people like me treading on their turf.
I'd like to imagine this was written specifically in response to my original article about the Scotsman, and I've checked for any coded attacks on me personally, but I can't find any. Which is a shame, because that would have fed my fragile ego no end. But still, as this is a blanket attack on an entire swathe of reviewers that I'm a part of, I have written a response:
Sorry Scotsman, but "pop-up" reviewers are legitimate competition
Thanks a lot to Liam Rudden for giving me extra work to do. Apologies to those of you still waiting for reviews – I will resume tomorrow.
Wednesday 21st August 9.15p.m.: And I'm home. Let's get one more done before I pass out.
I've been thinking about catching this for some time, but I've finally seen Showstopper! After Notflix showed me how good an improvised musical can be, I was curious to see how they compared to other groups. Showstopper is one of the most prominent groups out there (doing both an adults' and children's show each day), and partly grabbed my interest because they have Susan Harrison, one half of the hilarious Two Star Reviewers podcast. The premise for this one is is that Cameron Mackintosh need a new musical in the West End, and he needs it in 70 minutes – coincidentally the time it takes for them to perform the show – so it's up to us to suggest something new. (I must say, I don't think this premise is very realistic – surely, given the crappy state of most musicals, the writers are knocking them off in ten minutes. But anyway …)
On this occasion – not that will ever be repeated – the suggested voted for by the audience is the setting of a werewolf conference. A peace between werewolves and humans has held for some time thanks to a pact to only disembowel sheep, but is a brought under threat by an upstart werewolf who's a movie star. And he's gone too far. To my delight, by suggestion of a scene in the underground catacombs was picked – come on, you can't not have an underground catacomb in a werewolf movie last year – and this instantly brought to live by green light an ominous music. Can this upstart resist the urge to bite a virgin? What if the virgin is already a werewolf? Could that make her into a – double wolf? And so on.
But how does it rate against Notflix? Close call – this is a fixture that may have to go into extra time. What's interesting, though, is in spite of the different formats (Showstopper takes various bits on input throughout the hours, whilst Notflix starts with a name of a movie to cheesify and off they go) the strategy that makes them work is remarkably similar – you need an ensemble who are musical, confident working with each other, and had lots of practice together, and you also need the courage to make plot-changing decisions on stage, on the fly. But I've also picked up one small but important detail: when someone inevitably makes a mistake, they make the mistake funny, so when one of the actors forgets whether he's a werewolf or a vampire, this takes on a plot thread all of its own of this new species of werewolf-vampire, and possible paved the way for the double wolf bombshell. Even a moment where one member of cast came on stage to play a bullet only to be told we wasn't needed was funny.
Showstopper has a rotating cast, but it just so happened that Susan Harrison was part of it, and she was an absolute superstar as lovestruck virgin / double wolf. The heavyweight title between them and Notflix will have to be decided another day, but one plus in Showstopper's favour is that they tour a lot. So if you can't catch them this fringe, there will be plenty of opportunities closer to where you live. And since I'd love to see how the kids' show compares, I may need to borrow my nephew and niece the next time they come my way.
Wednesday 21st August, 10.00 am: Back on the Azuma. Long story how this happened. Let's get back to business.
The next review is US-based Permafrost Collective with Are You Alice: A New Wonderland Tale. This is in the Dance and Physical Theatre section of the programme rather than straight theatre, and for reasons I'll go into shortly, this was the right place to put it. It's a very abstract setting, but the premise seems to be that seven different Alices all go to sleep and share the same dream. What follows over the next hour is a potted retelling of Alice's adventures in Wonderland, with guest appearances from Alice Through the Looking Glass, including the exam to be Queen, the Jabberwocky and Tweedledum and Tweedledee. (Did you know that Tweedledum, Tweedledee and their Walrus and Carpenter story were originally through the looking glass before Walt Disney moved them to Wonderland? If not, you do now.)
To be honest, I couldn't make much sense of the premise, other than being a re-enactment of the Alice scenes with the seven Alices taking turns as proper Alice. It didn't matter too much to me though – the one thing that Lewis Carroll's books are not supposed to do is make sense. I was more interested in the staging and choreography of this, which was good. I really liked the music written for this, and some of the scenes were impressive, with the Cheshire Cat being represented by just a mouth being a particularly inspired idea, and the seven-Alice Jabberwocky also being quite striking. There are some signs that the play has been planned round the individual actors' strengths, with the strongest singers getting the most singing and the strongest dancers getting the most dancing – I approve, that's one of the best ways to make an ensemble shine with what you have.
And yet, I feel I've missed something here. According the the press release the play "questions identity, womanhood and self-acceptance in world which constantly redraws the lines and rewrites the rules". I'll accept that Wonderland does indeed constantly redraw the lines and rewrites the rules, but I couldn't work out what this had to do with questioning identity, womanhood and self-acceptance. However, this goes back to what I said about its category in the programme. Dance and Physical Theatre has its own set of conventions, just like theatre has a set of conventions that might not be obvious to someone used to films and television. If people who know this genre better get what this is about, fair enough.
Ultimately, this comes down to what Permafrost Collective want to achieve. If this is aimed at a Dance & Physical Theatre audience and you're confident they'll understand the conventions, you can safely ignore what I'm saying. If it's trying to get a message out to a wider audience, you've got to think about whether someone who's never seen this before will pick up the some things as someone who knows the production inside out – that's never easy. But I'm just happy to appreciate Are You Alice for what I saw: an absurdist adaption of an absurdist book with some excellent music and choreography. If that's good enough for Permafrost, it's good enough for me too.
Wednesday 21st August, 6.30 a.m: Yes, that's right. Six fucking thirty in the fucking morning. I have to be in London for nine and it was easier for me to get the train from Edinburgh than go home and catch it there. And to add insult to injury, the flashy new Azuma service I was getting all excited about didn't turn up. You bastards, LNER, you bastards.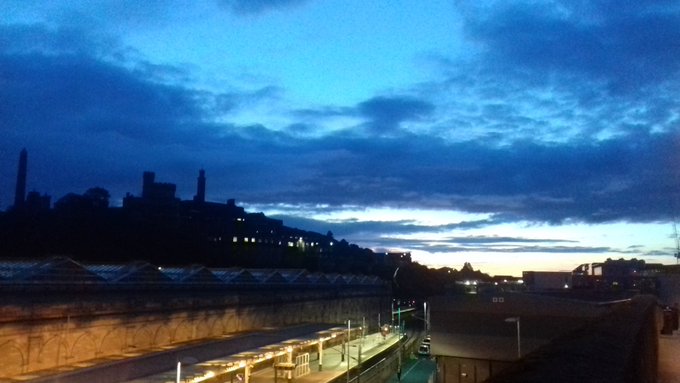 Still, it's not all bad. You get to see views like this. I'm going to have my breakfast, then let's get these remaining reviews done.
Tuesday 20th August 9.45 p.m.: And so, I'm calling it a day. Eight days and 29 shows later and I need to get a good night's sleep before my 5.40 train tomorrow. That's 5.40 in the morning. Bugger. That's why I've had an extended stay in Edinburgh – it was actually easier to stay here rather than make my way to Newcastle station tomorrow. I think I have six outstanding reviews, so I might be able to clear come on the train tomorrow. Oh Jesus. Five. Forty. What was I thinking?
Before rounding up the remaining reviews though, it's time to turn attention to the end of the fringe. The event on the last day that always gets talked about is the ticket sales – or, more precisely, the growth on the previous year's figures. It's big simplification, but the general target is that sales growth should equal or surpass the growth in registrations, in order to sustain the same income to the increased number of groups. Speculation has started, including from Lyn Gardner, and the mood so far is that sales aren't going great. Although not part of the fringe, the early sales for the Edinburgh Military Tattoo are apparently down, which isn't a good precedent. There is also an argument that the general precarious state of the economy might make some people think twice about such an expensive festival. Thanks Bojo.
However, I would still urge you to treat this speculation with caution – not because I don't trust the judgement of the people making these predictions, but because the rumour mill said the same thing last year and got it wrong, with strong growth of 5% reported instead. This time round, 5% won't be good enough as the target to keep up with registrations is 8.3%. But Edinburgh Fringe figures have surprised me before, so maybe they can surprise me again.
There is, however, an argument that this festival-wide figure is a red herring. To go back to my caveat, sales keeping up with registrations is a big simplification – maybe simplified to the point where it loses all meaning. Lyn Gardner suspects – and others agree – that it's the big-budget shows with PR machines that are doing well and the small-scale shows getting the disappointing sales. And, annoyingly, the fringe-wide figures don't tell us much about that. Even the the most stunning growth figures are useless to the groups who need it the most if it's all going to the big fish. The worst case scenario is that good figures conceal a financial climate pricing out the groups the fringe was meant for.
One thing that might help is the Cost of Edinburgh project, which is consulting on survey questions at the moment in order to conduct a study during next year's fringe. That means that the earliest these findings can be put to any use is Edinburgh Fringe 2021. But unfortunately, I don't see any way around that. It looks like we're going to running blind for at least another year before we can have any idea where the problem are, let alone how to solve them.
All the same, Sunday's figures will be very interesting. Continue reading →