In the lull between Brighton Fringe and Edinburgh Fringe, it's time for my usual catchup on various things happening in theatre that got my attention. We have for you:
Stuff that happened in June:
Battery acidgate
I'm going to start with this one. I don't like diving into every row going on in the comedy and theatre world, but this one is becoming an issue of artistic freedom, so that prompts me to stick my oar in. Everyone by now should have heard about Jo Brand's quip on Heresy about throwing battery acid instead of milkshakes, and subsequent outrage: some justified, some opportunistic and hypocritical. You may have noticed that when I've made similar quips on Twitter, such as suggesting that an Edinburgh Fringe play about murdering Katie Hopkins would be cheaper if they just hired a hitman, I've said straight after that it's a joke. This would once have gone without saying, but in the last few years politics has got a lot nastier, too many people on all sides are casually advocating violence against enemies, and we are now at a point where – even it's obvious to 99.9% of people it's a joke – we do not want to give any encouragement to the other 0.1%. For that reason, I firmly believe that joke was not at all appropriate. Even in a comedy game show that is all about saying outrageous things.
However, the thing that is being forgotten in all of this is intent. Incitement to violence dresses up as a joke is still incitement to violence – that is my one limit to my firm belief of freedom of expression. If there was any evidence that Jo Brand made this joke in the hope that someone would actually go ahead and do this, I would be one of the people calling for her head. But it's pretty obvious to anyone who's heard this that the intent was an edgy joke and nothing more. Perhaps if there was a pattern of behaviour there might be reasons to doubt her motives, but honestly, if there was a pattern, someone would have highlighted it by now. True, it's possible that someone might go ahead and act on this crass comment anyway, but I'm sure we're all aware that punishing comedians for hypothetical reactions to their material is a very bad idea.
Where I think we do need to ask questions is the format of comedy shows like this one that lead to these sort of comments. Victoria Coren-Mitchell says Heresy was set up to "test the boundaries of what it's OK to say and not say". If you're going to egg on comedians in that direction, something like this was bound to happen sooner or later. Even so, I think I prefer this to the reaction to the "Defend the Indefensible" round Fighting Talk six years ago, when Colin Murray was under similar circumstances egged into make the joke about turning Clare Baldwin, and the BBC threw him under a bus. That is not good enough – the BBC should either take the risk and take responsibility, or play it safe and leave it to other broadcasters. Either way, the current climate of joke policing is not healthy. Jo Brand was not the first comedian to go too far and she won't be the last. But I would much rather have a situation where comedians sometimes overstep the line, apologise and move on, than the climate where everyone's terrified of putting a foot wrong and no-one takes any risks ever. I fear we are still headed towards the latter.
Another sell-out for Joe Douglas
One review you won't be seeing on this blog any time soon is The Cheviot, the Stag, and the Black Black Oil. Like its predecessor, Clear White Light the entire run sold out early on, and this time I was too distracted by other things to keep an eye on returns. I think we can safely assume this will make a return just like Clear White Light is, so I'll give my verdict then. But the reviews don't really matter now. The news is that the first two plays under Joe Douglas have been runaway sell-outs. It's happened before, but never two in a row under the same person's artistic direction. This in unprecedented, and leads to two questions.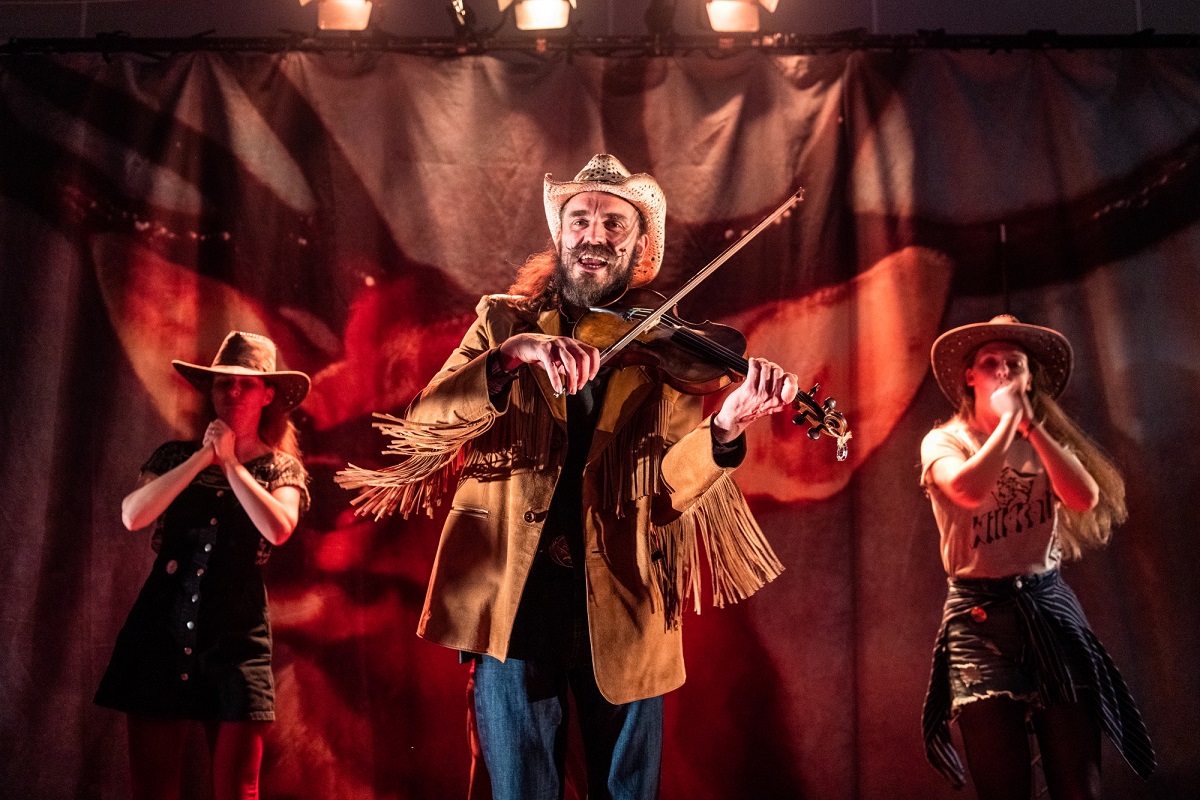 The first question: is this the new normal at Live? I would be very cautious about making an long-term predictions just yet. Joe Douglas's arrival at Live is still new and exciting (and, by all accounts, has quickly earned a lot of good will across Newcastle's theatre scene). He may stay exciting, but he won't stay new, so it may be a challenge to keep up these figures when the debut factor wears off. Or it might be that these first two plays will build his reputation and push up demand even further. We may have a better idea when we see how a third or fourth Joe Douglas production performs.
If the sell-outs persist, this brings us to the next question: what will Live Theatre do? Will they programme longer main-season runs in the future? It must be tempting – but every extra week given to a headline play is one less week the main stage can be used for something different. On the other hand, in this dream scenario where Live Theatre can produce new theatre with guaranteed sell-outs, that'll be a windfall that they can used on new projects – but whose new projects? A long way to go before any of this becomes a reality – but it's something that we could start contemplating.
Introducing the Spare Room
Now some news from Durham. I've known about for some time on my grapevines, but it's only now that this has been officially announced and my off-the-record info is now on the record. The short version is that The Assembly Rooms at Durham is bringing up a new venue called "The Spare Room". But it's not the venue we had last month run by the Assembly Rooms called The Spare Room. This is a different venue run by the Assembly Rooms called The Spare Room. This may take a bit of explaining.
So, the background here is that there was a pop-up venue in Manchester going spare, and Theatre Elysium have been working with Durham Student Theatre to find a new space in Durham. During the Summer in the City festival, a venue appeared called "The Spare Room", but it wasn't the pop-up one might have expected. Rather, it was a room made up like the pop-venue would be – a kind of Spare Room simulation, as it were. It wasn't a big programme as I was expecting – only nine performances over three days in the end, with (I think) only two of those coming from outside Durham Student Theatre – but now that it's confirmed the proper venue is coming, that will have a lot more. My understanding is that this programme will be mostly – but not entirely – student productions during term time. Outside of term time, there should be a lot more slots going free.
Summer in the City wasn't that dramatic a change from the predecessor Durham Festival of the Arts. Although this was open to anyone in Durham City to register, the programme remained mostly a student festival. But embracing an open festival, along with the imminent arrival of a possible venue, and two important milestones. The north-east is one of the few regions left without a fringe and badly needs one. With Summer in the City and the Spare Room coming along, Durham is slowly edging in this direction.
Venues North at Edinburgh Fringe
Most of the developments relating to the Edinbrugh Fringe I'm holding off until my Edinburgh Fringe coverage starts, but there's a couple of things I want to get out of the way early. The first one related to a scheme from Venues North. Halfway through the fringe, a lucky recipient of the inaugural Venues North Edinburgh Festival Fringe Award will be announced. I don't want to rain on the parade of whoever wins this, which is why I'm going to say now I think this award will do more harm than good.
You might find it odd that I'm not enthused with an award in a festival that anyone from the north can win. After all, one of the criticisms that grates the most with venues is that of gatekeeping. I've long supported the idea that artists should be able to just go ahead and present their work to an audience – surely this is a chance for you to prove your worth, so what's the problem? For a start, there's the process to get through: you have to apply and get down to a shortlist before anyone from Venues North will see your work. I accept practicalities may prevent them doing this any other way, but having to meet someone else's approval before they'll see your work veers back towards the gatekeeping the Edinburgh Fringe is supposed to overcoming. But the other problem is the more serious one: it's a massive financial gamble to take part at the Edinburgh Fringe. Yes, there's plenty of reasons to do Edinburgh other than the chance of getting an award, but that's a massive thing to ask of hopefuls.
I can't understand why the theatre industry is so wedded to the culture of "Edinburgh or bust". There are two big talking points that venues have supported wholeheartedly: that the cost of the Edinburgh Fringe is a barrier to taking part, and the costs of a career in theatre in general is a barrier to working class participation. And yet here are Venues North promoting a scheme that entrenches both of these problems. It has been suggested cynically by some that this is simply a programming exercise dressed up as an award. I hope that is wrong, but in the absence of any explanation over what this award is meant to achieve, I don't know what's right.
A Venues North Brighton Festival Fringe Award alongside the Edinburgh one will shut me up. Brighton is far more financially accessible than Edinburgh, and northern representation in Brighton is sorely lacking. In the meantime, however, it's things like this that make me wonder why we bother talking about access to the arts.
A warning about The Mumble
The other thing I want to talk about sooner rather than later is The Mumble. Unlike Venues North, I expect I will get universal support for this, and normally I don't like to waste time repeating what everyone else is already saying. But on this occasion, it's important for as many people to say this loud and clear: do not accept review requests from The Mumble. And definitely do not pay them for a review.
So The Mumble is yet another website that is charging people for reviews at the Edinburgh Fringe. A few years ago, edfringereviews.com (not to be confused with edfringereview.com) tried to pull that stunt, but a massive outcry forced them to back down with their tail between their legs. However, The Mumble have not been deterred and are pressing on, and have even written their own defence. If that article does not set every alarm bell ringing in your head, it should do. For a start, there's their description as "Professional Cultural Surveyors" which is just about the most pretentious wankery you can imagine, but that's the least of the problem. The two biggest red flags are their insinuations that the Big Evil Theatre Establishment (i.e. The Stage writing a critical article) is ganging up on them, and that you have to play money to publicists in order to get reviews (which is bollocks), so paying them is okay.
Quite apart from the moral arguments, there is one overriding reason why paying for a review is a terrible idea: it's worthless. The moment your business model is dependent on artists for your income, the credibility of the reviews are irreparably compromised. People don't simply pay for publicity, they pay for good publicity, and it would be bad for business if The Mumble to wrote bad or lukewarm reviews of their customers (and, let's face it, their clientele are going to be mostly people who don't have a good enough reputation to get normal reviews). Everybody who's anybody knows this, and knows which publications are doing pay-for-reviews. If anything, your review from The Mumble will count against you, because this suggests you would rather buy praise than earn it. But The Mumble already know this. They are targetting performers naive enough to believe this is yet another Edinburgh Fringe expense, and with the early uptake dominated by performers at The Space (no direspect to The Space but with the programme dominated by people with no Fringe experience this is the ripest ground for suckers), this suggests the strategy is working.
For the record, I am aware of even worse allegations about people who run The Mumble, but as those are in the legally actionable category I will leave it to other people to talk about those. Regardless, have nothing to do with anyone who wants cash for reviews. Yes, it sucks if you can't get anyone to review you, but if you are not ready to get the attention of the conventional arts media, you are not ready for the Edinburgh Fringe. At best, a paid review be a waste of money – at worst, it will be career suicide.
From Edinburgh to TedX
(This actually happened in May, but I wanted to give this my full attention rather than mention this in passing during Brighton Fringe coverage.)
Finally, a blast from the past. Who remembers Yve Blake? I'd periodically been keeping an eye on what she's up to since she did Lie Collector back in 2015, but with her moving back to Australia and few chances to catch what she's up to in this hemisphere I've not given many updates. But, boy, is there a success story here. Her big breakthrough was winning a scholarship for Australian Young People's Theatre to embark on a musical about Fangirls the following year, and that is finally coming in October. But on the back of this, she has now landed a TEDx talk. Big big deal in Australia.
The bad news for fans on this side of the world is that there's no sign of Fangirls coming over to Blighty just yet, although I would urge Australians to be the lookout for any of her fans from Edinburgh offerings gifts of wooden horses. I'll have a better look at what's on offer if and when this comes our way. In the meantime, there are some clues about what to expect. I would urge anyone waiting for this not to expect something identical to what you saw last time – I get the impression she has moved on a lot since her last fringe appearance – but what we do know is that she's in it (hooray) and it's still branded as a "bloodthirsty" musical. Might be a personal preference, but one of her strengths for me was having just the right amount of twistedness in it.
When you've previously said someone had the potential to rise to greatness and they do, it's very tempting to congratulate yourself for making such a good prediction. Reality, of course, is far less impressive – I've predicted great things from others who inexplicably vanished without trace. Nevertheless, it is moments like this that make my blog worth it. I remember one word of encouragement I gave after Lie Collector was an observation of how far she'd come in the three years, to think how much further she could go in the next three years. I've never been so happy to be right.
Stuff I wrote since March:
It's been three months between the last odds and sods, so it's a longer list than usual. We have:
Noughts and Crosses: the other Jim Crow: Review of another impressive play from Pilot Theatre, both story and staging.
What's worth watching: Brighton Fringe 2019: My previews in the run-up to the number 2 fringe.
Sherlock Holmes: Nick Lane is afoot: Nick Lane's second play for Blackeyed Theatre – sometimes hard going to follow, but captures the characters of Holmes and Watson well.
Brighton Fringe 2019 – as it happens: My month-long coverage of this fringe, with surprisingly few shenanagins this year.
Interview with Richard Stamp on fringe ethics: Ooh, this was good. I asked the editor of Fringeguru some tough questions on how the fringes should work – very interesting answers.
What's worth watching: spring/summer 2019: The look ahead to north-east summer productions away from the festival fringes.
Interview with Hetty Hodgson on Beats and directing: As a director at Durham Student Theatre I have huge respect for prepared for her last production, I took the chance to ask some questions.
Screen to stage: Rain Man, Trainspotting and Frankenstein: Reviews of three play: two that pleased me, and one surprise disappointment.
Between the fringes: Be More Martyn and Down to Zero: Two more reviews, including one that I'd heard all-round praise for that did not disappoint.
The next odds and sods will be for September – anything that happens before then will probably appear in Edinburgh Fringe coverage. If you're gearing yourself up for the big one, good luck. If you're staying how, how disappointingly sensible of you.