Skip to: Bite-Size, From Judy to Bette, Great Grimm Tales, Green Knight, Mustard, Police Cops in Space, Sary, Testament of Yootha, All of Me, An Audience with Yasmine Day, The Grandmothers Grimm, Moby Dick, Myra, Police Cops: badass be thy name, Taboo, Trainspotting Live
Apologies for the late arrival this year – a lot of things have been happening with inconvenient timing this year. But Edinburgh Fringe is already in its first weekend and I'd better get a move on.
So, welcome to Edinburgh Fringe 2019, the biggest Edinburgh Fringe ever by a long way. There was a time when this news prompted all-round celebrations – not any more. Questions are being asked everywhere of the affordability of Edinburgh, both to performers and punters, and last year the issue of working conditions has also joined the debate. But these issues were all the rage last year, and none of this is stopping the growth. This issue must surely come to a head eventually, but it looks like it won't be this year.
Instead it's business as usual. I've looked through the programme and picked out a selection of plays I think are worth seeing. As always, I must remind you that this should be considered a cross-section of what's on offer rather than a comprehensive list – most of the listings are plays and acts I've never heard of, some of whom will be as brilliant as anything I list here. However, I have set a new rule for Edinburgh: performers get a maximum of one recommendation per category. Some groups are bringing several plays to Edinburgh and I have confidence in all of them, but in order to stop smaller artists getting swamped by all these entries I have to do something to keep the list down to something manageable. Where a group has other plays of note, I will list those against their entry.
Unless otherwise noted, all plays listed here run the entire fringe.
Safe choice:
So we start, as always, with the top tier. Most safe choices are plays I have seen before performed by a group I've seen before; occasionally, however, a performer has had such an impressive record I've put a new play straight to safe choice.
In all cases, this is a surefire recommendation if – and this is the big if – you think this play appeal to you. Few plays appeal to everyone of every taste, and if you don't like the sound of the play, all the five-stars in the world won't change this. However, all of these plays are considered to have wide appeal, if you like the sound of this I'm confident you'll like it for real, and even if it's a bit different from what you usually see it may be worth giving any of these a go. They are:

One of the greatest pleasures of going to fringe after fringe is the rare occasion when obscure newcomers go on to great things. Bite Size's sets of ten-minute plays was something I saw in 2016 in the smaller soom of Roman Eagle Lodge, then the bigger room, then a bigger space in Gilded Balloon, and for the last few years they've been a headline performance at Queen Dome, one of the Pleasance's biggest spaces. But there are bigger ones, and this year they're in Pleasance Forth, one of the biggest of all. That's about as big as you can get, and the full journey has been done. There is one touch of sadness attached to this: the earliest runs worked very well with the intimate setting of a small audience. But it would be impossible to go back to this now – in recent years the tickets have been selling out solidly, so there really was no option but to go large. (And even then, I am hearing that the Monday and Tuesday in week one, always in high demand because of two-for-one deals, have sold out already.)
Bite-Size aren't the only company to perform short plays, but for one reason or another they do a better job of finding the best short plays than anyone else. However, there has been one obscure but important transition that has been happening under the radar. Bite-Size used to have a rotating cast with few people staying on more than three years. When Bill Knowelden came back year after year, "We just can't get rid you" started becoming an in-joke. Now this has become the norm for the whole ensemble. And what's more, they have started writing their own plays, some of which were superb.
And the last thing: there are three different sets of plays. So you can come back on three consecutive days (I do) and see fifteen ten-minute plays. It's a 10.30 a.m. at Pleasance Courtyard (not 13th or 19th).

Rebecca Perry was a hit a few years back with her play Confessions of a Redheaded Coffeeshop Girl. Before you make any quips about the shit 1970s films with Robin Asquith, she's already beaten you to it with the joke with her sequel being named Adventures of a Redheaded Coffeeshop Girl. The two plays aren't bawdy romps but instead a mostly autobiographical account of her time working at a Toronto coffee shop and through a stroke of luck moving on to a dream job with an unexpected sting in the tail. However, she's keen to be known for more than one story, and From Judy to Bette is her headline companion act.
I haven't seen this, but this goes straight to safe choice because her other plays were very musical, both with Perry's own singing voice and the really slick musical score that underpinned the two plays. This looks like a mixture between a tribute act to the icons of Hollywood's golden age and a play about the stories behind the scandalous headlines. I'm now sure how much there is of each, but such a brilliantly-executed format from her first two plays should transfer well to this act. Shows at 7.30 at Gilded Balloon Patter Hoose (that's what was C Venues until … well, if you don't know you'll be catching up soon) at 7.30 p.m. (not Wednesdays).

Box Tale Soup are another big name in Edinburgh, with their unique blend of puppetry and live acting setting them apart from everyone else. Northanger Abbey was probably their big hit that earned them top-level acclamation, and since then Dorian Grey and The Turn of the Screw have gone on to be critically acclaimed too. The cast varies from year to year, but the key performers are Antonia Christophers and Noel Byrne, who invariably play at least one human character and at least five puppet characters with flawless transitions.
There's always some sort of gothic/dark element to the productions (even the nice Jane Austen one), so the Grimm Tales are a perfect choice here. We are yet to discover how many unnecessarily painful deaths of villains will be kept from the originals, or whether they are going to reinstate the even gorier stuff that was cut out (more on this later) but you can expect something good. It's at Underbelly Cowgate at 11.00 a.m. (And every day. I hope Christophers and Byrne scoff at the wimps who want a day off.) One word of warning though – Box Tale Soup end up touring most of their work, but there's often a year's gap between Edinburgh and the subsequent tour. So if you want to avoid the wait, you'd better see it now.

Most of the names listed in my safe choice are well-known names that would not come as any surprise in any list of recommendations. However, this next one is much less know but just as worthwhile a watch. Green Knight was an unexpected hit at Buxton Fringe last year; I finally got to see it this year and all of the buzz was thoroughly earned. Debbie Cannon wrote for herself a simple storytelling piece of a retelling of the story of Sir Gawain. Another notable name is Flavia D'avila, the director of the play and also I think one of the most intelligent commentators of the state of theatre and the Edinburgh Fringe – she was the one who summed things up so well with "a mainstream that thinks it's a counterculture" – but this recommendation is on the play alone.
In this retelling, the ageing wife of the story of Gawain recounts the time Arthur's gallant nephew visited her husband's castle. Like many of the best retellings, no events are removed or changed from the story as such, and Gawain is still the selfless gallant knight of the original tale – but it's what added to the story that makes it unique. The original story makes out the nameless wife to be a temptress. In this- … well, yes, she's still a temptress, but there's a lot more to it. Unlike most fringe shows, this is only on for a set number of says, so it's at the Scottish Poetry Library on the 7th, 9th, 10th, 13th and 14th August at 7.30 p.m.

I've been following Eva O'Connor's work for the past few years now. A mixed verdict on the first play quickly turned into a string of follow-ups that impressed me with her variety of stories heavily drawn from personal experienced and the way she told them. My favourite one of all is the one I think is very under-rated: The Friday Night Project, that gets the audience to make decisions, starting trivial and escalating into an agonising moral dilemma.
This is one of her more cryptic stories though. "E" meets the man of her dreams, a professional cyclist, and when she loses him, turns to "mustard" as her coping mechanism. I'm guessing that "mustard" is an allegory for something more sinister here, and I'm also guessing there's a parallel to doping in cycling. But even if her drug of choice is literal mustard, I'm intrigued. This is on a short run, so you need to catch this as Summerhall on the 2nd-11th August at 11.30 a.m.

One way of measuring the success of a show is the name of the company. When Police Cops first came on the the fringe circuit, the group performing it were a trio known as The Pretend Men. Now, with a huge cult following and a sequel, the name of the company is Police Cops. They are now branching into new work – and it is the new work that interests me more – but if you are looking for a lot of fun this is the surefire choice for you.
Police Cops was a parody of basically every 1970s cop show ever made, so the sequel, Police Cops in Space, is a parody of every 1970s sci-fi show ever made. It is, of course, a very silly parody, with practically a checklist of every corny line and cliche, but what earned the most praise was the high energy of this trio and such a slick performance. Oh, and as it's the 1970s everything is 100% heterosexual and not in any way camp, is that clear? This is a limited run on various dates up to the 17th August, at 10.40 p.m. at Assembly George Square.

Sary
Sam Chittenden and her company Different Theatre may not be big names at the Edinburgh Fringe, but she may be soon, with her work at Brighton Fringe scooping a who raft of awards. Two of her plays are coming to Edinburgh, and I'd be happy to list either of them, but between the two I'm going for Sary, that I saw this year. Like Green Knight, this is a re-telling of folklore, where nothing is changed from the story as such – instead a new story is added: in this case, the tale as seen by Ol' Sary Weaver herself, a woman reputed to be a witch. It begins with what made her a recluse, and ends with a clever twist on what the folklore said happened to her.
One thing you do need to be aware is that the two women in the play are usually playing the old and young Sary Weaver – you might get lost at the beginning if you don't realise this. But there's a lot that's different about this, and even its description as a "feminist folk-horror" might not be what you expect. This is at Sweet Novotel at 5 p.m. (not Wednesdays). The other play is Metamorphosis, but another re-telling, this of the story of Greta, not only witnessing her brother's transformation to an insect but also the changes to herself. Same venue, same days but at 6.45 p.m.

Testament of Yootha
And rounding up this list in alphabetical order is Caroline Burns Cooke who has delivered two superb monologues in the last few years: And the Rope Still Tugging her Feet, a story surrounding the Kerry Babies Scandal in 1980s Ireland, and Proxy, and semi-ficticious story of a mother with Münchhausen's Syndrome by Proxy. She develops very compelling stories and believable characters but the thing she is best at is explaining what makes people do terrible things. Whether it's understanding why the nuns of Ireland believed in the strict Catholic upbringing or exploring what would make a mother do such a terrible thing to her daughter, her plays condemn where it's due but always try to understand first.
This new play is about Yootha Joyce, a beloved sitcom star from comedies such as George and Mildred. But away from the cameras, her life was very different, drinking herself to death at age 53. This is a little different from her previous plays as she plays the same character throughout this time, but it does mean she gets to dress up as Yootha. Whatever there is in store here, expect something thoughtful and fair rather than any sensationalism. This is at Gilded Balloon Teviot at 12.15 p.m.
Bold choices:
The next tier is a bit more of a gamble, but not much. Some of the plays listed here are different, some are new, and some suit more tastes more than others, but for all of them I've got reasons to believe they are risks worth taking. If you like the sound of this, you might stumble on the next big thing.

Caroline Horton was a huge hit in 2011 and 2012 with two huge successes: You're Not Like the Other Girls Chrissy, the story of her own grandmother who spend the war in occupied France, and Mess, a very personal story about her own fight with anorexia. And then came Islands. That was supposed to be a searing indictment of tax-havens in a place known as "shit-world", but that was not a success in London, although it did better in Edinburgh where it found an appreciative niche. So now comes a new solo play, another personal one, this time about fighting depression: All of Me (the possibility of future splendour). That's about all I can gather from this – other than that, it's a very abstract play, like both Mess and Islands.
I honestly don't know which they this will go, and normally I would put this play in my Wildcard category. But this going in Bold Choice because when Horton gets it right, she gets it very very right indeed, because Mess truly was outstanding. Can she repeat that magic here? This shows at Summerhall at 3.10 p.m. (not 12th or 19th)

An Audience with Yasmine Day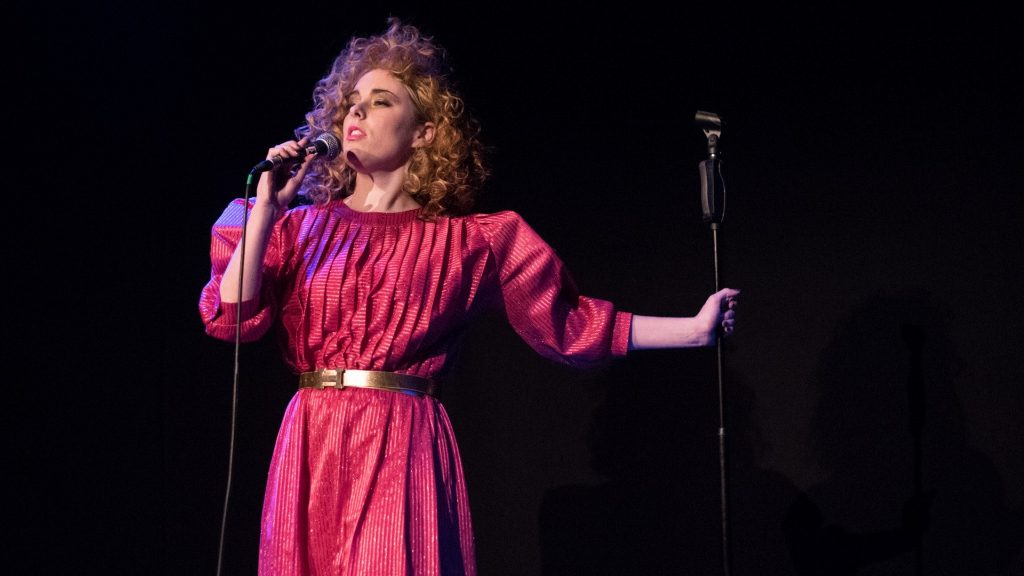 I don't normally put entries from the comedy section in my theatre recommendations, but I've put in Yasmine Day because behind the character comedy of Jay Bennett's pretentious washed-up 80s diva is a sad story in the background. I first saw this at Buxton Fringe last year, and whilst it was fun to watch I thought the real potential lay in the unspoken backstory. One year later and returning to Buxton again, that's exactly what we got. Yasmine Day still has the same delusions of grandeur, but this time, she's someone who almost did have the grandeur, and became her own worst enemy as her big break slipped through her fingers. In fact, the story now is a lot darker if you think about it long enough.
But you don't have to watch it for the dark backstory – you can just as easily enjoy this as an hour of fun, with her absurd props, a rendition of Eternal Flame using only the vowels and bringing a whole new meaning to an intimate performance. And if you think this is a bit too far-fetched, I am assured that everything that happen on stage, no matter how ridiculous, is based on real events. (Usual warning: if you are an 80s tribute singer and you recognise your routine in Yasmine Day's set, I strongly advise you not to admit it). This is at Pleasance Courtyard at 10.30 p.m. (not 13th or 20th).

Some Kind of Theatre, I admit, got my attention as they were one of the most determined groups to get me to review them, but it's paid off because after years of luckless scheduling I caught them at Buxton with this play. It's set at a time when the Grimm Brothers are making decisions on what material should go into their books and what should be left out – but are they letting self-interest get the better of them and taking credit that isn't theirs?
It's a play that makes you think on a lot of levels, but – most surprisingly – it's the original folklore. The Grimm Tales, of course, are quite notorious for the unnecessarily painful and gory deaths of the baddies at the end – but if that's the sanitised version, what the hell is in the unsanitised version? Oh boy, that's quite an eye-opener. This is at Paradise in the Vault on a short run until 17th August at 9.15 p.m. (not 11th).

Grist from the Mill and its artistic directo
r Ross Ericson became a big name on the Fringe Circuit thanks to The Unknown Soldier, but lately he's been making a bigger splash as a venue manager of The Rotunda, a pop-up venue at Buxton and – from this year – a tour to other places too. But they're also busy with new plays at Ross Ericson's latest play he's written for himself is a one-man performance of the hunt for the elusive white whale.
Bold choice instead of safe choice because Ericson has not rested on his laurels after The Unknown Solider; everything he's done since has taken risks, some gambles paying off, some not. But it does mean that whatever is store for Moby Dick won't be more of the same. This shows at 4.05 p.m. at Assembly Rooms (that's the Assembly Rooms in the new town, don't get caught out) on alternate days (odd dates up to 19th, even from 22nd).
And if you're wondering what's in the other dates, that's Grist from the Mill's other show, The Ballad of Mulan. To be honest, it was a close-run thing which one I put as bold choice, but this is a performance from Ross Ericson's co-producer, Michelle Yim, whose doing her third East Asain-theme play. I'm promised it's not the Disnified version of Mulan. Same time, same place, different days.

Myra
This was one of the most talked about plays at Brighton Fringe – and also one of the most divisive. Originally booked for the 2016 fringe, then cancelled because writer/performer Lauren Varnfeld (also one of the managers at Brighton's Rialto Theatre) wanted to get the play right, then finally getting its showing last year, the play explores the mind of Myra Hindley, the notorious murderer who – so she claims – found a conscience and reformed in prison. One criticism levelled at the play – not unresonably – is that as a whole we spend too much time putting the voice of murderers on stage and not enough time putting the voice of the victims on stage. But over 2018 and 2019 the play got more good review than bad, and those that did commended it for exploring what would make someone do something so unspeakable.
And do, Myra finally comes to Edinburgh, and it's anyone's guess what Edinburgh will make of it. This is at The Imagination Workshop in the New Town at 3 p.m. (not Wednesdays).

Police Cops already have an entry in my safe choices, but I've given them an additional entry in bold choice for this new follow-up. Successful though Police Cops in Space was, I did have a worry that they might take the easy option and do endless sequels with more of the same. Badass Be Thy Name, however, looks quite different. It combines kitchen-sink drama, vampire slaying, martial arts and a rave soundtrack, whilst keeping the physical comedy that made their first two shows so successful. It could be the next big success, or it might be over-ambitious, but whatever happens, stepping outside the comfort zone was the right move. This shows at Assembly George Square at 9.20 p.m. (not 14th or 21st).

Taboo
I squeezed this into my last day at Brighton Fringe and I'm glad I did. The show describes itself as "A fictitious talk show with a live audience, featuring a guest from the afterlife", and promises physical theatre and clowning, but in actual fact, this play stands on the story alone. This is the story of Käthe Petersen, a well-respected social worker in Germany – and that career included the Nazi Germany era. One thing that is often forgotten about this period is that the Nazis didn't win elections on the promise of killing everybody and invading the entire world – it also heavily sold itself as the champions of wholesome family life. It is this vision that Käthe Petersen believed in, dedicating her life to helping what she described as "vulnerable women".
The safe option when talking about the Nazi era is to depict everything that happened as evil – this, however, looks at the more complicated reality. Karin Schmid goes out of her way at the end to ultimately condemn what Petersen did, but she didn't need to, because the play shows very well how good intentions turn to moralising, and how moralising turns to moral hypocrisy, and moral hypocrisy never ends well. This is at Sweet Novotel at 2.15 p.m. (not Wednesdays).

Oh boy. There is probably no better description to Trainspotting Live that the description from Irvine Welsh himself: "I'm shocked, and I wrote the fucking thing". I saw this at Northern Stage this year and it was exactly what I was braced for. I think the most memorable moment is a toss-up between a naked Renton in a shitted duvet and Renton's antics on the toilet. Oh, did I say this is immersive? Begbie might pick a fight with you, or if you're really unlucky you might be next to the aforementioned toilet.
Although Trainspotting Live will almost certainly tour again, the Edinburgh Fringe should be one of the better placing to catch it. Good though the performance is in a theatre, it's the site-specific performances that really play to its strength, in this case a tunnel. This at EICC with multiple performances each evening (not Wednesdays). Just don not, I repeat, do not, pick the seat next to the toilet.
You might like …
Four picks next. These are productions where I've even seen them before or seen something similar, and like safe choices I can confidently say that if you like the sound of this then you can't go wrong with one of these. The only things that a safe choice needs to have that this doesn't is the wide audience appeal – these can be more niche. Also, I can relax that ultra-high standards needed for what's now a very hotly-contest category at Edinburgh.
These five pieces are worth a gander if this is your thing:
The Addams Family
Last year's musical from Bare Productions, You're a Good Man, Charlie Brown, wasn't without its flaws – but I'm still keen to see them again. Bare Productions is an Edinburgh-based company that aims to bring shows popular with amateurs to a professional standard, and they did that well with Charlie Brown. The ensemble all had powerful singing voices, making everything look effortless from the straightforward numbers to the complicated harmonies, and some clever choreography to make use of the limited space. The only thing that didn't quite work was capturing the mannerisms of some of the Peanuts characters. However, I've had a look at their video trailer for The Addams Family and it looks like they've done their homework here. Keeping fingers crosses for this for this, at Paradise in Augustines on 3rd-10th August at 7.00 p.m.
R
idiculusmus are taking three plays to Edinburgh Fringe this year on the theme of mental health; all of their plays are very abstract and usually confusing on purpose. However, the most inspired setting of all has to be this one. You are watching two plays at the same time – four characters going in front of and behind a wall separating two worlds. You even get to cross over and watch both halves of the story. One side, presumably, is the real world, whilst the other is an imaginary world. But which side is the real world? Who of the four characters lives in the imaginary world. And don't think you can find out from what the doctor character says. He may be the one with the psychotic episode – he certainly wouldn't be the first.
The Eradication of Schizophrenia in Western Lapland is a one-off performance on August 25th at 1 p.m. at Summerhall. The main event from Ridiculusmus this year is a play about attitude to old people somewhat provacatively titled Die! Die! Die! Old People Die! That is part of the British Council Showcase from the 13th. There's also another one-off on the 25th called Give Me Your Love, with a traumatised veteran turning to MDMA, os you can make the three a triple bill in one day if you wish. None of these may make any sense – but this is about the only time when that can be the whole point of the play.
An Evening with Savvy B
Now from the British Council showcase to a grassroots production I saw in Newcastle a few years ago, a solo play from Hannah Walker. Except that she will be joined by Hannah Walker, who's had an evening with Savvy B (come on, work that one out). So as a sober version of Hannah Walker sets out to tell us about the intricacies of wine tasting, on video the completely sozzled version of Hannah Walker appears to give her wisdom. Or titter as she spills her drink everywhere. It is fair to say that the whole play is heavily dependent on a single joke, but the drunk-acting version of Walker is hilarious. At least, I think she's acting drunk. Anyway most of the performances were in week zero (sorry for missing those) but you can still catch her on The Stand Comedy Club 2 at 10.05 p.m. on Monday 12th or The Stand Comedy Club at 8.20 p.m. on Monday 19th. Also, the Stand and Stand 2 are completely different venues, I've discovered. You learn something every day.
Ladybones
I saw this at the Vault Festival and this is worth seeing as something different. Sorcha McCaffrey plays Nuala, an archeology student whose finds a skull on a dig that becomes a trigger for the unravelling of her orderly life. And for her, order is important, because Nuala has OCD. And – as this play sets out to show – OCD is not just an eccentricity involving arranging pens; when events send her out of her comfort zone the play shows how the world becomes a terrifying place. Like Ridiculsmus, there are some bits in the middle of the play that are confusing on purpose, but it's not Ridiculsmus-level confusing with the beginning striaghtforward to follow and also an end where events return to some sort of order. Based partly on personal experience and part fact, this is worth a watch as something different, and it's at Pleasance Courtyard at 11.25 a.m. (not 12th or 19th).
And finally, Interactive Theatre International, best known for Faulty Towers, the Dining Experience. That show has been a big success (it was also at the centre of an attempt at corporate censorship a few months back but that's another story), but this year they're not bringing their headliner with them. Instead they're bringing another tribute, Only Fools The (cushty) Dining Experience, along with Confetti and Chaos. I saw the last one two years ago (back when it was known as The Wedding Reception), and whilst the script is really just light-hearted fun, it was done really well as an immersive event, with a series of disastrous wedding guests interacting with the audience throughout a three-course meal. One unexpected bonus was that it's also a way for strangers around the table to get to know each other at the fringe. (Footnote: this play has been known to take place in a hotel with real weddings going on at the same time. If you see a bride shout "YOU BASTARD MALCOLM!!!!", that's not the play.)
However, the one I'm picking as my recommendation is something new, Pamela's Palace. No meal this time, but it's still an immersive experience set in a beauty salon, so if there isn't a bitter feud over something terribly petty I'm going to be disappointed. Expect more fun at Assembly George Square at 10.40 p.m. (not 13th)
Wildcard:
One entry listed under Wildcards this year. Usually this for plays that I haven't seen and I've no idea whether they're any good, but they've nonetheless grabbed my interest. This time, however, it's something I've seen but I've nonetheless chosen to put it here.
We Apologise for the Inconvenience
I saw this at Buxton, and if I'm honest, this is a play that I think would have benefited from a year's development between the smaller fringes and the big one. But I'm still putting this down as something to consider seeing because this could one day be an excellent piece of work. Douglas Adams once said that his favourite thing about a deadline is the whooshing sound it makes as it goes past. With his fourth book, however, his publishers have finally run out of patience and locked him into a hotel room until he delivers.
The thing that is most promising about the play is the opening, where Arthur's story so far is narrated in the style of The Hitchhiker's Guide to the Galaxy, together with graphics in the legendary style of the TV series. The middle is weaker, and when I get round to my Buxton Fringe roundup I'll go into some more in-depth analysis, but the short version is that the play misses a trick by not making more on the homage done at the beginning so well. There is work to be done here – but if the work is done so well, this could be the foundations of something great. This is at PQA Venues at Riddle's Court on the 9th-16th August at 11.30 a.m.
Also of note …
As well as recommendations, there are two other plays that have caught my eye. I've not seen either of them, but I've reasons to believe they will make an impact at the fringe.
Best Girl
Major conflict of interest here: I work with Lois Mackie as part of Theatre Elysium so it would be big misuse of my position to put this in the recommendations. However, there's no denying that this play has gathered a lot of attention. It got a lot of attention in the run-up to its first performance at the Greater Manchester Fringe, and got a lot of praise afterwards. I can only tell you what other people have told me, but the play is written by Lois's mother Christine based in part on her own experience of her veteran father's suicide. This is something I'm supporting as Team Elysium rather than Team Chrisontheatre, but I'm hoping for the best. Whatever happens, expect to hear a lot about this one if you haven't already. Showing at Pleasance Courtyard at 12.05 p.m. (not 12th or 19th).
Quintesence
The other performer I expect to hear a lot of is Emily Carding. Along with Sam Chittenden, she was the other person who dominated the Brighton Fringe awards. Annoyingly, I've never managed to co-incide with any of her plays, mostly new takes of Shakepeare, including a one-women Hamlet complete with "dead" stickers. And if I ever do catch up, I'm not the biggest Shakespeare buff so I may not be able to give a verdict. But there's no denying she's one of Brighton Fringe's biggest names, so she stand to make a big impact at Edinburgh.
She's taking two Shakespeare-themed shows to Edinburgh, both of which premiered at Brighton. Out of the two, Quintessence was the one that got the more acclaim – set in a future where humankind is wiped out and AI is tasked with recreating the human spirit form the complete works of Shakespeare. This shows at Sweet Grassmarket at 1.20 p.m. on the 12th – 25th August (not Wednesdays). Alternatively, you can see Caliban's Codex, a fresh take on The Tempest, and that is same place, same days but at 7.15.p.m.
From the comedy
Finally, although this is a theatre blog, there's a few things from the comedy section (that I count as comedy and not theatre) that I think is worth a gander.
Brain rinse
I saw Mike Raffone's comedy show at Buxton last year. It's essentially a character comedy show, with a particular emphasis on ninjas, mountain explorers and army majors barking orders. However, it's the audience participation that makes this show, and it's best enjoyed being part of it. Just be warned that there is an opt-out from audience participation – but there's a catch. See this at The Space at Surgeon's Hall at 7.10 p.m. (not 11th).
The perennial favourites
In order to keep this list down to something manageable, I'm scaling down coverage of "perennial" comedy shows that come back year after year. I loved all of these, but these all have big followings and don't need my help. Still if you haven't seen any of the following yet, now is a good time to do so:
The Dark Room: John Robertson's homage the 1980s text multiple choice computer games, with outcomes even more arbitrary and unfair than the real thing. Expect the regulars to shout along the best-known lines of the show e. g. "You awake to find yourself in a dark room!", but it's also impressive how good Robertson is at taking things on the fly. In a surprise move from the long-standing time and place, it's on at Gilded Balloon Teviot at 9.15 p.m. Or you co do the children's show, which I'm told it basically the same show without the swearing. Same place at 5.30 p.m.
Notflix are a recent entry to perennial favourites. Only four years ago this musical troupe performed in one of Gilded Balloon's smallest spaces – now they're in one of the biggest with a full band. Every show is an improvised musical based on a movie at the start of the play, with as many hackeyed clichés as possible – for example, we've already had The Titanic where the boat doesn't sink. They really do everything on the fly and not just rely on a bank of songs, and even when they make mistakes, it's funny. On at Gilded Balloon Teviot at 6.00 p.m.
Imaginary Porno Charades is Charades of Imaginary Pornos (and not Porno Charades that is imaginary, whatever that is). As we all know, the benchmark of a five-star porn movie is the witty title – indeed, once you know it's called Trouser Snakes on a Plane, you viewing experience is complete and you needn't bother with the porn bit. It in in this spirit that there's a stack of cards with the names of made-up porn parodies and, yes, you can imagine the rest. On at Sweet Grassmarket at 10.30 p.m (not Mondays).
Murder She Didn't Write: I must apologies to this group. They were one of my first review invitation back when they were up and coming, and I've kept forgetting to list them ever since. But they've hit the big time since then, and deservedly so, as this was the group who first showcased to me how good improv could be. This is again all done on the fly and not a prep-prepared template as I've heard some groups so, and it's a muder mystery with victim and murderer decided by colour-coded cards, as inspired by a certain board game. But we don't mention this one, just in case some lawyers get too much interest. Lawyers are cocks. On at Pleaseance Courtyard at 3.45 p.m., with an additional show on Saturday nights at 11.00 p.m.
And there you go. Sorry I'm late completing this but as you can see, even with the new rules to keep to list size down, it's a long list. Enjoy.