Skip to: Build a Rocket, The Turn of the Screw, Jane Eyre, Les Miserables, And She, Hound of the Baskervilles, Lord of the Flies, Poplab, There's Someone Coming Through, Clear White Light, Playland, Season's Greeting / Birthdays Past, Birthdays Present, Scarborough
Damn. Only barely finished my Edinburgh Fringe coverage at it's autmn already, which means I'd better get on with another season of recommendations. As always, this should be considered a cross-section of what's out there rather than a definitive list – if you want to know the full rules of what goes into recommendations you can come this way.
Safe Choice
Starting with the top tier, these four are plays where I have very strong reasons to believe – either because I've seen the play before or on the strength of other plays from the company – that you can't go wrong with any of these. It will need to be something that already appeals to you – if, for example, you hate musicals, the one I've listed here will probably not change your mind – but if this sounds like the thing for you I'm making a firm call.

Heading the list this season is a play I saw at the Edinburgh Fringe last year, produced by the Stephen Joseph Theatre. Serena Manteghi reprises her role as Yasmin, teenager with a future ahead of her who suddenly loses it all when she ends up pregnant, especially when neither the low-life father nor her own mother are any help. In a different play that would be the end of story – indeed, this was how a minority of reviewers saw it in Edinburgh. The play got decried by some as "poverty porn" for playing to the a working-class stereotype, but that really misses the point. Far from entrenching those stereotypes, it challenges them by moving on to what happens afterwards in the next 18 years, as Yasmin slowly picks herself up and builds a new life with her son Jack.
If you saw this at Edinburgh, I understand this has been extended to 75 minutes since so it might be worth having another look. It's a pretty big tour for a solo performance, with 19 stops. It begins where it started at the Stephen Joseph Theatre on the 13th & 14th September. It plays at York Theatre Royal on the 21st September and Queen's Hall, Hexham on the 30th September, but the big stop in the north-east is Live Theatre where it runs for for days on the 2nd & 5th October.

Box Tale Soup have made a name for themselves on the Edinburgh Fringe, at first with their heavily puppetry-based performances, but more recently they've brought this style into their own take of Gothic-style horror. They've just come out of Edinburgh Fringe with their latest show, Great Grimm Tales, which was one of my picks of the fringe, but it takes so long to programme a subsequent tour that they're only just now starting of last year's offering, The Turn of the Screw.
I didn't see this last year – it was the one thing on my "must-see" list that was thwarted by scheduling – but this was one of their most critically acclaimed shows of all, and based on what I've seen of their other productions, I'm sure the praise was well earned. The bad news is that there is only one stop in the north-east on 24th October at Washington Arts Centre.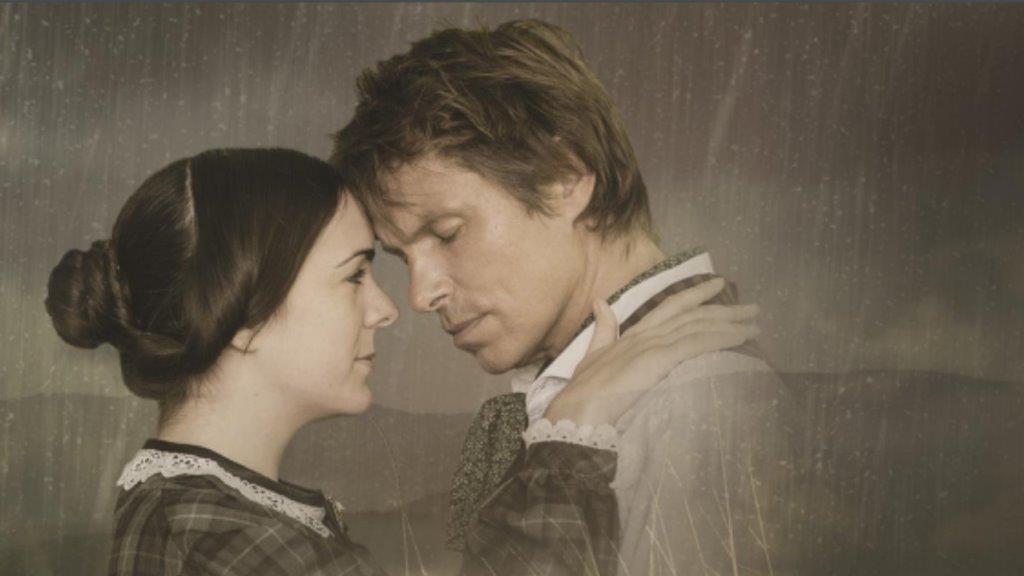 And now, a welcome return to the Gala Theatre for Blackeyed Theatre. They were last seen at the Gala in 2016 with John Ginman's superb adaptation of Frankenstein, but since then they've mostly been active with a new partnership with Nick Lane. This has also produced some superb results, with the re-telling of Jekyll and Hyde also being outstanding (this was a revival rather than a completely new production, but I believe it is the most extensively toured version). Nick Lane's style is a bit different from that of John Ginman – Dracula and Frankestein were
So this adaptation of one of the most famous Brontë novels on the windswept moors should suit both Blackeyed Theatre and Nick Lane's style very well. Surprisingly the Gala is the only stop on the north-east in their tour – usually Harrogate, Middlesbrough and Hexham are stops. So unless these destinations are added later, your only chance to see this in the north-east is the Gala Theatre on the 5th & 6th October.

And finally, this one. I rarely give coverage to big touring shows form the West End, because they definitely don't need publicity from me, especially when you're the record holder for the longest-running West End musical ever. And unlike The Mousetrap, which I feel is a bit overrated, Les Miserables is the longest-running musical for a reason. Based on the Victor Hugo novel set at the time of the French Revolution – but not the one you were taught about at school but another one that happened over forty years later – the legendary songs and broadly faithful but very accessible adaptation to the stage did a lot to make this the hit it is.
But you don't need me to tell you this. It's on at Newcastle Theatre Royal for one of the longest runs in the history of the theatre. One thing I ought to mention to manage expectations is that the version running now isn't quite as lavish as the version that ran in London – but that shouldn't matter in the slightest. When so many West End musical rely of lavish staging as a substitute for a memorable story or score, Les Mis is a musical that work superbly with or without the bells and whistle. It started running in August, and continues until October 5th.
Bold Choices:
Five plays next that I have good reasons to have hopes for, but these are untested. Mostly they are new plays from companies or artists I've seen before, but where the new work is an unknown. However, if you like the sound of this, I'd say any of these five are a good way to hedge your bets, and if you're lucky, you may be one of the first to discover the next big thing.

One of the biggest grass-roots successes in Newcastle has been Bonnie and the Bonnettes with Drag Me To Love. In case you've been shut in a wardrobe for the last three years or you don't live in the north-east, "Bonnie" is a drag artist whose real name is Cameron, and their debut play was based on his story of moonlighting as a drag queen in Doncaster in 2009. At some points the play was very poignant – most of the time, however, it is very funny. The "Bonnettes" (aka Hattie and Rebecca) are also an itegral part of the show, with individual characters rather than a generic backing.
Such is their success they've had a lot of spin-offs, including their BonBons Cabaret and response pieces to other plays, but And She is their first follow-up that's also a play, and it's about their mums. Billed as part gig, part living room, this is down as a bold choice rather than a safe choice because they set themselves a very hard act to follow. But if they can clear this hurdle, they will set themselves up for the long term. This tours starts at Northern Stage on the 6th & 7th September, and then goes on a tour, with the other north-east date being 7th October at Arc Stockton.

The surprise hit of last year was War of the Worlds at Northern Stage. This was only meant to be a showcase as part of their NORTH training scheme for actors, but the two-week run in Northern Stage's smallest space sold out very quickly, returned in the autumn, and became one of the most talked about productions of the year, rivalling those in the main space. A lot of credit to Laura Lindow and Elayce Ismail for sterling work as writer and director respectively, but credit too goes to the four fledgling actors who put on four great performances.
So now Northern Stage is following this up with another classic, this time one of Sir Arthur Conan Doyle's most famous Sherlock Holmes mysteries. There's a new writer and director this time, and it's a bold choice because Lindow and Ismail is going to be a tough act to follow. But if they can play to the strengths that Northern Stage discovered it has with these ensembles in their in-house productions, we can expect good results. 11th – 23rd September at Northern Stage, but remember that last time the tickets sold out very quickly. Alternatively, you can also see them on 11th October at the Gala Theatre or 12th October at Queen's Hall.

The Gala Theatre got back into in-house productions a few years back, with their biggest success doubtless being Educating Rita, as the Gala's choice of Rita (Jessica Johnson) has just reprised her role for a very successful high-profile tour with Theatre by the Lake. However, it's been said by some that the Gala Theatre's in-house programme is too safe, with four consecutive productions of very well-known titles. So here's something different: an adaptation of Lord of the Flies. The other difference, however, is who the Gala is collaborating with. This is a co-production with Unfolding Theatre (known for Putting the Band Back Together amongst other things) who are supplying the director and – mostly notably – Durham Student Theatre who are supplying the actors.
I've seen a lot of DST productions through the City Theatre which is often hired to the various groups, and like all umbrella organisation, they vary. But the absolute best groups are outstanding – Hetty Hodgson, for example, was one of my finds through the City Theatre hires. So there's a lot of acting talent to be found here if this comes off. This is on at the Gala Theatre on the 30th September – 5th October.

Frisky and Mannish: Poplab
This is a comedy act rather than theatre, but Frisky and Mannish got my attention thanks to a solo play Richard Carpenter is Close to You. That was a clever and funny satire of celebrity culture, the idolisation of dead pop stars and being the number two of a duo. I never found out whether Matthew Floyd Jones is meant to be Frisky or Mannish, but the publicity in the play billed him as "The piano player from Frisky and Mannish". I confess, it took me a long time to get that reference.
But Frisky (or Mannish) is now back with Mannish (or Frisky) for Poplab, which look set to be very silly. Billing themselves as a "wildly popular brand of musical infotainment", this show will conduct scientific at the molecular intersections between pop songs, and even offer answers to science's greatest mysteries such as how Coldplay are so successful even though everyone I ask hates them. Maybe not to be taken too seriously or literally. Four destinations on the tour in reach from the north-east, and they are Leeds City Varieties on 16th October, Harrogate Theatre on October 17th, Northern Stage on 25th October and Stockton Arc on 26th October.

There's someone coming through
Full disclosure: I know the actor in this play – I directed Michael Luke a few years ago in Our House. Great though he was in this play, though (and pretty much every other play I've seen him in), this is also going into my pick on the strength of the writer, Lee Stewart. He's active at the Royalty Theatre in Sunderland and he's been developing his writing there. I've not had the chance to see much of it myself, but the one-act I saw at Durham and Sunderland Drama Festival last year was very promising, with quick-paced dialogue and good characterisation. Those people I know who've seen more of his work have spoken highly of it.
So one of his plays is coming to Northern Stage in stage 3. Michael Luke plays Neville Vaughan, a great pyschic. Or now, rather, a once-great psychic. His star power is fading, and tonight he's having to battle through a tough crowd. Whether he actually is a psychic or just thinks he is one remains to be seen.
On a small digression, this is a Northern Stage hire rather than something Northern Stage programmes themselves, but I like that Northern Stage do this. Too many theatres seem terrified that if they allow someone to perform there who's not very good, it might scare audiences away from their own shows – as a result, they either hire out their performance spaces for anything but performances, or hire them but then leaves it out of the official listings as if they're embarrassed they did a hire. Northern Stage, I'm pleased to say, unashamedly includes the hires alongside the in-house and programmed work on their listings. But out of all the hires I've seen listed, this one has me the most interested. It's at Northern Stage on the 31st October – 1st November.
Also of note
As well as my recommendations, these plays are also coming up which are noteworthy for one reason or another.

Joe Douglas could not have had had a better start as Artistic Director of Live Theatre. His sold out the entire run this time last year directorial debut at Live joins smash hits such A Walk On Part and Wet House as Live productions that get a second run. Joe Douglas has actually surpassed this already, with his second consecutive production, The Cheviot, The Stag and the Black Black Oil also selling out. That's unprecedented – but that's a story for another day. Back to Clear White Light, this is a retelling of The Fall of the House of Usher set in a secure mental health ward, but the clincher to which the play owes its success was probably the music of Lindisfarne.
I personally had a few reservations. I had nothing to fault with the directing, and if musical ensembles is standard for Joe Douglas plays that opens up a whole new dimension at Live. However, great though the concept was, I did feel the adaptation mucked about with the Edgar Allen Poe story a bit too much for its own good. However, I certainly can't argue with the result, and this is worth witnessing as a piece of Live Theatre history. It's on at Live Theatre on the 19th September – 12th October.

I apologise for putting something in the listings that I'm involved in a third time in a row, but there is a reason this is significant. This is the latest play from Durham-based Elysium Theatre Company, writting by South African playwright Athol Fugard. He's quite an interesting playwright: most of his plays were written during Apartheid or immediately after, and his plays were clearly anti-Apartheid – but often that was only an incidental part of the play. Instead, many of the plays looked at what else was going on at the time, such as The Road to Mecca that looked at the religious authoritarianism of Afrikaans communities. Playland covers another footnote in South Africa's history: the border war, a proxy war fuelled by the Cold War in the same way it fuelled Vietnam, except that it was kept a secret.
The notable thing about this play, however, is where it is being performed. This is another co-production with Queen's Hall Hexham, but the notable performance is at The Spare Room, a venue brand new to Durham. That is a pop-up venue that used to be known in Manchester as "The Pod", now set up in Durham University and run by The Assembly Rooms. Most of the use will be student theatre, but this could potentially be a good destination for professionals on the touring circuit. So if you want to witness a piece of history, see it in Durham. The full list is Queen's Hall on the 16th-17th October, Exchange North Shields on 18th October, 31st October – 1st November at Spare Room Durham, and 3rd November at Theatre Hullaballoo. For anyone in the north-west instead of north-east, there's also going to be a performance in Manchester, hopefully details to be confirmed soon.

Autumn also means (since 2009, at any rate) a duo of Ayckbourn plays, one old, one new. Season's Greetings has been running throughout the summer, and is very much of the "classic" Ayckbourn era, with a suburban Christmas celebrations including dysfunctional relationships, military-obsessed right-wing uncles and – most painful of all – the uncle who insists on putting on the most woefully inept puppet shows for the children. Last year's Ali Baba notoriously had all forty thieves coming on one at a time, but this year, he insists there are only three little pigs. And their wives and families. I was slightly surprised by the summer timing on this play – I always assumed that this play, whenever it was revived, would have been an obvious pick for winter. But, hey, I don't stop being a cynic about the festive season in the summer, so neither should you.
As usual, there's not much I can say about the new plays prior to seeing it. Ayckbourn always keeps his cards close to his chest when a new play comes, and experience shows that's it's impossible to predict which ones will stand out from the others. What we know from this is that it's set on the 80th birthday of Mickey – a nod, perhaps, to Ayckbourn's own 80th birthday this year – and he and his wife are awaiting the arrival of their son and his fiancée. And latest fiancée, which sounds a bit ominous. And then we have four scenes going back to Mickey's 20th birthday: in some respects, it's 2016's A Brief History of Women in reverse.
Both plays are running now at Stephen Joseph Theatre. Season's Greetings runs until 28th September and Birthdays Past, Birthdays Present runs until 5th October.
And one notable film …
And let's close with a first on this blog: a recommendations for a film. This is a real blast from the past, but it's a very interesting one.

And the blast from the past is Fiona Evans, writer of Geordie Sinatra, my very first review when I started this all off in 2012. The history of how that play came to be goes back a bit further though. Geordie Sinatra was the second of two plays commissioned by the Stephen Joseph Theatre when Chris Monks was artistic director, and that association came about very much by accident. She'd already written a successful play called Scarborough, about a female teacher who goes to the seaside resort with a male pupil for an affair. The title got his attention, he liked the play, and it all went from there. Had she instead called the play Bridlington or Cleethorpes or Great Yarmouth, that association may not have happened.
So now a film adaptation has come, but there is one unexpected twist here. When the play was doing the rounds ten years or so ago, Fiona Evans tried, entirely as an experiment, to swap the genders round: a male teacher and a female pupil. Even though the lines were exactly the same, would the attitudes of the audience be different? Well, that experiment has grown into the concept for the whole film, with two teacher-pupil couples now going to Scarborough, both ways round.
This is screening at the Stephen Joseph Theatre this weekend, but I think that sould out a long time ago. After that, there's various other screenings at various locations around Yorkshire – unfortunately nothing in easy reach of the north-east. However, it will be available on DVD and digital download from the 6th January.
So there you go. Join me again in January for the next season's recommendations.