REVIEWS: Skip to: Green Knight, Old Bones, Desert Bloom, An Audience with Yasmine Day, The Grandmothers Grimm, Author, Composer, Soldier of Sorts, We Apologise for the Inconvenience, Tangletree, Impostors, Fern Hill and other Dylan Thomas, 11 Reasons
Apologies for the lateness of the Buxton and Edinburgh Fringe roundups – I am currently in the thick of a house move that has taken up most of my time and energy. But these reviews aren't going to write themselves and the backlog is getting bigger, so let's get to it.
So Buxton has had its 40th anniversary fringe this year, and with it an extra three days were added to the festival – officially a one-off, but in practice it's surely testing the water. As a result, Buxton ended up with its biggest fringe to date, with a record breaking 213 events, up from the PB of 183 in 2017. (The increase in performances was even more dramatic, at 750 up from previous record of 500, although this figure is artificially inflated by an unusually high number of fine art and site-specific performances – see my Buxton Fringe preview if you want more number-crunching.) So the next question was whether the fringe could sustain these extra three days – after all, this could decide whether the longer fringe becomes permanent.
Based on my observations, the answer appears to be "yes". I am not aware of any official figures that would give us clues one way or the other (as Buxton has no central booking office there's not really any way of keeping track of sales), but the mood amongst everyone I asked was that ticket sales were going well. I suppose on thing I didn't get an answer to was what sales were like in the extra three days at the end of the fringe – if they tailed off that would dampen expectations. Whatever the truth, we will find out Buxton Fringe's reaction by December, when registrations for 2020 open.
But that's enough speculation for later. Let's get on with the reviews.
Pick of the Fringe:
I managed to pack quite a lot in to Buxton this time round. But in the end, however, there were three obvious front-runners out of all I saw. Normally, as the biggest venue, Underground Venues dominates the listings, but this time another venue is a suprise winner, thanks to a joint colloboration from two groups that this venue chose to champion.
The three picks of the fringe are:

Green Knight
Debbie Cannon's writing and performance is sometimes billed as storytelling and sometimes billed as theatre, but Green Knight fits very comfortably into both. An impoverished woman is handing herself over to the convent, but before she does, she tells a story she knows about King Arthur. It is, of course, the tale of Sir Gawain, but in this story she is the woman who tempted Gawain into dishonour. But, as with many of the best retellings, something new is brought to this. None of the events of Gawain and the Green Knight are changed, but the nameless wife of Bertilak de Hautdesert takes on a very different role. In the original, her sole role is a temptress; in this, she's still still a temptress – but not entirely by choice. She's in love with this perfect chivalrous man who's come into her life. Added to this, she only married to escape her own father, and her husband is, to be honest, a bit of a cock; so Gawain is, for all his restraint and honour, inadvertently leading her into temptation as much as she's leading him.
Although this would have worked perfectly fine as straight storytelling, the few belongings of the former Lady Bertilak as expertly deployed to act out the story. being performed in a room with no lighting or sound rig there's no opportunity for sound or lighting effects, but here I think the beauty lies in the simplicity. In solo plays it's difficult to know what was the performer's idea and what was the idea of the director, but credit must be shared with director Flavia D'Avilia for such simple but effective moves.
If I was to pick a fault with this, it would have to be on a very pedantic level. In the original story, Lord Bertilak sets up the whole thing to test Sir Gawain's valour. In this version, being the bit of a cock that he is, he seems oblivious to how his wife is feeling. I suppose that could raise the question of how he could set up this test without knowing what his wife would do, but – who cares? Debbie Cannon is an academic and an expert in this field of history and folklore, and this has played to her advantage very well, but ultimately it's her imagination to give the other side of the story that makes it what this is. This came to Buxton last year to great acclaim and on its return I can now see why.

Old Bones
I saw Old Bones last year and loved it, so when it came back this year I had to see it again, and what do you know, it's even better than I remembered it from last time. You can read the review from last year again, but the quick summary is that this is a solo play where James Napier tells his story, He has two gifts: firstly, he always wins and dice and cards, and secondly, he used this first gift to beat the devil at dice and win immortality as a prize. Unfortunately, movies haven't been invented yet so James Napier doesn't realise that these pacts never end well, and the devil always find a way to screw you over by giving you exactly what you asked for. Immortality, it turns out, is one of the easier ways of doing it.
Whether it's because Daniel Hird has had a year to practice this, or whether this is my second time round to look at the performance, the emotional intensity the second time round was something that really hit me, especially the second game of dice Napier longs to lose. One thing I hadn't realised is that although this play and Green Knight are officially from two separate companies, in practice the two worked very closely together with the respective performers, writers and directors knowing each other quite well. If this was a co-ordinated joint effort, it has paid off very well.
I've wondered whether the Green Man Gallery would follow in the Old Clubhouse's footsteps and set up a proper theatre space, with the bigger programme and budget this would necessitate. So far, they have resisted going down this route, so anyone going down this route has to settle with one of two spaces with little or no sound and light. As a result, this place is developing a niche as an ideal venue for storytelling-based theatre, which both of these plays are. However, whilst I think it would be a mistake to do Green Knight in anything but its current format, Old Bones could conceivably work with a more ambitious sound and lighting plot. And the interesting thing? Writer Jen MacGregor agrees and wrote the play to work at any level of resources. So whilst we could be hearing more of this play, who knows, we may yet see it again but not as we know it.

Desert Bloom
Plush Tiger have taken this play to the two big fringes that are Edinburgh and Brighton, but in spite of being based at Sheffield, it's the first time they have brought this play to the fringe on their doorstep. The opening of the play is a little disorientating – with the image of Marilyn Monroe featuring heavily in all the publicity, and the play opening with a woman with a lot of her mannerisms, you would be forgiven for assuming Valerie Monti-Holland is playing the legend herself. But the events in her life don't line up with hers, and soon it emerges that she lives on a trailer park. This is Rosa Rita, the product of the much-speculated affair between Marilyn and JFK.
Historical solo plays have been quite popular at fringes recently, Buxton included, but a common flaw I've seen with a lot of these plays is to pack at much biographical information as possible into the piece whether or not it would be interesting to perform on stage. This play, however, gets round this by mixing facts with her imagination. No-one knows for certain if anything happened really, or how long it went on if it went on (or if anyone does know for certain, they kept schtum), but much more is known about the slow breakdown of Marilyn's mental health. Clara-Nel Haddon mixes fact with her imagination, staying faithful to the truth where the truth is know, but filling in a story into the gaps.
Rosa Rita is not just a plot vehicle who exists solely to talk about her mother's story – she is a character in her own right with her own life story behind her. But how, you might ask, could the most famous actress in the world have a daughter that no-one knows about, much less one who now lives on a trailer park? That, too, is part of the story, which I won't give away here because spoilers, but this makes the relationship of daughter and estranged mother and subsequent rediscovery all the more moving. This production was described as a new version of the play, and I don't know what the previous versions were like, but it looks like whatever they did this time round has paid off. A good all-rounder, and one of the strongest plays in the Rotunda to date.
Honourable mention:
Not everything in a festival fringe gets a review; this year, there was sadly one dud. But there were five plays that caught my eye that all deserve a mention.

An audience with Yasmine Day
This was first seen at Buxton Fringe last year, with Yasmine an 80s power ballad singer whose ego way outstrips her talent. But whilst this was fun, the real potential I saw here was the story of how she got where she was, something only hinted at in the original. Now, after a year's work, this is exactly what Jay Bennett has given us – but the story now is something much darker than I was expecting.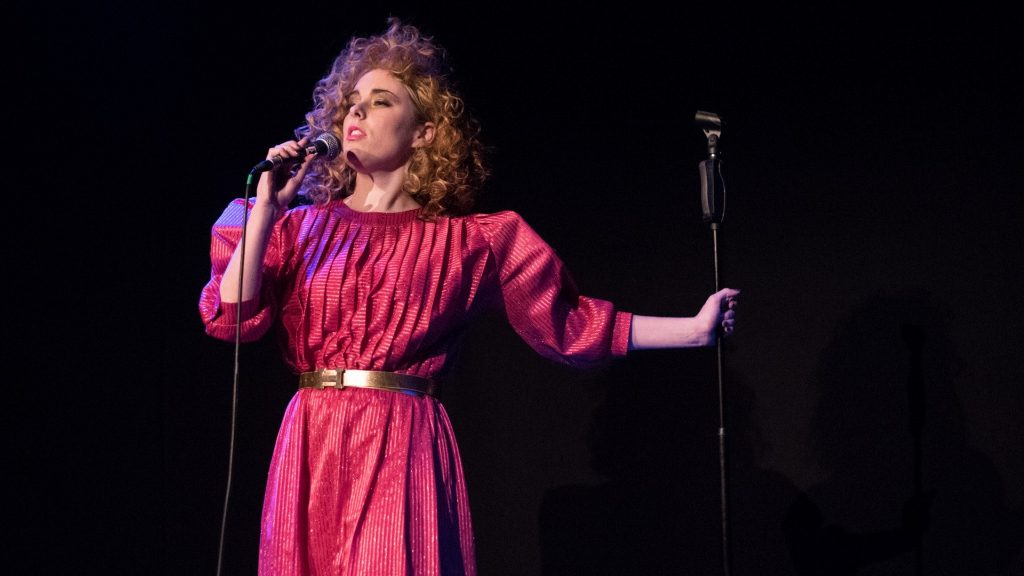 Unlike the original, where she was little more than a trumped-up pub singer, now Yasmine is someone who very nearly made it big, nothing less than Bucks Fizz, only to be pipped at the post by Cheryl Baker. But instead of holding her nerve and trying again, she lets bitterness get the better of her; and her current career of the Slough pub circuit is the result of a series of bad decisions too often driven by score-settling. Worse, it is hinted that she is exploited and taken advantage of a lot – but poor Yasmine is so wound up in her long-standing feuds she doesn't seem to realise who the real villains were in her life. One example of how well the new setting works is her anecdote of a brush with a celebrity. Last year her connection with Liza Minelli was a piss-poor story of a friend selling Liza Minelli posters. Funny though that was, this year's anecdote fits the tale much better: her connection to Witney Houston was seeing her outside the window of her car, and throwing away her takeway and shouting "Witney, it's me" with a heartbreaking air of desperation.
If there's one thing I'd change about this new format, it's the timeline. If Yasmine was an almost-there in the 1980s and the performance is set in the present day, that would mean she would now be in her fifties. Jay Bennet clearly isn't that old, and as a result I intitially wasn't sure if the Buck Fizz story was a real piece of backstory or just another delusion. It might have been a better idea to set the story somewhere in the nineties for this to make sense. But that's my only question in a fine performance that works on two levels, the humour of her pretentious performances and the pathos of how she's come to this. I did wonder whether this might have been inspired by Samantha Mann: Stories of Life, Death and a Rabbit, a similar story where a middle-aged spinster doing a poetry performance gives away her real story whilst whittering away between the poems. It isn't – Jay Bennet didn't know of this – but it's a worthy successor, which you can enjoy for the laughs, or the tears, or both.

The Grandmothers Grimm
Some Kind of Theatre, I should declare, have been one of the groups most determined to get me to review them. I saw The Steampunk Tempest a few years back, and whilst this could have benefited from seeing through the concept (i.e. "more steampunk please"), it was a good idea and I was interested to see what else they'd do. Their latest work, however, isn't Shakespeare but about the origin of the Gimm Tales. In this, the Grimm Brothers are discussing some of the tales and how to adapt them for their anthology of children's tales. They are sounding them out with a female friend and a serving girl. What follows gives a lot of food for thought. But, to start with, Little Red Riding Hood. The one where the wolf tells her take off all her clothes and burn them, as she won't be needing them any more. Errm, okay.
For the uninitiated, there's two things known about fairy tales. The first is that the Grimms Tales are famous/notorious for their extremely harsh punishments and unnecessarily painful deaths for the villains. (e.g. The Wicked Queen in Snow White is made to wear red-hot shoes and dance until she dies, just because. Bit of confusion over the ugly sisters – they don't get put to death, a bird just comes along and pecks their eyes out. So that's okay then.) The second thing that has been discussed is the role of women in fairytales. Is it okay to kiss a sleeping princess, some people say … Oh boy, you ain't seen nothing yet. Yes, I am judging these on modern standards when the original tales were presumably a lot more about fertility or something, but believe, I had no idea how fucked up some of these stories were, even compared to the Grimm Brothers version, which were already pretty high up the fucked up scale.
However, the story here is a power-struggle. For the Grimm brothers, one side-effect of their sanitisation of the stories (gory deaths of baddies excepted) is to gradually reduce the role of the women in the stories to more passive ones – and, somewhat more self-servingly, avoiding crediting any of the original story-tellers so that only they are credited by name. But it's subtle. What starts as a good intention to compile stories to immortalise the culture of the Germanic people is eroded by self-serving and self-interest from all parties – it's just it's the Grimms book so they get their way.
When I see plays with historical settings, I normally do some cursory checks to ensure this is not a wild re-invention of history. I am obliged to say that on this occasion I couldn't easily find anything to verify everything one way or the other. The changes to the stories themselves seem to be authentic (I say as I read the original plots again going "holy fucking shit"). It is also is thought that the Grimms Brothers had their own idealised view of "motherhood" – after all, their version later had the dubious honour of being amongst the works liked by the Nazis. , However. who plagiarised whose story it less clear. It, might have helped to have said a bit more about the situation they were in though – even if they were resorting to some underhand tactics to get their books done, their status as political pariahs who wouldn't swear allegiance to their king must have played some part in this. So I will reiterate one disclaimer that applies to all historical stories – always check an independent source before treating it as historical fact *cough* The Imitation Game *cough*. That does not affect the enjoyment of the story though. It's pleasing to see how much Some Kind of Theatre has come on , with something that is surprising and thought-provoking in equal measure.

Author, Composer, Soldier of Sorts
Now it's back to the Rotunda. For one reason or another, the Rotunda seems to be becoming a popular destination for solo biopics. Unlike Desert Bloom, however, nothing is fictionalised here – this is all based on fact. Ivor Gurney, the aforementioned author, composer and soldier of sorts was an artist who was known for a brief period after the first world war. There was a reason how the world came to know him in the first place, and a reason for his career was short-lived. And the person who was the cause for one and a witness to the other was Marion Scott, who came to know Ivor Gurney when they met at the Royal College of Music, championed his poetry has sent back him from the Western Front, and, alas, witnessed Gurney succumb to depression not long after the first taste of success. This play tells their stories through their letters sent to each other.
The challenge for solo biopics is how to make them interesting. Most of the time, I learn a lot about some fascinating historical figures I previously knew little about. But we are not coming to watch an academic talk, we are here to see a play, and the play ideally offer something that a talk doesn't. In this play, Jan Carey plays both characters, earning acclamation for doing so. But whilst is this a way of making this solo biopic different from the others, I wonder if an opportunity was missed by doing so. I could see a pay quite powerful with the Gurney's story viewed through the eyes of Scott, as she reads out the letter – joy as the man she championed was discovered by the world, heartbreak only a few years later as his mental health breaks down.
I try to be careful when suggesting radical changes – there's nothing worse than a theatre review where what the reviewer wants overrides what the performers wanted to do. But if the purpose it to get us to know Ivor Gurney and Marion Scott better, this approach could do a lot. Besides – as the play demonstrates, although Gurney may have been the man of the moment, it was arguable Scott who had the more enduring legacy. Ivor Gurney wasn't the only cause she championed – as one of the first women in a male-dominated field, she is credit as a significant force in reshaping roles of of women after her. Worth watching for the historical interest, but bring the human side of the story to the forefront and who knows what else might be achieved.

We apologise for the inconvenience
Another play about a historical figure now, for once not in the rotunda, but this one is a name everyone should know: Douglas Adams. For the world at large, he is best know for his legendary sci-fi comedy The Hitchhiker's Guide to the Galaxy. To his publishers, he was best known as the guy who never gets his books written on time, especially frustrating as he is sitting on a gold-mine. In his own words: "I love deadlines. I love the whooshing noise they make as they go by." And so, legend has it, that after the deadline for So Long and Thanks for All the Fish whooshed by, his publishers locked him in a hotel room for three weeks in the hope he would finally write the damned thing. It is this time and place where the play is set.
The thing that this play deserves a mention for is the graphics at the beginning and the end. True to form for any Hitchhiker story – either the trilogy* itself or stories about the trilogy* – we begin with a voiceover with graphics, both true to the famous voiceover graphics from the TV series. It's clear that a lot of thought was put into this, because a job only half thought trough would have stuck out like a sore thumb. Then we get to Douglas locked in his room, telling us about his life. He's not alone, of course. In this bath there is a rubber duck, and in this own words, one is never alone with a rubber duck. Especially not this one, who comes to like for an emergency brainstorming session to clear this writer's block.
However, between the beginning and ending of the play, Arthur and Duck do seem to spend an awful long time talking about things that neither advance the story nor have anything more than incident relevance to Douglas Adams's life. Since the play is going down the surrealism route with the sentient duck, I would have looked for opportunities to go further and work in more Hitchhikerisms – maybe he could plan his escape by jumping out of the window and remembering to forget to hit the ground, or envy Disaster Area's better financial situation. But most of all – more Hitchhiker graphics, please! With that easily the strongest and most memorable part of the play, there could be plenty of moments to pause and go over the backs-story in the idea hitchhikerian manner. So there's work to be done here, but this is 5064 Productions' fringe debut, so if they can work on this great concept, or come up with other great concepts, we should look forward to seeing them at future Buxton fringes.

Tangletree
And finishing off the list of honourable mentions, a play from JDJB and TLBB productions. The play begins with the car crash. Although we find out the exact course of events later, student Hazel was driving home to see her mother when the accident happened. Hazel survives – or part of her does. After the head injury, she is never the same again.
The play is told as a two-hander: one woman playing Hazel through various ages; the other woman playing various characters, with the most important one being, of course, Hazel's mother. Hazel's mother is a very worrying one, and her worries are not unfounded – her worry about Hazel's blaze attitude to speed on the road turns out to be right, as does he worry that she should be due there by now. Other than that, the play darts back and forth, from life before the accident to life afterwards. One of the best additions to this play, however, is the sound plot. these is key to some of the more surrealistic scenes, with a fairground scene where a young Hazel wins all the prizes beautifully juxtaposed with increasingly ominous fairground sounds.
Here's the challenge though – although I enjoyed the play, I fear I missed something very important about what the play was supposed to be saying. A lot of research went into this play about the effects of brain damage on people and people around them, and one of the best lines used to this effect was Hazel's mother with "Who stole my daughter?" But I spent most of my concentration piecing together different fragments of the story as the timeline jumps back and forth, meaning – I suspect – I missed references I was supposed to pick up about how the accident had changed Hazel. The fairground scene I liked so much was presumably a metaphor for something – I just wish I knew what this metaphor was.
This may, of course, be the whole point of the play: that a breakdown in mental health is a terrifying/confusing thing that doesn't make sense. In which case, please ignore the entire last paragraph and carry on as you are. If it is trying to say something more specific, though, this is the harder task. Writing stage plays about mental health is fiendishly difficult, because the concepts are very abstract and yet the effects are very real. For this reason, I wonder if the fragmented timeline was one complication too many. Most of the time, however, there's little you can do except gauge what audiences did and didn't pick up. But Tangletree has my respect for taking on by far the toughest theme out of everything I saw at Buxton – and, potentially, the most rewarding one too.
Not quite theatre
And to complete the coverage, there were three things I saw that I didn't count as theatre. I sometimes count listings under the comedy and spoken word sections as theatre if there's an acted-out story in it (as I did with Yasmine Day), but other than that I tend not to include them in Pick of the Fringe or Honourable Mention as it's out of my area of expertise and I don't know what to compare it to. However, I saw three things that are worth a mention.

Impostors
This one, I admit, was borderline. I came close to counting it as theatre. And if I had counted it as theatre, it would easily have been up with the picks of the fringe. In the end, however, I've stuck to counting this as storytelling. But it's storytelling with a difference, and this made it a highlight of the fringe.
Impostors is a product of the act of Sam Enthoven (aka Sinister Masterplan) and Laura Sampson to combine live music with storytelling. For Buxton Fringe, however, they have also brought in a more familiar place, Polis Lozou, best know for his work with Buxton regulars Off-Off-Off Broadway. Polis might only be the storyteller this time round, but these four tales could easily have been those of his company, stylistically very similar to the spooky tales he does so well. He and and Laura take turns telling four scary folk tales of changelings, witches, and other people who aren't what they seem.
Both storytellers do their jobs well, but it's Enthoven's array of weird instrument that make this show what it is. These instruments are, I believe, amongst the earliest devices to make strange sci-fi sounds, and whilst the modern version might have advanced electronically, the style pioneered in the early days of Doctor Who and earliest still remain the same, and the art is rediscovered here wonderfully. To start with, I found myself watching him operate these four instruments, but eventually – with the sounds fitting the stories so well – I found myself watching just watching the storytellers as the sound blended in. It isn't often I can be persuaded to venture out of the section, but this is one of the most worthy digressions I've made.

Fern Hill and other Dylan Thomas
One of the biggest headline-grabbers in the Buxton Fringe programme this year was Guy Masterson's version of Under Milk Wood: Semi-Skimmed. With Masterson being one of the most highly-regarded theatre-makers in the country, his inclusion in the Rotunda's programme was considered a big coup for that venue, as well as the Buxton Fringe in general. My Buxton visit missed this one-off performance, but I did see his other show, which was him reciting some of Dylan Thomas's other poems.
Although this is fine as a stand-alone show, I got the impression that this is best viewed as a companion piece to Under Milk Wood. There are two reasons for this. The first is that this gives a lot of background to Mr Thomas's best-loved work. Although the village of Llareggub might have been a work of fiction and an exaggerated version of real life, the places which it is based on are very real, and it is in these poems of childhood memories that you can see where the Thomas's inspiration came from. The other reason this is an ideal companion piece is that Guy Masterson himself is a great Dylan Thomas fan, and it's clear from watching this how much he wanted to do his own performance of Thomas's masterpiece.
I had wondered how such a big name as Masterson would fit into a fringe such as Buxton, dominated as it is by fringe novices. Would he be greeted by all and sundry with airs and graces? Not really. Guy Masterson has become a great fan of the Rotunda, and if anything he considered the honour is his to be part of their programme. It's a pity I couldn't catch Under Milk Wood itself, but as well as gaining a high-profile entry in the programme, The Rotunda also seems to have gained a highly valuable supporter. Well done Ross and Michelle.

11 Reasons
And the last thing on this list is a music event. Not all music events in Buxton are straight performances or recitals – a few years ago a surprise hit at Buxton from the music programme was The Conductor, a mixture of the music of Shostakovich a the conductor who was tasked with playing his new symphony during the siege of Leningrad. 11 Reasons, however, is a lot more experimental, combining jazz, tarot cards, and a story of a love triangle told through narration and photographs.
I picked this on the strength of the music. Original jazz is an odd one. The genre of jazz is a hugely diverse one, from classic toe-tappers to very experimental very energetic pieces, but I have to say, I've not seen much variety when I've listened to grass-roots jazz bands. It's hard for me to find much of this memorable because, with a few honourable exceptions, it's mostly a similar style of random-sounding chord progressions and little to catch on to. The other thing that dents my enthusiasm is a lot of band who play standards in a predictable format of ensemble + solo from each instrument in turn + ensemble again. Egriega, however, avoid both of these pitfalls – I was quick to warm to their music, it was tuneful, and still a clearly original style that was theirs.
However, much I liked the music, and the tarot card display, and the photo romance story, I've no idea what these three things were supposed to have to do with each other. If there is a symbolic connection between the three, it went right over my head, although it is only fair to remember that this was billed an experimental performance, so what people make of the three things together might be part of the event. If so, fair enough. With or without a hidden meaning, though, it was a good music event to go to and a change from your ordinary recital. A worthy detour from the theatre section.
And one play from Manchester
The reason I spent a little longer than normal in Buxton was because I wanted to check out the neighbouring fringe outside the Peak District. Greater Manchester Fringe is only a recent addition to the fringe scene, but it's growing quickly: 120 registrations last year, and 180 this year, it's not that far behind Buxton. Although the two fringes are mutually supportive, it did raise some questions of whether GM Fringe might overtake Buxton. And if so, should Buxton Fringe be worried? Having now checked this out, I think the answer is no. Here's why.
Greater Manchester Fringe may share the same rules of open access as the big three, but other than that it's a very different event. To repeat what I've said before, when they say Greater Manchester, they mean it. There are venues taking part from Stockport to Bolton, and unlike Edinburgh, Brighton and Buxton that are dominated by temporary venues up for the duration of the festival, here many of the venues are year-round theatres in their own right. Unlike the big three where most venues are in a central cluster competing for the same pool of prospective punters, the theatre here have their own catchment areas and, all being well, their own regulars whose support they can count on in July.
This means that GM Fringe venues are far more likely to have a single performance at the usual time of 7.30 p.m. rather than schedule things throughout the day. As a result, this is not really an ideal fringe for the traditional fringe binge of seeing several plays every day – it's more likely you'll have a choice of several plays in the evening, but you can only pick one as they're on at the same time. Instead, this is far more optimised to a local audience who get their viewing in around their jobs and other everyday commitments.
It is for this reason why I now think Buxton has nothing to fear. Rather than competing for audiences, they have two different pools to draw from: High Peak locals and traditional fringegoers for Buxton; and the population of a whole city for Manchester. If anything, it's of mutual benefit, because it enables groups to get a substantial run in the two fringes between them. The only thing I can think of that might upset the balance is if Manchester venues start running all-day programmes like Underground Venues does. But so far the closest thing we have to this is the King's Head Theatre, typically running three events in an evening. But we'll cross that bridge when we get to it.
Also, one other difference: the relationship to festivals. In Buxton, the festival and fringe are on very good terms and (with the exception of the odd quibble over use of the arts centre) support each other – indeed, the Fringe was originally started by the Festival. However Greater Manchester Fringe and Manchester International Festival really do not get on, and one suspects that the rapid growth of the fringe is partly driven by a rebellion of the grass-roots theatre scene against it. Especially when apparently the best use of public money is a live-stream a video on Yoko Ono ringing a bell. But that's another story.
Anyway, no visit to Greater Manchester fringe would be complete without actually seeing a play, so I went for People are Happy on Trains. Many GM Fringe acts are from local groups, but War/War/War Collective are based in Galway. Set on one woman's train journey between Glasgow Queen Street and Edinburgh Waverley, she starts off with the usual awkwardness of bumping into strangers and avoiding too much eye contact, but that not the only journey she's on. She is also grieving for the loss of her younger brother, and it is this that won this play several awards at Jerome Hynes Festival in Galway this year.
Unfortunately – and it really pains me to say this – the play was done a massive disservice by the choice of venue. I cannot tell you whether this play does indeed showcase an experience that audiences recognise, because the piped music coming from the rest of bar Twenty Twenty Two made it impossible to concentrate on the play, let alone imagine that the location is indeed a train. For a play that relies so much on quiet reflection, this was the worst possible contribution a venue could have made. Worse, this was 8 p.m. on  Monday night when there wasn't really any need to play the music that loud. I realise that on the fringe theatre scene we need to be grateful for all the spaces we can get, but when a play going on in a side room is treated this much as an afterthought, it's not fair on anyone.
The format look good, and the three of the four-strong ensemble playing the roles of fellow travellers stands to work well. I can believe that in the right environment this could be an award winner, so if I'm ever near this play again I want to give it another fairer chance in a place where I can give it my undivided attention. In the meantime, this looks like the next challenge for Greater Manchester Fringe to overcome. Few veterans of the fringe circuit expect every fringe venue to have full lighting and sound capability, but surely there are enough spaces in Manchester without this noise bleed problem. Groups like war/war/war collective deserve better than this – I hope Manchester can deliver.