Here it comes again. Lumiere is coming back for its biannual festival. With this being ten years since the first festival in 2009, this festival has been billed as an anniversary celebration with many – but not all – of the installations being favourites from the last five festivals. Two months ago I came up with my own wish list, which lead to Artichoke's social media team describing me as a superfan, which I though was a bit much until I realised that I'm probably one of very few people who not only goes over all four nights but also goes to Lumiere London every time it's on, so I guess that's fair enough.
One word of practicalities before we begin. Blog regulars will know I always say this, but for anyone new: unless you are bringing young children who can't last into the later evening, you do NOT need a ticket to make the most of Lumiere. When the organisers say may sound like a platitude for anyone who didn't manage to get one, but they are 100% correct: there is more than enough to keep you busy from 7.30. About two thirds of the festival takes place outside the penninsula, and there's still a real festival feel. Although it's true to say that most of the best stuff is inside the ticketed area, it's an easy enough task to see this after 7.30 when the ticket restrictions are lifted. If you're only coming on one night, you can make the centre your finale.
Anyway, as always, I've looked through the programme and come up with a list of highlights. This time I've had to be especially choosy – there's a lot of things coming back that I liked, but I've already got a third of the festival listed here and that's about the limit. So without further ado, here we go.
We start with the unexpected news. With Crown of Light being the definitive centrepiece of Lumiere for three festivals running, one might have thought that the iconic projection of the Lindisfarne Gospels on Durham Cathedral was a foregone conclusion. But surprisingly, it's not. Neither are the other two previous installations. Instead, it's something completely new.
But Stones is still going into the recommendations because everything I've seen on the outside of Durham Cathedral has been outstanding. Even when I've been sceptical. Last year, I was questioning how interesting it could really be lighting up sections on the Cathedral in time with the bell ringing – until I saw how this linked to the inside and it blew me away. This time, the teaser sounds more interesting: shape-shifting video-mapped projections animating the Cathedral. I can already see a lot of potential with this, but given how good a call Artichoke consistently makes for the festival's centrepiece, I'm expecting to be blown away once again.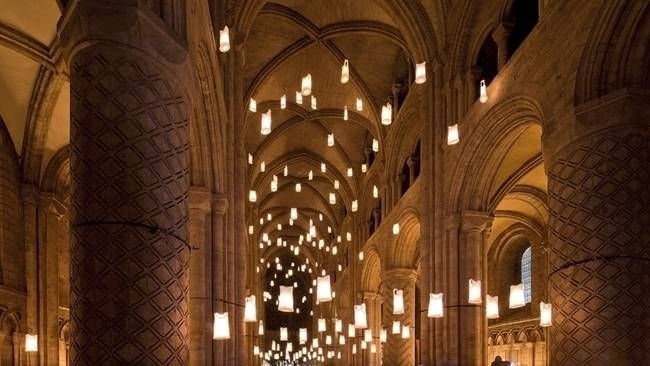 The projection on the front of the Cathedral might be something new, but inside the Cathedral it's an encore of a previous work. That couldn't have been an easy choice – most of the Cathderal installations have been popular in the past, but in the end, they picked the one that I think was the best of all, Spirit.
Most of the publicity shots of this installation shows the flaming globe in the cloisters, which is good, but by far the most stunning effect was that of the miners' vests inside the Cathedral itself. A tribute to the miners who defined County Durham for generations, a single vest with a glowing light inside was a good enough idea, but the sight of hundreds of them from floor to ceiling of the Cathedral was stunning and quite moving.
This was one of the first installations to be announced for Lumiere 2019, and few people would be surprised by this. After Crown of Light, the must memorable image of Lumiere is surely the whale in the River Wear viewed from Elvet Bridge.
As well as being one of the most popular installations of all time, it's one of the most ingenious. The company behind this, Top La Design, were also behind the elephant the festival before. Both images were described as 3D, but they are both, in fact, 2D images cleverly shown in just the right setting to trick your brain into thinking it's got a third dimension. Whilst I loved both images, however, the whale was unbeatable. Crown of Light, to be fair, was up against some very stiff competition for the Palace Green slot, but the whale is easily the best thing done in the river. It's a pity this never appeared in the Thames in Lumiere London when there was the chance, but you can't have everything.
Great though the whale is, it's not an image unique to Durham – it would fit just as well anywhere there's a suitable river. But the next returner, I Love Durham, is something that can only be done in Durham, or, more specifically, Durham Market Place, because is transform the iconic statue of Lord Londonderry into something quite new.
It's also a brilliantly simple idea that works so well. A simple spherical covering and a helping a polystyrene snow and fans made Durham's most famous status into a giant snow storm. One small snag with the installation last time round is that some of the snow/polystyrene escaped from the dome, not enough to spoiul the installation, but enough for the Marketplace to fill up with stray polystyrne over the four days – I hope they can fix the problem this time round. But for an image that define both Durham and Lumiere, there are few better installations they could choose than this one.
T
his was on my wish list, but I was less certain it would return*, because this one, I feel, was somewhat under-rated. Fool's Paradise projects a Grimms-style story on to Durham Castle, viewed from Frawellgate Bridge down below.
(*Actually, I did find out in advance of the public announcement this was coming back, but it was on my wish list before I heard the news.)
As a technical accomplishment alone, it was quite impressive, because in order to put images on the Castle in view of Framwellgate Bridge you have to project from a quarter of a mile anyway, whilst I didn't even know could be done. But the greatest achievement of Novak is that they are just about the the best at making use of every nook and cranny of the buildings they use across all their installation, whether in Durham, London, or Derry-Londonderry. In Durham, one moment is it fairy tales and the pied piper, the next moment castle walls transform ocean to village back to castle again, then giant worms smashing through the walls. Novak have been active in the north-east with other projects too (they did the projection for The Savage at Live Theatre a few years back) but this one is their absolute best. So glad this got the recognition it deserved.
As well as Crown of Light, another projection I loved on Durham Cathedral was The World Machine, created in collaboration with the Physics department of Durham University. That's not coming back this year, as Stones landed the Cathedral spot, but for World Machine fans, you get the next best thing. Cosmic Architecture was a follow-up done the following festival on one of the Physics Building by the same creative team, and also used the same music, which is great because I thought the music was the best bit of all, although the clever 3D illusions come a very close second.
The one thing I do wish they'd do with this is have something inside/nearby the building where you can find out more about the science being depicted. This display is a lot more theoretical physics-themed than The World Machine, so don't feel ashamed if you haven't a clue what it's about. Look, I'm pretty highly qualified in physics and even I don't understand this. But it looks really cool whether or not you know what's going on.
I put one thing on my wish list from Lumiere London, and that was Tunnel. To be honest, it looked a bit meh to me when I saw the official photos – how interesting can a row of triangles really be? – but it was only when you step inside that you see how amazing it really is, with light patterns flying up and down the inside of the tunnel. This one isn't coming to Durham – instead, however, we're getting something that seems similar. Light Tunnel is a tunnel of circles instead of triangles, but the pictures of the inside of the tunnel suggests the patterns are going to be pretty awesome. This is outside Durham Crown Court, and if this can pull off what the similar installation that London did, this could be highlight of the festival.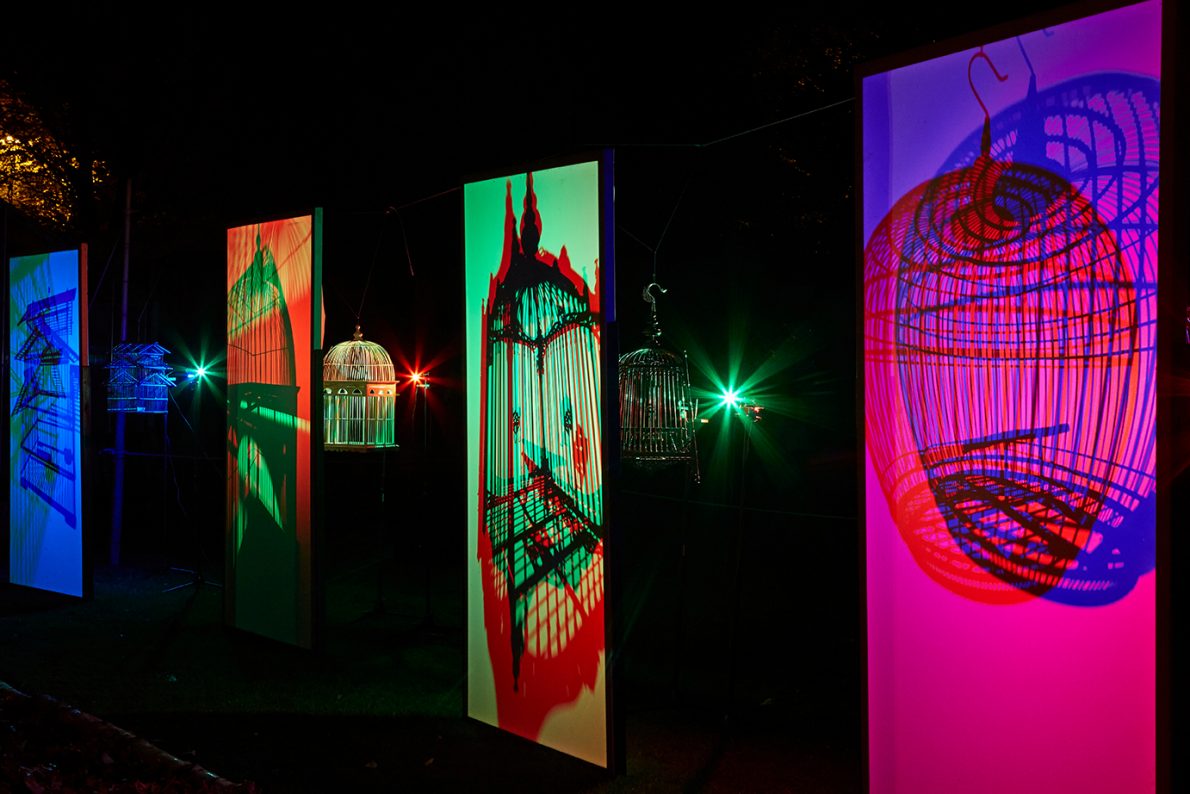 I almost put this in my Lumiere wish list, but in the end went for Wharton Park as my preferred Lumiere location to rediscover. Nevertheless, the Botanic Gardens was a great choice of location for something away from the Hustle and Bustle of the the Peninsula, and, by all accounts, this was one of the most popular attractions at the last festival.
For the Birds is, in a way, a festival within a festival. It's a collective of five articles who exhibit about twenty works between them. Some works I liked more than others, but everybody had their favourite and the overall standard was very high if the all-round praise given for this was anything to go by. One word of warning: the Botanic Gardens only has a finite capacity and you may have to queue to get in at busy times – this was especially true towards the final days last time as word got round. But it is well worth the detour from the hubbub of Lumiere Central. Seriously.
One of the biggest success stories of Lumiere has been Mick Stephenson. Each festival, four local artists get a commission with the Brilliant scheme, but he's been the star pupil out of everyone who's been through the scheme, and since his original installation in 2011, he's gone on to produce bigger and better installations in both Durham and London, with his Rose window getting the coveted spot in the Cathedral cloisters in 2015. This time, however, is back to where is all began. Fusion began as an idea to make use of an alcove in a Walkergate building that wasn't used for anything. The simply idea was one of the most eye-catching pieces from 2011, and it set the theme of abandoned plastic bottles and lights including the aforementioned Rose window.
As well as this, he's also got a new work in the festival in Old Elvet. It's sticking with the theme of recycled materials, but this time it's making a tree complete with branches and blossoming flowers. It's also apparently animated and features the voices of the kids from a local school and their twin school in Germany. I'm not sure how an animated tree works, but everything that Mick Stephenson has done so far has been good, including the things I would never have expected to be good.
One final highlight amongst the installations that have been here before is this one. I'm not sure how Fogscape #03238 differs from Fogscape #03237 or Fogscape #03239, but it lands a place in this preview for its creepiness value. It's a very convincing fog covering the trees on the banks of the Wear, but also a very sinister kind of fog. The kind of fog that you'll get hacked to death in. By Michael Myers and Jason Vorhees. Especially if you've just had sex, or gone skinny-dipping in a nearby lake, or both. Creepy riverside installations seem to have become a thing at the last two Lumieres, but that's fine. Creepy is good.
You will have noticed that this list is dominated by installations I've seen before. It's hard to tell whether the newcomers will be any good until I see them, but there's always something that turns out to be outstanding that I'd never have guessed. Keep that in mind and expect to be surprised. However, I've still picked out a couple of things I like the sound of.
Keys of Light is an installation where various pianists throughout the festival will play their favourite tunes, which creates a projection on Rushford Court (that's a new student development near the viaduct where the old hospital used to be). The closest thing I've seen to this was the jukebox projection on the now-demolished Passport Office building, which was pretty cool. I'm counting on the pianists to play good music though – don't let me down with six hours of Oh Can You Wash Your Father's Shirt.
The other new thing that looks promising is a giant star-light lamp, a bit like the things use to send little children to sleep, but much bigger. I'd located in Walkergate, which seems like the perfect place to me, with enough space to stand in but plenty of light walls to make enough of these stars. Walkergate has become Lumiere's biggest hub outside the ticketed central area, so if you're waiting for 7.30 to come, this is probably the perfect place to visit before the gates open.
The Barber of Neville
The last thing on my list is not officially part of Lumiere at all, but it's earned a reputation as Durham best unofficial stop on the Lumiere tour. And the best thing about this is whilst some installations will cost thousands of pounds to set up, this would probably cost no more than ten quid's worth of paint – and yet the things chosen by Faithful Johannes in the shop window of The Barber of Neville on Neville Street is always inspired – a painting of a light bulb one year, animation of hairdressing scissors the next year. This might be a niche attraction with a cult following,
And one surprise absentee …
Lumiere Durham might be set for a bumper anniversary celebration, but in all the excitement there is one thing that's barely registered with people. And yet this footnote is quite an omission from what we're used to. The last two Lumiere festivals in November were followed by Lumiere London the following January. But no, not this time. No Lumiere London in 2020. That came as a bit of a surpise, because Lumiere London in 2016 and 2018 were great successes.
The only reason I can think of why it's not back next year is that Lumiere London was, if anything, too successful. It took Durham four years to work out how to manage Lumiere crowds, but Durham has never had to cope with eight million people living within fifteen miles – not all eight million coming at once, but it felt like it. In 2018, Lumiere London dealt with the problem by making the festival twice as big, but possibly also making it twice as expensive. So maybe Limiere in London will have to less than biannual.
But I really hope this is not the last we've heard of Lumiere London, because that, I believe, if one of Durham City's proudest cultural moments. If we have to wait another year for Lumiere to come, it will be worth the wait,