Skip to: Jane Eyre, The Kite Runner, Educating Rita, Green Knight, Quality Street, Ask Me Anything, Crongton Knights, Ten Times Table, Ladybones, Shandyland
And here it is. 2020. And a disappointing lack of flying cars and three-course meal pills that we were promised. So instead let's look at what's coming up locally.
Safe Choice:
Usual rules, you can find them here. Beginning with safe choices, these are plays that I've either seen before or have heard enough about to be sure that if you like the sound of this play, you'll like this one – and all of these also have wide appeal. This time, we have three high-profile productions in the same month, and one very different thing.

Blackeyed Theatre have been touring the country for years with consistently high standards, and their current tour is no exception. Jane Eyre is the third play written by Nick Lane, Blackeyed's latest creative collaborator, and it continues their high standard: well-written adaptations that use small ensemble casts that – with one exception – stay faithful to the original books, and yet maintain a consistent style throughout their work that is unmistakeably theirs. Jane Eyre is halfway through its tour and I've already seen it, and, as expected it lived up to expectations, with the added bonus of a nice throwback to the acoustic sound plots that Blackeyed Theatre does so well.
The most exciting Blackeyed Theatre event this year is yet to come. The one story where Nick Lane made a major change – the addition of Elenor Laynon in The Strange Case of Jekyll and Hyde – was superb. That is returning later this year. But in the meantime, the return of Jane Eyre is well worth catching if you missed it last time round. The tour takes in Middlesbrough Theatre on the 6th – 7th May.

I rarely send adaptations straight to safe choice solely on the strength of the source material, especially when I don't know anyone involved in the adaptation, but having seen how effective A Thousand Splendid Suns was on the stage last year I'm sending this straight to the top of the list.There's a few differences between the two stories though. Loosely mirroring Hosseini's own life, Amir's family succeeded where Laila's failed: getting out of the country before it was too late. As a result, Amir is spared the horrors of Soviet rule then Taleban rule, but the people he leaves behind aren't so fortunate. As a result, survivor's guilt plays a large part of the story.
One curiosity is that The Kite Runner was the target of a minor censorship campaign, from people outraged that over the book giving such an unfairly negative portrayal of, er, the Taleban. On the whole, however, if you liked A Thousand Splendid Suns you will like this one too. The two stories complement each other well to give rounded and nuanced perspective of a dark period of Afghan history that looks beyond the simplistic divisions of goodies and baddies. It calls at the north east with Darlington Hippodrome on the 12th-16th May.

Who'd have predicted this? Less than three years ago, the Gala Theatre ran Willy Russel's masterpiece for one week, solely for the sake of getting in-house productions back up and running. Jessica Johnson's superb performance as Rita then inspired Theatre by the Lake to cast her in their own production, along with north-east heavyweights Max Roberts as director and Stephen Tompkinson as Frank. Now that tour has been a success and they are back with a bigger and better tour. I'd originally assumed if this ever came to Newcastle, Live Theatre would be the obvious choice and that's the favourite haunt of both director and actors. Not now – this calls for a bigger theatre.
And so, what began with a low-key beginning comes to Newcastle Theatre Royal on the 18th-23rd May. The play itself of course needs no introduction, but Jessica Johnson perfectly captures the character of Rita, torn between an ambition to make more of her life than a lowly hairdresser and low self-esteem brought on by friends and family expecting her to know her place. This play has so far only been a footnote in the theatre news of Newcastle, but you have no excuse to miss it this time. It's about time this performance got the audience it deserves on home terf, so do not miss this.

The first three safe choices are major tours, but this final safe choice is quite the opposite: a solo performance the requires next to nothing in the way of staging. A low-key performance at the last two Buxton Fringe, this swiftly earned a reputation as one of the best performances going. Green Knight is a retelling of Sir Gawain's legend as told by the temptress Lady Bertilak, but it's a clever retelling. Nothing is changed from the original story, but a lot is added – and, in a way, this is the only way it could have been if you think about the story. By popular demand, I will point out that Lord Bertilak is a bit of cock and the game he plays was really a cock thing to do. But as well as being a pawn in his game, she is also in love with the noble and gallant Sir Gawain.
The other thing that stands out of the play is its simplicity. Whilst the other three plays all make use of the big stages in their own ways, this performance works best in the small intimate spaces it tours to. No need for lavish lighting and sound plots here – just Debbie Cannon and the props Lady Bertilak brings on stage is all that's needed to tell that tale. You can see this at York Theatre Royal's studio theatre on the 5th February.
Bold choice:
Next three are plays that I know less about, but I have reasons to believe they're worth a punt. It's a bit more a risk that may not work out, but if it comes off, you might be glad you were one of the first to see this.
Probably the most notable item on the list is Northern Broadsides' first production under its new artistic director, Laurie Samson. Northern Broadsides raised a few eyebrows last year with the surprise news that its interim artistic director, Conrad Nelson – who everyone assumed was a shoo-in as Barrie Rutter's permanent replacement – left the company completely. But Laurie Samson is a formidable successor, a former artistic director of both the Royal & Derngate and the National Theatre of Scotland. Huge vote of confidence for Northern Broadsides that they had candidates of that calibre. I've only seen one of his plays before years ago, and that was The Prime of Miss Jean Brodie at the Edinburgh Fringe; but that was excellent, and a style that I reckon will suit the Broadsiders very well.
Bold choice as Quality Street is an unknown quantity, but what is ? This is a story by J. M. Barrie, and since you're probably wondering: yes, this is what the well-known chocolates are named after. The story is of Phoebe, who, upon discovering her old flame back from the wars has lost interest in her, re-invents herself as the wilder and sassier Livvy to get him back. Apparently this production has worked in some true-life stories from the real Quality Street factory in Halifax, however that works. One notable change is that, for the first time since God knows when, Northern Broadsides is coming to Newcastle, at Northern Stage on the 24th – 28th March. The Yorkshire stops include the Stephen Joseph Theatre on the 12th – 16th May, Harrogate Theatre on the 19th – 23rd May, and York Theatre Royal on the 9th – 13th June.

I
t would be a monumental task for The Paper Birds to top Mobile, but that doesn't stop them trying. Their smash hit from three years ago took people's stories of social mobility and staged it in a mobile home with amazing effects. This follow-up looks at the world of teenagers. They asked teenagers across to the country to write in and ask their questions, and this is where they give their answers. Already this is a very interesting premise, because there's two very different audiences to cater for here: teenagers like them who want answers to the life ahead of them, and the rest of the audience who get to see how much things have or haven't changed since they were that age.
It's billed as an immersive production: not quite Great Gatsby levels of immersion, but the theatre made up to look like a teenager's bedroom, and if you're going to do this properly you should sit on one of the cushion seats. The preview last summer was promising, but the show was at its strongest when it made the most of the innovative staging that made Mobile such a success – I reckon the more opportunities they find to do this, the better the final version will be. It runs at Live Theatre on the 30th January – 8th February. There is also a couple of performances at Black Box, York (I think that's a space associated with the University) on the 27th-28th February, and then, by a strange coincidence, five cities in alphabetical order. And one other destination worth a mention, but I will get on to that shortly.

Pilot Theatre are another frequent visitor to my recommendations, but, everything I've seen them do so far has impressed me. Most of scripts are stories I've never heard of, but so far I've always liked them. What really makes them stand out, however, is their sets. How they stage their plays varies, but from the complex but superbly executed running treadmill plus projections in The Loneliness of the Long Distance Runner to simply but stunningly effective set of Noughts and Crosses last year, they've never disappointed.
I confess, however, that on this occasion I honestly don't know what they've got in store. Neither the original book nor this play adaptation are giving away much about what happens. All it says is that McKay and his mates live on a rough estate, until one day a friend gets into trouble and they embark on a mission "that goes further than any of them imagined". But if Noughts and Crosses is anything to go by, they are holding back on something big. The tour takes in York Theatre Royal on the 25th – 29th February.
You might like …
This category is mainly for plays I've seen before and, like safe choice, is something I'm confident you'll enjoy if you like the sound of this. The only thing they don't need that safe choice does is wide appeal – these can have more specialist appeal. We have coming up: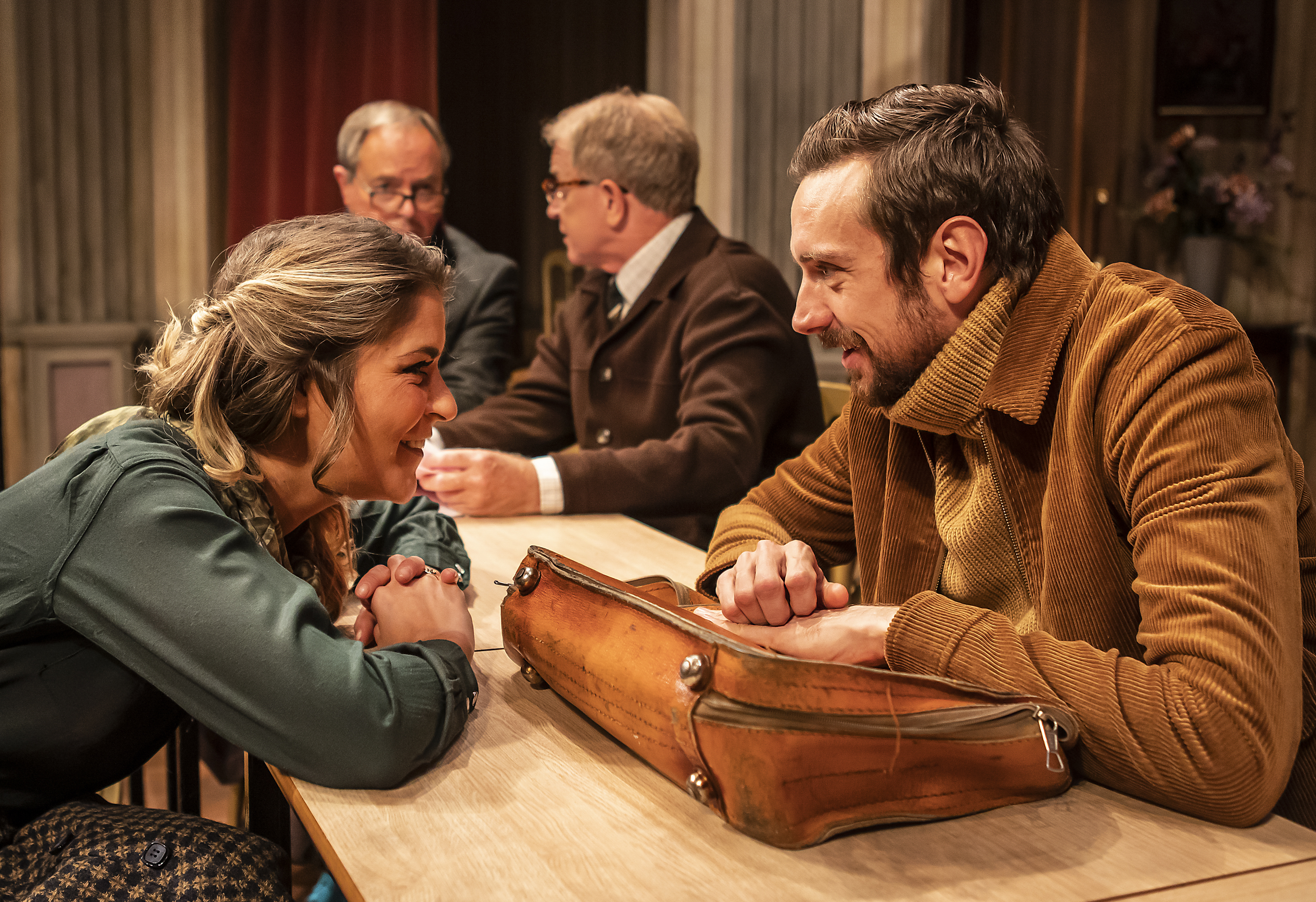 I don't normally list Ayckbourns in my picks: legend though he is, you know what you're getting and know what to expect. However, Ten Times Table has my attention because, over and above the usual reasons to see an Ayckbourn, this revival has accidentally found a new lease of life as a satire of modern politics. Originally meant to poke fun at the pettiness of council committee meetings, the main appeal now is watching the meetings spiral out of control into a power-struggle between the extreme left and extreme right over the pettiest matters imaginable. Needless to say, if you are a Boris superfan or a Jeremy superfan you will probably miss the point of the play. If you grew sick of both Boris superfans and Jeremy superfans a long time ago, you'll be nodding along. As I said, a somewhat specialist appeal.
Ayckbourn productions are frequently misunderstood by companies who produce them, and the most effective way of ensuring you see Ayckbourn done properly is to see a Stephen Joseph Theatre production – but this production, although not affiliated with the SJT, can almost be claimed as one of theirs, with Robin Herford, Ayckbourn's deputy for many years, directing the play. This is at York Theatre Royal on the 10th – 15th February. Shit, I've left this late. Get your ass down to York today.

I saw this at last year;s Vault Festival and this is worth seeing as something different. Sorcha McCaffrey plays Nuala, an archeology student whose finds a skull on a dig that becomes a trigger for the unravelling of her orderly life. And for her, order is important, because Nuala has OCD. And – as this play sets out to show – OCD is not just an eccentricity involving arranging pens; when events send her out of her comfort zone the play shows how the world becomes a terrifying place.
This isn't the most straightforward play to follow, but that's very much the point of story. The tone follows the story – an easy to understand beginning with the discovery of the skull and the attention of a senior researcher with dubious morals; a middle where things get confusing at the height of an OCD episode; before return to some sort of sense and normality at the end. Following a well-received run at the Edinburgh Fringe last year, it's on tour again and comes to Alphabetti Theatre on the 18th – 21st Febuary.
Wildcard
Finally, one thing where I've no idea whether or not it's any good, but it's grabbed my attention as something of interest. This, however, is something that I've been wanting to get off my chest for while.

One thing that every theatre wants is to get more audience in from working-class backgrounds, but it's only in recent years I've seen these efforts stepped up. And yet … I am sceptical. One form this has taken – as this is already becoming an in-joke in theatres – is endless plays about miners. The other forms I'm frequently seeing is political causes popular with middle-class left-wingers, apparently assuming this is what the working class wants to see. Whilst the truth, of course, is that working class (like every other group) is a vastly diverse bunch of people with a whole range of backgrounds, interests, experiences and opinions. I cannot speak for anyone working-class myself, but if it was me, this would come across as a programme that a middle-class dominated theatre elite thinks the working-class ought to be interested in, regardless of reality.
So I'm pinning my hopes of Shandyland, coming in the spring. This is a co-production between four theatres and Greyscale, and is the is story of Amy, who was born on the floor of a Working Men's Club. The story spans twenty years, and promises a shout of frustration from an abandoned community. So far, so good. Can this avoid the pitfalls that so many other plays fall foul of? Find out on the12th – 23rd May at Northern Stage.