Skip to: Curious Incident, Request Programme, Boris: World King, I Am Beast, The Woman in Black
Now we move into the fourth year of the blog. Again, a good haul of outstanding plays to match the previous year. No haul of terrible plays this time, but I did have an agonising choice over what to name best play of the year.
There was also a sixth piece that didn't quite make it into the hall of fame, but instead is notable for a related reason.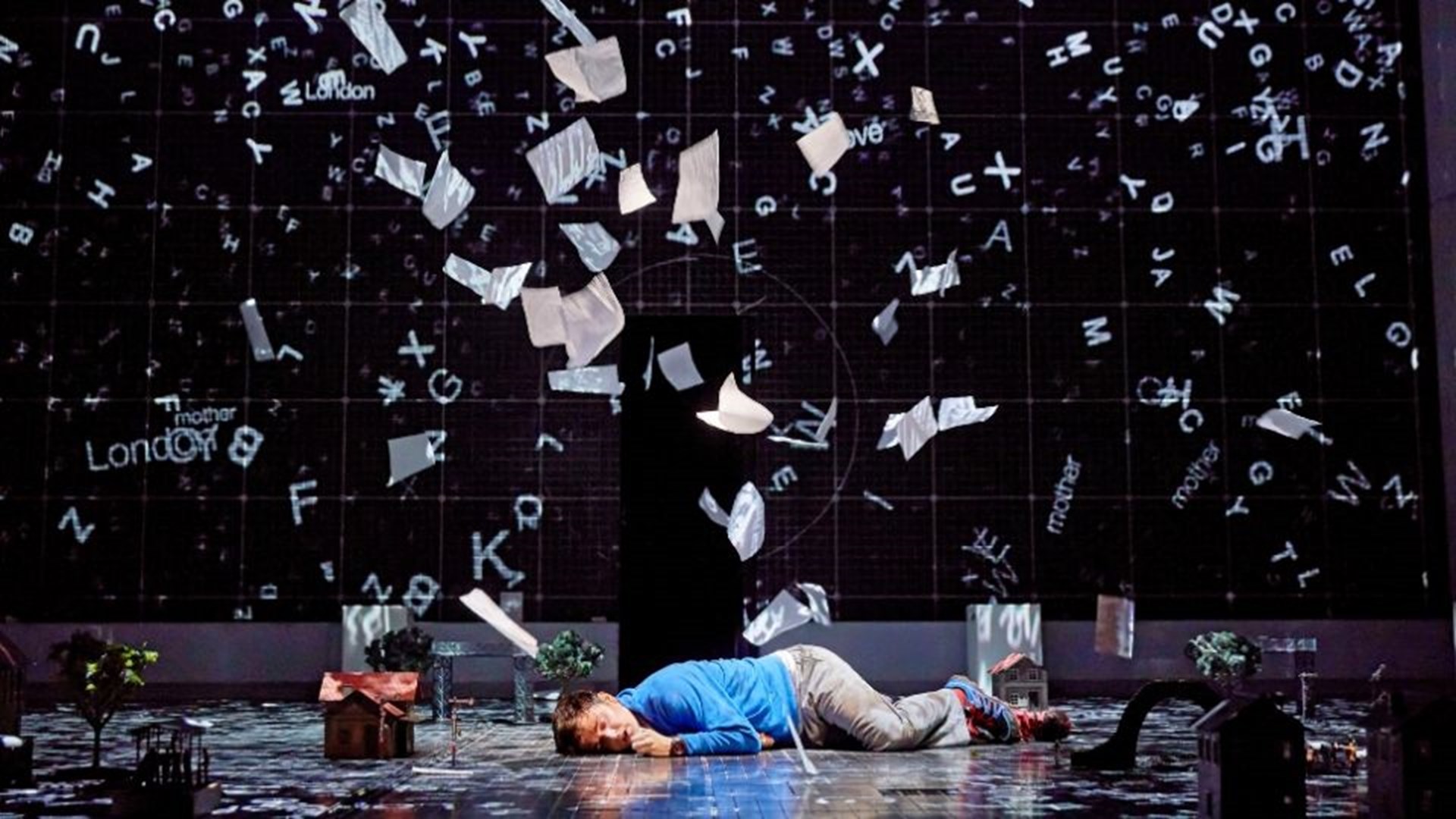 The National Theatre is an odd one. For some reason, almost all the plays I've seen I considered either excellent or over-rated, with very little in between. The star player of the National, however, is surely Marianne Elliot. War Horse was such a success the puppet horse became the iconic image of the National, but edging ahead is The Curious Incident of the Dog in the Night Time.
Most Ike Awards are picked on the basis of a single innovative idea executed well; this, however, makes it to the list as an excellent all-rounder. Every stage of this creation is excellent: a great story in its own right from Mark Haddon (Haddon said he never said any proper research on autism, but it doesn't matter, he got it spot on), Simon Stephens captured what matters in the play script perfectly, but the icing on the cake was the data-themed projections over all the stage. Trying to put your own stamp on to a stage adaptation of a successful book is a risky business – I've found this technique to backfire as well as it succeeds, but it is a prime example of how to do it right: a play just as iconic as the puppets in War Horse, but nothing important lost from the original book.
Looking back, the only thing that surprises me is why we are not hearing more of Marianne Elliot. It was only when doing the research for this that I discovered she'd been directing West End hit Company (not seen it but everyone raves about it). No disrespect to Rosalie Craig or Pattie Lupone, but I'd have thought a production directed by the person responsible for War Horse and Curious Incident is something you'd be shouting from the rooftops on the publicity. I guess shining a light on the actors instead of the directors is the way the West End does things. But her phenomenal achievements deserve talking about a lot more.
Update: Turns out Marianne Elliot's disappearance from my radar is a geographical anomaly. Her big hit between Curious Incident and Company was Angels in America. (Many thanks to Mhairi Ledgerwood for pointing this out.) However, this one never toured the UK, presumably because a two-parter with a combined running length of nearly eight hours is impractical. It was streamed, but that was never going to grab the same attention outside London as two hugely successful stage tours. Anyway, that does make Company a bit more more of a puzzle if Elliott has three megahits to her name instead of two. Since it's her own production, all I can think is that she chose herself to give the lead actors the most publicity.
And now, from the biggest-scale production to the smallest: a solo site-specific performance in a small Brighton flat. Before going any further with this, a warning that this is the kind of play it's impossible to talk about without giving away where it's going. If this is on your to see list, I advise you to stop reading now.
Request Programme was written decades ago, but it could easily have been written yesterday. Unlike most solo plays to Xaver Kroetz's play, just a detailed sequence of stage directions, but it was Thrust Theatre's idea to set this inside a real home – and this gives the play the uncomfortable edge it needs. For this play is the final day of a woman's life. We never find out what is the cause of her trauma, but it's plain to see that whatever stress she is under is taking her to breaking point.
Rachel Wood was superb in this role. There was a lot of little clues something not right throughout script, stage management and actor, but it was Wood's performed that was pivotal. Her obsessions, nervous tics and constant tension was brought out superbly.
I had a very difficult choice picking a winner for best production in 2015. There were two plays shown first at the Buxton Fringe and then at the Edinburgh Fringe, both of whom would have romped home to take the title in a normal year. I can't remember how I resolved the tie-breaker, but this was the winner: a brilliant political satire from a theatre company who had never done anything political before.
Three's Company were, for many years, the star attraction of Buxton Fringe. Tom Crawshaw and Yaz Al-Shataar brought a succession of surrealistic plays, always inspired, always funny, usually featuring them in the cast and usually involving compulsory audience participation. Their greatest success, however, instead features David Benson playing Boris Johnson, everyone's favourite comedy politician getting up to his usual scrapes whilst everyone laughs and goes "what are you like?" But underneath is a very persuasive political argument about how Bojo get away with everything by pretending to be a buffoon. It's probably summed best when he gets a scoop from a woman speaking in French. "But I just though you were an English idiot", she says. "Yes, a lot of people think that" he replies.
Boris: World King ran into 2016, requiring two rewrites when a certain referendum came into play. It received praise from across the political spectrum, with the most surprising endorsement from Boris Johnson's own mother and sister. At the time I thought this was a gesture from the Johnson family to show what good sports they are, but I've since come to suspect that actually they can't stand their brother/son and enjoyed it on those terms. However, in case you missed the news, Boris Johnson is now Prime Minister. Ah well. I think Tom Crawshaw sums it up best when he says that comedy is tragedy plus time – this is a rare example of the reverse.
Sparkle and Dark might have been pipped to the post for best production, but they are the first theatre company to scoop the Ike Award twice. The Girl With No Heart was carried over the line for what was at the time a big gamble. By 2015, Sparkle and Dark were an established name at the Edinburgh Fringe, so a second Ike would have to be carried on the play alone. They they duly delivered, for I Am Beast was superb by every measure.
This is the play of Ellie, battling with depression after the death of her mother. The two of them were superhero comic book fans, and so the play switches between the real world and the fantasy world of Paradise City, where Ellie is Blaze, searching for her missing partner Silver, whilst her arch-nemeses Dr. Oblivion and Yolanda increasingly resemble her father and his new partner. And in Paradise City is the "beast", expressing her own darkest thoughts. Or is the beat in the real world? Or if the beast's destruction really just Ellie's? As the darkness ramps up the line between fantasy and reality becomes terrifyingly fragile.
There wasn't a weak link in the cast or crew, but I have to specially single out Lizzie Muncey, who was superb as Ellie. Many of the fringe groups I've singled out for praise have since moved on to other things, but Sparkle and Dark are still going, with the plans for their new play I Hear the Fire looking exciting. Only two theatre companies have two plays I've rated as outstanding – could Sparkle and Dark make it three?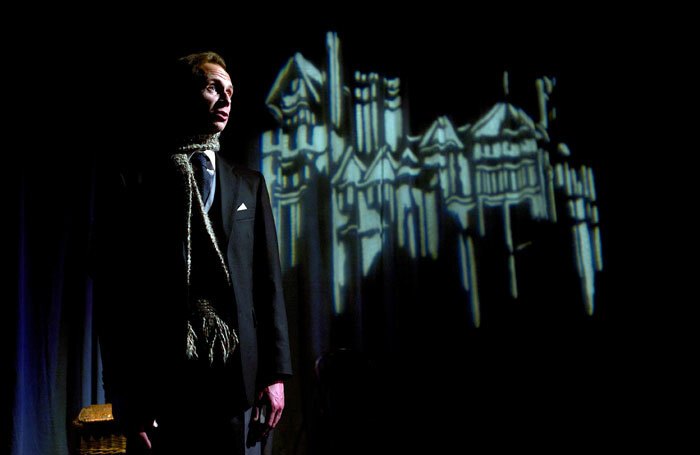 This last one is more specific than the play. Few would dispute the success of The Woman in Black; at the time of writing, it is the fourth longest running West End show of all time, between The Phantom of the Opera and Blood Brothers. But, excellent though the West End and touring version is, that's not what this Ike Award is for. Instead, it's for the place where is all began: the Stephen Joseph Theatre. Few people remember, but it began as a hastily-comissioned play to fill a gap in the studio theatre (then the old one at the previous Westwood home).
As anyone who's seen The Woman in Black can testify, it's the minimalism of Stephen Malltaratt's adaptation that makes it the success it it, but a small theatre such as the McCarthy auditorium really tops it off. It's only when you get to sit close to the action that you realise how much the intimacy adds to the play – something that's never quite reproduced when you sit in a larger theatre.
Many of the achievements apply to both – the story within a story working perfectly, with a light-hearted beginning slowly giving way to horror, and a precious few sound effects giving more frights than special effect-laden slasher flick. The Woman in Black is excellent no matter where you see it, but take it from me – if you have the chance to see it at the Stephen Joseph Theatre in its occasional journey to its birthplace, for God's sake do it.
Also of note …
As these articles double up as a retrospective, there's one other thing from 2015 that needs a mention. I spend a lot of the 2015 Edinburgh Fringe raving about Lie Collector. I seriously considered putting this in my "Outstanding" category – at the time my equivalent to 5 stars – but in the end I decided that I haven't seen enough comedy to rate this against other comedies. I did, however, note how much she's made of the potential I first saw in Yve Blake three years earlier. I she can come this far in three years, I commented, what can she achieve in the next three.
The answer, it turns out, is more than anyone would have guessed. On returning home, she applied for a scholarship to develop a music, won, developed it, and based on what I'm hearing Fangirls going from strength to strength. The bad news is that this is all happening in Australia. This has been showcased in the UK so I may one day see what all the hype is about. But there's fewer greater joys on this blog that finding someone who you think could go far and it turns out to be right, and to date nothing has shown this better than Yve Blake.
And that winds up 2015. But don't go away. We've got a big one coming.