Skip to: Jurassic Park, Of Mice and Men, The Bookbinder, Dancing in the Dark, The Jungle Book, Le Bossu, Consuming Passions, The Season Ticket, Frankenstein, How Did We Get To This Point?
And so, we come up to the final year of the list for now. When first set off doing this, I had planned to do these articles all the way to the present day, but I found as I went along it was more fun doing this as a retrospective, in particular wondering what these artists who impressed me are doing now. So I'm going to stop here for now and continue in real time. The Ike Award Hall of Fame 2017 will be done next year, 2018 the year after, so that there will always be a 3-4 period to reflect and see what happens next.
But before that, the outstanding plays of 2016, and this is a long list. It was probably chance more than anything, but amongst the plays I saw in 2016, the standard was exceptional. As a result, there are ten of you who've kept me busy writing this up:
What is the best thing you can hope to get from the Edinburgh Fringe. Some might say a Fringe First, some might say wall-to-wall five-star reviews, but there is surely no greater honour than everybody at the fringe saying how great you were. At the 2015 fringe, I lost count of the number of times people saying how good Jurassic Park was. So I took the opportunity to work this into my visit I checked it out for myself (now called Dinosaur Park), and found out it is indeed as good as everyone said, and more.
Superbolt Theatre presents this in the format of the Park family showing a screening of the 1990s Spielberg classic. When the video goes astray, it falls on them to act it out instead. Plenty of theatre productions use the play within a play format as a way of circumventing practicalities – in this case, a way of replacing CGI dinosaurs with ordinary household objects – but this is so much more. The real story is the story of the Park family. This screening is a commemoration of their mother who died the year before, and this was their favourite film to watch as a family – but it turns out their story is a family is a lot more difficult than they were first letting on.
This has everything you could ask of it. The renactment of the most famous scenes of the film with nothing more than improvised props are very funny, with the highlight being the demine of Dennis Nedry with the classic line "I'm going to die! It serves me right for being a greedy traitor." And yet many of the scenes from the parallel Park family story are poignant and moving, with a joyous ending. Superbolt have done other plays than this – and I like the look of everything in their back catalogue – but The Jurassic Parks (now its third name) is proving unbeatable and just runs and runs. Devised theatre so often creates a mess, but when you have an ensemble who work together well, there can be few better examples than this on what you can do.
John Steinbeck's novel of depression-era America is considered one of the greatest all-time literary works, but his stage adaptation of his own novel is barely known. That is a mystery to me, because the script captures the story magnificently. Like the book, it captures the story of George and Lennie; Lennie is simple-minded and doesn't know his own strength, and anyone else would have considered him a liability, but it's their friendship that makes the play so powerful and George sticks by him and protects him through thick and thin. It's is George's good intentions that lead to the the most heartbreaking tragedy.
One thing unique to the play, however, is how cleverly it wrongfoots you on where the threats are. So desperate are the circumstances of the Great Depression, one person with a tiny amount of power can take your livelihood away: as this case, it's arrogant boss's son Curly and his temptress wife who may give him the excuse he needs – or so it seems. So focused is the story on the migrant workers, neither they nor to audience stop to consider their side of the story; and when the truth finally emerges, we discover Curly's wife is just as lonely as everybody else. But it's already too late to stop what's coming.
For this reason, I believe the stage version is most powerful if you haven't read the book and don't know what's coming. This would have been superb from any competent theatre company, but Birmingham Rep still put some great touches on this. I wasn't convinced by the door in the back of the set where the sky is (my only real criticism in an other excellent production), but other than that, I loved the set giving an unreal feel to the whole play. The two leads were also superb, and I still haven't got through all the things I singled out for praise in the review. To this day, Of Mice and Men remains the most powerful large-scale touring production I've seen.
And now from the largest scale to the smallest scale, and it's a solo storytelling piece I caught at the Brighton Fringe. It starts off ordinarily enough, with a bookbinder at his desk telling us the tale of an apprentice who once worked as a shop like his, but it's only when a mysterious old woman arrives that the play really comes into its own. This is the first of many times when one of the books serves as a pop-up book to tell the story, only they are all exquisitely illustrated. Even the lampshade and mundane items of the desk suddenly play roles in the story.
There isn't a weak link anywhere in the production. The story and performance would have been excellent in its own right, but the directing, movement and staging makes this into a masterpiece. As well as that, music for the show is extraordinary. The only bad news is that Trick of the Light is a New Zealand company, and with what seems like every country in the world queuing up to have them over, it's uncertain whether they will ever be coming our way again. But still this earns is place as the perhap the greatest storytelling play I've ever seen.
Wired Theatre are Brighton Fringe regulars who do a site-specific play every year. All the plays have been to a high standard, but it was their 2016 play that was by far the most moving. As with many of their plays, the play switched back and forth in time, in this case over the lives of three siblings. In the present, their mother is once again expressing their disapproval over the way one of them lives; but with her other son and daughter being gay and a nymphomaniac respectively, neither of which earn her approval, what is it is that worse to their mother? The answer is not a difficult one to guess in hindsight: he sometimes dresses and lives as a woman.
What made this stand out was the compassion in the play. An early clue of where Charles is going is an interrupted suicide attempt. When he comes clean on the life he wants to lead, it's an upheaval for everything his wife's known – but in the end, love wins through and Jean finds she loves her husband for what he is no matter what. Wired Theatre goes from year to year with a fanbase, and amongst the fanbase everyone has their favourite, but for me Dancing in the Dark is the clear winner.
This was a bit different to what I normally see: a crossover between theatre and circus. There aren't many ways of depicting animals on stage, but when you've got nimble creatures such as monkeys and panthers, it's very fitting to have a production where the cast are routinely climbing up and down the stage and leaping from one branch to another. That alone would have made Strung Up Theatre's production one of the most memorable ones I've seen, but the thing that pushed this into outstanding was the story. All the characters from The Jungle Book are present here, save Molgwi, but you won't find any of this in the Disney film, or either of the original books. Instead, this is a new story pieced together from unpublished writing from Rudyard Kipling, combined with new stories combined from Kipling's own life, including the loss of his own daughter.
And the highest testament to this unofficial sequel? I would never have realised it wasn't Kipling's story if I hadn't asked where it came from. Even so, there's plenty to distinguish it from the Disney version, most notably Kaa the Snake. He might be known to most people as the comic relief and the song "trust in me", but in the story Kaa is a complete psychopath, hell-bent on revenge of any man-cub who strays into the jungle and dealing bloody punishment to anyone thoughts to be protecting the girl. And yet, Kaa is one of these villains who makes a good case for the villain's side. The one down-side of this theatre/circus format is that it needs a big stage, and in order to perform on a big stage without a guarantee of big audiences, you need ot perform in an outlying venue. As a result, Cobwebs and Moontalk may have been overlooked by the punters who don't look outside the hub of the fringe. But that's their loss – they missed out on something special.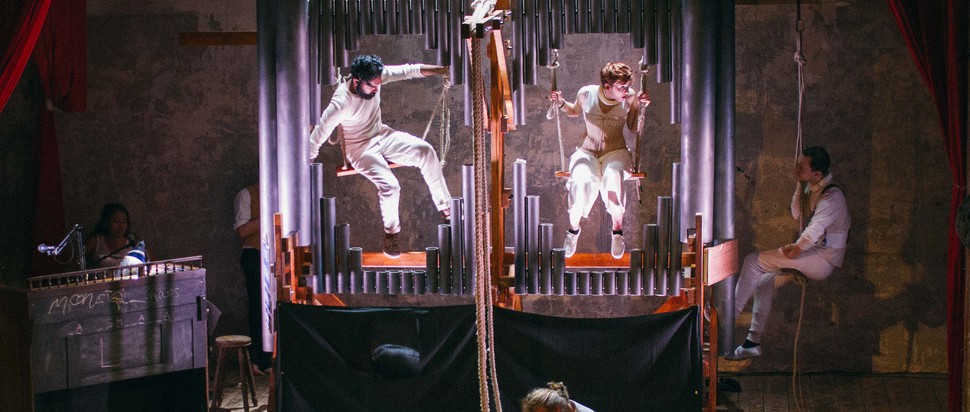 Now for a second entry that originated in student theatre. I first saw With Wings theatre in 2014 with The Duck Pond, which was a retelling of Swan Lake transplanted to, out of all things, a hook-a-duck stall. That was one of the most original concepts I'd seen, and whilst it was a little rough around the edges, the musical was performed to a very high standard in spite of its randomness. The Ike Award, however, goes to their follow-up, a musical of The Hunchback of Notre Dame. It was not quite so adventurous: this time, the story still takes place in 15th-century Paris and the story is broadly the same as Victor Hugo's, but the style developed in their previous productions is refined into a top-notch musical without a weak moment.
Amongst the highlights of the musical were the excellent songs sung in full harmony, fitting moments of surrealism (the three bells are played by actors who Quasimodo talk to as his only friends), but strongest of all was the depiction of Puritannical Paris repressed by the clergy. Izzy Jones was superb as Esmeralda the heart-stealer, with her dance to the lovelorn priest's "Confess" song one of the defining moments of the piece. Most remarkable of all, WithWings was an ensemble who mostly fit in their work around education and jobs, and yet their would easily give a fully-professional musical ensemble a run for their money. I've said it before and I'll say it again: never write off the amateurs.
And now, a second award to Alan Ayckbourn (and the third to the Stephen Joseph Theatre if you count The Woman in Black). Most of the Ayckbourn plays coming out have been getting excellent acclaim form the press, but since 2014 nothing quite managed to reach the heights of Roundelay. Except one this. Just a side-show in the SJT's main season, and a side-show in Ayckbourn's canon, but Consuming Passions is an absolute gem. Written to be viewed over two lunchtimes, it's the story of a woman who sees visions of the future. When she overhears the (ex) boss's new wife plotting to kill him, she has to warn him. The problem? She has a long track record of being delusional – indeed, that is how the left employment in the first place. How can she be believed?
This one of the cleverest pieces of writing I've seen. As with Roundelay, you story works in any order, and it's a difference experience each way: either we begin with the plot and wonder what happens when she tries to intervene, or we begin with her telling her beloved boss on the plot on his life and wonder exactly what she she heard. Whatever happens, the writing bring you up to speed quite quickly. But the real merit is how the writing keeps you on a knife-edge over what's actually happened. Has she really heard a plot, or is this just what she wants to believe? (I'm siding one way, but it comes down to a single obscure detail.) This is an danger of being forgotten amongst all the other Ayckbourns – consider this my request not to do this.
It took a long time for a home-grown production* to earn a rating of outstanding, but it was finally pulled off by Lee Mattinson with an adaptation of Jonathan Tulloch's book of the same name (best known for the film adaptation named Purely Belter). It follow the story of Gary and Sewell who are desperate to find the money for a Season Ticket at their beloved Newcastle United, whether through menial work or petty crime. But why? You would these two have far better things to spend a four-figure sum on. But what the script does so well is explain why it means so much to some people. To Gary and Sewell, who fit in nowhere, it's a community they could belong to – something a flat screen TV in a pub can never offer.
*: Pilot Theatre is York-based rather than north-east based, but as it's a co-production with Northern Stage and Lee Mattinson rose through the ranks in the north-east, I think the north-east can safely claim it as one of theirs.
The futile quest for this season ticket, is a distraction. The elephant in the room is the state of Gary's family, and all of their problems can be traced back to his violent estranged father – and this will come to a head when he stops being estranged. The whole story is strong, but the nuanced understanding of the characters that earns my praise. My only regret is that this play, I think, got a lot less than it deserved. It was criticised for being over-complicated, and I don't understand why – I didn't find it any more complicated that Pilot Theatre's other plays, and it was considerably simpler than The Lovely Bones, which was a big success. I hope this one does not get forgotten, because The Season Ticket deserves a lot more.
Few books, I believe, have been done a greater disservice than Mary Shelley's iconic novel. I suppose it was inevitable that they'd make countless films of a green hulking being with a brick-shaped head going "Ruuuaaarrrrgh", but I'd have thought theatre would make a better effort to get things right. To date, I've seen three live productions whose scripts were disappointing, all of them badly missing the point of the story in different ways. But amongst all of this is an absolute gem from Blackeyed Theatre.
Blackeyed Theatre are a Bracknell-based touring company who specialise in Gothic-themed plays, and at the time their star creatives were writer John Ginman and director Eliot Giuralarocca, who'd previously impressed me with Dracula. What stood there was the rediscovery of old-style sound plots. With most of theatre having moved to recorded sound, it was refreshing to see how good you could make a production with all the sound as music produce acoustically on stage. It was a fine basis on which to build with Frankenstein, but the master touch was the use of a life-size puppet as the Creature.
One should not overlook the script: this goes right where countless other scripts go wrong. Victor Frankenstein's shame, isolation and powerlessness is matched by a sense of empathy for the Creature in spite of all its destruction. Was it less adventurous than the National Theatre or Northern Stage? Yes, perhaps. But a script that plays to the strength of the novel wins every time.
The last Ike Award in the list is one of the least expected. Most of the play I rate outstanding I had good expectations for; a few come out of the blue and surprise me – but Alphabetti's How Did We Get To This Point? is something I practically wrote off before they'd even started. It was a rehash of an earlier Alphabetti play How Did I Get To This Point? about homelessness, but with the history of Alphebetti Theatre thrown into the mix. I was convinced this was unworkable, only turned up through a combination of wanting to support the venue and nothing else being on in December, and to my surprise I discovered the play was incredible.
I don't know how it works, but it just does. The crossover between Alphabetti Theatre and homeless people is that founder and artistic director Ali Pritchard spends a lot of time randomly talking to homeless people, and for a play that is essentially his own autobiography, the two fit together well. Two completely separate subjects work together – some moving stories from people in the most desperate of circumstances that's alien to most people's experiences, and the blood sweat and tears of setting up a venue that so many people in the arts would identify with.
Unlike most Ike winners, How Did We Get To This Point? can't be anything but a one-off. Its appeal was specifically for those who'd been rooting for Alphabetti from the start, and even now things have moved on. Consider this the Woodstock moment of north-east theatre; you had to be there to appreciate. But whether this was carefully planned or just a product of recklessness and sheer luck, well done for pulling this off.