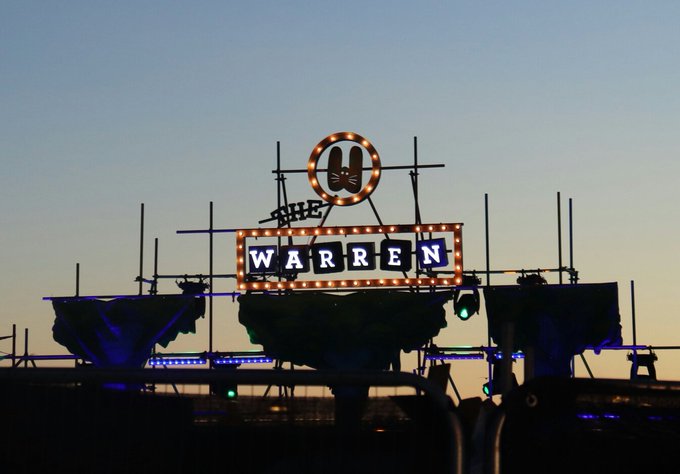 Reviews: Skip to: Unmythable, Privates, Shit-Faced Shakespeare
It now looks like we're in for a slow return for conventional indoor theatre. It's not clear what's pushing this more: a government dragging its feet over matters as trivial as actors projecting their voices, or theatres themselves deciding it's not worthwhile for the foreseeable future. But bucking the trend are the outdoor theatres. Even though their go-ahead wasn't that much ahead of their indoor counterparts, there are some venues determined to go ahead with whatever they can. And the one of greatest interest ot the fringe circuit is The Warren. Normally a pop-up venue that forms the centrepiece of Brighton Fringe, this has hastily reinvented itself as an outdoor venue on the beach. I was invited to the media launch day, as as a weekend visit to Brighton is probably the closest I'm going to get to a summer holiday this year, I decided to take it up.
I've already written the basics in my preview for both this festival and a similar outdoor festival in London, but to reiterate the main point, there are two approaches that outdoor events are using. Some are sticking to the traditional method of one ticket per person and making sure the audience are spread out. The Warren, however, has gone down the route of group ticketing. Their auditorium consists of fifty picnic tables, and one ticket equals one table seating up to six people. If you can manage six people from no more than two households, it works out considerably cheaper than six tickets at a normal fringe performance. The obvious drawback? It works out rather expensive if you're not in a large group. To mitigate this, The Warren have now introduced "standby" tickets for up to two people that can be bought up to one hour before a performance if available (and it's a safe bet they will be) – this keeps the price sane if there's two of you, but I wish they'd do something similar for solo punters.
The first thing that strikes you is appreciating just how much work has gone into this at short notice. Even though this is a fraction of the size of The Warren's normal pop-up venue, there must have been considerable work involved to set up the stage, wire up a speaker to each table, programme two months' worth of acts and assemble front of house and box office staff, especially when you bear in mind they only had one month's notice they'd be allowed to do this. The less obvious thing is that this ties in with The Warren's new permanent space "Electric Arcade". In a normal year this would have been big news in its own right, but underneath the promenade The Warren runs a bar with a 1980s-arcade theme. I believe the plan is to use this as a performance space, joining Sweet and Rialto as year-round venues; in the meantime, it's working as a bar and front of house for the pop-up space next door.
There are a few teething problems. I found there was usually some confusion somewhere in the queue over who is actually sitting where, but The Warren's staff are handling it well, checked everyone knows where to sit in advance, and allows plenty of time to sort out logistics. Ordering drinks during the performance is a bit of a faff. For some reason, you're not allowed to buy drinks at the bar next door and take them into the venue (which seems like the logical way to do it), and instead you have to access a web page and order drinks on your phone. But if that's what it takes to stay within the rules it's bearable.
How about patronage? There has been some noticeable relief that the weather has refrained from raining off the first week (which would have been a disaster), instead getting the opposite and launching in blazing sunshine. However, as any fringe veteran can attest, heatwaves aren't always a good thing, especially if you're on in the afternoon. Even though you're spared a boiling stuffy room, you're hard pressed to compete with the beach. As the evening draws on, however, when sunbathing finishes for the day and you get a nice sunset as a backdrop for the stage, the audiences get better. To be fair, this isn't too different from a normal year at The Warren, with afternoons being generally quiet and the real business coming in the evening, but it's an even sharper difference here. But if they're banking on evening ticket sales to make this worthwhile, it looks like they've done enough. Jimmy Carr's one-off appearance sold out within hours of going on sale, and their headline acts such as Shit-Faced Shakespeare, and the comedy line-ups arranged in conjunction with Komedia seem to be getting decent enough turnouts based on my reccies.
Officially this is not part of Brighton Fringe; unofficially you can consider this the Warren doing their Fringe programme early or late (depending on which point of reference we're using). The Warren will no doubt learn from experience how to run a venue like this, but as it stands they intend to be back to normal for May 2021. But will things be back to normal? The latest noises from the Edinburgh Fringe is that they're preparing for a 2021 festival being a lot smaller than 2019, and the West End is similarly drawing its horns in. With much of Warren Outdoors owing its success to performers who's otherwise be spending August at either Edinburgh, or the West End, we can't rule out the possibility that this will be called on again. The more cautious indoor theatre gets, the more likely it gets that outdoor venues like this become, as they say, the new normal. Either way, it was an extraordinarily bold venture under the circumstances, and for this The Warren earns a lot of respect from me.
Showing at the Warren …
As well as checking out the venue as a whole, I also aw some individual event. So here you are, first reviews since March.
Unmythable
Given the unique nature of this situation, most of the Warren Outdoors events are comedy, with music and magic shows next in line, but there is the occasional theatre production. This one is a potted telling of all the Greek myths. Jason welcomes you to the Argo – apparently, we the audience are all legendary heroes. Eventually we will be arriving in Colchis to claim the Golden Fleece. Before then, however, we get to know the other two members of the cast, "Beta" and "Gamma", who feel somewhat inadequate in the presence of all these Greek legends. On the journey, they will take us on a whilstle-stop tour of all the legends so far.
Unmythable may have been picked as a fun piece for this outdoor season, but it is still quite an ambitious piece. As well as whizzing through as many legends as possible with the cast of three and the aforementioned sub-plot of Beta and Gamma, we have a light-hearted take on most of the tales balanced with some questions (as seems to always be the case with ancient stories involving one or more gods) with the common theme that women can't be trusted.
However, I do feel something has been lost in the transition from a normal fringe stage to a social distance-friendly one. They clearly made good use of lighting effects in last year's version, and I can see the interactive element of welcoming us as fellow heroes working better with a closer audience. For what it's worth, if Out of Choas do stick with an outdoor version of this performance, I would focus on the comedy. Most of what they want to achieve can be done through humour – certainly I've seen stupid stereotypes on race and gender eviscerated far more quickly and effectively with satire than any more sombre analysis.
Where the piece was at its funniest, though, I enjoyed it a lot. They say you should allow background to emerge through dialogue and never count on someone spelling out the entire backstory on stage, but in the siege of Troy the exact opposite works, where one solider wooden horse has somehow failed to take in what he's done in this wooden horse, forcing his colleague to spell out the entire history of the Trojan wars. And my favourite moment is the arrival of Medea, who is an obvious psychopath from the outset. I maintain that mass murder and infanticide is an overreaction to a matter of adultery, but having seen her calmly chop her trusting brother into tiny little bits as part of the escape, one must question how it didn't cross Jason's mind something like this was going to happen.
In the outdoor version, I myself would have ended with Jason taking Medea's hand in marriage – what could possibly go wrong? But in festival thin on the theatre side, it's a good fun piece to start the day. The main run was in the opening week, but there's a final performance on the 27th August.
Privates: a sperm odyssey
I trust we're all acquainted with how babies are made, but have you ever wondered how all those sperm know how to swim to the egg? They added boot-camp, of course. This, at least, is the premise from Bright Bouy productions. Three professors of the birds and bees are here to explain everything to Year 9, and by everything, I do of course mean squirming and evading whenever anyone asks anything slightly embarrassing. But who cares about boring old demonstrations on bananas? We want to see these plucky young gametes shouted at by the sperm sergeant describing them as maggots, although they're larger than sperms so I'm not sure whether this an insult or a compliment. The privates must also answer all questions with "Sir! Yes Sir!" Unless it's a rhetorical question, if they can ever keep up with which one is which.
The three professors do, of course, stress the importance of consent. Without a female present, they instead demonstrate the concept on a droid with a female voice, except that this particular droid is a cocky one who talks back and points out that programming someone or something to agree to something isn't really consent, is it, and what's the purpose of this exercise anyway? And then it's back to the big push, which as you may have already guessed follows the format of every war film. Having completed boot camp, it's now the scene of the maccacre, except that instead of a devastating ambush from the Vietcong it's a devastating ambush from the white blood cells.
With lines such as "What do you want to be if you grow up", expect an hour of suitably daft entertainment. There is of course the dilemma of how to end the journey, as you cannot possibly end a war film with three survivors turning on each other, but don't worry, that has a suitably daft resolution too. This is on various dates up to the 23rd August.
Shit-faced Shakespeare
And we finish with a headline act. A lot of the acts, I gather, are happy enough to be back on stage, but it's the heavyweights that make the money needed to cover costs of this venue. Luckily, The Warren can call upon Shit-Faced Shakespeare. Their association goes back a few years and they've become one of their perennial acts – even so, it is a big coup for The Warren to be number 2 choice in the month they would normally have been at Edinburgh.
For those of you unfamiliar with proceedings, the rules are as follows: five classically-trains actors put on a Shakespeare play; one of those actors has got completely sozzled immediately before stage; and it's up to the other four to help their inebriated colleague along. In practice, there's a couple of more subtle rules and conventions to pick up. For a start, it's now traditional for this (along with their musical counterpart Shit-faced Showtime) to open with a musical number with complex dance moves so we can work out in first minute who the drunk one is.
However, there is a problem with following the rules to the letter: some of these actors are too good at holding their drink, and don't fluff enough lines and forget enough stage moves to keep the others busy correcting their mistakes. Which means we have to fall back on the key unwritten rule – as well as being drunk on stage, this is also you opportunity to misbehave. In this case, as we go through our favourite love quadrilateral-theme piece A Midsummer Night's Dream, it's Helena's turn with the bottle. So when Demetrius and Lysander suddenly show romantic interest, instead of interpreting it as cruel joke just like the book says, she gets her two new suitors to engage her in favourite fetish of barking like a dog. I realise we're supposed to believe this is all spontaneous but – sorry, you were too good and too funny for that; that dog impression was clearly rehearsed in advance.
Not the usual remit of this production but I must single out Puck, even sober Puck, for praise. Normally when I see the bits on stage without the drunk character I'm going, "Yeah, whatever, get on to the next drunk bit", but this particular Puck also doubled up as a master of ceremonies, and that would have been equally fitting in a more conventional performance. I suppose it's fair to say that a bit of luck comes into play – I don't think even the actors know how funny the latest drunken antics are until they try them and see. But this was a good one and I'm glad i saw it. This runs until the 6th September, and is nightly except for Mondays.
Also in Brighton …
The Warren Outdoors might be the most prominent venue up and running at the moment, but there's other things going on too.
Brighton Open Air Theatre has got itself up and running pretty quickly. Unlike Warren Outdoors they are selling by seats, although it does mean you need to wear a face mask during performances – not the best of experiences during a heatwave. When I was there they ran a comedy event which sold out easily, so I can't give my verdict on whether it's any good, but it shows there room for more than one outdoor venue. They start a two-week run of Abigail's Party tomorrow, so if you prefer straight theatre, you you prefer to see theatre on your tod, this may be the better option for you.
Meanwhile, Brighton Fringe has reaffirmed its commitment to an autumn fringe, now down as "in and around October". Sweet Venues is definitely on board – they say they are well on their way to putting tickets on sale. They are also taking applications for Brighton Horrorfest, which I guess is effectively merged into Brighton Fringe now. (Horror plays should be easy this year – just cough a few times and they'll be shitting themselves.) In fact, they're not waiting for October and, wanting to get in on the outdoor fun, they announced today a "secret garden magic show" from regulars Griffin and Jones on the 2st-23rd this month, with options to buy either individual tickets or a table for 6.
I think we can safely assume The Warren won't be doing the usual pop-up, but Electric Arcade is still a possibility. Only notable question mark at the moment seems to be The Rialto, who've been rather quiet since May. Brighton Fringe seems determined to press ahead come what may, but it will be a pity if the Rialto isn't part of it.
On the whole, the lesson here is that the performing arts does not have to be in hibernation. Obviously not everyone can do what's happening in Brighton – but Brighton is swiftly becoming a prime example of what you can achieve if you find a way.