Skip to: Jane Eyre, Phantom / Cats, By Jeeves. So It Goes, Anno Domino, This House, Hairspray, Crossing the Line, Deep Blue Sea
Before we get to business, one announcement: Chris Neville-Smith's 2020 awards is not cancelled. There hasn't been a lot of theatre this year, but there has been enough for a meaningful contest. Since the competition is going to be thin on the ground next year and a best of 2020 won't mean that much, this time next year I plan to do a set covering both 2020 and 2021, where a win be treated as a normal year. I have one review from this year pending – one thousand bonus points if you can guess what it is. (And before you attempt any Sherlock-style elimination of the impossible, my movements aren't necessarily what you think.)
But before we wind up, it's time for a catch-up of all the online theatre I saw. I am very much a live theatre person, with my interest in online theatre mainly limited to finding out about plays I couldn't see in person. As such, my following only really went as far as July, after which I could switch back to live performances. I haven't gone into the same depth as normal reviews either, so instead of my usual roundup of almost everything, I'm limiting coverage to the ones that I found notable in some way. So there are many online plays I saw which aren't on this least and it doesn't mean I hated it. But out of the ones I saw, here's what got my interest …
Jane Eyre
I've previously reviewed and enjoyed Blackeyed Theatre's adaptation of Jane Eyre, but this came hot on the heels of another much higher profile production. One of the earliest plays streamed by National Theatre At Home was their 2017 main-stage adaptation of the same story. The one thing you can indisputably say in favour of this version is that it is far more adventurous. Whilst Blackeyed and many other productions remain in the comfort zone and stay faithful to the original, Sally Cookson's is billed as a "bold and dynamic production", and in this case the boldness extents to an abstract set, original music, adventurous staging and choreography and much more.
If there's one weakness this play has, it's what I call "concept overload": the play's biggest strength is also its biggest weakness. All of these concepts worked individually, but bundled together it got confusing. At the same time I was putting a scene to threadbare set, listening to music that jumped in and out of the period of the story, heard Jane Eyre talking to a chorus of five expressing her inner thoughts, listening to a lead vocalist who I think was representing the first Mrs. Rochester but I'm not certain, and many other abstract concepts thrown in. This, I suspect, ended up coming at the expense of characterisation. Jane and Mr. Rochester were captured quite well, but it seemed to me there was a tendency to portray all antagonists as cold and heartless. This is generally not the case: in Blackeyed's production, you end up feeling sorry for Jane's cruel aunt after she is betrayed by her own children, whilst St. John's misguided infatuation with Jane is portrayed as naive rather than controlling – both of these touches I felt was lost here.
However, there were some strong point that came off superbly. Madeleine Worrall and Felix Hayes were outstanding as the two leads, and Benji Bower's music was also excellent. If he and Victoria Spearing (responsible for Blackeyed's iconic sets) ever collaborated in a joint production, I think they could do something amazing. And in the interest of balance I do need to mention that I know someone who actually saw this live and found it really effective as the real thing, so maybe something was lost in the screening. Nick Lane might be the overall winner here, but in terms of boldness, this one wins hands down,
Phantom of the Opera / Cats
Running alongside National Theatre At Home was The Shows Will Go On. This was an initiative of the Really Useful Company and started off with a back-catalogue of Andrew Lloyd Webber's greatest hits. I won't go into detailed analysis of these two musicals as the verdict was settled a long time ago. I will, however, add a few brief words in admiration.
I saw Phantom of the Opera live a long time ago and know all of the songs inside out, but I'd forgotten how good the production is. Perhaps the thing I hadn't appreciated up to now is how much the Phantom is a tragic villain. Nothing excuses Erik or anyone else going round murdering people in opera houses, but get the character right and you see how this was all entirely avoidable. From the early days of a gifted genius being paraded as a worthless freak to the dreadful Andre and Firmin callously treating the lives of their opera house workers as expendable, one must ask what did they expect. This particular performance was a one-off performed at the Royal Albert Hall for the 25th anniversary, so a lot of credit is due for upscaling the production to an even more lavish one, as well as making work a venue that's not really designed for theatre thanks to some innovative light projection. The only snag is that, for some reason, they couldn't reproduce the falling chandelier. They try to have a few bulbs blowing instead, but as a substitute for the most iconic moment of the show it just wasn't the same. I personally would have picked a normal performance to film, but as far a celebration of the long-running musical goes – with countless former casts in the audience – good job well done.
Cats, on the other hand, was filmed in a conventional theatre in the 1990s, long before streamed theatre was all the rage – but the filming was just a good a job as what the National does now. Unlike Phantom, Cats is a lot more experimental and naturally not everybody likes or gets it, but where this really earns my respect is how bold the concept was at the time it was first performed. In 1981, adding music to a collection of poems may have been conventional enough, but having a cast of singing dancing leotard humans playing felines must have been a wildly off-the-wall gamble – in fact, I believe Lloyd-Webber came close to pulling this thinking it was going to look ridiculous. Thank goodness he didn't. For this reason, I have to make an argument in defence of Tom Hooper's film, terrible though it was. Yes, the concept of CGI cat/human hybrids bombed big-time, but was that any crazier a gamble that the original stage production? If you want people to take insane gambles and succeed, you must be prepared to forgive people who take insane gambles and fail.
My only regret with this streaming was the short time allowed to watch these – for some reason, UK viewers only got 24 hours to see these whilst the rest of the world got 48. I realise that who holds right is complicated and probably not entirely in Andrew Lloyd-Webber's control, and persuading everyone concerned to allow this to be streamed for free at all is an achievement, but why oh why did someone decide that two days was too much? On the plus side, The Shows Will Go On earns my respect with who they were raising money for. Most companies doing streaming asked people to donate to their theatres – and given the dire financial circumstances they were facing, that was understandable. Andrew Lloyd-Webber, on the other hand, clearly doesn't need the money, but by asking people to donate to various arts charities (in the UK, Acting for Others), it's good that he recognises that money need to go to those who need it the most.
By Jeeves
Whilst the megahits might dominate Andrew Lloyd Webber's back catalogue, there was one footnote in this programme which interesting, and that's a collaboration between him and Alan Ayckbourn. Jeeves is a significantly notable chapter in the history of Ayckbourn's writing, namely that it is his worst flop ever. Without seeing the original it's hard to say exactly what went so wrong, but the running length of five hours probably had something to do with this. (I must say, I'm surprised this mistake was made. Ayckbourn was new to musicals at the time so I can forgive him for getting running length so wrong, but one would have thought that Lloyd Webber would have spotted that sooner.) However, both Ayckbourn and Lloyd-Webber retained affection for the idea of it, an the 1990s, they decided to give it another go. By now, Alan Ayckbourn had found out how to make musicals work in the low-budget low-resource environment of the Stephen Joseph Theatre, and thanks to this and other lessons learned, this time they made a success of it.
By Jeeves is not based on any particular Jeeves and Wooster book, rather being a new story based on the infamous duo – not that a casual observer would notice. Ayckbourn reproduces the characters and the scrapes they get into so well it easily passes off as an adaptation of an original P. G. Wodehouse story. One particularly nice touch is Wooster's characterisation as a long-term bachelor. As Wodehouse fans will know, he kept Bertie single because his relationship with Jeeves just wouldn't be the same if he ever settled down. This doesn't stop him helping out old chums with their love lives, although he usually ends up getting the blame for all the chaos that ensues in the process. There is no flame for Wooster in By Jeeves, but it looks like there was one, for when Gussie gets tongue-tied, not knowing how to describe his beloved Madeline – and Bertie already knows every word for it.
One thing that works in the musical's favour is the story within a story. Bertie Wooster is giving one of his dreaded banjo performances, and when the string snaps, chooses to reminisce instead. That format was in the original Jeeves, but in By Jeeves, this becomes indispensible, allowing the play to proceed without the usual complex scenery changes that would have accompanied a normal Lloyd-Webber musical – something that would have been unworkable in Ayckbourn-style musicals. However, the script is let down – needlessly, in my view – by trying to get too clever with this format. It works most of the time, when Jeeves and Wooster flip between discussing what happened and playing out the story they're discussing, but it gets particularly confusing when Wooster breaks into the house wearing a pig mask. Why a pig mask? Because this was all they had in the storeroom of the hall where Bertie was playing the banjo. So was he really wearing a pig mask or not? When everyone starts singing "It's a pig! It's a pig!" I'd quite like to know. There were a few other confusing crossovers too, but this was the one that stuck out.
The streamed version is not the original 1996 SJT production (admittedly I'm not sure how you'd go about filming in The Round), but in what appears to be a purpose-built set for a Canadian TV broadcast, made up to look like a village hall. It's a nice change from a generic theatre filming, but it did make me wonder: why just do that for one filmed performance? It would have been a big logistical challenge, but By Jeeves would have worked wonderfully as a site-specific performance. Ah well, maybe a future tour can consider this. On the whole, By Jeeves is a lot more reflective of Ayckbourn's style than Lloyd-Webber's style, and it has its flaws, but it's a good advert for the kind-of intimate musical that Ayckbourn champions so well.
So It Goes
Now of the first of two fringe theatre entries to make it to this list. Back in 2019 when there was this thing called the Edinburgh Fringe – does anyone remember that? – the play I kept banging on about was The Rebirth of Meadow Rain. There are plenty of plays about domestic abuse, both physical and psychological, but there are very few that ask how you get to that point in the first place – but to do it in the was Hannah Moss did this with heavy audience interaction was a bold gamble with stunning results. This was supposed to be touring round about now (now retitled Everything I Didn't Say, but as with everything else this is postponed). When the time comes, I promise to start banging on about this again.
In the meantime, however, there was always one thing that puzzled me: how did she pull off such a bold gamble so well? Was it a reckless & lucky guess, or did she know something about what risks to take that the rest of us don't. Well, to give us some insight, for a month she had her previous smash hit online, So It Goes. This was a more personal play, about the loss of her father when she was 17. Something she finds so difficult to talk about, she doesn't want to speak. So instead she is silent, and the words she needs to say are written on a board. And, truth be told, had I been pitched this idea when the play was on, I probably would have dismissed the idea as an unworkable gimmick. Yes, it might be interesting for a couple of minutes, but surely you can't keep interest up for an hour doing this, can you?
But she does, and she does it brilliantly. Of course writing words down as a substitute for speaking them isn't going to work, so instead this is only used when it's absolutely needed. Much of the story is acted silently with Hannah playing herself and David Ralfe playing her dad, her mum, and everybody else. But they contantly find new ways find ways to reveal to story. Hannah's mother loading items such as sadness and loneliness into a basket instead of regular shopping as a early device, but the most heartbreaking is the picnic scene. Hannah's dad unpacks food, and then word for discussion. Such as school, and fiends. And the cancer comes out of the basket.
It is very difficult to describe this play (or Meadow Rain) in a way that does it justice, but it scooped a ton of accolades when it was performed the first time and, and those are well deserved. There is a final twist the the silent theme at the end of the play where it all makes sense, but I cannot possibly tell you about that without spoiling the ending. I don't think I'm any closer to understanding how they take such seemingly crazy gambles with the way they present sensitive subjects, but Hannah Moss has somehow managed it twice in a row. All I know is that one of these plays on its own might be a fluke – but to pull it off twice is a row is indeed something.
Anno Domino
As well as the pandemic brining a lot of things online, one other effect has been for a lot of old artists to come out of retirement. Buxton Fringe, for instance, had Three's Company reforming, including the third member who's not been involved for years. As so, in the same spirit, Alan Ayckbourn has been brought out of retirement. Not retirement of writing or directing – he never retired from that in the first place – but retirement from acting. He has not done his original job on stage since 1964 due to a cock-up involving a very junior stage manager Bill Kenwright, but that's another story. There was a brief return in 1969, but that's another story still. Suddenly, with Ayckbourn suddenly having no contact with anyone other than his wife – also with an acting background – it was time to give it another go, with the two of them doing all the parts between them.
The premise of Anno Domino is that Sam and Milly are about to hold a 25th anniversary meal – except that instead of raising a toast to the next 25 years, they announce they're calling it a day. This, in turn, leads to repercussions for those around them – will the marriages and relationships around them fall like dominoes? Of particular focus is Sam's sister Martha, believed by their parents to be devoted to her brother ever since they were children. Unfortunately, reality is not so rosy and whenever the truth creeps near them it's swatted aside. Apart from teenage Raz (and be fair, it was only necessity that dictated an 81-year-old voicing an 18-year-old), he and his wife do a convincing job between them of voicing the six different characters.
It is fair to mention that Anno Domino is really a conventional stage play that an also be done as an audio play, rather than an audio play in its own right. The plot would not be out of place with Ayckbourn's big catalogue of plays performed on the stage first, but I think you get the most out of this if you already know what to expect from an Ayckbourn-directed stage play. I don't listen to many radio plays so I'll let others say how this fares in the radio format, but I found myself visualising how this would look on stage. Needs must and all that, but the expressions and mannerisms that have served the Stephen Joseph Theatre so well are central to this. The good news is that if you don't know what you're meant to be visualising, the latest I've heard is to do this on the stage proper when it can be done that way.
However, there is one shortcoming that I've observed in quite a few of Ayckbourn's latest plays. In Ayckbourn's best plays – in fact this applies to plays in general – there is a first half that builds up an interesting premise; and then in the second half the story is pulled in a new direction still, something you wouldn't easily have guess at the interval. Recently, however, I've seen a few where the interesting premise has been built up, I wonder where this is going in Act Two – and not a lot happens. In this case, it's Sam's parents' marriage that seems to be teetering as the second domino, and I'm wonder who the third is – but that is quickly diffused, and instead we expand on things we were already working out from Act One. Maybe someone needs to persuade him to keep his cards closer to his chest. But bearing in mind the short notice and extraordinary circumstances, it's impressive to get this out so quickly, and I hope to see the stage version sooner rather than later.
This House
This National Theatre production might have a more niche appeal than most of their At Home offerings, but if you are a political anorak this is right up your street. James Graham's play takes place over the rule of the short-lived Labour government from its wafer-thin election in 1974 to the defeat in 1979 that brought in Margaret Thatcher. For those of you who are not political anoraks, the 1979 election was notable as the only one since World War Two triggered by a Vote of No Confidence – quite a nail-biter, as it was carried by one vote. There was, famously, a moment where the decisive vote of a terminally ill MP came down to an extraordinary combination of ruthless political machinations and gentlemen's agreements – but if you don't know what happened, I won't tell you now. Consider it a spoiler.
This House, how
ever, is not a political commentary of the Wilson/Callaghan government, nor is it passing judgement either way on the politics of the day. Instead, it looks at life on both the Government and Opposition benches. Rather than follow the machination of the front benches, the story mainly follows the Whips' offices, and when there's majority of three, the stakes couldn't be higher to get errant MPs into line. Most of the conversations (save the fateful one that toppled a government) are imagined rather than based on public record, but an interesting theme was the arrival of Labour's first female whip, who wants to be treated as an equal rather than someone to tread lightly around. But by far the dominant theme is the human cost. Today there are a lot of career politicians who enter Parliament in their thirties, but there was a time when it was normal to serve in later life after a career elsewhere. And when every vote goes to the wire and late-night sittings go from rarities to the norm, there were numerous deaths that were both nail-biting political events and personal tragedies to someone. And the one that flips the Vote of No Confidence is depicted as one of the worst.
It was a risky theatrical device, but the way scenes are progress – with a speaker calling Members of the House for conversations both inside and outside the Commons – works very effectively. As often is the case, times change quickly. When this was performed in 2013 in the age of consensus politics, the politics of the 46th and 47th Parliaments looked quite nasty. Now, they look relatively civil affairs. If you have little or no interest in political history, I can't vouch this play for you, as it helps to already know the historical backdrop – but if you do, it does the job well.
Hairspray
A few years ago in London, you couldn't move for publicity of this musical, so I was keen to see what all the hype was about when I had the chance. This is another one of The Shows Will Go On series; when Andrew Lloyd Webber ran out of back catalogue (at least those he could get rights to release), he moved on to other musicals, including a few filmed for NBC in America. However, there's a caveat to attach here: these were produced in a format specifically for a TV audience. In the case of Hairspray, the key scenes were built in separate sets over different studios. Whilst an individual scene might look like the stage musical, you could not possibly reproduce this in a theatre. On the other hand, this isn't too different from how screen musicals used to be made. Almost all modern film musicals are shot on location, but there was a time when all the scenes were done in indoor studios. So even both this 2016 version and the 2007 were made for the screen, they are two very different production. Doesn't really matter, but be aware that if you're looking for the stage musical, this isn't quite the same thing.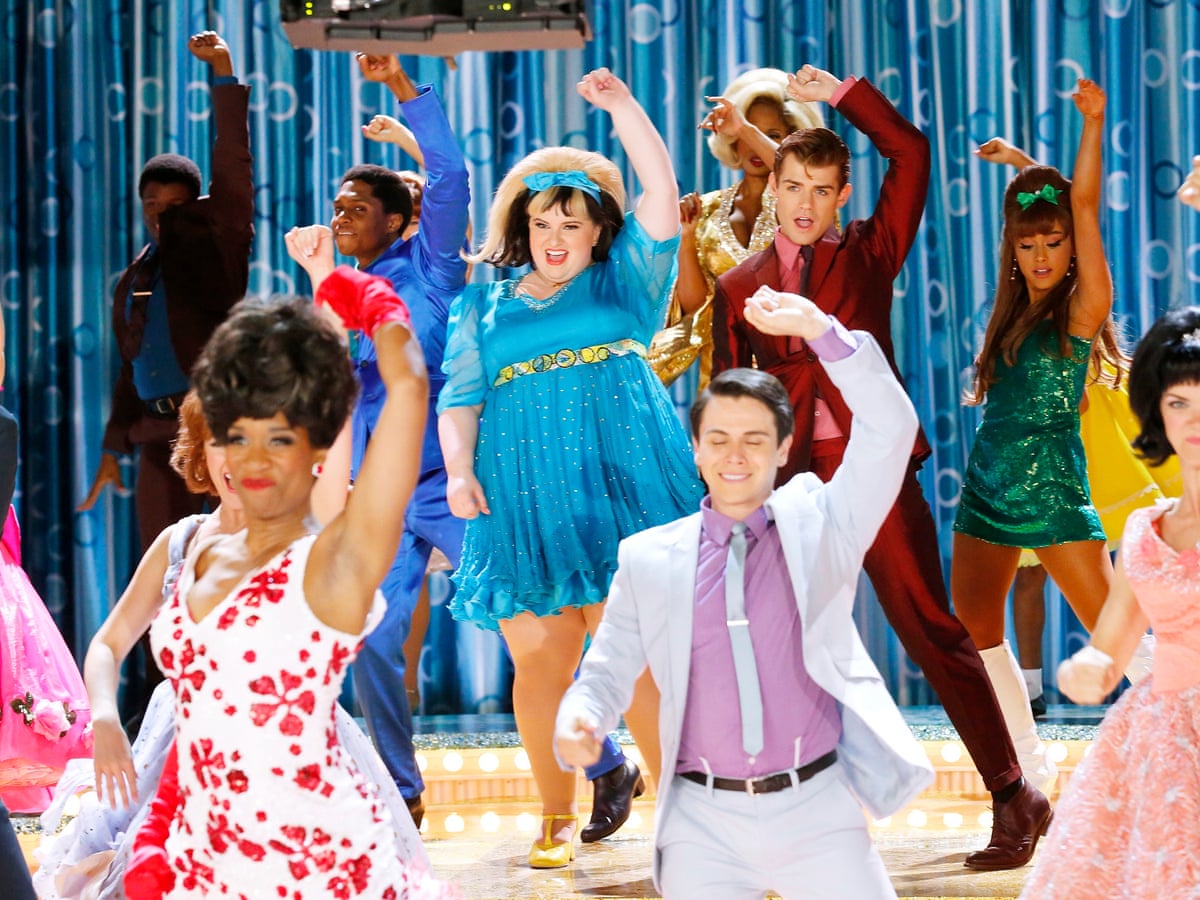 But let's forget about that, let's focus on the musical itself. It's Baltimore in the 1960s, and being America in the height of the civil rights you might think that it's all racist cops and segregate schools and race riots, but there's more to American culture than that. There's also stupid levels of racial segregation on TV. Tracy Turnblad dreams of being on her favourite show with all the cool kids, and by "cool kids" that's code-word for "white kids". The only time black people can be on TV is once a month on "negro day". Unluckily for Tracy, as well as being white, you also have to be slim, so overweight Tracy doesn't stand a chance at the auditions – and as Tracy is rebellious in general, she gets moved into another class with the black kids. Luckily for Tracy, the black kids warm to her quickly, they know far cooler dance moves that the whities, and this gives her the break she needs to land her dream role on her dream show. However, Tracy think it's unfair that her new friends aren't given the same chance she has, and she vows to join them in fighting for change. And eventually they storm the studio, and everyone's wowed with the cool dancing. And from that day on, this TV station welcomes everyone of all races. And everybody lives happily ever after, and nobody in America is ever racist again, the end.
Okay, my last snarky sentence was a little unfair. It's a nice fun light-hearted musical with a wholesome moral theme. The trouble is, I've heard quite a lot of remarks praising Hairspray for telling us about America's troubled history of race relations. That, I must say, is quite a stretch. The historical simplifications done here are well within the normal allowances granted by artistic license, but when a group of mostly back protesters march on the TV station and the Police response by arresting the white leader and leaving all the black people alone – oh, come on. I'm no expert on historical accuracy but even I know that's a bit of a liberty. There's quite a lot of lines spoken by the black characters about their treatment, all of which seems accurate enough, but the golden rule is always "Show, don't tell". In my view, Hairspray does the best job of broaching the serious subject when it's at its funniest, with prim set-in-their-ways white people going into panic over absolutely nothing. It could have gone in that direction if it wanted to – the hysteria of Tracy's best friend's mother when she sees her new black boyfriend and instantly assumes he's an intruder provides a moment of comic relief, but that could have been a lot nastier. But, hey, it's not the job of any single musical to go on a crusade for good. I say watch this musical for the fun, leave it to other productions to change the world, and enjoy Hairspray for what it is.
Crossing the Line
Before this review, there is the matter of a steward's enquiry. With my interest being heavily in live performance, I wasn't planning the usual mechanisms for online reviews. However, like many of the productions at Buxton Fringe, Crossing the Line was supposed to be live before circumstances forced it online – as it happened, the play suited the online format quite well. Bearing in mind that Joanna Lavelle would have performed this live if she could, adding in the fact that I saw three quarters of this play at a previous Buxton Fringe, and that I've got a pretty good idea how the new final scene would have looked as a live performance, I've decided to allow something normally reserved for live theatre.
Crossing the Line was originally a short monologue about the experience of a woman whose life is turned upside down when her husband is caught by the Police viewing child porn. The immediate message is the obvious one: it's not just you who'll suffer if you get caught, it also ruins the lives of everyone around you. The husband is not overtly made out to be a monster – it's hard to be too vindictive to someone who chooses to end it all rather than face trial – but neither is there any defence for what he did. In fact, writer Michael Sheath does a superb job of handling this subject, not for a moment shying away from the awful effects of child abuse but always asking "why" first and "how could you" second.
I saw this in 2018, when it was now a trilogy. The second monologue is from the investigating officer. One thing that comes to light is that her department – with such a long list of cyber-offender to choose from – went after the ones with kids first. Was that the right decision? The effect it has on the family, coupled with years of having to watch the stuff and ignore the screams, takes a toll on her too. The third story is the story of the mother of one of the victims. This felt a bit disjointed after the two tightly interwoven stories, but that was kind of the point: something that happens a long way away, viewed over a computer screen, that allows certain people to think of it as something distant and nothing to do with them. But I felt something was missing from this – we never got to find out what the perpetrator's story was. Not all viewers of abusive imagery are hardened criminals; it has been known for some victims of abuse to watch this to try to make sense of it.
Well, now we have the forth instalment – and it doesn't make him look good. I was able to attend a post-show discussion so I had a good idea of what to expect. Michael Sheath worked a lot with rehabilitation of both victims and offenders, and the bone he really has to pick is with the offenders – quite a lot of them apparently – who behave as if they haven't done anything really wrong. Now the third instalment ties in a lot more closely: in his suicide note, he regards what he views as something happening far away and not really happening; the previous story, of course, putting this myth in its place. The other thing that starts to come through is that he's sorry, but not sorry for what he did or what he enabled or what he did to his family; he's only sorry for himself and sorry he got caught. The conclusion to the series isn't an earth-shattering revelation that changes everything, but rather the final piece of a painstakingly researched puzzle. Crossing the Line has remained online after the fringe finished so it still there to view; needless to say, it is a VERY tough thing to watch, but it's highly recommended, because there are few plays that show such an understanding of such a terrible subject as this one.
Deep Blue Sea
Terence Rattigan is probably one of my key contenders for favourite classic playwright, but in spite of Deep Blue Sea being the work of his everyone talks about, I've never had the chance to see it, so I was pleased for the National Theatre At Home to give me the chance. It is said that Rattigan really wrote the play about his secret same-sex relationship but made it heterosexual to cover his tracks; the theme, however, is universal.
This play follows a day in the life of Hester Collier. You could call it the first day of the rest of her life, as she is found by neighbours after an abortive attempt to gas herself. This may also be the last day of the rest of her life; rather than savour her second chance at life, the dark thoughts remain. Unlike the shit film from 1999 about super-intelligent sharks, there is nothing marine-based in this play; the "Deep Blue Sea" alluded to, is, of course, a metaphor for depression. And it doesn't take long to find out what's the cause of her misery: her doomed relationship to Freddie, part-time test pilot and full-time waster. Freddie is not violent as such, but is so callous and neglectful to the woman hopelessly in love with him. It's hard to tell what's worse: the honourable husband she left him for who is fighting a losing battle to protect her from herself; or the way that Freddy so easily dupes most of Hester's neighbours into believing he's the reasonable one.
The pivot character, however, is Miller. At first, Miller appears as some sort of general dogsbody from the flat – who happens to be extremely knowledgable of medicine. Needless to say, no-one attains that level of expertise as a hobby, and it soon transpires he's a former, struck off doctor. The reason is never stated; some say that he, like Rattigan, is gay and that's why. Whatever the reason is, it's something Miller feels deep shame over, refusing any sort of payment offered for services. And that might just be the thing that saves Hester. Well-meaning friends and neighbours cannot understand where she's at, but Miller, it seems, has been to the deep blue sea and back. Maybe, just maybe, that's where there's hope.
The National does a fine enough job of this. This play surely stands or fall on the acting; if anyone's going to get the acting right it's the National, and they do. They also make the play their own by memorably stylising the set. The only thing I wonder is whether this is the right direction to take this production. Rattigan was at the top of his game when he wrote this play, so naturally you'd expect it to be performed at the time in the biggest theatres in London, so the National Theatre is staying faithful to how it was meant to be performed. But given the claustrophobic and intimate setting of Hester's flat, I wonder if a more effective staging would be a small-scale intense performance where the audience is keep uncomfortably close. But that's a thought for another day. Good job from the National here, and good sign-off from an online spring.