Skip to: Badass Be Thy Name, About the Garden, Skank, The Tragedy of Dorian Grey, Jekyll & Hyde: A one-woman show, Rebel Boob, Clean, Spirit of Woodstock, The Ugly Ducking, Alice's Adventures in Wonderland, Fern Hill and other Dylan Thomas, Dapha Baram, Notflix, Geoff Mead's tours
Well then. Who'd have guessed it?
This time last year, I idly speculated 2020 might work in Brighton Fringe's favour. With Edinburgh Fringe cancelled and Brighton only postponed, an autumn fringe that picked up Edinburgh refugees might have done well. In the end, Coronavirus was just too stubbornly persistent for any fringe to be considered a winner – in fact, we now know the financial situation at Brighton was so dire it was a miracle an October Fringe went ahead at all. As it was, it about a tenth of the normal size, with attention rapidly shifting towards a proper relaunch in 2021 for both Brighton and Edinburgh. Then along came the accursed Kent variant, and Brighton announced a delay of three weeks. Would that be enough?
But in the last couple of months, there has been a dramatic turnaround in fortunes. In the end, Brighton has managed a fringe about half the size of 2019. There are some caveats to this number which I'll cover shortly, but the news that nobody predicted comes north of the border. The Scottish government is insisting on two-metre social distancing, which as it stands will extend into August, much to the protest of Scottish theatres. It is difficult for a conventional theatre to work that way, but for a fringe theatre it's next to impossible. As a result, so far all of the major venues have held off announcing anything. At the time of writing, news is emerging for the first fringe registrations, making use of some of Edinburgh's biggest buildings and outdoor spaces, but that's tiny compared to what the Big Four normally do.
As a result, we must now consider the scenario where Brighton Fringe 2021 is bigger than Edinburgh Fringe 2021 – that would be a jaw-dropping outcome if it happens, but the fact this is even being contemplated is a gob-smacker. Whatever the outcome, this means two things for Brighton Fringe. Firstly, the stakes could not be higher: a good fringe could bring their reputation in striking distance of Edinburgh; a bad fringe that botches social distancing could damage their reputation for years. And secondly: if you want to a fringe binge each year, Brighton may be your only choice. I've chosen to extend my visit, because the Edinburgh Fringe as we know it may not exist for a second year in a row.
But it's far from business as usual at Brighton. There's still a lot of things different about this one.
What to expect from Brighton Fringe 2021
Unlike last year's fringe season, with one cancelled, one mostly online and one slashed in size, this time round Brighton fringe ought to resemble something we're used to from the pre-lurgi years. Most of the major venues are taking part in some form or other, and in the end they've managed (at the time or writing) 560 registrations if you count online, 412 if you don't. That's roughly half of 2019 size; at one time this would have been considered a disappointment, but now that looks pretty good compared to Edinburgh's prospects.
However, there are still a lot of changes from normal times, and off-hand these are the four things I expect audiences will notice the most.
The last-minute fringe: At the start of the year, Brighton Fringe raised a few eyebrows with the announcement that they were not going to have a printed programme. In the end, however, it was the only way it could have worked. Officially, the deadline for registrations was the 2nd April, but in practice that got increasingly lax, with many venues not announcing their programmes until later, and about a third of the registrations came past the deadline. This should not be too surprising: it's not so much the uncertainty of whether Brighton Fringe would go ahead (by April everyone was pretty confident it would), but hundreds of knock-on effects affecting individual acts. So please put your hands together for everyone taking part this time – a lot of them will have pulled all the stops to have something ready in time.
The hybrid fringe: Sweet Venues were arguably the pioneers of stream theatre on the Brighton circuit, setting up their own platform, SweetStream, covering both Brighton and Edinburgh. A number of the October Fringe shows had both a live and on online version, but the main use was in March for an entirely online Femfest. With live performance now on its way back, Sweet's focus is heavily moving back to live. And yet … there's a surprisingly high amount of interest in online fringe this time. Sweet is continuing to do dual platforms for some of their shows, as are some other venues, but the big surprise is two completely new completely online platforms: Living Record and Space UK – both of whom have had no previous connection to Brighton Fringe. We know from Buxton Fringe and elsewhere that online can be a big success if it's a choice between that or nothing, but some people are hedging their bets on online fringe even as live returns. If online fringe can be made a stick in parallel to in-person event, that will be a surprise outcome.
The socially distanced fringe: This won't be any surprise who went to Brighton Fringe last year (or any kind of theatre last year), but there's been quite a few changes to cater for social distancing – and thanks to the determination of venues to go ahead last year, a lot of practice. This has largely gone two different ways. Sweet Venues showed the way to run existing spaces, so expect other indoor spaces to have watched and learned. Of course, there is the side effect of greatly reduced capacity (expect the inevitable in-joke about people who play to audiences of three not noticing the difference), but Sweet and another venues do have online platforms as a fall-back for anyone who can't get an in-person ticket. The Warren, on the other hand, is at a bit of an advantage, at they build their own venues, and as we saw with last year's Warren Outdoors, can adapt very successfully. So they have build two bespoke spaces to work with this. This leads to another side-effect.
The long fringe (again): The obvious problem with running two spaces an a super-venue that used to run seven is capacity. Their solution to meet demand is to run their programme through to mid-July. And Brighton Fringe has gone along with this, and the Fringe is now being publicised with a start date of the 28th May, but no specific end date, and all of the Warren's programme included. But it doesn't stop there – such was the success of The Warren Outdoors (and, let's face it, most big-name Edinburgh regulars having already written it off), they're doing it again up to the end of August. Now named "Warren on the Beach", this doesn't count as fringe proper, but most people probably don't know the difference. Brighton, it seems, is going to fill an Edinburgh-shaped hole for a second year running.
The adaptable fringe: I apologise if this has sounded disparaging of the Edinburgh Fringe. I think the Scottish Government has treated them unfairly. Yes, a 2021 fringe the same size as 2019 is probably too risky, but that's been off the table for nearly a year. Other than that, insisting on a two-metre distance indoors at a time when most of the population is vaccinated and ignoring options such as masks goes way beyond prudent caution and into ridiculousness. But even if the play field was level and Edinburgh and Brighton followed the same rules, I do think Brighton had a lot of advantages. The Edinburgh venues run on insanely high cash flows with Edinburgh University and other landlords charging through the nose; however, the Brighton venues are either permanent or pop-ups, with advantages of versatility, or low cash overheads, or both. Whatever the reason, Brighton has weathered the storm far better that its bigger northern counterpart – and depending on what happens there, could emerge a lot stronger.
Safe choice:
So, now that Brighton Fringe is returning to some sort of normality, I'm re-instating the categories of Safe Choice, Bold Choice, and so on. As always, you can read the details of what this means here. I am keeping the Safe choice bar at its usual level, but I am relaxing the rules on which categories I allow. Normally I restrict it to theatre, but this time I'm being a bit more open.
Police Cops: Badass by thy name
T
he Pretend Men has a hit a few years ago with Police Cops, which was a parody of every 1970s cop show ever made – honestly, I wouldn't be surprised if the entire plot was worked around a checklist of every 1970s cop show cliche. This was followed up by Police Cops in Space which a parody of – yes, you've guessed it – every 1970s science fiction ever made. Definitely not something to be taken too seriously, but a huge amount of acclaim for their high-energy performance.
But with cops shows and sci-fi shows done, what next. Well, they're now doing something a little different, swapping cheesy 1970s TV formats for those films with Jackie Chan and Owen Wilson – you know, the ones where Chinese fighter Chan goes to the Wild West or Medieval England and teams up with a cowboy or knight or something. But, come on, that's old hat. What could a better double-act than a Samurai warrior and the cool dude raver from Madchester in the 1990s. Fighting vampires, apparently. Not sure how much the format will differ from their original show, but expect the same amount of madcap silliness. Runs 9th-12th June at 7.45 p.m. at The Warren.
About the Garden
One of the longest-running acts of Brighton Fringe is Wired Theatre, and as an ensemble composed almost entirely of retired actors, with a loyal following that comes back fringe after fringe, they have the luxury of being able to do what they like and not care what anyone else thinks. This, however, has not stopped numerous reviewers praising their work for consistent high quality. They gave 2020 a miss, which was fair enough, but with presumably vaccines aplenty, they are back with a new play.
Always difficult to tell what to expect from Wired's plays. Subject matter in previous years has included the politican of Greeham common, the strange life of the suffragette era, a wife learning to accept her cross-dressing husband for what he is, and a rather bold trilogy where a sleazy therapist digs himself into a deeper and deeper hole of his own bullshit. The play runs at various times over all weekends and holidays between 29th May and 27th June, but early booking is recommended, because the plays that go down well sell out quickly.
Skank
In the last few years, Greater Manchester has started playing a significant role on the fringe circuit, and on of the biggest successes so far has been Clementine Bogg-Hargroves. With only a few performances in Yorkshire to her name prior to this, it was a success story : entered into a festival where anyone can take part, people chose to give this one a chance, it was a hit, and now venues are queuing up to host this.
Skank is often described as a "northern Fleabag", which is a good description, but I also think of it as a female Peep Show, with Kate a kind of hybrid of Mark and Jeremy, combining Mark's petty uptight obsessions with Jeremy's complete absence of dignity and moral standards. But whilst Skank has its fair share of excruciating moments, there is a difference. Mark and Jeremy would never change, but here- … well, that would be a spoiler. This shows at The Warren on the 1st-2nd July at 6.30 p.m.
Bold choices:
The safe choices are for plays that have a wide audience appeal and I'm confident that if you like that sort of play you'll be up for this. Bold choices are a bit more of a gamble, but if you want to take a punt on something that could be the next big thing, these are five where I reckon you can hedge your bets.
The Tragedy of Dorian Grey
Blue Devil Theatre have become one of the Rialto Theatre's most popular acts, but the whole thing was thrown into question last year with the venue. The Rialto remained closed during the October fringe (which, to be fair, would have a nightmare to organise with social distancing), and then came the bombshell that – unlike basically every other venue I can think of – The Rialto's bid for cultural recovery failed. Suddenly there was a very real worry that The Rialto might never reopen, and that would have been awful. Not just for a sentimental attachment from some fringe regulars, but because The Rialto is one of the most influential venues of the Brighton Fringe, which is in turn influential over culture nationally – it would have been a huge loss to everyone had the worst come to the worst. But the worst never came, and The Rialto is back in business. They are not out of the woods yet though; they still have a lot of money to spend on repairs. If you can spare any money, please donate to their crowdfunder, because there's so much at stake here.
Anyway, on to the play itself. Blue Devil Theatre does a mixture of revivals and retellings, but it is the latter that has really built their reputation. Their greatest hit, Apparatus, I was able to see, where Franz Kafka's greatest story involving unnecessarily elaborate execution by unnecessarily elaborate death machine got a new take with Emily Carding excellent gender-swapped role as the insane elaborate death machine-obsessed Officer. I didn't manage to see The Geminus in 2019 but I heard that went down well too.
So now we have a new take on The Picture of Dorian Grey. Bold choice instead of safe choice because Blue Devil's adaptations are always gambles of some sort, but the transplant of the story from vanity-obsessed Victorian era to the vanity-obsessed 1960s look fitting. The tickets for this seem to be close to a sell-out already, but if you're in luck you can catch this at The Rialto on the 29th & 30th May at 2.00 p.m. then 31st May & 22nd June at 8.00 p.m. (Also be aware this is a two-hour play.) If you're out of luck, or don't fancy taking your chances with the latest variant, you can also see this online via Living Record.
Jekyll & Hyde: A one-woman show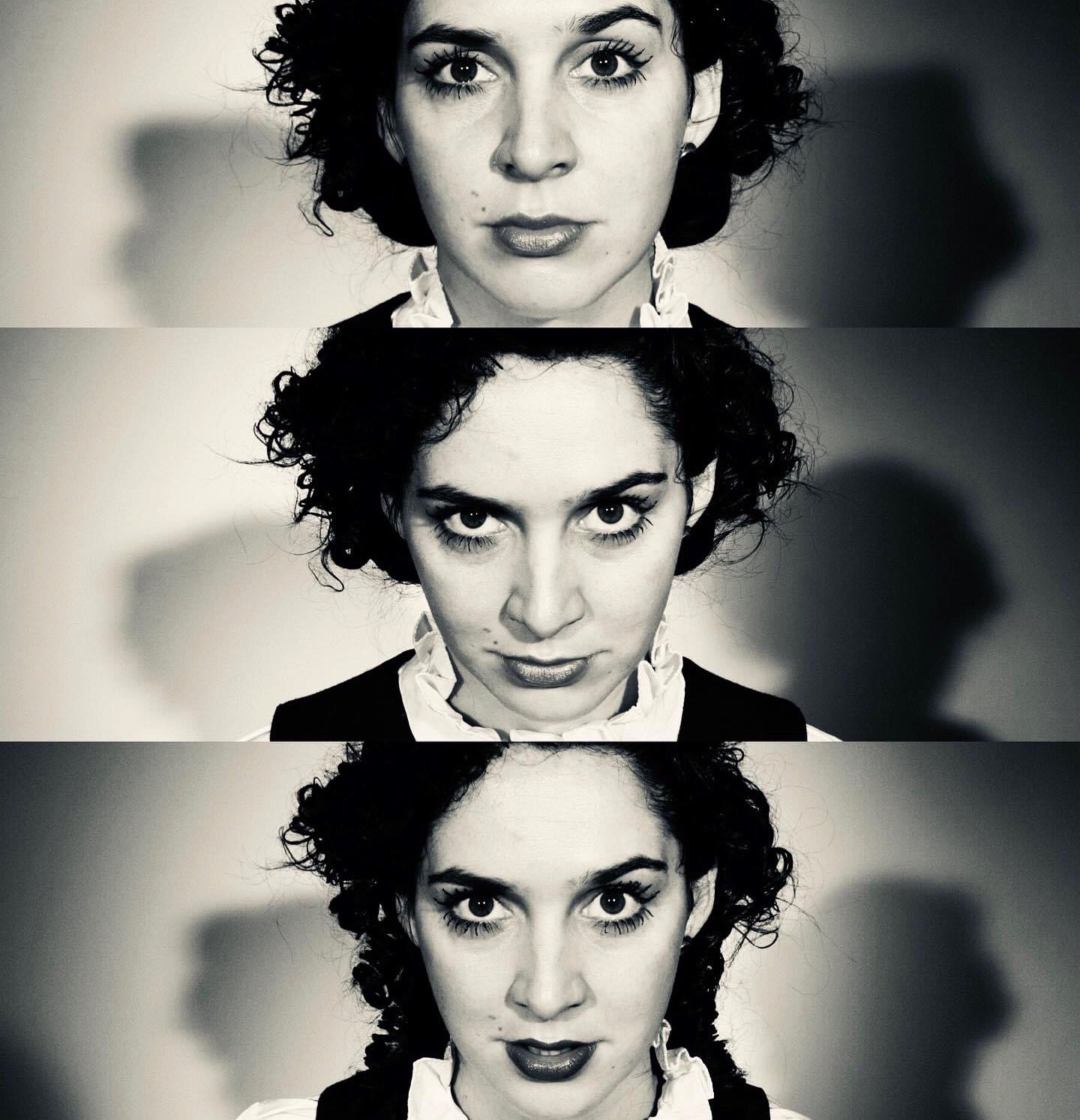 As I mentioned, Sweet Venues (arguably helped along by the good fortune of being based in an office building that was open anyway) did manage to go ahead in the autumn fringe, and this play from the in-house programme caught my eye. There's been quite a lot of gender-swapped stories lately, but there's a lot of pitfalls. A carbon-copy story isn't that interesting, but I've also seen gender-swapped productions muck about with the plot and end up confusing everybody. A lot of it, I suspect, comes down to which story you pick. Which is why I like the sound of this one. There's nothing to stop a woman having the same character traits as the infamous Dr. Jekyll and Mr. Hyde – but the way she would be treated by society around her would (especially Victorian society) certainly would be different.
Heather-Rose Andrews is a good choice too. She's got a few one-woman shows under her belt from various writers, but lately she's been specialising in horror, with Metamorpohsis from 2018 being particularly memorable. This performance, I gather, is very much geared towards a live audience. This is at Sweet Werks on the 21st-27th June at 7.00 p.m.
Rebel Boob
I
n 2018, I was all set to bang on about Speak Up, Act Out, who were to bring back one of the best plays I saw in 2017. Between You And Me may only have been intended as a workshop piece for how to support people who want to open up about sexual abuse; but as a play in its own right it was a terrifyingly convincing depiction of how victims can have their stories dismissed and ignored before they've even started, or even be judged as the perpetrator. But before I could go into full cheerleader it was unexpectedly cancelled. And the reason, I eventually learned, was that artistic director Angela El-Zeind had breast cancer. The good news is that she survived, and this is the basis on her next play.
The play is, once again, based on interviews with numerous people, but the focus is not about living with cancer, but what happens afterwards. Inspired by her own experience of restarting her own life after everything was put on hold and using the accounts of others who faced the same, this once again looks promising as a take on a well-known issue from an angle few consider. This is at Brighton Girls School on the 24th & 26th June at 7.30 p.m.
Clean: The Musical
Sam Chittenden has earned a strong reputation at Brighton in recent years. As well as being the writer of aforementioned Metamorphosis with aforementioned Heather-Rose Andrews, she earned a lot of praise for Sary, a semi-fictionalised retelling of Sary, reputed to be a witch by local folklore. She is described as feminist writer, but it's heavily nuanced, and heavily understated – and it's the understatement that works so well. When Sary has to leave her home town because of the shame of carrying the child of her abusive stepfather, there is no tirade against the injustice of this. The far more powerful statement is the complete absence of anyone seeing a problem with this.
I didn't see the original of Clean, but I gather this one also went down well. It was based on the stories of women in the laundry hill area over 150 years of history. But, smash hit or not, changing a play into a musical is a gamble, hence the bold choice. This is a Sweet Venues production but is not actually being performed here, instead sticking with its site-specific origins. It's at One Church Brighton on the 11th-12th June at 7 p.m. and 13th June at 3 p.m. This is also available on streaming.
The Spirit of Woodstock
The last one is on this list simply because it looks fun. Billed as "a poignant, lump-in-throat, energetic, semi-immersive open air theatre collage of the worlds and political era surrounding the Mother of Free Festivals", this was first performed in September for the autumn fringe when outdoor theatre was having a great time, and is not back when the weather is more fitting. Characters promised range from festival-goers to astronauts, so this has definitely got me curious.
As far as I know, doesn't feature naked hippies just because the weather's a bit warmer this time, but this is Brighton and you never know who turns up in the audience. This is on a various times on Fridays, Saturdays and Sundays between the 28th May and 27th June.
You might like …
The last section is similar to safe choice in a lot of ways: if you like the sound of this you shouldn't be disappointed. The only difference is that whilst safe choice needs to have wide appeal, this category allows more specialist appeal, or appeal in categories other than theatre.
The Ugly Duckling
The big winner of the October Fringe had to be Brighton Open Air Theatre. This has been running for a few years, but had always been a footnote in the proceedings. Suddenly, with most indoor venues closed and most pop-up venues having popped down, this venue was suddenly the centrepiece, with Alice in Wonderland heavily featuring in all the publicity. Such was their success I was wondering whether they would strike whilst the iron is hot and increase their Brighton Fringe presence, but in the end they've opted for business as normal. Just three entries in the fringe programme, albeit further performance over June not in the programme.
But after the lovely contribution of Alice in Wonderland, it would be rude to not have Let's All Dance back, and so they are returning with The Ugly Duckling. ThIt is what it is: a nice undemanding family-friendly show using many of the most popular classical tunes. It is, if you like, a good introduction to ballet with no pretensions to its name, although they do find various clever says to stage the unstageable such as eating or drinking suspiciously-labelled refreshments. Catch them one day on at BOAT on 19th June at 12.30 p.m. & 3.30 p.m.
Alice's Adventures in Wonderland
Alternatively, if you can't get enough Alice or Wonderland, Box Tale Soup also have an offering in the very family-friendly category. Antonia Christophers and Noel Byrne's puppetry-based performances have evolved a lot in the last few years: the big hit that got them noticed was Northanger Abbey, and from there they have increasingly moved into gothic horror, but Alice's Adventures in Wonderland is one of the earliest pieces from their back catalogue. I've not seen any of their family-orientated shows, but I've been assure by those who have that it's just as delightful as Let's All Dance's version. You can catch this on the 2nd-5th June at The Warren at 2.30 p.m.
Fern Hill and other Dylan Thomas
Now for a rare mention from the spoken word category. Guy Masterson, normally busy as a theatre director, had a hit of his own a few years back with Under Milk Wood: Semi-Skimmed. Sadly, that performance is not on offer this time, but you have a chance to see his companion show, which is quite simply delightful. I'm aware I have used the same adjective for three consecutive recommendations now, but it's the right word for two reasons. Firstly, Guy Masterson is a great Dylan Thomas fan and the recitations of passages and poems is interspersed with him professing his love for Dylan's work. Secondly, a director of Masterson's calibre could easily save his performances for higher-end venues, but it seems he genuinely loves getting Dylan's work out there. He was a great supporter of Buxton Fringe's Rotunda, so now's a good time to show some love for The Rilato. Showing 19th-20th June at 3.30 p.m.
Daphna Baram: Unmuted
Okay, that's enough delightfulness for now. Let's move on to something surprisingly twisted. Like most of the shows I saw at last year's Brighton Fringe, I picked her last set, "Just me then", on the basis that it was the only thing on at a time, and as this was billed as the thoughts of a woman turned fifty, I set my expectations no higher than passing the time – and I had no idea what an dark/evil sense of humour was coming. New title, new set, at Sweet Old Steine (aka Pier Werks) on 28th – 31st May at 6.30 p.m.
Notflix
Notflix are a perennial comedy act who most definitely don't need a plug from me, but they were one of the first to sign up for The Warren Outdoors, and with probably a second year as Edinburgh Fringe refugees I'll give them another mention. I caught Notflix in 2016 when they played to one of the smallest spaces at Gilded Balloon; two years later they were already upgraded to one of the largest. And whilst I haven't paid much attention to improvised musical, this troupe show how good it can be. Always doing a corny retake of a movie as a musical, they don't rely on a stock bank of tunes (a practice amongst some improv acts that purists consider to be cheating) and truly make up everything on the fly. And it's funny, and even when they mess up, they make that funny too. This is on 29th-31st May at 4.15 at The Warren.
And one from outside the performing arts completely …
As I said, the big reduction in things on offer last October prompted me to turn my attention to sections of the programme I'd previously not considered, and one of those is "Tours". However, I had previously heard praise for Geoff Mead's Tours, so I took the chance to check them out, and I wasn't disappointed. Unlike numerous tours aimed at tourists where tours guides learn little more than a script, Geoff Mead knows everything about Brighton inside out. You can him pretty much any question and he'll answer with even more knowledge, and I even sense he could make the same tour at least twice as long if he talked about everything he knows. He has two tours, both running at weekends (plus opening Friday). For annual fringe visitors, I recommend the Clifton and Montpelier tour as this covers more locations you're likely to recognise from darting between Brighton and Hove. That is at 2.00 p.m. Alternatively, you go on the London Road tour, covering the immediate north of the fringe hub, at 5.00 p.m.
And that brings us up to date. Now we start an interesting month. Brighton Fringe has the acts, but will it get the audience? Will there be an Edinburgh Fringe of any standing? Can Brighton steal Edinburgh's limelight?
I can't think of a fringe where the stakes have been so high.