Monday 31st May, 11.00 p.m.: About the Garden
Time for one more before bed. Most of Brighton Fringe may have drifted away from Hove, but one group who never changes and almost always chooses Hove is Wired Theatre. Wired Theatre skipped 2020, but the original May slot and postponed October spot, but with presumably jabs all around they are back in action. Denied the opportunity to do their usual play inside someone's house, director Sylvia Vickers has opted to perform a play in her own garden. Although this means that Wired Theatre have had to go easy on their signature site-specific format, this makes strong use of their time-jumping story lines which you get used to with Wired Theatre.
If you're new to Wired Theatre, this play is actually a good introduction. The first part of the play is almost a farce, except that farces usually explain how the ridiculous situations arise. Here, it all gets pretty random: a man gets into a petty argument with his upstairs neighbour over who's allowed access to his garden under terms of the lease. More and more people start appearing, from alcoholic spurned lovers to mothers of work colleagues, and just when the whole concept ceases to make any sense … it all starts coming together again. The characters act of snippets from key moments of their lives. Bizarre actions made in the present day start to make sense. Youthful mistakes becomes millstones of a lifetime. True colours of some characters hidden away are revealed.
There is an opportunity for reconciliation at the end. The only loose end that didn't feel properly tied up was a the secret one character disclosed over what really happened driving his car one night – the confession was a pretty big deal, and one would think we'd want to know what happened next there. But on the whole, there is a nice symmetry to this play, the way is almost descends into nonsense by the halfway point before putting itself back together again. About the Garden is done for this weekend but will be back for future weekend at various times.
Monday 31st May, 5.45 p.m.
And the other big Covid-related change is The Warren. They officially sat out the October Fringe, but they did run "The Warren Outdoors" in August and September, which is now unofficially considered part of Brighton's "long fringe" from August to October. This crazy gamble is regarded as success, so much that they're doing this again next August (helped, I suspect, by the continuing exodus of Edinburgh refugees). Now it also turns out this approach is being used for Brighton Fringe Warren too.
I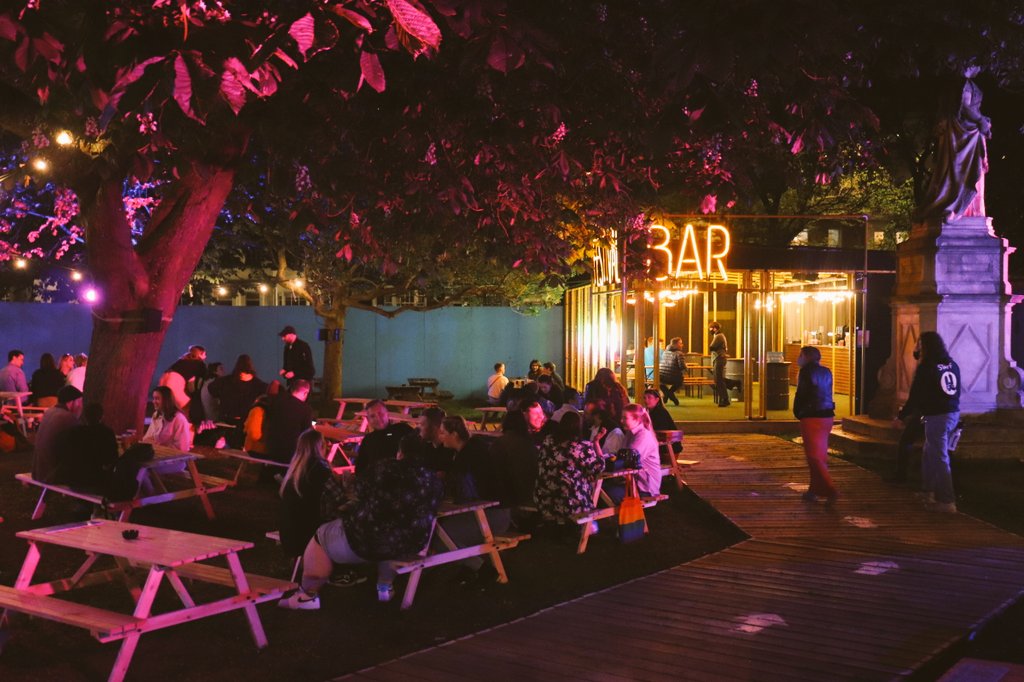 f you're wondering why Warren Outdoors was renamed Warren On The Beach, it's partly because they're all outdoors now. They are running two spaces: The McElldrey is open to the sky, whilst The Oil Shed is open at the sides. No booking by tables this time (that I think would have spoilt the fringe experience if they had), but plenty of space in the auditoriums to space out seating. Drinks are working similar to last year, with orders via a web page. I knew business at the bars was good, but what I've seen so far inside also looks good.
However, there is a snag. Noise bleed has been an issue at The Warren ever since they moved to their pop-up site with its popular drinkery. There was a mood that the 2019 version of The Warren was better – but without the walls and/or ceilings to separate acts from the noisy bars, it's now worse than ever. Even miked-up acts can be disturbed by some particularly screechy revellers outside. Not so much an issue for comedy, but a big issue for most theatre productions.
Whatever the reason, comedy outnumbers theatre by nearly 3:1 at The Warren this year. (Sweet, in contrast, is about equal over the two categories.) To be fair, the few theatre shows that are programmed tend to be on earlier when there's less likely to be noise. Let's hope that's enough.
In summary, it appears that one side-effect of a Covid-safe fringe is a comedy-dominated fringe. I don't think anyone's complaining as such – let's face it, there's a lot of demand for comedy under the circumstances. But a long-standing worry over Edinburgh Fringe was comedy taking over at the expense of everything else. Might we have the same argument at Brighton Fringe 2022?
As always, we'll see.
Monday 31st May, 3.30 p.m.
Now, just before a bring of three is a short space of time, let's have a look at how different venues are adapting to fringe 2021. I'll start with the two who have experience of doing this before: Sweet and The Warren. Basically, both have carried on using the solutions that worked for them and upscaled.
The unsurprising news from Sweet is that they are carrying on doing what they did last October, which worked well enough. The only difference is a change of venues, yet again. This time the Duke of Wellington's gone, yet again conected to a change of management – although, to be fair, that was just about the last venue you could make Covid safe. In addition, Sweet Werks 1 is gone – annoyingly, the photography studio that was such a useful spot has apparently been converted to recording booths. However, Sweet's relation with The Werks has been good, and they've now taken on a second venue at Pier Werks, branded as Sweet OId Steine.
Other than that, Sweet Old Steine is operating broadly the same way that Werks Central has been working since October: spread out table for front of house where you remain seated until it's time, and spread out seating inside grouped according to which groups has booked. This is a bit of stressful task as you're basically playing Tetris with various-sized groups, with inevitable last-minute changes, but so far it's worked out.
There is one other observation: Pier Werks is the most central venue Sweet has used so far. It's more by accident by design, but Brighton venues as a whole have been gravitating around the Pavillion, with almost everyone having upped sticks from Hove. When social distancing is finally done, this might make a decent social hub which has been sorely missing since the Dukebox went. It would be great they could have some outdoot seating, but the bus stop immediately outside makes the geometry unfavourable. But with the Speigeltent now over the road, we now have all four major venues and fringe city in the same square half-mile. A much tighter fringe is emerging.
Will talk about The Warren next, but a play's about to start. Excuse me.
Monday 31st May, 9.30 p.m.
But with the situation over at Edinburgh now apparently making from front page of the Scottish edition of The Times, this can't wait any longer. Let's pause Brighton and talk about the elephant in the room.
It is important to recognise that the Scottish Government is under no obligation to treat the Edinburgh Fringe the same as the UK Government treated Brighton Fringe. It was agreed from the outset that devolved administration can follow their own rules if they want to, and given Bojo's past record of misplaced complacency, Holyrood has a good argument to be more cautious. Certainly if the UK government decided it was safe to lift all restrictions on the 21st June – something that looks increasingly reckless with the Indian variant around – I would back their right to play it safe.
But I am of the firm opinion that the performing arts have been unfairly singled out. This is, I think, a classic case of the "chicken and pig" fallacy, where a chicken and pig are required to produce a dinner of bacon and eggs for the farmer. The pig objects, but the chicken tells the pig to stop moaning because they're all in it together and she's working hard on these eggs and the pig can do his fair share. Similarly here, the idea the performing arts are having their fair share of restrictions is wearing thin. Theatres are required to have a distance of two metres, ignoring all possible forms of mitigation such as masks, barriers, or everyone facing the same direction, whilst pubs are allowed one metre. The fact that cases traced back to pubs vastly outnumbers cases traced to theatres is ignored, and quite frankly, given how many late-night pubs behaved last summer, they absolutely do not deserve the level of trust being denied to theatres.
There has been no justification of these differences in rules from the Scottish Government other that platitudes over wanting the sector to reopen in confidence but we must move carefully [unless you're a pub]. True, there are issues over crowding backstage at fringes, but that can be discussed as an issue in its own right. I suppose this might be down to the Scottish Government failing to appreciate the difference between a 1,000-seat theatre and a studio space (the UK Government is also guilty of that), but there's really no excuse to have not considered the unique setup of the Edinburgh Fringe by now. There is a review of the rules on the 7th June, a week today, and theatres are lobbying hard for parity with the hospitality sector. But if they get it, it may already be too little, too late.
Although resigrations opened earlier this month, most of the venues have not said they'll take part. A few have already announced they won't, others I've heard off-record have already decided the same. Many acts have already abandoned Edinburgh plans and signed up elsewhere instead, with Warren on the Beach amongst the likely beneficiaries. It seems hard to imagine how any of the venues can proceed from 7th June with just six weeks to go. I'm not ruling this out – after all, The Warren Outdoors opened two weeks after the go-ahead from Brighton City Council – but without the space for pop-ups in Edinburgh it's hard to imagine how the same thing can be pulled off there.
Back in August, Edinburgh Fringe was forecasting a fringe 40% the size of 2019. That sounded pessimistic; now that outcome would be a miracle. I am even starting to wonder if Edinburgh might fall below the 500-ish registrations from Brighton Fringe.The big unknown, however, is what happens next year. Already people are writing off 2021; the question is how much of this damage is permanent.
Not everyone holds the Festival Fringe Society blameless. There are grumblings over opening registrations without venues on board, and also complaints over how they're handling an online programme. (More of those later.) But last October I said that there's no way the Scottish Government would allow the Edinburgh Fringe to collapse on its watch. Now I even beginning to wonder: not only whether they would allow it to happen, but also whether they want it to happen.
Sunday 30th May, 6.00 p.m.: Between Two Waves
In The Warren for the first time, and whilst I wait for the show I'm seeing, let's get on with reviews. This was at the Rialto, which I made a point of going to because they had the closest call out of all the venues and could do with some support, but it was also part of my rule of seeing at least some plays by groups I've never heard of. Unmasked Theatre is, however, one the Rialto's senior partners, and Between Two Waves, originally an Australian play from Ian Meadows, and has earned praise from other reviewers on previous outings.
I apologise for describing this play with the most over-used phrase in the history of reviewing, but I can't think of a better description. The play is thought provoking. The main theme of the play is climate change. It is 2023 and Daniel is making an insurance claim following a record-breakingly catastrohpic flood. Daniel is not too concerned about his expensive designer/sustainably-sourced furniture: he has two worries. One is if his insurance policy will cover the cost of recovering vital climate science data he has on his flooded disks, The other is that, if he is correct, this flood is nothing compared to what's round the corner.
But whilst climate change may be the central theme this this play, it doesn't drive the story. The politics behind persuading world governments to change their ways features, but that's only a small part of the play. No, the driving force behind this play is the character of Daniel. He lives and breathes climate data. One effect of this is that is naivety when science crosses into politics – data is little use against rhetoric if you're not prepared. Daniel can learn to fight those battles better, but what he can never learn to do is switch off. And the data terrifies him. When he meets quirky Fiona, the eternal optimist, things are looking up. Perhaps they have what it takes to keep each other in check. Or perhaps their difference will ultimately be too much when it comes to the crunch.
The characterisation of play is excellent, and cast of four do a good job, each understand well what makes them tick. One thing I felt was overdone was Daniel's awkwardness around women – that's an over-used theatrical device and we got the message in half the time – that that's just a personal preference. The play is transplanted from Australia to the UK, and one small giveaway is the references to the jobs that stand to be lost in fossil fuels: an issue Down Under, but not in a country whose fossil fuel industry is on the way out – but you'd have to be really pedantic to notice that. Some XR types might prefer a play that spells out visions of doom non-stop for an hour, but if you're serious about reaching to people – which I suspect Ian Meadows is – this is a lot more effective.
Good all-rounder to open the Rialto's season. This is on today at 7.45 if you're quick, and returns the 4th-6th June.
Sunday 30th May, 1.00 p.m.:
Should add that whilst the mood surrounding Brighton Fringe is overwhelmingly optimistic, the mood surrounding Edinburgh Fringe is overwhelmingly pessimistic. Word from Buxton Fringe is better – they seems to be recovering at about the same pace of Brighton Fringe, and indeed, there is some new Brighton-Buxton crossover coming up. I will looking ahead to both of these later. (Update: Shit is now hitting the fan regarding Edinburgh. Shona McCarthy has finally gone public with her pessimism.)
I have also finished checking out the major venues and all the different ways they are approaching covid safety. Short answer: Sweet and Warren have both carried on using their very different approaches they pioneered last year and upscaled them. I also had my first look at the Rialto last night, but I want to have another look before I give a verdict on that.
I have two reviews composed in my head, but I'll sign off now because I have number 4 coming up.
Sunday 30th May, 10.30 a.m.:
Now, one thing we haven't considered is reviews. There's plenty of participants, all indications of audience sizes continue to be good, but reviewing publications are an important part of fringe infrastructure. Reviewers are just as vulnerable as performers to quit to business as not come back. How is this faring?
A common – and quite reasonable – question, is why do reviewers matter in a digital age? The days when a single paragraph in The Scotsman could make or break an Edinburgh Fringe play are long gone. Today, not only are the old paper publications swimming in a sea of digital reviewers, that in turn is swimming in a sea of social media publicity. Social media adds to word of mouth publicity as a very powerful tool in selling a show, and it is entirely possible to achieve sell-outs without the endorsement of a single reviewer. The other side of the coin is that with a review, you're staking a lot on one person's opinion. If 90% of the audience love your show and 10% hate it, 90% audience praise is great, but a 10% risk of the only reviewer hating your show is a nerve shredder. What do reviewers offer that audience feedback doesn't?
The answer, I think, is having something to show for it. The problem with audience feedback is that anyone can cherry-pick the good quotes and ignore the bad ones. This is especially frustrating you genuinely have had overwhelmingly good feedback, because there's no easy way to prove you didn't just get your mates to write some good quotes for you. So far, reviewers have remained the preferred way for theatres and funders to verify whether a play was any good. And judging by the thanks I often get for reviews that I only considered lukewarm, it really does look like reviews have a position of trust that audience quotes don't. Of course, websites that do cash for praise are routinely exposed and discredited – everyone else would do well to remember trust is easily squandered.
That digression aside, how is Brighton Fringe doing? Well, the early signs are that this is getting back to normal, at around the same pace as the rest of the fringe. Broadway Baby, FringeReview and The Reviews Hub are all active. The only notable absentee is FringeGuru owing to medical problems (not covid, not serious) keeping Richard Stamp away.
So, with good early signs across the board, the next question is whether this will hold out over the next few weeks. Are the audience figures sustainable, or is this a temporary blip from people who've not seen any theatre for six months? Will the reviewers stay the course, or will an under-staffed teams fizzle out half-way through? Don't get complacent yet. This has a long way to run.
Saturday 29th May, 10.00 p.m.: There's a Ghost in My House
Been offline most of today fitting in an interview, two plays, and a walk to Hove and back. But I'm finally ready for my first review. It was the only play available on Friday that didn't clash with the press launch, but it's a good one.
I rarely look at the background of a writer when reviewing a play, but on this occasion it's very relevant. The most famous – or should I say notorious – ghost programme is Most Haunted, which was so staged and so laughable there's even an in-joke that you can convince your children there's no such thing as ghosts by showing them this programme. But before Most Haunted, the BBC once attempted a live show that tried to take the subject seriously, trying to resolve strange lighting and patterns in white noise rather than Yvette Fielding screaming every three minutes. And it is the ongoing bugbear of Simon Moorhead, who produced Ghostwatch Live that the TV industry spured this in favour of obvious fakery.
In this story, Emily Carding plays Sam, a producer of a programme of a similar slow-burning style. It's been running for a few years successfully enough, but unfortunately Sam's just got a new boss who's unhappy that the programme is too boring and not enough like her own series, Celebrity Ghostbusters. Sam weighs up options. Fight, submit, or look through footage of a programme for a compromise? But tonight a ghost will visit – just not the kind Sam makes programmes about.
There are two things about the play that stand out. Emily Carding's acting skills are reputedly phenomenal, and they come to the fore here. Whist trying to work a way out, Sam keeps getting spammed by a phone call about an accident that's not your fault. Meanwhile the same woman appears in the footage she looks through, and the way Sam takes to the bottle in reaction to both gives away that her metaphorical ghost is the memory of someone lost. And the other that that was the staging. Often I have praised a particular aspect of the staging, but this time I loved everything about it. Many people are raving about the TV footage, put together by Moorhead from a mixture of real footage and bespoke video for this play, but the thing I don't think's been appreciated so much is the set. The background of an office wall may look decorative, but when you look closer, every item you see has something to do with the story.
If I had to pick out a weakness, I wasn't sure what, if anything, this play had to say about ghosts. There were two promising leads over the repeated accident spam calls, and footage that didn't seem to belong on the old tape – but neither of those escalated into the supernatural. Maybe it was a missed opportunity, maybe there was a good reason why not to go down this route. But I do feel it would have been good for the play to explore Sam's own outlook on ghosts, and doing these programmes in the first place. Is this really a quest to reconnect with a lost beloved woman? But in a play this ambitious and complex, I'd have been surprised if there wasn't an opportunity to do better somewhere. Good opening for Sweet as both the venue and the producing company, and impressive work from manager JD Henshaw. Runs until Thursday, and apparently tickets are selling well.
Saturday 29th May, 11.00 a.m.
Two more plays starting today. Long-standing fringe veterans Wired Theatre are back with About the Garden. They've been active in Brighton Fringe with site-specific plays, mostly in people's homes, for over a decade, long before the pop-up venues that dominate the fringe today were around. You never know what to expect – just be aware there will probably be jumping back and forth in time. This shows at various times over weekend. The other biggie starting today is The Tragedy of Dorian Gray from Blue Devil Theatre, at the Rialto Theatre until Monday, but that is almost sold out. If you are out of luck, Wired will be back every weekend, and Blue Devil will be back on the 22nd-24th June.
N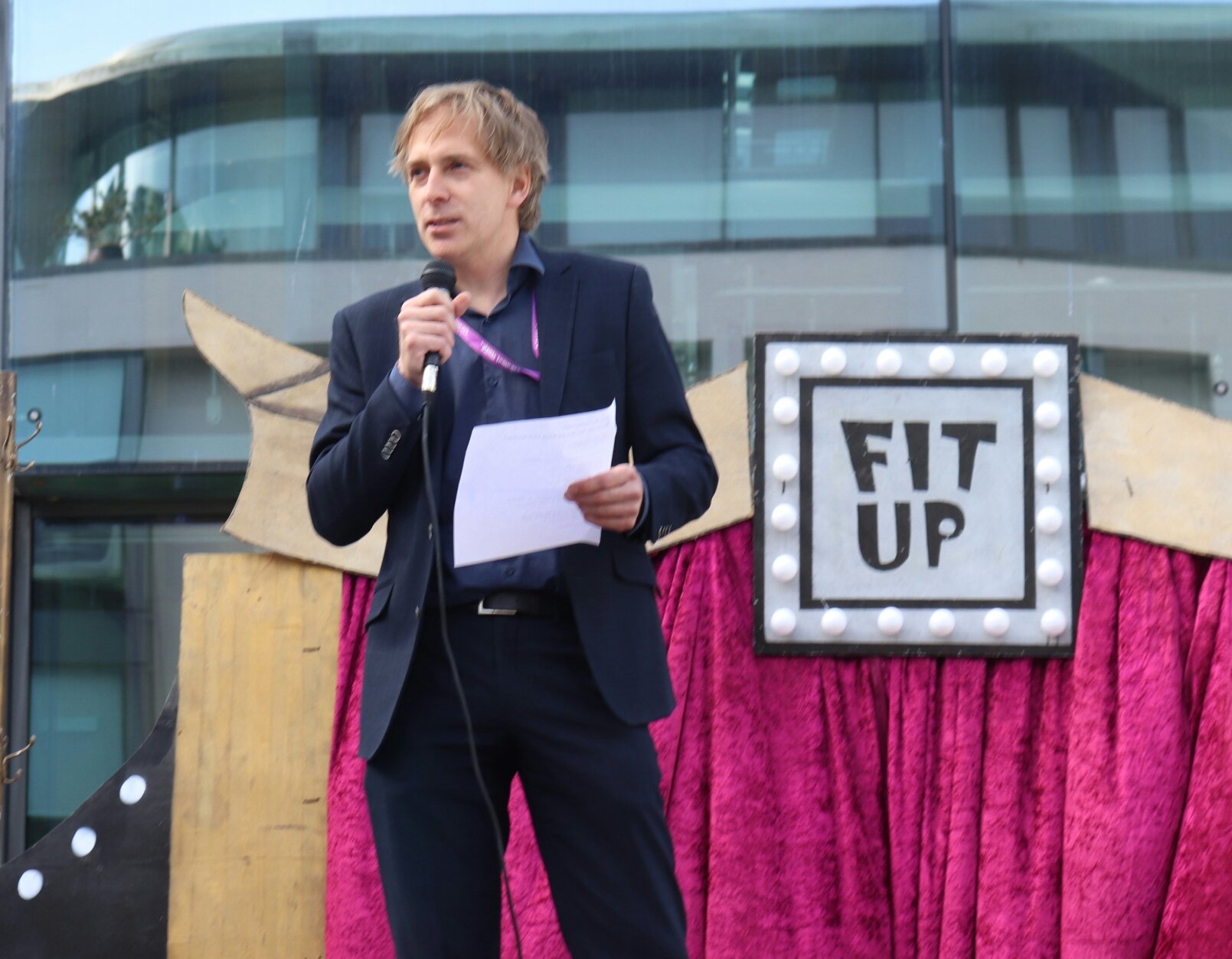 ow, let's get back to the press launch. For those of us who have been following Brighton Fringe's fortunes and misfortunes since March last year, we knew what to expect, but for those not up to speed, now's a good time for a recap, because there's two things a casual observer might not be aware of. One is that Brighton Fringe 2021 has been planned as their big comeback for almost a year; whilst a postponed 2020 fringe did go ahead in the end, they were resigned to that was being just a token presence for those determined to go. The other thing is that Brighton Fringe has a closer call that most people realise; the lockdown announcement came at the worst possible moment, after the programmes were printed but before the fringe. The consensus is that had they not been bailed out by The Pebble Trust, the autumn 2020 fringe would not have gone ahead and this one probably wouldn't have either. As a result, this launch had very much the feeling of a welcome back party. They think the worst is over. I hope they're right.
One small but interesting observation is that Fringe City has moved. It was on New Road; now it's in a square just off Jubilee Street to the north. I'm guessing this was a Covid measure; it would have been crazy to have the crowds of Fringe City on a street already busy with pubs. However, I think this location might actually be better. Try as they might, Fringe City has never matched the Royal Mile at Edinburgh – drinkers and tourists outnumber people there for the Fringe. I found flyering at Fringe City to be a pain for precisely this reason: for every person who flyered who was interested in the fringe, there were four who weren't interested – even those watching the fringe acts. Moving it slightly north might be a good move: still big and central enough to get attention, but hopefully a hub where most of those present actually are interested in fringe events.
And, of course, we got to see some previews of acts. There were a couple of street performer-style circus acts that I enjoyed, but the one that's going to stick in my mind is officiallly called "WATCHING, Ceci n'est pas de Deux", but I think the compere called it "Sexy Morph". I will tread carefully here because some people seem to take this deathly seriously as a ground-breaking form of dance, but for me this looks like a front-runner for my annual "What the fuck?" award, because it does look like a semi-orgy between the dancer and a puppet that looks a bit like Gollum. Although I was impressed with the way Ester Natzijl managed to choreograph her performance so you never really noticed one her arms was being used as the puppet. And fair play, the worried dog barking throughout the dance and puppet Gollum offering a reconcillatory stroke at the end was a great touch. Full performance 8th-9th June 9.00 p.m. at the Spiegeltent. Just don't say I didn't warn you.
Friday 28th May, 10.00 p.m.
So, attended the press launch and seen my first play. Got things to report on both of those fronts, but it's getting late so I will keep the update brief. Let's stick to the big picture: are the audiences big enough to sustain a fringe of this size. Well, the early indications are quite good.
The most easily quantifiable sign is the queues outside the major venues. The Warren and Spiegeltent are very popular as places to hang out. With Covid forcing limits, they are both operating to limits with priority given to actual ticket holders, and tonight I saw queues outside both venues as early as 8 p.m. One important caveat is that a high number of drinkers does not necessarily translate into a high number of ticket sales – and one criticism that has previously been levelled at the big venues is that they are more interested in being drinking venues that arts venues. There again, it is often the drinking income that makes venues viable. It certainly looks good enough to make it worthwhile for the venues – we still need good ticket sales to be sure it's worthwhile for the performers.
However, the early indications on ticket sales look good too. Here it is harder to make judgements, because my own observations are on a small sample, and acedotal report from other people can be skewed by optimism or pessimism. However, many of the plays I have already got tickets for appear to be close to sell-outs, and the mood I'm picking up is that people are pleased with sales overall. Of course, sell-outs are a lot easier to achieve than normal because of the reduced capacity, but as long as acts have been managing expectations against the revised best-case scenarios, that should be fine.
Still a lot of uncertainty. We know from experience that the mood of how things are going get disproved when actual stats get analysed. But with all the caveats noted, I can still say: so far, so good.
Friday 29th May, 4.00 p.m.
However, we interrupt this Brighton Fringe coverage for a bit of breaking news. I don't do this for every item of interest that comes up, but as I've been banging on about this for a year, it needs a mention. And it's good news. I've been saying for ages that witnesses to abuse and bullying have nowhere to turn, and that arts venues cannot be trusted to police themselves. And, at long last, somebody with the power to do something about this has got the message.
This has come from UK Theatre. They have plans in place to create a whistleblowing hotline. This, of course, is only a statement in principle, and the devil will be in the detail. But the early signs are promising, and Fiona Allen, UK Theatre's president, sounds like she's really on the ball. She recognises that many victims have nowhere to turn, having an anti-harassment policy does not guarantee an organisation will do what they say, and that there is no-one to hold them accountable when they don't. Equally, she acknowledges that a lot of details need to be worked out, such as what UK Theatre actually does with these complaints; also, there is the question of what power UK Theatre actually has to take action. BFI has grants to bargain with (and it's ceratinly doubtful that Tyneside Cinema would have had the same outcome without their intervention) – what enforcement action can be taken against theatres?
The snag, of course, is that it's going to take some time to put this into action. In theory, this means that abusers who run arts organisations are still not held to account in the meantime. What I hope is that this works as a deterrent. The worst abusers in the performing arts are the ones who thought they could get away with it forever. If we're lucky, and UK Theatre make it clear they're serious about this, maybe would-be abusers will realise they can't get away with this. Bringing abusers to book is good, but stopping abuse happening in the first place is even better.
I really hope the reaction to Noel Clarke succeeds where the reaction to Harvey Weinstein failed.
Friday 29th May, 2.00 p.m.
Although this is officially day 1 of the fringe, it's all a bit quiet at the moment. Fringes tend to be quiet in the afternoon anyway, but it got me wondering, I did some analysis of the listings, and my suspicion looks correct: Brighton Fringe has temporarily reverted to being a fringe centred on evenings and weekends. The only live performances running weekday daytimes are almost entirely children's and family events.
It shouldn't be too surprising though. For Brighton Fringe newbies, audiences in Brighton are not like Edinburgh. At Edinburgh, the majority of the audience are there specifically for the fringe. At Brighton, most of the audience are local and have day jobs. It is only in recent years that Brighton Fringe venues have been getting bold enough to start programming in weekday daytime. But from the conversations I've had so far, venues have been a lot more cautious this time round, and have been restricting their programming to safer times of day. Also, with live performances currently at half their current levels, the pressure is off and there's less need to use every hour of the day.
What this does mean is that Brighton Fringe will stand or fall on what happens in the evenings. The Fringe may have the performers, but will it have the audience? There's a couple of encouraging early signs: I'm hearing of some events close to sell-out (albeit at a reduced capacity); and the Warren's bar is already running and looked busy last night. Is that enough?
A critical 36 hours lie ahead.
Friday 29th May, 11.00 a.m.
Apologies to anyone coming into this coverage cold – you probably have no idea what's on. For a recap of where we are with all things fringe and Coronavirus, you can read my Brighton Fringe preview. You can also see my pre-listings for what's worth seeing. Reminder that this is not a comprehensive list – this is merely based on a sub-set of artists I've seen before. I hope to be singing the praises of some artists I've never heard of before the festival is done.
I shall be giving advance notice of recommendations as and when they come up, and we've got a lot over the opening weekend. For now, I shall highlight two that start today, both of which have already earned my respect for taking part in the far more challenging circumstances that were Brighton Fringe 2020. In theatre, we have a outdoor immersive piece from long-standing Fringe stalwarts Something Underground, taking place outdoors in St. Ann's Well Gardens are various times Friday-Sunday. This runs on weekends throughout the festival so there's plenty of opportunities here. Alternatively, if you prefer some unexpectedly twisted comedy, you can see Daphne Baram at Sweet Old Steine between today and Monday at 6.30 p.m.
Sweet Old Steine, by the way, is Sweet's new venue, not to be confused with Sweet Werks. Since there's nothing shoing until this evening, I guess my main activity today will be checking out these new venues.
Thursday 28th May, 9.00 p.m.
And the reason I started off today? I was invited to a press launch. Not the Brighton Fringe press launch tomorrow, but theSpace who have opted for their own launch, bit like Edinburgh Fringe venues do. Unfortunately, timing of trains has not been kind and my plan to access this through train wi-fi did not work as well as promised. As a result, I got cut off several times. I will try to catch up later, as some of the previews looked interesting.
What I can do, however, is talk about Brighton's temporary status as a "hybrid fringe".Whilst some of my peers took to online theatre like a duck to water, I never really got into it that much. Nevertheless, some audiences swear by this, and whilst live theatre may be back in business, it's not back in business everywhere and not everyone's ready to go back. So all of the major fringes are currently supporting online events – there has never been a rule saying you can't do this, but at the moment they're going out of their way to support this.
We saw from Buxton Fringe last year that a (mostly) online fringe can work well, but Buxton was helped by a small community that can hold together in a year apart. Can this work for a larger festival. Well, somebody thinks so. As well as Brighton Fringe's own player and Sweetstream's online siupplement to its own venue, two completely new platforms have appeared: Living Record and SpaceUK. The latter one is particularly interesting, because The Space is very much associated with Edinbrugh. They even launched their online platform in August 2020 to fill the gap on the cancelled Edinburgh Fringe. So to turn their attention to Brighton Fringe is something new.
My focus will be mainly on in-person events, but I will take the odd look at the online section to see how that's going. What does this mean? Does the continuing popularity of online mean it's here to stay? Does SpaceUK's embrace of Brighton Fringe mean Edinburgh is no longer seen as the only fringe worth talking about? That is one of many questions over the next month that will need answers.
Thursday 27th May, 6.45 p.m.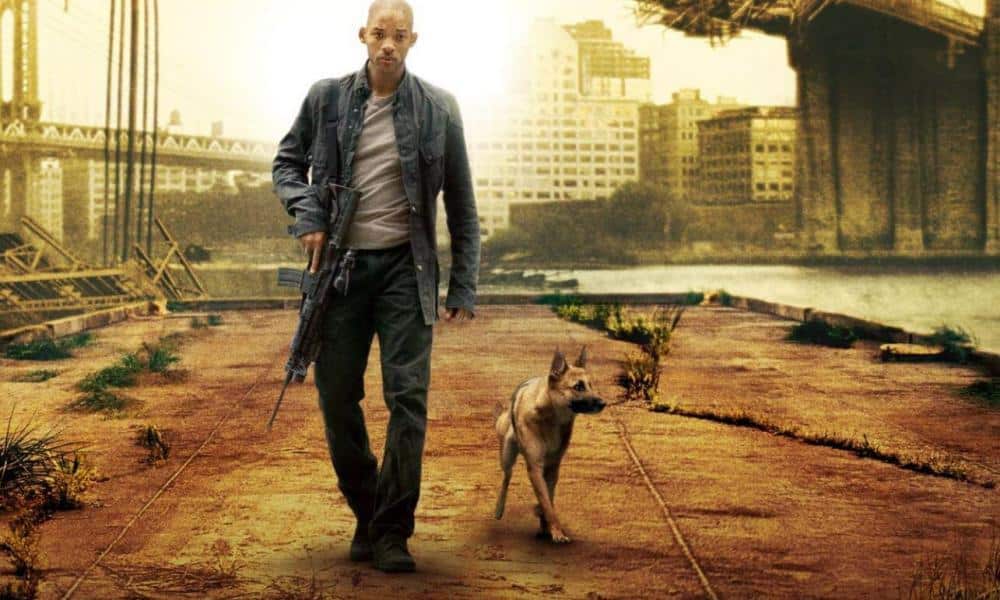 Greeting, fellow survivors of the apocalypse, and welcome to coverage of Brighton Fringe 2021. It's been seven months since Brighton Fringe ran its much-reduced autumn fringe, at around one tenth of its normal size. Back then, they were playing for pride, with the fact that any fringe was going on at all considered an achievement. However, the mood has always been that the May 2021 fringe would be the serious attempt at a relaunch. And that's precisely what they've done. This slightly delayed fringe has manged to be about half its size of 2019. At one point, this result would have been considered a disaster; now, however, it's viewed as pretty good, at least compared to- … well, we'll talk about that shortly, and often.
Brighton Fringe doesn't start until tomorrow, but I'm beginning my coverage now. Partly because I've just passed through Grantham on the train, but there is another reason. And I will bring you up to speed on the second reason later this evening.