So now that I finally have the time to do this, I intend to do a big catch-up on my reviews. Now, the festival fringe and the West End may have hit the ground running in the spring and summer, but most regional theatres played it safe and waited for the autumn. However, there was a bit of theatre activity in the regions, and a lot of it was focused on outdoor performances. Although there was never a point in 2021 where outdoor theatre was permitted but indoor wasn't, those performances in 2020 that went ahead outdoors did quite well and for some the idea stuck.
A lot of the outdoor performances happened at the Festival Fringes, particularly Brighton – those I am covering in their respective roundups. But apart from that, there were two performances that particularly caught my eye.
Moby Dick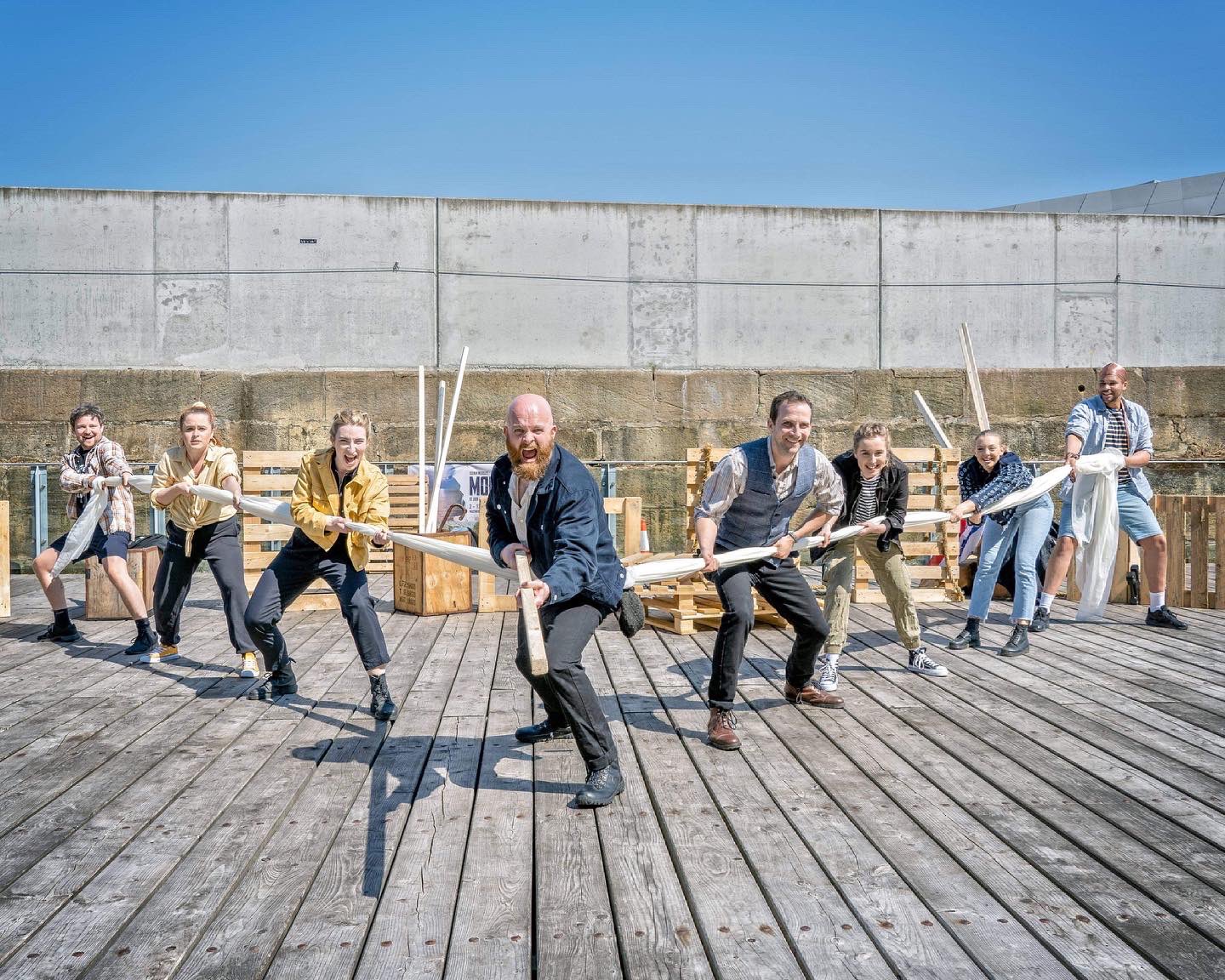 The John Godber Company has been one of the most determined companies to perform on in any way they can, although it's fair to say they were at a bit of an advantage here. With the Godber family themselves taking on so many roles over the years, it was an easy matter to put on a family event with Sunny Side Up. I would like to have told you about that, but the performances were very popular and sold out quickly. However, not all John Godber performances are family affairs, at to get back into the swing of things this year, they put on one of their largest productions to date at Hull Marina.
The first thing I will say is how much I love the venue. Stage @ The Dock came about from a regeneration of the Marina and presumably came about in part from Hull as 2017 City of Culture. Obviously it's at the mercy of the weather, but on a balmy evening it's a great place to see an outdoor-set play. With the John Godber Company having helped bring this space into the spotlight, I hope it's not forgotten about now that indoor theatre has got going again.
For once, a John Godber Company play features writing from someone other than a Godber, for this is a collaboration with Nick Lane, who is writing most of Blackeyed Theatre's current plays as well as many of the Stephen Joseph Theatre's Christmas plays. The challenge of most adaptations is choosing what to keep in and what to leave out: with the exception of the shortest of short stories, it's near-impossible to stick to original plot point by point and hope to be done in two hours – and certainly not Herman Mellville's epic of a book. The best focus I think you can put on a stage version of Moby Dick is the suicidally dangerous obsession of Captain Ahab – and that's precisely what is done here.
To recap: Captain Ahab is a whaler, but his voyage is hunting for one particular whale, Moby Dick, who won the last fight and cost Ahab is leg. The key question, of course, is why didn't the rest of the crew simply say "Mate, let it go, it's not worth it"? The answer is the balance of power. Starbuck is the first mate, seemingly the only one to realise the deadly futility of the mission, and might just have led the mutiny that would save all their lives – but second mate Stubb is a fatalist who believe that their survival or death cannot be changed. That, I felt, could have been played on more, because the mood veered a little too much towards common sense, when Stubb seems to me was the pivotal character to tip the balance to everybody's doom.
But how to stage a whale fight? That might be easy to achieve in a CGI-laden film, but that would be near-impossible to replicate in even a top-notch West End theatre, never mind an open stage on a quayside. The solution, of course, is they don't. Everything done one the stage is representational, but the key moments of the story remain clear no matter how unstageable the naturalistic version would have been. With the eight-strong cast interspersing the story with sea shanties, it made fro a good tight performance.
The thing that didn't quite work, though, was the story-within-a-story format. Some descendents of seafarers and survivor Ishmael putting on a story of Pequod's futile voyage provides the excuse you need to perform aforementioned whale fight with simple staging, but it felt to me that the container story served no other purpose. Whaling has, of course, fallen out of favour with modern sensibilities, but I didn't see where the talk of this was going, or how other contemporary/environmental issues were supposed to tie in to the story. But the play did what it needed to do. It was a good performance done at a time when few other options were available, and a good advert for culture in Hull.
Coppelia – a mystery
The New Vic was also amongst the first theatre companies to want to hit the ground running, but unlike John Godber they've had less luck. Coppelia was supposed to be the New Vic's scaled down Christmas production, making heavy use of outdoors with a socially distance section inside. Unfortunately, unlike their luckier counterparts in Scarborough, Tier 3 had other ideas. So it got postponed to the Easter Holidays, and then again to July, but the new Vic weren't giving up that easily. And because of a very promising trailer filmed at Christmas when the set was first up, I would have been very disappointed if they'd thrown the towel in.
To some extent, it was a shame it had to wait seven months, because – good job though the set crew did repurposing the set to summer – the shop fronts set up would have looked fantastic in the low light of winter. (All is not lost – if you're determined to see how it looks in Winter, the outside set might be back for Tale Trail to Coppelia for the under-sixes.) But that can't be helped, and is only a small obstacle.
The real merit is in the performances. Kira McPherson and Corinna Brown do a superb double-act as mechanical Coppelia and her real-life lookalike Swanhilde (where I think playing a doll impersonator who's actually human). Northern Broadsides stalwart Michael Hugo also does a great job as Doctor Coppelius, who perfectly encapsulates the tragic villain we know from the ballet. And James Atherton's musical score is just amazing, capturing all the different moods the story goes through.
There's just one frustration: what's been lost from the story. Coppelia – a mystery is only "inspired" by the original ballet, so major liberties are taken with the story, and it survives even pretty major cuts such as Swanhilde's betrothed Franz and his entire story arc. But I couldn't help but notice the cut from Dr. Coppelius. As I said, he is the tragic villain we know from the ballet: lonely, shunned, the only joy he gets is from his beloved life-size doll – and he wants a real life for her so much, he's prepared to take a life from someone else. In this version, he's just a harmless misunderstood eccentric. The replacement the doll provides for his real lost daughter is a poignant arc, but it doesn't fill the hole left by the story.
I realise my expectations are set against a story aimed at grown-ups when most of my peers were a more undemanding family audience, but the thing is, the rare scary bits that Theresa Heskins puts into her plays are amongst the best bits. As I saw from The Wind in the Willows and The Prince and the Pauper, the strength of the dark moments in their understatement – nothing that would traumatise young children, but something for the older audience to pick up on very effectively. Perhaps she chose to play it safe, but I wonder if she's underestimating one of the biggest strengths of her writing. But it was certainly bold to do this production at all. The idea was conceived at short notice, turned the constraints of social distancing into opportunities, didn't let the setback stop them, and earns a well-deserved sell-out run.
Outdoor theatre, I feel, has been much overlooked over the last two summers, but for the few groups who went ahead with this, I've really enjoyed the experience. Its immediate use as the next best thing to conventional indoor theatre has now hopefully passed, but I hope this is not forgotten as a type of theatre in its own right. This does not need to be a niche novelty experience; there is a lot more to be offered if we want it.