Skip to: Naughty Boy, Jekyll and Hyde, For I Have Sinned, Mike Raffone's Great Green Gameshow Giveaway, The Virtuous Burglar
Phew. A lot of catching up to do when you have four fringes in three months, but I'm finally on to Buxton Fringe. In 2020, Buxton Fringe raised a few eyebrows by opting to stick with a July fringe, even if it all had to be done online. However, in line with pretty much everywhere else, the mood by July 2021 was that online was all very well as a stop-gap, but nothing beats the real thing.
Buxton's fortunes broadly followed the same as Brighton. In theory, Buxton Fringe was down for the first full month of no social distancing, but the venues worked against social distancing anyway – quite wisely, as it turned out. Like Brighton, it wasn't back to full strength just yet: the Rotunda opted to give 2021 a miss, and the Arts Centre was out of action as Buxton Festival needed the space as part of its own socially distanced plans. This plus reduced participation from groups dented the numbers, but not too badly, with the Fringe managing about 60% of its normal size.
There was just one subtle difference I picked up on the effects on Buxton compared to Brighton. Audience numbers were also down, but roughly down by the same amount as registrations, and the two cancelled out to give audience numbers that were roughly the same, similar to Brighton. But within those figures, there's a skew with age. Anecdotally, I was hearing that a lot of older Buxton Fringe regulars were choosing to play it safe and give it a miss; if that was the case, it would seem that the younger regulars were more eager to get back to fringing.
Anyway, hopefully those details won't matter by Fringe 2022. In spite of Omnicrom putting the willies up us this winter, I still think Brighton and Buxton will be in a good position to be back to near-normal by next July. Let's see what caught my eye this year that might be around next year.
Pick of the fringe:
Firstly, let's address the same question as Brighton Fringe: am I lowering the bar this year? It is true that my choosiness for Pick of the Fringe varies based on what I have to choose from, but in the end the standard was about the same as years before, even though there were fewer acts to choose from. Two plays made it to the top flight.
Naughty Boy
There are many thing a fringe is ideal for, but responding to current events is rarely one of them. Most plays need a lead-in of least six months if you're lucky, and by the time you've got it in front of an audience the news has long since ceased to be in people's minds. There's really only one way to make a fringe event "timely", and that's if the topic you're talking about crops up anyway, and that bit of luck counted in Eddy Brimson's favour. It was only the month before that football hooligans made the headlines for all the wrong reasons. Joe, however, is not your average football hooligan. For some reason, he is in a psychiatric hospital even though he appears perfectly sane. He is also a lot smarter than your average football hooligan, whose silver tongue gets him out of all sorts of scrapes. These two events are connected, but it's only towards the end what we'll see how.
The main thrust of the play, however, is an exploration of why people end up this way. Being articulate, Joe has little problem portraying the alienation of people like him in societies than have been written off. This, plus his cynical observations of the society around him, is the easy bit. The hard bit is explaining why you'd consider the solution joining a group of your mates to clout a bunch of strangers who simply support a different team – and he portrays quite a convincing reason. Why take your anger out on another bunch of downtrodden down-and-outs? The reason, the play suggests, is a mutual understanding. Clouting any of the random strangers Joe cynically observes has consequences when the Police get involved, but a rival gang of hooligans are in the same boat as you. Until it escalates.
The backstory of how Joe got where he was is handled well too. The full-journey from innocent childhood to violent embittered adults is not shown in its entirety, but one moment that sticks out is when two wannabe hooligans get set upon by his gang of veteran hooligans – to which Joe observes "Now you have the same anger we do." The only weak point I'd pick out is the account of the inevitable fight at the end where things tip over to boiling point, which get quite complicated and was narrated through so quickly I lost track of who was fighting who and who suffered what injuries. Other than that, a good all-rounder making a good start to my relaunched fringe viewing.
Jekyll and Hyde: a one woman-show
Now for the big name. I was interested in this one for two reasons. Firstly, this play got going in Brighton Fringe last year and earned overwhelming critical acclaim. Heather Rose-Andrews is rising to be of the most respected names on the Brighton Fringe circuit, but how would she fare away from home turf. The other thing I was interested in is how a gender-swapped Jekyll and Hyde would work. This has been tried a lot with classic stories, and not always successfully. Blackeyed Theatre is currently touring a superb retelling of Jekyll and Hyde which adds in a prominent female character made to look like she was part of the original all along. But this one changes the gender of Dr. Jekyll himself. How much difference does this make to the story?
Well, the answer is the opposite of what I expected: not that much difference at all. To some extent, this is a perfectly plausible treatment of the story – whilst women were certainly treated very differently to men in Victorian society, with Dr. Jekyll already operating outside of society's conventions it needn't spell much change. Instead, what's notable is how much stays the same. Nothing stops a Ms. Hyde being as violent and destructive as a Mr. Hyde. Even the bit from the original where Hyde savages a prostitute – surely there can be no act of violence more misogynistic than that one? – is swapped very convincingly. And Rose-Andrews' transformation scene from Jekyll in pain to a swaggering Hyde is an astounding moment of theatre.
According to my Buxton radar, this didn't enjoy the same universal level of praise that this did in Brighton. Gauging reaction from Buxton is harder because there isn't a range of reviews to go on, but I gather opinion was more divided, and I suspect the weak point was accessibility. Heather Rose-Andrews knows her horror and classic literature inside out, but I suspect she's assumed a lot of background knowledge of her audience and left some with a lot of catching up to do. It was only quite late in to the play that I realised the tapes she was playing were Jekyll's instructions recorded for Hyde. One theme of the play is hypocrisy, and as fans of the original will know, Dr. Jekyll overstepped the line long before his alter ego came along – but I fear amongst the confusion of working out what was happening when, I missed whatever the moral of that was supposed to be.
The praise for her performance, however, was unanimous, and deservedly so. In other Sweet Productions play I saw this year, There's a Ghost in my House, I was convinced that Emily Carding had best individual performance in the bag, but it looks like we have a contest on our hands after all. It is difficult to know if this script could be made more accessible without making it into a different play; it may well be that this will be enjoyed the best by those who know the literature the best. What it does show is that Heather Rose-Andrews, already a fine actor in other people's plays, is at her strongest when she writes for herself. A lot to look forward to here I think.
Honourable mention:
As there were fewer plays to choose from, I saw more comedy than usual. I've left this out as I don't really know where to start with sketch and stand-up. Again, my bar for honourable mention is about the same as before, and three plays (or two plays plus a character comedy) made it to the list:
For I have Sinned
In Qweerdog Theatre's play, a man meets a priest in a confession box. As per the protocol he is asked to disclose how long it has been since his last confession, and the answer is decades. What is less clear is what he's actually making a confession over. He spent a long time as a recluse in Tibet, so we can safely assume he has something more on his conscience that an impure thought whilst watching an Ann Summers advert. Instead, the priest goes for small-talk as a way to delve into the truth. Eventually, the story comes out of a younger boy who thought the world of this man when they were both teenagers. We can already guess this did not end well.
What I really liked about the opening half of the writing is the pace at which the truth comes out. Whenever you think you've got to the bottom of his cross to bear, something else comes out, then something else, then something else. But the last piece of the jigsaw to fall into place is the priest's part in this. An early clue is the man making a quip about seeing if "you're the right priest for me", and a more blatant clue is the priest offering full absolution in order to end the confession. I'll refrain from giving all the details, but there is a reason why it's this particular priest.
And then comes the frustrating bit: after the first half of the play reveals the back story so well, very little unexpected happens in the second. I fear this script played all its best cards by the half-way point, and the rest of the play is mostly admonishment for the priests past that he continues to deny. Something extra, I feel, is needed to keep up the interest. For what it's worth, I would have explored the priest's own intersection between his faith and his morals. Is his lifetime of servitude to the Catholic Church his method of atonement for a past wrong he can never forgive himself for? Or is he one of these completely amoral characters who think it's okay to hurt and betray whoever you like because you can repent and be absolved later?
Not bad for a Buxton fringe debut though. The strength of the exposition is that is keeps the audience interested, and keeps them guessing. Keep this up in the rest of the play and you'll have something special.
Mike Raffone's Great Green Gameshow Giveaway
This is under comedy rather than theatre, but it's character comedy that has an overlap. Mike Raffone has been carving himself a niche with interactive comedy in the last few years. There are high stakes in interactive comedy – in a conventional play an audience can be unresponsive and still find the story hilarious or moving, but when a performance depends on audience interaction, it dies on its arse if you can't get them going. I've only seen his performances on busy days, but apparently he's achieved the same on quiet days. Anyway, the thing he's started this year is a spoof game show.
The game shows it parodies, are the 1970s ones. Apart from the outfits, there are two things that distinguish the game shows of this era. Firstly, all 1970s game shows are required to have a female assistant, who in turn is required to do nothing but announce the scores and pretend to find the sleazy-looking middle-age male host attractive. And certainly not play the flute that Charlotti worked so hard on over lockdown. Secondly, the long-standing in-joke is that all the prizes were worthless, with limit on prizes being £500 and a Skoda or something like that.
Mike Raffone and Charlotti are actually a great double act, and if I didn't know better I'd have sworn they must have must have performed for years together. The games are far sillier than the games from the game shows (I think they would even give Banzai a run for its money), and the prizes are even more worthless – indeed, one highlight was, when there was a dispute over who won a round, he pointed to an example prize of a slightly broken USB cable to show how little this matters. And the final round, in case you haven't guessed, is like the conveyor belt from the generation game, but with far cheaper prizes, slightly broken USB cable included. This is such a ideal thing for Raffone it's a wonder no-one thought of it before, but now that we've seen it I hope it this will be back.
The Virtuous Burglar
And finally, one from Buxton regulars Sudden Impulse. They advertise themselves an an amateur company but their standard is so good it's hard to tell them apart from the pros. I caught one of their two productions this time, and it's a Dario Fo farce. The description of "farce" is often over-used for plays that were never meant to work as farces, and indeed Dario Fo himself has a strong political strand in most of his farces, but this one is the full-blown farce. A burglar is busy burgling a wealthy house when his wife rings him (this is pre-mobile phones so she is ringing the phone on the house she's burgling tonight) asking for a present to steal for her. Then the owner of the house returns with a woman who's not his wife. I don't need to explain the rest of the plot but basically everybody mistakes everybody's identity, everybody's having an affair with everyone, and there's lots of doors (and inside of clocks) to hide in. The only thing that's missing is the trousers falling down as the vicar walks in.
Some people say amateur companies shouldn't do farces. The reason, they argue, is that farces only work if they're done quickly. Run a farce at a speed the actors are comfortable with and the jokes fall flat, but run it at the required speed beyond the actors' ability and the production falls apart completely. Sudden Impulse has shown that's far from the truth. They zip through the lines at the warp speed it was written for, and the movement is choreographed well. In a farce, you only really notice the acting and directing if it goes pear-shaped, so getting through without incident is a bigger achievement that most people realise.
The was, however, one annoying artistic decision, and that was hamming up the characters. No matter how ridiculous the situations are that everybody finds themselves in, farce works best when the characters are believable. It's never quite as funny if the characters do contrived things to set up the jokes, and better if that's what they would plausibly have done anyway – but it's hard to achieve the latter if you present all the characters and caricatures of themselves. And that's a shame, because straight acting is something Sudden Impulse does well. I say have the courage to apply straight acting to the giddiest farce – you may be pleased with the result.
Postscript: Keith Savage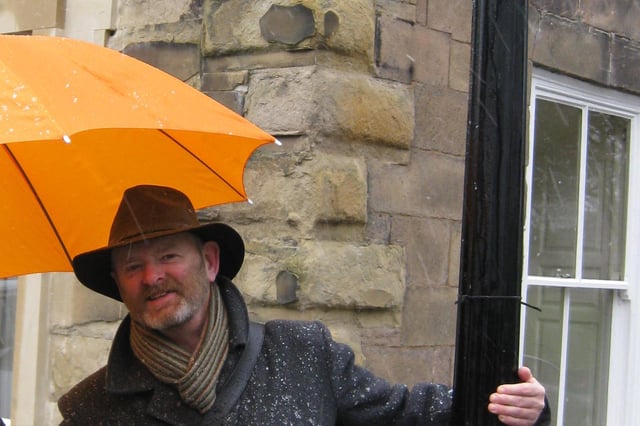 As I have already mentioned, circumstances have forced me to write late roundups of the fringes. Since Buxton Fringe happened, there is one notable bit of news, and it's a sad one. Keith Savage, who was Chair in Buxton Fringe from 2014 to 2019, died unexpectedly this month, and it would be write to close this roundup without a fitting tribute.
Many people have given there own tributes of how supportive Keith Savage was at previous fringes, and my experience was no exception. As both a performer and a theatre blogger he was constantly encouraging what I was doing. This matter a lot. There's no shortage of arts leaders who fall over themselves to encourage the biggest and best names to their theatres and there festivals, but sadly too few who welcome the people starting off. I cannot begin to describe how much of a difference it makes from my experience back home when you can put so much in without even an acknowledgement of what you've done.
Buxton Fringe prides itself on being the friendly fringe, and I even know of performers who've decided top give Buxton a go based on my description of what it's like. I am confident that the Fringe committee will carry on giving the welcome to future performers staring off, but there's sure no better embodiment of it than Keith Savage, who carried on supporting the fringe and everyone taking part after stepping down.
He has a lot to be proud of. He will be missed.