So now that I finally have the time to do this, I intend to do a big catch-up on my reviews. Now, the festival fringe and the West End may have hit the ground running in the spring and summer, but most regional theatres played it safe and waited for the autumn. However, there was a bit of theatre activity in the regions, and a lot of it was focused on outdoor performances. Although there was never a point in 2021 where outdoor theatre was permitted but indoor wasn't, those performances in 2020 that went ahead outdoors did quite well and for some the idea stuck.
A lot of the outdoor performances happened at the Festival Fringes, particularly Brighton – those I am covering in their respective roundups. But apart from that, there were two performances that particularly caught my eye.
Moby Dick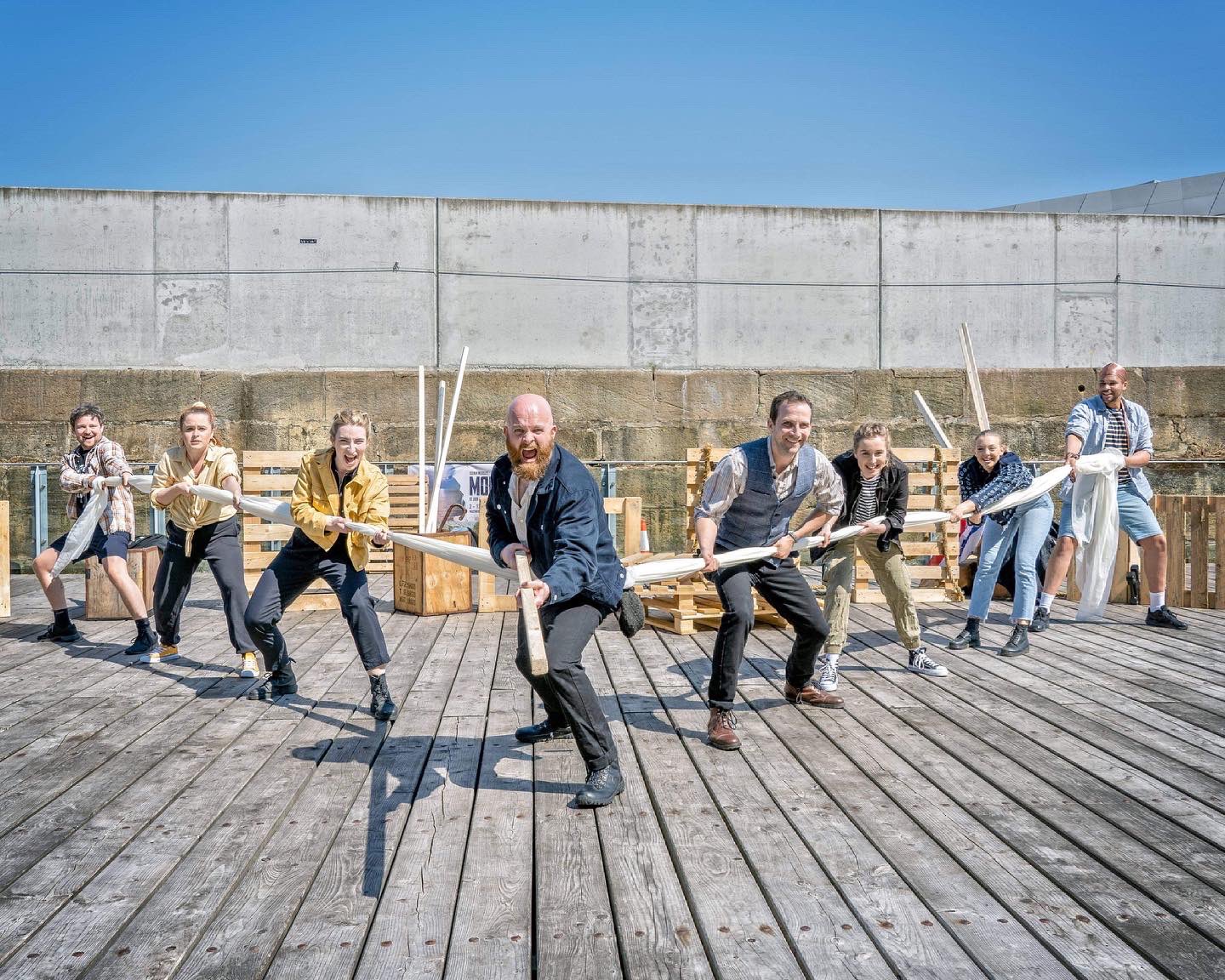 The John Godber Company has been one of the most determined companies to perform on in any way they can, although it's fair to say they were at a bit of an advantage here. With the Godber family themselves taking on so many roles over the years, it was an easy matter to put on a family event with Sunny Side Up. I would like to have told you about that, but the performances were very popular and sold out quickly. However, not all John Godber performances are family affairs, at to get back into the swing of things this year, they put on one of their largest productions to date at Hull Marina.
The first thing I will say is how much I love the venue. Stage @ The Dock came about from a regeneration of the Marina and presumably came about in part from Hull as 2017 City of Culture. Obviously it's at the mercy of the weather, but on a balmy evening it's a great place to see an outdoor-set play. With the John Godber Company having helped bring this space into the spotlight, I hope it's not forgotten about now that indoor theatre has got going again.
For once, a John Godber Company play features writing from someone other than a Godber, for this is a collaboration with Nick Lane, who is writing most of Blackeyed Theatre's current plays as well as many of the Stephen Joseph Theatre's Christmas plays. The challenge of most adaptations is choosing what to keep in and what to leave out: with the exception of the shortest of short stories, it's near-impossible to stick to original plot point by point and hope to be done in two hours – and certainly not Herman Mellville's epic of a book. The best focus I think you can put on a stage version of Moby Dick is the suicidally dangerous obsession of Captain Ahab – and that's precisely what is done here.
Continue reading