REVIEWS: Skip to: Bite-Size, Waves, Swansong, The Jungle Book, Le Bossu, Boris: World King, BEASTS, Police Cops, The Unknown Soldier, Adventures of a Redheaded Coffee Shop Girl, Northanger Abbey, Overshadowed, Stack, The Trunk, Made in Cumbria, The Dark Room, The Life and Crimes of Reverend Raccoon, E15, The Club, Boris and Sergey, Notflix, Cosmic Fear, Sacre Blue, Tis a Pity She's a Whore, The Steampunk Tempest, Ruby and the Vinyl, Communicate, Unnatural Selection, Unveiled
Okay, here we go. Got a long article ahead of me to write, condensing all of the rambling thoughts in my live coverage into one coherent article. There's 22,706 words of live coverage to summarise, so please bear with me, it will take some time. It will, as usual, come in dribs and drabs. Last time it took me months to complete the coverage – I hope to a be a bit more timely this year.
So, I had a very good Edinburgh Fringe this year, due in a large part to my ever-expanding list of shows from performers who I know and expect to be good. This, combined with the increasing number of review invitations I received, also meant I had a very busy fringe, with 35 shows seen in total, and 6-show days becoming a new norm. There were a few side-effects to this, the big one being that I've had to start saying no to the odd review invitation. I'm going to give my review policy a rethink for next year. In the meantime, however, this year I saw no absolute turkeys and so I'm able to review all the plays I saw. The only things I haven't reviewed is the odd piece (mostly stand-up comedy and sketch comedy) that was too different from the theatre I'm used to reviewing for me to be able to make a qualified judgement.
Before I embark on what's going to be a beast of a roundup, let's start with this …
The headlines
Before I get on to review the multitude of little productions I was, let's start with the big things than happened in August. Things like this:
Rumours of Edinburgh Fringe's demise …
One story that grabbed a lot of attention before the start of the fringe was a fall in registrations. Normally, Edinburgh Fringe varies between years with big increases (which they make a big thing of) and years where it flatlines (which they don't). This year, however, there was a slight fall reported in advance of the fringe. Then came the news during the fringe that people were anecdotally observing a shortening of runs from the traditional three weeks. That was big news if true. A shrinkage of the Edinburgh Fringe coupled with this year's extraordinary expansion at Brighton could change the balance of power if repeated for another two or three years.
I first began to wonder when some more detailed figures were reported, showing a 0.5% fall in performances but a 1.1% fall in registered shows. That works out as a slight increase in the average number of performances per registration. Then Richard Stamp from FringeGuru kindly did some number-crunching to sort shows into 1-week, 2-week and 3-week runs. No discernible difference was observed. (See entry for 30th Aug, 1 p.m. for details of the working out.) So it turns out the anecdotal observations were wrong.
The crucial figure I was looking for, however, was the ticket sales. That is the thing that will ultimately influence growth or shrinkage in following years. And it was up, by 7.7%. One important caveat here is that figure doesn't tell us everything about how sales were distributed. It could be, for instance, that the lion's share of this increase went to big-name comedians at the expense of small acts who desperately need sales (a similar caveat applies to the Brighton increase). But based on the figures we know, rumours of Edinburgh Fringe's demise are much exaggerated. Brighton is closing the gap, but Edinburgh looks set to dominate for the foreseeable future.
How to Win Against History
I don't normally spend time on roundups saying what shows everyone else is recommending – if you want to know who The Scotsman have given fringe firsts to, go and check it with them. However, one show I'm making an exception for is How to Win Against History. I've heard an extraordinary amount of good things about this show, including no less that six five-star reviews, but the thing that really got my attention was the sheer number of regular punters who said how good it was without any prompting on my part.
This piece, down in the musicals and opera section, is from Seiriol Davies who some of you might remember as the composer/musical for Caroline Horton's wonderful Mess. There again, they also collaborated on Islands which some people loved but I and many others found incomprehensible. I did wonder whether this could have been something similar to Islands where – I suspect – this attracted a lot of reviewers who agreed with the cause of the play (i.e. tax dodging is bad) and praised it for the cause rather than the play itself. But that seems unlikely, because the subject of the play could not be more different. This is set in 1875 and surround the story of Henry Cyril Paget, the 5th Marquis of Anglesey, one of the world's earliest recorded transvestites, amongst other things – whatever it was about him, his family did his best to erase every record of him after his death.
By the time I'd heard all this praise, it was too late to work this into my schedule. But surely after all this praise it cannot be the last we've heard of this musical. I will keep an eye out for this, see ti when I can, and report back.
Network of Independent Critics
At Brighton this year, the big newcomer was Sweet Venues, that stood to be a game-changer at that fringe. A similar game-changer can be expected in Buxton next year when its key venue is likely to be replaced. This year at Edinburgh, however, the newcomer that stood to be a game-changer of sorts was not a venue but the newly-formed Network of Independent Critics. Their big venture this year was sending up 24 bloggers to the Edinburgh fringe using a set of rooms at Edinburgh University, and the idea was that a crowdfunder would cover accommodation costs and maybe travel too.
As it was, the crowdfunder bit of the scheme was a bit of a disappointment (certainly compared to how some other Kickstarters have fared), with the money raised working out as only working out as £30-£40 per critic. One must not forget, however, that a lot of help towards costs came from negotiating the deal with Edinburgh University in the first place;  even without the crowdfunding help, with cost per night was comparable with a hostel in Edinburgh, with the bonus that it was a room rather than a bed – and you probably need all the sleep you can get if you're reviewing six days on the trot.
Other than that, the project mostly fared as expected. The independent reviews came out as planned, and the networking sessions they did at Fringe Central were worthwhile (assuming the one I went to was representative). At some point I might do a bit of number-crunching to see where the coverage went; one aim was to provide coverage to things that don't get mainstream coverage (such as circus), so it will be interesting to see how many of the 1,200 acts that didn't get a mainstream review got an NIC review instead. One small thing that maybe didn't work as well as expected – the reviewers who were part of NIC's scheme apparently didn't do much networking with each other. One might have thought that they'd have plenty of time to compare notes if they were staying at the same place, but I'm told they were spending too much time out and about for this to happen.
One unexpected bonus though: during the Fringe, the news broke that one of their number, Fergus Morgan, won The Stage's Critic Search. (One note about this competition: this is primarily judged on one or two reviews rather than a critic's overall record. It's better to think of the competition that way, just like a playwriting competition judges a play rather than a playwright. But winning is excellent news regardless.) Suddenly NIC gets a big boost to its credibility and potentially a star player to champion their cause.
So, what next? A frequent fate of Edinburgh Fringe shows, even good ones, is that the company gives it all for Edinburgh but puts no thought into what happens afterwards, and they are never heard of again. It's not impossible this could happen to NIC if they're not careful. I hope it doesn't, because having got this far it would be shame to let it disappear again. So my advice: allow yourself a one-month break, but no more. After that, make plans for next year. And my hunch is that now if this time to make this about more than the Edinburgh Fringe. Brighton would benefit from this and the smaller fringes would definitely benefit. And then there's all the theatre that goes on outside of fringes. I wonder if the next project should be to create a database of reviews of plays by independent critics – I'm not sure what the criteria should be to qualify for that, but I'd suggest that anyone who meets the accredited media criteria of Edinburgh would be a good starting point.
But that's enough of that. I've allowed these thoughts to draft far too much. I'd better wrap this up. You want reviews, don't you?
UPDATE: And within minutes of posting this to Twitter, I got a reply from them:
"We've had an 86% response rate from participant evaluations so far, and are now churning out a report to plan next steps!"
So looks like little chance of grinding to a halt after Edinburgh, and looks like we'll be hearing about future plans sooner rather than later. Keep you eyes peeled.
Also happening in Edinburgh
Those were the biggies to report. A lot of other things got my attention to, which I'm not going to rewrite here, but here's the list if you want to look it up in my live coverage:
The strange last-minute content warning and refund offer for Così fan tutte at the Edinburgh international festival. (Scroll to 4th August.)
New Chief Executive Shona McCarthy gives her first clues as to her plans for Edinburgh (scroll to 9th August.)
The great media pass debate: does it increase or decrease the number of flyers you are bombarded with? (Scroll to 12th August, 11.30 a.m. – don't expect any serious discussion there).
Thoughts on what effect Sweet Venues' first foray into Brighton is having on its Edinburgh Programme. Short answer: not a lot. Yet. (Scroll to 15th August, 4.45 p.m.)
The "everyone's a critic" event at Summerhall, that didn't really live up to its name. (Scroll to 16th August, 3.45 p.m.)
The reaction to the death of censorious authoritarian right-winger Moira Knox, and why it's not people like her we should be worrying about any more. (Scroll to 25th August, 2.00 p.m.)
I also wrote a couple non-review pieces during the fringe, which were:
There is one important thing that isn't in this list that I will be writing about later in this roundup. Any budding Sherlock Holmeses out there should be able to work out what it is and which section it will be going in. There's a free seven-star review for the first person to correctly guess.
Pick of the fringe
But you didn't find that very interesting, did you? You want to get on with the reviews and read about how wonderful I said you were. Very well, happy to oblige.
This is a change from my previous two years' roundups. In 2014 and 2015 I had a top tier called "Outstanding shows", when there were two or three that were clearly a cut above all of the other good shows I saw. This time, it's been more of a continuum, with an even spread of shows amongst the best. So I'm reverting to a single tier – some plays in this tier I'd rate over others, but I'm putting this in the order I saw them, rather than order of preference.
Most of these reviews will be restatements of what I said in my live coverage, but I've had time to give them some proper thought now so I do have a few new things to say. So this year the pick of the fringe is:

Bite-Size
Bite-Size has the enviable position of being a virtual shoo-in for pick of the fringe year after year, thanks to their format of ten-minute plays they can renew each time. There have been other groups who have attempted to do sets of short plays, but so far, no-one has come close. As usual, I won't bother singing praises about the format of The Big Bite-Size Breakfast Show as a whole because they don't need it – their breakfast shows are sell-outs or close to that most mornings. Instead, I'll give my highlights. There are some shows I like, the odd one or two that I don't get, but the best ones are the memorable ones.
Other reviews of Bite size:
Menu 1:
Broadway Baby: ★★★★
UK TheatreWeb: ★★★★
British Theatre Guide: ★★★★
Scotsgay: ★★★★

Menu 2:
British Theatre Guide: ★★★★
UK TheatreWeb: ★★★

Menu 3:
British Theatre Guide: ★★★
Lunch Hour:
British Theatre Guide: ★★★★★
Scotsgay: ★★★★
Broadway Baby: ★★★

For me, the best show to see was menu 3, which had a good string of four new plays. Nice Try is a very funny play about a couple who tried dominatrix sex, but it fails to come off because the awful self-absorbed wife just can't get turned on by her doormat husband. The highlight of this play is where the husband tries to be assertive and demands to be the dom next time as they agreed, and it excites her until he ruins the moment by saying "please"; a moment where they bring the house down with a single word. Then we go into a couple of darker plays. In Contact a man is alone on a cargo ship in space after the earth is destroyed under specified circumstances (the only clue being his reference to the end being "such a stupid way). Hope rises when another ship makes contact, but questions quickly arise over whether this other ship can be trusted. You Are, Could I is a very emotationally intense play about a man calling at a woman's house three times, going backwards: as an ex-couple testing the water to make a new start, a couple in the death throes of in a relationship, and finally a couple-to-be starting off. Rounding it off was the hilarious Humble, a regular office meeting that ends up in the murder of office bore Jeremy. This might seem harsh, but when it's announced that Jeremy will be chairing the meeting (cue jarring chord, literally), and he then drags the meeting on with his own nit-picking and self-importance, closing every ridiculously long monologue with "And I'll shut up now," it's a little more understandable.
The new play that most the most attention from me, however, was All You Ever Want in menu 1 (pictured), a rare in-house-written play from Bill Knowelden: longest-serving actor in the Bite-Size team, and arguably artistic director Nick Brice's number two.This is set an a dystopian future where all those adverts of what social media think you'll like is taken one step further and sold to you automatically. Of course, this skips the necessity of asking whether you really want to buy it, but that has been rendered obsolete by also taking one step further the terms and conditions no-one reads. As well as goods and services, they also monitor you activity on dating sites, which is why, as well as clothes and furniture she always wanted, this woman gets her very own customised sexy Frenchman complete with undone bow tie and glass of red wine. This is a funny, thoughtful and slightly scary play, and if more plays from Knowelden can follow as good as this one, they might just have hit on an unexpected gold mine.
Now on to The Big Bite-Size Lunch Hour: Best Bites. The Bite-Size team have for year experimented with lunch-time shows to complement the breakfast ones. Usually it's taken as a chance to do something different, and over the years these projects have had varying degrees of success. This year, however, with it being a ten-year anniversary, they're playing it safe and doing a set of the five most popular plays from the last decade, as picked by public vote. Nice though a public vote is, this did have a couple of side:effects. Firstly, the chosen five were all comedies (their programmes tend to be comedy-heavy anyway, but a set usually has at least one seriousish piece); and secondly, the set was quite front-loaded to recent plays, and I wonder if some equally excellent plays from further back got overlooked because they had lapsed from the voting public's memory.
Nevertheless, the five plays chosen were all amongst the best Bite-Size has done, which is why I was able to pre-emptively recommend this set to everyone. And yet, this didn't go down as much of a storm as I thought. Vintage, a play that has brought the house down every time I've seen them do it before, only attracted modest chuckling this time. That's not a criticism of the performers, who did a great job of it, so perhaps it loses its edge as an great out-an-out comedy when it's already been preceded by other great out-and-out comedies. Or maybe the great atmosphere that's the built up in breakfast shows just doesn't translate to a lunchtime slot. There again, I'm told this play normally got a lot of laughs, so maybe I just came on the wrong day with the wrong audience. Whatever the reason, this was a fitting tribute to their first decade which was well worth seeing, but I hope they don't give up on their efforts to do different things in future years. The risks are higher, but the rewards will be much higher if it succeeds.

Waves
This play marks the return to the Edinburgh Fringe of Alice Mary Cooper. Last seen in 2012 at the Free Fringe, see she a rather mad show called When Alice (Cooper) Met (Prince) Harry. It was only ever meant to be a fun piece and such was judged that way, but in between the random mad bit there were small hints of a sadder character underneath pathetically besotted with the fourth in line. I wondered if she was selling herself short with a fun piece, and whether moments like that could be the foundations of a more serious conventional play.
Other reviews of Waves:
Three Weeks: ★★★★★
One4Review: ★★★★
The List: ★★★★
All Edinburgh Theatre: ★★★
Exeunt

Well, that's exactly what she did. Waves re-appeared on my radar two years ago at the Brighton Fringe and a re-worked version has now come to Edinburgh. This is a story of Elizabeth Moncello, the fictitious inventor of the butterfly stroke. (Not the real one – Cooper made it clear afterwards that she wasn't the real inventor, but her reason, an interesting one, was to use her a representative of many women of a certain age who don't get their stories told.) Living on an island where all are taught to fear the sea, a tragedy prompts her to get to know it better. But with no-one on the island knowing how to swim, her only choice is to make up her own method, based in part on seeing how the wish do it, and based in part on inspiration from The Little Mermaid.
The strength of this play, however, is not so much the story, but the way Cooper tells it. My hunch from 2012 – that she was capable of more than her old show gave her room for – turned out to be correct, because she gives a striking performance. Should she have told the story in third person? My personal preference is that telling most or all of the story in first person would have been strongest of all, but she still made a third-person format work strongly for her. There are a few changes since Brighton, but the most notable one is an exquisite new musical score. What a difference four years make – all eyes now on the next four.

Swansong
This idea was so ridiculous – four survivors of a flood apocalypse sailing round in a sawn pedalo – I would normally have given a play like this a wide berth. Luckily for Dugout Theatre, I am one of their megafans. Their #1 all-time hit has to be Inheritance Blues, which I declared my best play in 2014, but I've enjoyed everything they've done, from their faithful revival of Dealer's Choice to their East Anglia-based Ocean's Eleven parody The Sunset Five. It was the surrealism of the latter play that gave me hope here. Yes, Swansong is the most unrealistic post global-warming story I've ever seen- … No wait, I forgot, it's still a distant distant second to the atrocity against physics that is The Day After Tomorrow. Unlike that brain-dead blockbuster, however, Swansong does not take itself seriously, and we get a surprisingly gentle play about the end of humanity.
Other reviews of Swansong:
FringeGuru: ★★★★
The Stage (£): ★★★★
Broadway Baby: ★★★★
Edfringe review: ★★★★ & ★★★★
ThreeWeeks: ★★★★
The List: ★★★★
Fest: ★★★★
The Scotsman: ★★★
What's On Stage: ★★★
Exuent
The play opens with our intrepid four survivors pedalling away looking for dry land. Given the limitations of fringe theatre spaces, we don't get to see a pedalo or an endless ocean; what we see instead is a stained glass window of the two on the back wall. The symbolic significance of a stained glass window will make sense at the end – before then, however, you can enjoy some beautiful multi-coloured lighting design.
Anyway, these four survivors are quite a mismatch: one is a left-wing vegan homeopath astrolocrystalist or something equally vapid; another is an obvious Tory Boy who tells endless stores of his japes with public school chums (all of which seem to involve getting naked) and still thinks this talk of sea levels rising is just scaremongering. Somehow, these two have avoided killing each other so far. That slight liberty aside, Dugout do a good job of keeping the characters believable in the most surrealistic setting. A lot of time is passed arguing over what to write down in a notebook about what was good about the old world – again, the symbolic significance of this will make sense eventually.
Most of Dugout's shows are multimedia extravaganzas, but this production is very much scaled back. Apart from the simple set and stained glass window, another thing that is scale back is the music – out go the intstruments and instead we have some lovely four-part harmonies with songs such as "Beautiful Swan" (but don't get too sentimental over it). The only thing I felt didn't quite work was the repetitive singing of "David Attenborough", which was a joke I just didn't get. Apart from that, it's another original hit for Dugout and a fourth consecutive year in Pick of the Fringe. Is there no stopping them?

The Jungle Book: Cobwebs and Moontalk
My my, didn't expect this at all. When Strung Up theatre invited me to review The Jungle Book, I was wondering how they'd stage a story where most of the characters are animals. What I hadn't noticed was the second part of the title: Cobwebs and Moontalk. This is not the story of Molgwi that we all know, nor is it an adaptation of the The Second Jungle Book, Kipling's lesser-known squeal. Instead, it's mostly constructed from various bits of Kipling's writings that never made it into either book; and added into the mix is some aspects of Kipling's real life, with the main character, Elsie, heavily based on Kipling's real daughter – and as per the true story, with an older sister already lost to the jungle, adventurous Elsie is the precious child her father will do anything to protect.
Other reviews of The Jungle Book:
A Younger Theatre: ★★★★★
Fringe Review: Must See
Whilst Molgwi might be absent from this story, all of the other characters are there – but not necessarily as you remember them. Me, I only really know this Disney version, which I loved, but this is a very different much darker depiction. The big change is Kaa the Snake. Gone is the silly snake who sings "Trust in meeeeeee", and in comes a far more villainous and vengeful snake who eats lots of monkeys in his search for Elsie. Baloo and Bagheera remains the heroes defending the Law of the Jungle that man-cubs are not to be harmed, but Kaa, it must be said, makes a pretty good argument for eating her before she grows into someone who can harm them. The human world is only incidental in original story – here, the effect it is having on the jungle and the animals within it plays a far bigger role. And the biggest achievement of all: if we didn't know better, this could easily have been passed off as the third book from Rudyard Kipling himself.
The production itself was a very circus/acrobatics focused one, and suits this story very well. One small issue was that it wasn't always immediately obvious which actor was representing which animal. The format was generally human embodiments of the animals they represent, and normally that would be fine, but there were a lot of children in the audience and I wonder if they would have followed it. But apart from that, this was an unexpected gem, and it was a pity they couldn't stay longer. It will be a tough one to tour owning to the large case, but I hope it does because it deserves one.
Le Bossu
And hot on the heels of The Jungle Book came another show with high production values that did not disappoint: a new musical of The Hunchback of Notre Dame. This came from With Wings, who two years ago did a great job with The Duck Pond which was, out of all things, Swan Lake transplanted to a hook-a-duck stall. Honestly, it worked. This time, however, they have remained much more faithful to the original story. Quasimodo is still holed up in the belfry of Notre Dame cathedral, Esmarelda is still a gypsy heart-stealer, everyone who was heterosexual is still heterosexual, and the Catholic Church are still utter hypocrites.
Other reviews of Le Bossu:
Edinburgh Guide: ★★★★★
The Skinny: ★★★★
Three Weeks: ★★★★
TheatreGuide.London: ★★★★
Fest: ★★★★
The Stage (£): ★★★
Broadway Baby: ★★★
But whilst With Wings might not be tinkering with the story this time, they are just a daring with their production as they were. The striking set to begin with is a pipe organ, and this goes on to form a universal set for everything in the play. Pigeons, for example, are convincingly represented by organ bellows. Even more unconventional, the bells are represented by people, because they are all Quasimodo has to talk to talk to. You need a lot of confidence to try something like this without looking ridiculous, but they have.
And the music was top-notch. There wasn't a weak link amongst the cast, all singing in close harmony throughout the play. The recurring theme use as the hunchback rings the bells time and time again is one of the memorable themes I have heard in musicals. With Wings went into this fringe as an unknown quantity, because it wasn't clear whether their gambles they got away with in The Duck Pond could be repeated successfully a second time, but they have and they've done it in spades. If With Wings want to be regular fixtures at Edinburgh, it looks like they can. And it's another one I'll be watching for tours, because more people should see this.
Boris: World King
This year, I had to set myself a rule that shows I've previously seen – even shows I loved – wouldn't necessarily be seen again at Edinburgh, simply because there wasn't time to both do this and give some new shows a chance. However, I made an exception for Boris and saw it a third time simply because I wondered how on earth Three's Company were going to make the story work, what with everything that happens in that vote. You know, that one. Huh.
Other reviews of Boris: World King:
FringeReview: Outstanding
Three Weeks: ★★★★
Broadway Baby: ★★★★
Broadway World: ★★★★
The Stage (£): ★★★★
TV Bomb: ★★★
The Scotsman: ★★
Anyway, I'm not going to do another full review of this play because I've already sung my praises in last year's roundup, and like Dugout Theatre, they are another winner of best production. You can read the review there, but the short version is that this initially appears to be a slapstick performances from Britain's most famous accident-prone toff politician. But slowly and subtlely worked into the play is to more serious question of whether Bojo uses his buffoon persona to get away with things that other politicians can't. Perhaps it's best summed up in a scene where a younger journalist Boris gets an anti-EU scoop by earwigging a foreigner who incorrectly assumed he couldn't understand her if she spoke in French. "But I thought you were just some English idiot!" she protests. To which Boris replies "Yes, a lot of people think that."
As Boris: World King veterans will know, the end of the play when he rises to world domination was written in 2015 when Boris has a somewhat different stance on the EU. I wondered how on earth the play could be written to incorporate his latest U-turn, but in the end-the answer was pretty obvious: another U-turn. Only oddity about this otherwise wildly successful plays is that The Scotsman is digging its heels in with two-star reviews, but that can be safely ignored. This might finally be the end of the run for this Boris, but this show has surely surpassed everyone's wildest expectations. Tom Crawshaw has set himself a very difficult personal best to best.
BEASTS presents Mr Edinburgh 2016
This is a comedy show which shouldn't really belong in a roundup meant for theatre, but it was so exceptional this joins a very short list (hitherto Charles Adrian as Samantha Mann and Yve Blake as the Yve Blake character) in the very short list of comedies that reach my pick of the Fringe in Edinburgh.
Other reviews of BEASTS:
Broadway Baby: ★★★★
The Skinny: ★★★★
Broadway Baby: ★★★★
Edfringe review: ★★★★ & ★★★★
Fest: ★★★★
The Telegraph: ★★★★
The List: ★★
So this comedy trio announce they are hosting the final of Mr. Edinburgh to a musical rendition that would make Morcambe and Wise proud. The they announce they are by staggering coincidence the three finalists, and they take off their suits to reveal their contestants' leotards underneath. However, if you're still expecting something family-friendly like Morcambe and Wise, you hopes will be dashed when you see the big hairy one has a backsideless leotard – damn you, you bastards, I can never unsee that.
Officially, BEASTS is supposed to be a sketch group, but the few sketches they get round to are always pretty terrible groaners. The real run is that they always end up squabble, with the pompous one, weedy one and uninhibited lecherous one all ending up squabbling over their own ideas. This same format finds its way into this show, with allegation of cheating, fiddling of drugs tests and wildly inappropriate advances on anyone foolish to sit in the front row. Not recommended for the faint-hearted or easily embarrassed, but highly recommended to everyone else.
Police Cops
Boris and Beasts were back-to-back in Pleasance Queen Dome, so rounding off the comedy was this from the Pretend Men. Shown at Edinburgh last year and scooping a sponsored trip to Brighton with the Brighton Fringe award for excellence, this is basically a parody of every mismatched cop show ever made. It's always been a bit of a wonder to modern police officers why cops in the 1970s were always assigned to cases in mismatched pairs – surely it would make more sense to have to cops who get on with each other? – but that's the law of 1970s cop shows. That and other laws such as villains are obviously evil, cops talk to each other is painfully clichéd inspirational catchphrases, and the case wouldn't tax the brains of a six-year-old.
Other reviews of Police Cops:
Edinburgh Festival magazine: ★★★★★
The Argus: ★★★★★ (Brighton)
Broadway Baby: ★★★★ (Brighton)
Reviews Hub: ★★★★ (Brighton)Broadway Baby: ★★★
The Skinny: ★★★
Chortle: ★★½
The List: ★★
Before the case can begin however, idealistic rookie and cynical old hand (for this is the designated mismatched cop pairing – I guess the black dude and the borderline racist will have to wait until next week) work together on the ranch bonding and chopping wood and hitting things with big hammer and constructing barns or something and standing around bare-chested in front of an American flag. Again, modern police officers might mistakenly believe that these muscular men prancing around shirtless look like they might be in the closet, but duh! Don't you know anything? In the 1970s, the only homosexuals around flamboyantly prance around department stores going "I'm free". This is all proper manly manly manly man stuff!
In spite of this being a clear commercial success, not all reviewers like this. It's fair to say that the entire play is based around the same joke of satirising corny cop shows, and for some people the joke may wear thin. But the thing that makes this show a hit is the performance. With only three actors on stage and no expensive Hollywood studio sets at hand, they deliver a highly energetic highly slick performance. So if you're expected something high-brow, no, this isn't the show for you, but if you want a lot of fun with the ultimate mashup-parody, this is the one for you.
The Unknown Soldier
This is the second play I saw in two months about the aftermath of World War One. Lest We Forget, also showing at Edinburgh, concentrated heavily on the controversial Imperial War Graves, but unlike the other play, this is a solo one written and performed by Ross Ericson of Grist to the Mill. With fallen British soldiers buried at the battlefields in France, many people wanted to have their loved ones buried at home. No-one felt like making the obvious practical argument against this, being that there's too many bodies in too many bits (not to mention the uncertainty over whether the corpses you'd return actually include the correct limbs). So instead the government made platitudes over how fitting these cemeteries were. One such platitude was the unknown solder buried in Westminster Abbey, meant to honour all of the fallen. One person who doesn't quite see it that way is Sergeant Jack Vaughan, still posted to the front the clean up the mess after the guns have fallen silent.
Other reviews of The Unknown Soldier:
TV Bomb: ★★★★★
Edinburgh Festivals Magazine: ★★★★★
ThreeWeeks: ★★★★★
Young Perspective: ★★★★
Edinburgh Guide: ★★★★
FringeReview: H.Recommended
British Theatre Guide: ★★★★
Broadway Baby: ★★★
The story Jack tells is one of disillusionment – but not one you might expect. His experiences of the war do play a part in the story, but most of it is what happened after the Allies won. Post-war economic depression and the influenza take their toll, but the least talked about legacy isn't the glorious dead but the not-so glorious wounded. Dead men don't tell tales, cynical Jack muses, but wounded men get restless when they return home and there's no work. That doesn't look so good, especially when the mayor of Luton gets especially tactless and ends up with a riot that gets the town hall burnt down.
Both this play and Lest We Forget are good plays that provide interesting insights to the aftermath of the war, but The Unknown Solider does it better, providing a much wider picture as to what was going on, and a more powerful message. Both plays have twists, but in Lest We Forget it's quite easy to have a rough idea of what the twist is. This one, however, is a lot more subtle. I won't say what because it would be too much of a spoiler, but it concerns something that was going on throughout the whole play over the way it's being narrated. It is not clear whether this play will be shown any more – it's already been touring for two years, but the script is now for sale. I have once they're finished with this they will make it available for other to perform – if they do, catch it if you can, even consider performing it yourself, because this will be a great solo piece for lots of men to do.
Adventures of a Redheaded Coffee Shop Girl
This one caught me out. Having managed to catch up on Rebecca Perry's previous work, Confessions of a Reheaded Coffee Shop Girl at the Brighton Fringe this year, I was expecting – and would have been perfectly happy with – more of the same. With the first instalment very closely based on her real life, it was a story of an anthropology graduate being stuck in a dead-end job at a coffee shop, until one day the amazing Marco comes along and sweeps her off her feet and give her everything she ever wanted, including a meeting with her idol Dr. Jane Goodall which in turn gave her the internship she always wanted. This storyline shouldn't have worked, because it went straight from dull job to happy ending with no twists – and yet it did. There are two touches Perry applied that made this a success: firstly, her sharp observations of her coffee shop clientèle; and secondly, the way she she tells the story, with a musical score putting everything into place.
Other reviews of Adventures of a Redheaded Coffee Shop Girl:
Broadway Baby: ★★★★Edfringe review: ★★★ & ★★★
The Scotsman: ★★★
Broadway World: ★★★
Edinburgh Festivals magazine: ★★
Fest: ★★
With a sequel that sticks with a naming convention based on shit soft-porn film franchised from the 1970s, Adventures continues where Confessions left off. Leaving everything she knows for a three-month internship at a primate sanctuary, and desperate to impress her idol to secure her dream career, it's another simple story where things fall into place – and again, it's down to her observations and how she tells the story. It's watching her the second time round that I began to see how finely crafted her format is – simple things like the piano riffs up and down an octave to support her doing both sides of a conversation work so well here.
But in the play's dying moments, just when I was preparing another uplifting finale – I'd forgotten something. This time, the play has an unexpected sting in the tale – except that, in in hindsight, it wasn't really that unexpected. Thanks to Perry's engaging day-to-day story distracting us from the elephant in the room, it's a twist that everyone should have seen coming but didn't. Again, I'll refrain from a spoiler, suffice to say that it sets up a cliffhanger, perhaps a painful one, for a third play.
So with such a lovely play, the only disappointment is with same of the reviews, and I've come to the conslusion that some of them have treated her very unfairly. Some of them blatantly hadn't seen the first play and missed the point of it my a mile. That is forgiveable. What is not forgiveable is the punishing a performer with a bad review for offending the reviewer's moral sensibilities. I will be writing about this practice later. In the meantime, I would advise Rebecca Perry to ignore both two-star reviews because those reviewers at best don't know what they're talking about, and at worst … well, I'll come on to the worst-case possibility later. Start by thinking of a title for the follow-up. What can we call it with "confessions" and "adventures" used up? Any crap 1970s porn franchises we've forgotten about?
Northanger Abbey
After hearing many good things about Box Tale Soup, I managed to squeeze them in on my final day. So this is Jane Austen. With puppets. Austen and puppetry are both all the rage at the moment, but puppetry seems to be mostly popular for children's theatre and experimental theatre – less so for something as conventional as Austen. But why not? Puppetry can work well in any other kind of play when it's done properly, and this no exception. Noel Byrne and Antonia Christophers play the two romantic leads; and all the other characters are played by puppets which Byrne and Christophers operate interchangeably.
Other reviews of Northanger Abbey:
Broadway Baby: ★★★★
Scotsgay: ★★★★
ThreeWeeks: ★★★
When it's Austen, there's not much room to be creative with the storyline itself – from the moment our seventeen-year-old hero Catherine meets the dashing Henry on a trip to Bath to meet suitors, it's pretty obvious who's going to end up marrying who by the end. So instead, Box Tale Soup make their mark with the puppets, set and costumes. The whole set comes out of one trunk, and the puppets are all made out of book manuscript; and in a very nice touch, this also extends to Catherine and Henry's outfits, with various collars and other accessories also appearing as paper manuscript.
There is always a danger with puppetry-heavy performances that you can make the audience lose track of what's going on, especially when you're adapting long and wordy novels. This production, however, is made quite easy to follow; one reason for this, intentionally or not, is that all of the puppets are lines up on stage in the same position when not in use, allow you to easily remember who's who. Even when puppet is transferred from one puppeteer to another in mid-conversation, it's always easy to follow. Recommended for anyone, but especially Austen fans wondering about the craze of puppetry, and vice versa.
Overshadowed
The final pick of the fringe is an unexpected entry. I first saw Sunday's Child Theatre two years ago; it's mainly a vehicle for Eva writer/performer O'Connor, and My Name is Saiorse was a solo performance from her. Whilst I liked the story, I felt it was more of a spoken word piece than a proper play – I didn't really see that much interesting going on visually to complement the very interesting themes of sex education (or lack of it) in rural 1980s Ireland. Well, it's all change this time. Overshadowed is a five-hander play, and O'Connor has collaborated with a movement director, and that looks like it was a good decision because it's added so much to what she can do.
Other reviews of Overshadowed:
Edinburgh Festivals magazine: ★★★★ThreeWeeks: ★★★★
FringeReview: H.Recommended
TV Bomb: ★★★★
FringeGuru: ★★★★
UK Theatre Web: ★★★
Broadway Baby: ★★★
Fest: ★★★
Overshadowed is based on her own experiences of anorexia. She's not the first person to do this – I've seen two other plays on this subject, one which was good (Jennie Eggleton's Close to You) and one which was superb (Caroline Horton's Mess). Like its predecessors, this play shares a lot of themes with the other two: a drive to get thinner becoming a destruction obsession, the flimsy attempts made to disguise what you're doing to yourself, and, of course, the awful effect it also has on those around you. In this case, it's sister and mother who take the worst of it, faced with terrible decision of what to do. Even Imogen's sort-of boyfriend – a local tearaway whose one thing in common is that they think the world doesn't them – ends up pushed away when he can't get though to her.
But there is one big difference with this play: in the other two play the writer plays the victim reliving her own experience, but Eve O'Connor casts herself as the evil anorexia monster "Caol", invisible "friend" to Imogen. Lots of symbolism here – Caol is always there, starting off lying more dormant, slowly growing more powerful and more controlling, and even when a family disaster makes Imogen change, Caol lies on the ground, but she's not quite dead.
One small criticism: as far as I can tell, the story makes Imogen's sister a year or two younger. The actress play her, however, looked a lot more than two years younger. (I've no idea what the real age gap is, but it's the apparent age gap that counts here.) Perhaps she should have been written as in her early teens, and with a couple of tweaks to the script, that could have been done. But that's only a minor issue, and I'm so glad I managed to squeeze this into the dying moments of my fringe.
And from earlier in the year …
Reviews of The Bookbinder:
EdinburghFestivalsForKids.Com: ★★★★★
Broadway Baby: ★★★★★ (Brighton)
A Younger Theatre: ★★★★★ (Brighton)
Edinburgh Festivals Magazine: ★★★★
Broadway World: ★★★★
FringeReview: Recommended (Brighton)
The Stage (£): ★★★ (Brighton)
TV Bomb: ★★★
I've introduced a new rule into this year's Edinburgh Fringe roundup that shows I saw in the year prior to the Fringe are eligible for inclusion in the pick of the fringe even if I didn't see it at Edinburgh itself. This is because I no longer have the time to see everything I'd like to and I'm giving a miss to a few shows I've seen before – so this rule means that shows I saw before coming to Edinburgh stand a fair chance against those I didn't.
This means that there is one final entry to my pick of the fringe, which is The Bookbinder. It's a must see twice play, but I saw it twice in Brighton on consecutive days and I didn't have time for a third in Edinburgh. But as I wrote in my Brighton Fringe coverage, this was an astonishing piece of solo storytelling. You can read my praise in full in my Brighton roundup, but if you think "Ooh, I fancy seeing this," you're too late. Their world tour has now moved on from the UK. Bad luck.
Honourable mention …
Now for the next tier. This didn't make into my top picks against the unusually tough competition, but nonetheless need congratulating for various virtues. Here they are, again in the order I saw them.
Stack
This year, Dugout Theatre have been busier than usual and brought two more productions on top of Swansong. One of them was a sketch comedy duo, Goodbear, which I haven't included in my coverage because it's too different from my remit of theatre, but the other one, Stack, is a solo (ish) play which certainly is in my remit. Stack is the nickname for Stackard Banks, a "celebrity explorer", although it's unclear what exactly his "explorer" credentials are. That, it seems, involves going place on attention-seeking publicity stunts of dubious ethical value, usually involving screwing around the local woman and/or flight attendants on the journey there and back. No doubt he's a celebrity though, because the crowds of adoring fans that come to every press conference allow his to deflect any difficult questions with throwaway quips.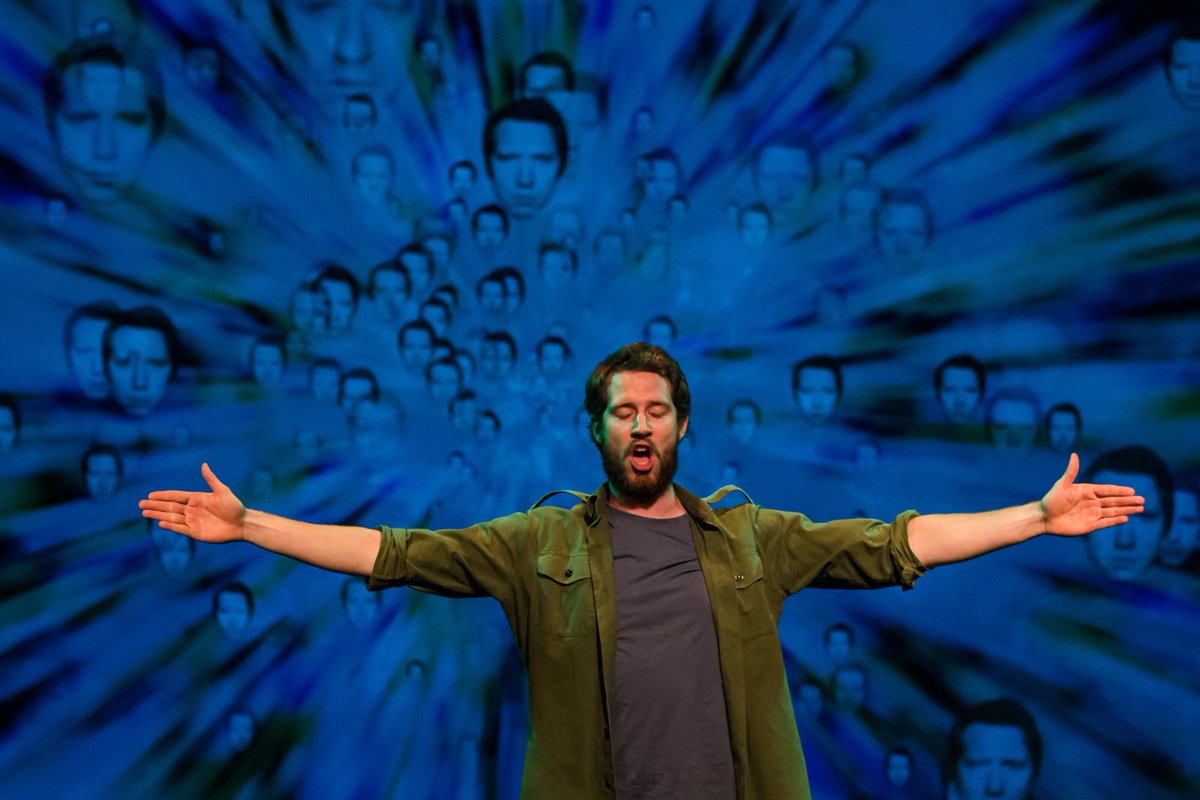 Other reviews of Stack:
Broadway Baby: ★★★★
The Stage (£): ★★★
The Scotsman: ★★★
Edfringe review: ★★★ & ★★★
Theatreguide.London: ★★★
Stack will appeal best to fans of Dugout's previous piece, The Sunset Five, a shameless parody of Ocean's Eleven. The same humour is here: all your favourite tropes from the films they're praodying (including, of course, a rival expedition from a shifty-sounding villain with naturally a shifty-sounding German name); a healthy dose of surrealism, including Sting joining the exhibition who, by staggering coincidence, only speaks in phrases exactly matching stuff you can extract off interviews on Youtube; and a mutlimedia all-singing all-dancing extravaganza from Ed MacArthur.
There was just one thing that didn't work for me – I just couldn't see Stackard Banks as a plausible character. This play's humour, like all Dugout's recent ones, relies on ridiculous settings, and okay, this is the silliest play they've done by a long way, but it works best when you have believable characters in these unbelievable situations. In the story, Stackard rethinks his outlook on life and his relationship to his semi-estranged family after the tribe mistakes for their deity shit-your-pants. I can just about believe he could change from an egotistical maniac to someone more caring, but I cannot believe someone callous enough to be indifferent to the parts he plays in his entire crew's accidental deaths would develop a conscience that easily. However, this doesn't stop it being a fun piece, and together with the sketch comedy straight after, it's a fun way to round off a fringe day.
The Trunk
Other reviews of The Trunk:
Broadway Baby: ★★★★
The Stage (£): ★★★★
British Theatre Guide: ★★★★
This was one of my few "lucky dip" plays this fringe – a play I saw for no other reason than being in the right place at the right time, when I had a gap to fill. It was a solo piece from Max Dickens about a young man working in a coroner's office. There's no shortage of TV shows making out this line of work is very exciting, where shrewd investigators foil dastardly poisoners who thought they could make the whole thing an accident – but in reality, it's mostly a boring administrative job. Apart from the unendearing task of entering the house of an old woman who died alone. With no apparent next of kin, the deceased looks set for a section 46 funeral, or a pauper's funeral in layman's terms. But this young man finds a letter apparently addressed to an estranged son. It's not really the responsibility of a coroner's temp to chase this up, but maybe because a break-up means he's got nothing to do with his life, maybe because he's needs something interesting to do in this dull job he's taken post-graduation, maybe because he needs a distraction from his own grandfather's declining health, this is what he sets out to do.
Don't expect the pieces to come together to reveal who done her in, like most TV shows will. Instead, expect the pieces to come together to reveal the forgotten life of a woman. She might only been known today as just another elderly woman living alone, but behind this is a lifetime of stories and complications that lead her to give up by the end. If there's one thing I felt didn't quite work, it's the matter-of-fact tone used to tell the story. I can just about that the young man telling his story could keep himself emotionally detached from the affairs of the deceased woman, but I find it harder to believe he could remain quite so detached witnessing the declining mental health of his own grandfather. Perhaps a bit more emotion was needed in the monologue. The ending, however, was touching – the coroner's office may have come too late to help her in life, but they do some good saying goodbye. And interesting show worth a visit.
Jane Postlethwaite: Made in Cumbria
Other reviews of Made in Cumbria:
Comedy Coroner: ★★★★★
Funny Women: ★★★★
The List: ★★★
Scotsgay: ★★★
Jane Postlethwaite is a name I've heard many times in Brighton Fringe circles – she first grabbed my attention two years ago with this spot-on blog post about what it's life to perform at a fringe – so it was about time I caught up with her. This show is a character comedy of five different women from the sleepy county of Cumbria, most of whom seem to have some sort of skeletons in the closets, usually involving the murder of someone who got on their nerves. But nothing can disrupt the gentle way of life in Cumbria. Even if a spacecraft has crashed into Sellafield and it's going into meltdown, local radio will gently remind you to pack up a nice warm woolie and some Kendal Mint Cake whilst you cross the border into Dumfries, Northumbria, Durham or Lancashire. But not Yorkshire (spit). Yes, apparently Cumbrians share the views of their Lancastrian neighbours.
I have one issue and one issue only , which is that the humour of the show isn't that original – the theme of sinister rural communities wrapped up a veneer of tranquillity has previously been well-trodden by comedies such as Hot Fuzz and The League of Gentlemen. But still Postlethwaite finds way of making the show her own. Whether we the audience are setting off to embark of a dangerous corporate hiking experience or listening to a morose hawk-keeper, she enthusiastically espouses the joys of Cumbria with some not-too-subtle menacing undertones. Especially if fail to immediately agree that she's the most attractive women you've even seen. Or if you foolishly admit you've some from the aforementioned devil's own county. No, really. It's fine. Yes. Fine. Got that? It's a good fun piece to come and see, and she's certainly earned her striped as one of Brighton's national treasures.
John Robertson: The Dark Room
I was introduced to this homage to 1980s text adventure games last year and had to go again. If you were brought up on 1980s text adventure games, you will be quite at home here – if should be quite straightforward to hear that you wake up to find yourself in a dark room. If however, you were not brought up on 1980s text adventure games, this will take a bit of explaining. Rather than write everything again, I can direct you to the review in last year's roundup, which might go some way to explain why there was once so much significance to GO NORTH.
Other reviews of The Dark Room:
Broadway Baby: ★★★★★
Three Weeks: ★★★★★
Arts Award Voice: ★★★★★
The Scots Reviewer: ★★★★★
Shortcom.co.uk: ★★★★★
Bouquets and Brickbats: ★★★★½
TV Bomb: ★★★★
Edfringe review: ★★★★ & ★★★
It's just as funny as I remembered it a second time round, but there's a couple of new observations that surprised me. The first is how often people pick the same options in different shows. The disastrous options of "Czech Pockets" (as opposed to "Check Pockets") really does seem to be picked twice per show, with the audience tutting the second time. Even obscure options like "Click heels for Stalin" – something which seems very difficult to find – keen re-appearing. (Hint: does anything good comes from Stalin?)
The other observation is less joyous. On both occasions, I saw people walk out the show. John Robertson makes a thing of this, and I gather that this sort of thing happens all the time. Sometimes it's for innocuous reasons like needing the loo or getting a drink – other time it's because someone took offence to something. But, the thing is, the stuff that people took exception to barely registers on the scale of offence. At the very worst, he slightly poked fun as some silly ideas ideas held by a handful of people on the extreme end of the feminist scale (such as opening a door for a woman being horribly sexist and any man sitting with legs apart looking confident must be dealt with) – it was so subtle, the joke would have gone over most people's heads. And yes this seems to be a sufficient transgression to provoke a walkout for a few people. I will return to the subject of professional offence later. In the meantime, I can say The Dark Room is not recommended for the easily offended – but by "easily offended" I mean people who painstakingly pore over every last detail in search of something objectionable. But it's definitely recommended for everyone else.
The Life and Crimes of Reverend Raccoon
This play made it into my honourable mentions partly because I liked it, but mostly for the sheer guts to do this. Sheepish productions were last seen on the fringe scene in Buxton last year with this play. Sadly, unlike earlier offerings to Buxton, this one wasn't that well received – I also had reservations in my roundup. Nevertheless, Jeremy Fletcher chose to press ahead with plans to take this to Edinburgh, but – crucially – he listened to the criticisms and took on board suggestions for changes. Have to say, I'm sceptical over the wisdom of the gamble taking a show to Edinburgh if the reviews before then haven't been great, even if you rework the piece – but it's certain a courageous gamble. And, what do you know, the reworking has paid off and the play is much better.
Reverend Raccoon is a faith healer on the run from the law after one scam too many. The biggest change made to the play is that the deluded reverend hides in one of his churches and speaks to his congregation – a big improvement from last year's confusing setting of the Old Clubhouse, Buxton. Much of the rest of the story, however, remains the same. Our anti-hero starts off as a small-time estate agent who makes his money selling houses he doesn't have to tell, until a would-be-victim turns out to be the love of his life. From there, he twigs that a logical progression in his silver-tongued career is preaching, and from there it's tee-evangelism, which is another way of scamming money selling things he doesn't have to sell if you look at it that way. Eventually, his lies will catch up with him – but it is his own self-destructive traits that will cost him far more dearly than any cops will. And that's when his delusions being to make him believe his own fantasies.
It's still not perfect – I didn't get what the stuff about the baked potato option was supposed to signify – but the reword has brought to this play some much-needed clarity. Those who haven't seen at Buxton should lie it. Those who should ought to give it a second chance.
E15
This was a difficult one to judge because it was very much a soapbox play. LUNG Theatre (formerly known as FYSA Theatre) took the excellent The 56 to the Edinburgh Fringe, a verbatim piece about the Bradford City fire. This one is also verbatim, about social housing in London, particularly the protests in Newham over some very evictions by the council there. But whilst there's no arguments over the former play – no-one disputes that disaster was an accident – this is a far more divisive one. LUNG attempt to bring some wider views from a variety of experts on housing, but it's mostly promoting the views of the people involved in the protests. In this situation, it is very tempting to praise or berate a play based on whose side you're on rather than the merits of the play itself. (For the record, I think the issue of housing in London is a difficult one where all the options are painful, but on the specific issue on Newham Council's behaviour, it doesn't look good and they'll need a damned good explanation if they want to get off the hook.)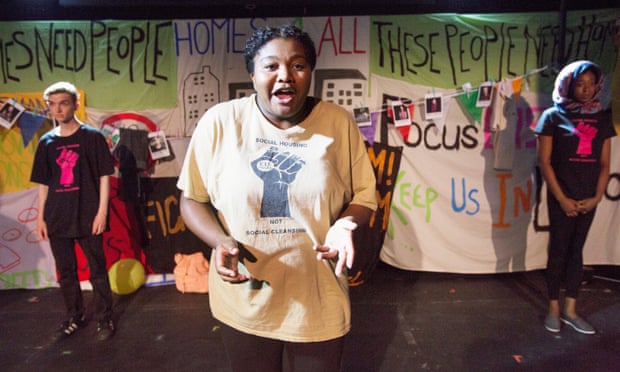 Other reviews of E15
Three Weeks: ★★★★★
FringeGuru: ★★★★★
British Theatre Guide: ★★★★★
Broadway Baby: ★★★★★
Edinburgh Festivals Magazine: ★★★★
The Skinny: ★★★★
North East Theatre Guide: ★★★★
Edinburgh Spotlight: ★★★★
The Guardian: ★★★★
FringeReview: Recommended
Theatre Extra: ★★★
Fest: ★★★
The List: ★★★
The F Word
Exeunt
The fairest way of judging this, I think, is to take a leaf out of FringeGuru's books and judge it not on whether I agree with the message, but how well the message is expressed. Looking at it that way, E15 is easily the best play I've seen whose purpose is to give a message – but then, they win by default. The competition is practically non-existent. Most political theatre I've seen relies on blatant straw-man depictions of the opposition, and the arguments made are often so lame a seven-year-old could see through them. The other thing that soapbox plays keep doing, for some reason, is make their play so "clever" (i.e. pretentious and confusing) that I cannot understand what they're on about – it might be a convincing argument inside, but I'll never know.
E15, to its credit, makes good arguments clearly and succinctly, and as far as I can tell, don't deliberately misrepresent the other side's position to make their own look better. It's not flawless – the bit at the end where a plant in the audience chips in with his own experience is a device that has been done to death – but it still wins hands down against the other soapbox plays I've seen. For all the other misleading and/or incomprehensible plays (you know who you are), take a look at LUNG Theatre. They'll show the way.
The Club
Other reviews of The Club:
Edinburgh Festivals Magazine: ★★★★★
The Stage (£): ★★★★
All Edinburgh Theatre: ★★★★
Broadway Baby: ★★★★
The List: ★★★★
Finishing off the honourable mentions list is a two-hander comedy. It features Mark Farrelly, who got my attention after his excellent solo biopic The Silence of Snow. However, this time he's just acting, and it's the creative product of the writer/performer Ruaraidh Murray. It's described as a cross between Phoenix Nights and The Sopranos, which sums it up rather well. It's set in The Tardis, a complete dive of a 90s nightclub popular with celebrities, presumably because it's somewhere where you can take lots of drugs. One guy is a sleazy manager, and the other guy is an equally sleazy friend/squatter. The latter is supposedly an artist, if you count collecting plastercasts of female orifices (mostly from pissed girls in Manumission) as art, which he does. The former is a manager planning a the ultimate party. There's a complex network of relationships to who's been shagging who, who fathered who, who owes money to who, who's been blowing on the money on stupid investments, and who burnt down what in a botched insurance scam. The net result of this is that the local Mr. Big who they owe quite a lot of money to tie them to a couple of chairs, apparently to return later with his chosen method of punishment on bad debtors involving expanding building foam.
I enjoyed the play, but if one thing felt missing, I just couldn't get myself to care about the story. And there was every opportunity to feel for this duo. They may be a pair of low-lifes, but they're too idiotic to end up hating. Perhaps the scene when they're tied up didn't ring true enough. When they're tied on in their chairs, their banter does seem a bit light-hearted for a pair of guys expecting to be killed in an hour or two. Sure, there can be gallows humour, but I would have expected a bit more fear in this. Nevertheless, the story is easy to follow, the seedy London scene is portrayed very convincingly, and characters are believable the rest of the time, and it's something to be recommended for a light-hearted hour.
And from earlier in the year …
In addition to these seven shows, there's a another four that join the list that I saw earlier in the year:
Five Kinds of Silence: I saw the People's Theatre production back at their own theatre prior to Edinburgh when it was part of a double bill. (The other one was The Zoo Story, which, to be honest, is a play I don't get.) This play is probably Shelagh Stephenson's best known play after The Memory of Water, telling the story of a mother and two daughters, beginning with the moment they shot him, flashing back to the years of abuse, and ending with the verdict in court. I did like the play, but not as much as Stephenson's headline piece. That moved from light to dark and changed the perception of the characters as we moved along. This play, on the other hand, is is a monotone gloomfest from start to finish. But it does do its job of showing what this kind of family is like, how it goes on for so long, and why it had to end this way. And I've no complaints about the People's quality of acting – I am use to high-quality productions from them and this was no exception.
Morgan and West's Utterly Spiffing Magic Show for Kids: I could hardly pass up the chance to see Morgan and West whilst I was in Brighton. I've explained the concept of Victorian time-travelling magicians several time before, so if you pop over to my Brighton Fringe Roundup up you can see the full review there. Short version is that their theme, combined with their masterful knack of catching you out with the tricks in ever way imaginable, rightfully makes them one of the headline magic shows on the fringe circuit. To be honest, there's not much difference between this kid's show and their normal ones – they're all family friendly, this one just using children as participants. I'm confident no Morgan and West fans were disappointed.
Lest We Forget: Aulos's show from the Buxton Fringe almost made it into my Edinburgh Pick of the Fringe, but got knocked off the top tier at the last moment by The Unknown Soldier. Both plays cover very similar themes about the aftermath of World War One and the thorny question of what to do with the bodies. They are both interesting plays that covers lot of interesting ground (some overlapping, some different), but The Unknown Soldier does it better. Nevertheless, this play covers a different kind of war hero, and a different kind of cover-up. If you liked one play you should like the other too.
Skin of the Teeth: Finally, also from Buxton Fringe, quite a different piece from your usual fringe theatre. Sort-of based on the legend of The Boy Who Wanted to Learn to Shudder, this is tale of a young lad who cannot feel any concept of fear, and wants desperately to know what fear is – but unfortunately, the people who get to him first are up to no good and play him off against their rivals. It's borderline between solo theatre and storytelling, but writer Fat Content and writer Anna Beecher add a very distinctive and menacing flavour to this. Not your usual theatre, but worth an artistic detour.
Special honourable mention:
I have two more honourable mentions which are exceptional. There are both improvised comedy, and so they aren't really eligible for pick of the fringe. Nevertheless, they both deserve special recognition for taking improvisation into areas that I never thought possible.
Boris & Sergey: Preposterous Improvisation Experiment
So this foul-mouthed puppet duo have been around for a few years now, and has a cult following. There is only one thing you really need to enjoy this show, which is to have a really evil sense of humour. That and it probably helps if you've drunk three pints or more before watching. Oh, and maybe don't watch it if you're easily offended. The two puppets, Boris and Sergey, seem quite committed to equality, but only insofar as they are equally rude and offensive to anybody and everybody.
Other reviews of Boris & Sergey: Preposterous Improvisation Experiment
Ed Fringe Review: ★★★★★ & ★★★★
FringeReview: H. Recommended
British Theatre Guide: ★★★★
The Skinny: ★★★
The Scotsman: ★★★
Broadway Baby: ★★★
This show, however, builds on something only touched on last time. Until now, everything in the show has been carefully choreographed with teams of three puppeteers per puppet planning every move. This time, the show is made up as they go along. How do you improvise a scene with different people operating head, hands and feet of the same character? It brings a whole new meaning to the left hand not knowing what the right hand's doing. Surely that's not possible. Well. somehow, it is. Flabbergast Theatre work together so well they can spontaneously adapt themselves to whatever situation they are in.
I won't go into too detail about the plot because sadly this particular story will never be repeated, suffice to say it involves Boris and Sergey starting off in Paris doing French dancing (which they swiftly corrected to the Can Can when I pointed it out), before flashing back to the time when they first met in Hawaii before fleeing to Iceland where of course you meet Bjork and volcanoes. And bankers, although apparently in Iceland bankers (or the person in the audience they Boris and Sergey think most looks like a banker) meet a sticky end with man-eating sharks. One easily overlooked contribution, however, is their sound engineer who dug up the right music at seconds' notice. How do you know how close Bjork is to their hiding place? By how loud you can hear "It's Oh So Quiet", obviously. Duh.
As well as the show, Flabbergast Theatre have also been busy setting up a venue within a venue. They kitted out the "Omnitorium", which is a double-deck bus-cum bar with the tent next door where they performed this and two other shows. They've made a bigger splash this fringe then any previous one; and now we must ask, is there anything they cannot do?
Notflix
And now from improvised puppetry to an improvised musical. This six-strong female troupe asked everyone to put into a hat the name of the last film they saw, so that they would make a musical about of it, because, as their catchphrase sings, everything is better as a musical. Luckily, the piece chosen this time was The Titanic, which was described as "An epic love story on the seas. I had to leave before the end but you could see the happy ending coming a mile off." Who can say no to that?
Other reviews of Notflix:
Broadway Baby: ★★★★★
Again, if you didn't see this musical version of The Titanic, you never will, but let's recount it anyway. After the grand opening, with the plucky Irish sailors shovelling in the coal, we go to the captain. Now, you may have heard that the Captain of the Titanic was a noble man who stayed on the ship as it went down – but you heard wrongly! Here he is, that cad, thinking he's entitled to get into Kate Winslet's knickers just because he bought her a first class ticket. So she goes and fins a rival suitor of Leonardo di Caprio. So the evil probably British captain gets his revenge by directing the ship into iceberg-infested waters, which totally makes sense. Can the plucky Irish sailor steer the stricken vessel to safety in time? Suffice to say, the closing number is "Land Ahoy!" I'm not sure this version has much historical accuracy, but let's face it, it can hardly be less accurate than James Cameron's film.
And here's the surprise. I'd assumed the only way you could do this would be to have a collection of stock songs ready, with lyrics inserted on the fly. Apparently not. They insist they make up the whole lot on the fly: lyrics, melody, piano accompaniment and backing vocals. Don't know how they do it, but they do. I don't know whether I've been been underestimated the capabilities of improvised comedy all this time, or whether this is the best of the best, but either way, I've still "Land Ahoy" going round in my head. Come on Hollywood, get Notflix to write your scripts and music. I'd watch it.
The rest:
It was an exceptional standard this year, and not everyone can make it into my picks. Here are the ones that missed out for various reasons.
One important reminder is that I don't usually publish reviews of plays I fundamentally didn't like. I may review plays that didn't work out if I think the premise is good and it can be nudged in the right direction, but if I think the entire concept is unsalvageable I normally keep quiet. The only exception is for high-profile companies who should know better – and believe me, if you're in that category, you'd know. This year, I managed to avoid seeing any complete turkeys, so everyone qualified for a review – the only exception being a couple of comedy shows that were too different from theatre for me to judge fairly.
So let's complete the list:
Cosmic Fear, or the day Brad Pitt got Paranoia
Hmm. The Bedlam Theatre does have a track record of programming a variety of different and innovative work. You can certainly say that about Le Bossu and Stack, and you can also say it about this one. Cosmic Fear aims to be many things: it's a story within a story, a fable of the titular celebrity making a documentary about the environment, a cautionary tale of impending environmental destruction, or an innovative multimedia piece. There's certainly a lot of ground that could be explored – the frustration of the three housemates over the world's apathy, the emotional detachment between the housemates, the question over whether celebrities who make these kind of documentaries are only doing it to serve themselves (this seems to be hinted at) – but I get the impression that this play was trying to cover about twice as much ground as you can realistically cover in one hour. As a result, I ended up unsure of exactly what the message was supposed to be other than environmental destruction is bad.
Other reviews of Cosmic Fear, or the day Brad Pitt got paranoia
The List: ★★★★
Broadway Baby: ★★★★
Three Weeks: ★★★★
FringeGuru: ★★★
Fest: ★★★
FringeReview: Good
The main weakness, however, is the play's over-reliance on alarmism. Some of the tales of doom and gloom were good, such as the prospect of global warming driving mass migration ("Why should we suffer for a disaster you've caused?") But other warnings are either flawed or daft. Okay, not everybody is as pedantic as me, and if you don't have a science background you might not know the problem with the idea that Chinese incinerators burn holes in the ozone layer – but anyone Tom, Dick or Harry is going to have trouble believing there's such a thing as acid rain that dissolves children in the street. Don't get me wrong, I'm all for theatre that raises awareness of environmental issues, but it has to be accurate, or at least believable, otherwise it acts as a turn-off.
So it's the same thing I always recommend for over-complicated plays: decide what are the most important messages you want to say, and concentrate on those. This play might get a good reception from those who approve of the cause, but if The Empty Deck wants to change the minds of other people – and I'm guessing them do – they'll do well to boil this down to a clear concise message.
Sacre Blue
This play grabbed my interest on the strength of the writer/performer, Zoe Murtagh. Having caught a preview of her other work, The Lamppost Petition, I was struck by how well and how naturally she owns any stage she's on. That play was about being older, particularly her own grandparents, but back to Sacre Blue, this play covers to different topic of anxiety, and particularly her own experiences of it. If there's one poignant phrase worth taking home, it's "Telling someone with anxiety to clam down is like telling someone with diabetes to produce more insulin."
Other reviews of Sacre Blue:
Fringe Review: Hidden Gem
Broadway Baby: ★★★
TV Bomb: ★★★
Fest: ★★★
Total Theatre
Exeunt
The List: ★★
Zoe Murtagh's format of theatre is, in her own words, a "collage". Her play is a collection of scenes on the same theme, but there's no particular order to them, and scenes can be added or removed as you please. There's also a huge variety of innovative theatrical devices used throughout the scenes, but the trouble is there's so many scenes done in so many different styles I just lost track of what was going on. Like Cosmic Fear, this suffers somewhat from trying to cram too many ideas into one fringe-length piece. It would have benefitted from thinking in advance what she wanted to say the most and concentrating on that.
On the other hand, The Lamppost Petition, finally shown the following month, pretty much did that – that follow-up was still a collage, but the scenes were kept to an easily-followable manageable number. So although Sacre Blue may not be the best thing Zoe Murtagh has to offer, it was work seeing as a step in the direction she's going in. I think the best is yet to come.
'Tis a Pity She's a Whore
Other reviews of Tis a Pity She's a Whore
A Younger Theatre: ★★★★
Edfringe Review: ★★★ & ★★★
Broadway Baby: ★★★
The next two are ones where I'm honestly not qualified to say whether it's any good, simply because my interest is in new writing rather than classic texts. As such, I'm not really in a position to say whether Wanton Theatre's production of John Ford's classic is better or worse that other productions of the same play. I can safely say we need a strong stomach for any version of this incest-mutilation-fratricide-gore-fest. Quite a controversial play for its day. The subject matter of Anabella rejecting several suitors in favour of her own brother was deemed insufficiently condemnatory of this sinful act of union, but apparently the local Catholic authorities going all hypocritical and power-crazed over it (yes, I noticed this is a similar theme to The Hunchback of Notre Dame) is all hunky-dory.
Anyway, modern audiences are a little more nuanced in their moral judgement of the subject matter, and this play has enjoyed a revival. Whilst I can't give a detailed appraisal of their handling of Old English text, it seemed a competent enough production. One thing they handled particularly well was a set change every few minutes. This could easily had dragged a play down to snail's page, but this was a tight slick operation. The only limitation with the play was the use of an all-young cast in a play with a big range of ages. Sometimes you can get away with this, but when the play is so deeply rooted in power structures, I do feel you lose something when you take the ages difference away. Nevertheless, this looks like a decent faithful production, and if you're a purist for Old English plays, you shound't be disappointed with this.
The Steampunk Tempest
Other reviews of The Steampunk Tempest
FringeGuru: ★★★
TV Bomb: ★★★
Broadway Baby: ★★
Now from a faithful product of a classic play to a new take of one. Shakespeare's plays are doubtless the most re-imagined plays of any author, and Some Kind of Theatre does a re-imagining of – yes, you've guessed it – The Tempest. I really liked the concept of this. Transplanting the land of exiled Prospero to a Jules Vernesque world was a great idea for the fantastical setting of the story, as was the idea to dress the inhabitants of the island in steampunk gear, whilst the outsiders taken to the island are in conventional Victorian dress. As with the last play, I can't really comment much on the use of Shakespeare's language itself – it seemed a decent job, but one small but irritating detail was the blocking. With many of the seats jutting off to an alcove right of the stage, a chair placed in the front right corner obstructed a lot of sightlines – this could have been avoided had the chair been in the front left corner instead.
But the play missed a trick with its setting. Once you choose a setting for a play, it's best to look for every opportunity to embed this setting into the production. I liked the backdrop of a giant book showing the background from each scene, but instead of a nondescript island, it could have been something fitting with an H. G. Wells story. The steampunk devices could have been played a much greater role in the magic – all I really saw there was using a penny whistle as a wand. The Steampunk Tempest is a great idea to press on with, but if I can boil this down to a single tip: make it more steampunk.
Ruby and the Vinyl
On paper, this is the John Godber Company's 2016 contribution to the Edinburgh Fringe, jointly written by John and his daughter Elizabeth. I get the impression that, in practice, this is mostly Elizabeth's creation with her father helping but, but that's okay. As the play tells you at the beginning in gorgeous three-part harmony: this is the story of Lily and Tom. Two students who meet in vintage and record shop, they click straight away and a love story begins – or does it? They don't get round to That Conversation. In addition, both Lily and Tom have issues holding them back.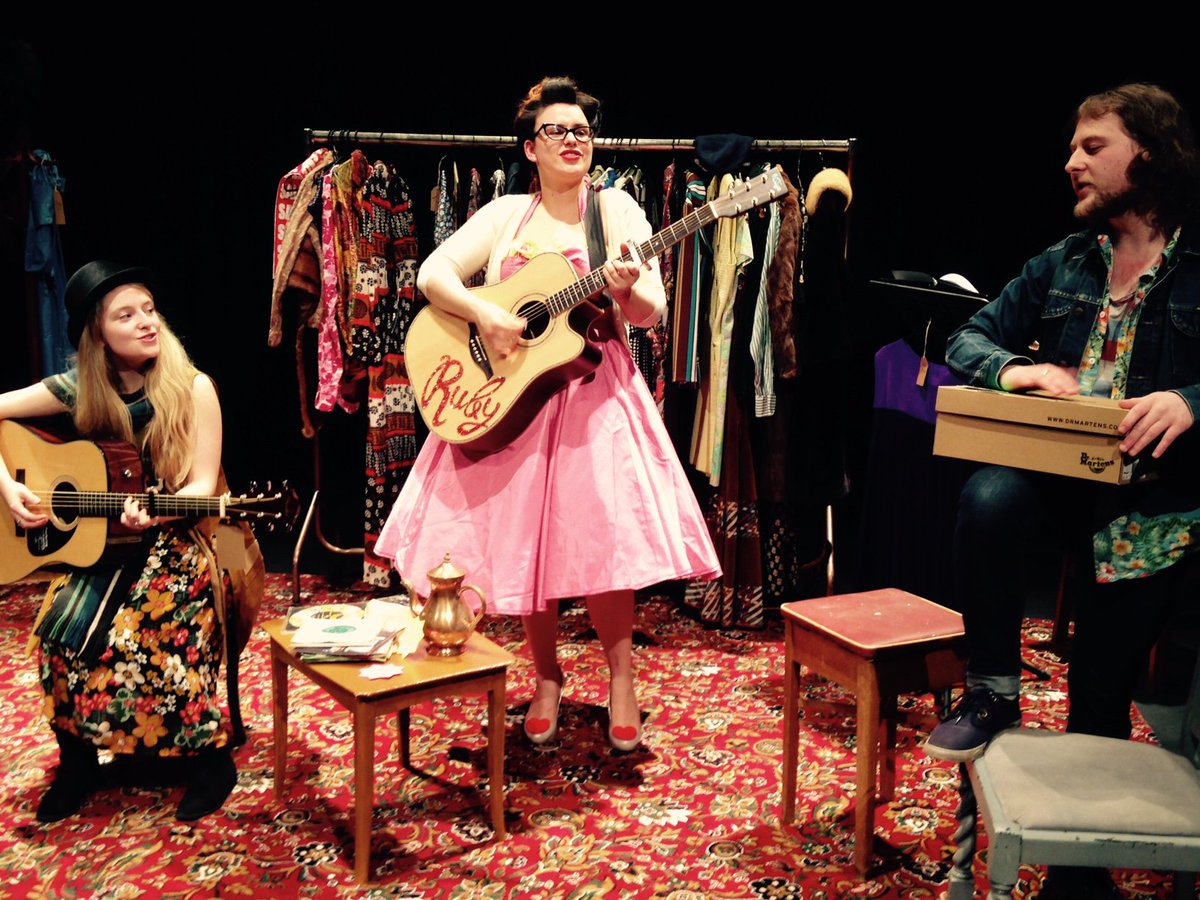 Other reviews of Ruby and the Vinyl
One4Review: ★★★★
The List: ★★★
The Stage (£): ★★★
Broadway Baby: ★★
I really wanted to be able to shout out from the rooftops over this play. Sadly, in its current form the play feels like it's only half an idea. Some moment of the story of the play are lovely, but a lot of the plot feels forced, with the plot leading up to the ending seeming particular contrived. I liked the character of Tom unable to shake off the idea that education's not for working class people like him (surely Godber Snr's input there); but I never really got what Lily's problems were, what would make her spend weeks on end watching box sets on Netflix. And where does Ruby come into this? It's her shop, and in the play she serves the role of on-stage narrator, but she doesn't doesn't appear to interact with Tom and Lily once. Surely she would have noticed these two maybe-lovebirds-maybe-nots hanging round her shop all the time.
What saves the the play, however, is the exquisite musical score from Ruby McIntosh (playing Ruby, fittingly enough), as well as the singing talents of the whole cast, and it's worth seeing just for that. I suppose my only regret is that this is an okay musical that could have been a great musical, but now that we have a taste of what Elizabeth Godber can do, I'm keen to see where she goes.
Communicate
As well as Reverend Raccoon, Sheepish Productions also brought a second play, communicate. This one is a little closer to home for writer Jeremy Fletcher, but I can't say exactly what the inspiration was as that would be a spoiler for the entire play. The spoiler-free version of the story is that James and Heather are a new couple with an unexpected baby on the way. With a flat too small for two, let alone three, they want to move into James's father's house. The problem? James's father is a hoarder, with room after room fill with his pen collection, everything from antique to any old crap he picked up at a sales conference. So devoted is his father to his pens, it's a tougher job than James thought to let it go.
Other reviews of Communicate
FringeGuru: ★★★
Edfringe review: ★★★ & ★★★
Broadway Baby: ★
This is worth watching for the twist, but there are a lot of other plays with the same twist in them, and Communicate struggles to stand out from all the others. The unfair challenge facing amateurs is that for this kind of story, you need to drop hints that something's not quite right, but audiences easily confuse this for the characters not being very believable. I don't think there's any easy way to address that. I do think, however, it would have helped to tighten the time-frame of the play to start from the start of the great pen clear-out; whilst the early scenes where James and Heather get together help develop their characters, I think both the back-story and the character development could have been worked into the shorter time-frame fine.
But whatever reservations I have, the play most certainly didn't deserve a one-star review. I really don't see what the problem is with a character enjoying superhero movies and video games, and besides, that's only a minor plot thread. Sure, Communicate might lack the distinctive style that other Sheepish productions have, but if you don't focus on fiddly details that don't really matter, you shouldn't be disappointed.
Unnatural Selection
It truly pains me to say this, but the entire concept of Unnatural Selection ran into knots from the start – the moment OPIA theatre decided they wanted the play to have a message. Unnatural Selection is set in a world not too much like ours, with two nightmarish difference: firstly, the world is overpopulated and draconian measures are needed to control birth rate; and secondly, worse, the ghastly game show Take Me Out is so popular that this is the method to choose who gets to have babies. Four women compete on "Select Me Out" to be picked by one man, whom the winner gets to marry whether she likes it or not. Two of tonight's contestants are on their third and final attempt to be picked. A fate awaits those who lose three times – that fate, it transpires, is female genital mutilation.
Other reviews of Unnatural Selection
Edfringe review: ★★★ & ★★★
A Younger Theatre
(London preview)
But – why? Even accepting the premise that forced sterilisation is necessary for birth control and it's decided by a TV show with Paddy McGuinness on, there's no explanation for why it's done by the most barbaric way known to man – or why this is . I guess the intention of the play was to imagine how a Westernised society might look if FGM was normalised the way it is elsewhere, and it would be a great thing to pull off, but it just doesn't ring true that the two contestants probably facing this fate at the end of the show are taking it so calmly.
For what it's worth, I don't think is concept is workable in a contemporary society like ours – at least not one so like our that people discuss the same social media networks. But I could see this working in a setting of a dystopian future, where garish game shows are the norm but personal freedoms are forgotten. I'll lay it on the line and say it would be a very tough idea to pull off – extremes of human behaviour are very difficult to portray convincingly, whatever the setting. But it could work. And given the right treatment, this could be a very chilling tale.
Unveiled
And finally, a solo play from Sheep Theatre. It seems to be a recurring theme of my 2016 that regardless of the century the play is set it, if the Catholic Church, they are absolute power-crazed hypocrites, and the Magdalene asylums for "fallen women" is no exception. Although in Ireland for much of the 20th century, "fallen women" was a pretty loose term used to put away any young woman whose face didn't fit, from unmarried mothers to young girls whose only crime was looking too pretty. And the asylums were little more than slave labour run by orders of nuns such as the ironically-named Sisters of Mercy. It was possible to work them to death – literally, as the mass graves eventually showed.
It's harrowing play from start to finish – but should it be harrowing from start to finish? Plays that are nothing but harrowing can leave an audience detached. Had this play come out fifteen years earlier, when people were hearing about the scandals for the first time, this would have been a ground-breaking play. But now, I just feel you need something more than a catalogue of all the horrors of the Magdalene laundries. Perhaps a story like this needs to be a journey. How a Magdalene girl came to be there, how a town or family turned against her, what she went through, how she came to leave, how she waited for justice – and, most importantly, how all of these felt. Writer/performer Ceara Dorman, because she's certainly done her homework though, with a very convincing depiction of a blot in Ireland's history. Make this more into a story, I reckon, and that will make the most of her work.
Dishonourable Mention
And now for the booby prize. Not the worst performance – as I said, nothing I saw was terrible, and even if I had, I reserve my public kickings for high-profile groups who should know better. No, this is worse than a bad play – a bad play, at the worst, spoils one hour of an Edinburgh Fringe visit. This however, is something that could spoil the entire fringe, if the dearly-held ethos of freedom of expression means anything to you. Ever since the disgraceful censorship of 2014, I've been on eternal vigilance. Thankfully, there's been nothing nearly as bad as that since then, but I'm picking up a new trend in Edinburgh. It's a lot more subtle, but if left unchecked, it could do a lot more damage than one mob campaign ever could.
The practice I'm talking about is giving negative reviews, not for lack of artistic merit, but for petty violations of reviewers' moral sensibilities. I must make it clear at this point that I do not want to point the finger at any individual, which is why I'm not referring to anyone by name. I am going to cite individual reviews and examples, and for all I know, maybe one or more of these reviews genuinely was entirely the reviewer's artistic verdict and the offence taken by the reviewer was coincidental. But this is happening too often for this to be a coincidence all the time. Don't get me wrong: there are times when a negative review for objectionable content is justified. When I defended the right to give a one-star review to a play for trivialising rape, it was because you can reasonably expect a large numbers prospective punters to feel the same. But lately this treatment increasingly seems to be applied to the most trivial transgressions of someone's narrow moral code.
Two such reviews that are questionable in this respect are both the two-star reviews for Adventures of a Redheaded Coffee Shop Girl. They both described the play as "problematic", which in my experience is a buzzword to insinuate something is sexist or racist or whatever without the need to back up your claims with evidence. Having seen it myself, I cannot see anything that would remotely qualify as racist unless you are specifically looking for something to offend you. Which I can't rule out. Reading between the lines, I suspect their real objection was Rebecca Perry setting the story in Africa and being white – that won't be the first time we've heard this objection. (Never mind the fact the reason for Africa as the setting is because it's based on a true story. Jesus.)
But, hey, whatever, those reviews are only questionable. Maybe they genuinely didn't like the play and the gripes of problematicness was just an aside. No, a far more blatant offender – indeed the thing that made me decide to write this – is this one-star review of Imaginary Porno Charades. Reading this, it is near-impossible to see any reason why the reviewer didn't like this other than her sensibilities being offended by the whole concept – something that was pretty obvious from the title of the show. It is heavily insinuated the entertainment – playing charades where the name you have to guess is a made-up title of a made-up porn parody movie – is all horrible misogyny. Okay, I'm not the most impartial person to respond to this as I was a guest on their show in Brighton (which is why I haven't reviewed them here), but I know these guys, and I can categorically tell you they don't have a sexist bone in their bodies. On the contrary, they go out of they way to try to include at least two female guests out of four on their shows. They also have a fanbase which is a pretty even male-female split.
Another thing I noticed about this review is the way it casually derides the host and captains for their gender and race. This is not a one-off – I've seen this happen with increasing frequency, where reviewers and artists alike use the term "white male" in a derogatory concept without being challenged. Not so long ago the popular derogatory phrase was "white middle-class male", which is still extremely simplistic, but at least I could understand where that was coming from: that many people in the upper echelons of the arts were unfairly advantaged by being born into money and connections. Now, however, it seems acceptable to disregard class, money and connections, and judge people as unfairly advantaged and undeserving of their achievements based on race and gender alone. The reviewer particularly singled out "the panel of seven white male comedians" for making "the endless masturbation mimes" (to which Fringepig made this priceless response: "Would seven black guys wanking be more relaxing?") Never mind that particular show was the only one of the eleven in Edinburgh where they couldn't get any female panellists. But even if the show was, as the reviewer imagines, a cesspit of beer-swilling men doing toilet humour for the amusement of other men – so what? Are white men now forbidden to make jokes found funny by other white men simply because they're male and white? Does a Broadway Baby review ever complain that a female comedian made mucky jokes to an audience of women?
But the big red flag with this review is the question over why she chose to review this in the first place. There is a widely-held convention throughout review publications that reviewers go to review shows that grab their interest in some way. That way, we don't have prudes giving one-star reviews for nudity in burlesque any more than we have musicals fans giving one-star reviews to plays with no songs. With the other two reviews, I can at least believe that both these reviewers liked the sound of Rebecca Perry's play and went without preconceptions. I find it a lot harder to believe that a reviewer who, in her own words, is "an English graduate with a passion for museums and Radio 4" had no negative preconceptions about a show called Imaginary Porno Charades. The only motive for reviewing this show that springs to mind is that she wanted an opportunity to express her indignation to a show whose whole concept she objected to. There might be a different plausible motive, but I'm struggling to think of one.
As I said, I don't want this to be a public shaming of one individual reviewer. That's not the point. One reviewer behaving this way isn't a problem. It's that many reviewers appear to be doing this, if the analysis from Fringepig is anywhere near accurate. One reviewer is little threat to the Edinburgh Fringe, but if lots of reviewers are doing this we've got a serious problem. Given how easily some reviewers seem to decry a whole production on moral nit-picking, what's to say it won't become accepted practice to search listings for subjects they object to in order to give poor reviews? Would you dare take a show to the Edinburgh fringe that says, for instance, there's such a thing as black-on-white racism, or a rape allegation is devastating if the accused is innocent? Happy to risk your reputation being trashed by people who don't want Edinburgh Fringe punters exposed to the wrong messages?
If this sounds absurd or paranoid, remember this: two years ago artists were hounded out of the fringe for less – with the backing of some artists and arts journalists. (More opposed it, but the first group still got their way.) If Israeli actors being ordinary human beings is now an example of the sort of message fringe punters must not be exposed to, that pretty much makes it open season on any message deemed unacceptable for public exposure. If mob censorship is now considered a legitimate way of removing undesirable voices from the fringe, suddenly the practice of bullying artists into silence through one-star reviews as punishment for incorrect artistic expression seems rather mild. Imaginary Porno Charades is big and ugly enough to be able to ignore this; they have a fanbase who knows that one bad review is bollocks, and they can bury that review under their pile of good ones from previous years. Most groups don't have this luxury.
Ho hum, this is the year I've been persuaded to endorse Fringepig, who review the reviewers. I don't always agree with them, and they are sometimes overstep the line with excessive brutality (something they frequently criticise reviewers for), but someone has to scrutinise what's going on. Look, if you want to want seek out shows that displease your sensibilities and write about how terrible they are, sure, that's free speech, I support your right to do so. But if you try to pass it off as a review in a publication that's supposed to judge shows on artistic merit, you have no grounds to complain when you get the same treatment. Just to say, I do not believe believe they majority of reviewers are behaving this way, but it's too big a minority for comfort. It's up to the rest of us to realise what's going on and stand up to it.
Shows I didn't see
Finally, a catch-up on the two shows on my recommended list that I didn't get to see. I did rather well getting to shows on my list, some having been seen at earlier fringes in the year, and the rest seen at Edinburgh. The only two I didn't catch were two things shown at the wrong time. Well, one and a bit.
So one such play was papercut- from Thrust Theatre. This theatre company came to my attention last year at Brighton with the outstanding yet disturbing Request Programme. In spite of the Brighton success, Thrust have had a low-key run at Edinburgh with just one review from the same reviewer (although with only a one-week run from Edinburgh occasional that's not unexpected), it got a three-star review. It's hard to comment on a play I haven't seen, but I think I can safely say that it was a far more abstract and experimental play than Request Programme was. Beyond that, an open verdict.
And the other one that sort-of counts is A Young Man Dressed as a Gorilla Dressed as an Old Man Sits Rocking in a Rocking Chair for 56 Minutes and Then Leaves, which finally grabbed my attention. This play has a cult following, and I didn't get to see it, but as I understand it, what happens is that a young man dressed as a gorilla dressed as an old man sits rocking in a rocking chair for 56 minutes and then leaves. One interpretation is that this is a standing in-joke that takes the piss out of the more pretentious shows at Edinburgh. However, that's a bit of a boring explanation, so instead I'll refer you to this TV Bomb review that analyses it in more much more detail. I think.
Other reviews of papercut- FringeGuru: ★★★
Other reviews of A Young Man Dressed as a Gorilla Dressed as an Old Man Sits Rocking in a Rocking Chair for 56 Minutes and Then Leaves
TV Bomb: ★★★
And that is finally it. Fringe coverage 2016 is over, narrowly ahead of 2016 being over. Join me in April when fringe coverage 2017 begins, or, if you can't wait, Vault Fesitval coverage before than. Thank you and goodnight.