This page is updated during the course of the Brighton Fringe. Come back for more updates as they arrive.
REVIEWS: Skip to: Always, With a Love That's True, Brighton Queen of Slaughtering Places, Tom and Bunny Save the World, Susan Harrison is a Bit Weepy, Wan In, Wan Oot, Apparatus, Larkin Descending, Beasts, The Owl and the Pussycat

Sunday 3rd June: And the Brighton Fringe awards have been announced. I don't have much to report here, because most of the award recipients are either shows I haven't heard of, or genres I don't cover. But one award that was notable was audience choice of best venue. Junkyard Dogs wins again, for a second year in a row.
I haven't been to Junkyard dogs yet, because they cover mainly comedy and little theatre, but the owners of this space have a good reputation of showing love and commitment to the arts. In a festival increasingly dominated by supervenues, Junkyard Dogs may still have a capacity to throw a spanner in the works. A good reputation means that high-profile acts may pick this over a more conventional choice. But we'll have to wait another year at least before we see if anything comes of this.
So that's it. The end of Brighton Fringe live coverage for another year. It's not quite the end of all things Brighton, because we still have the ticket sales figures to come out, whenever that may be. Edinburgh figures will also be interesting to see whether the Edinburgh/Brighton gap increases or decreases. I may also have an interesting bit of analysis if I have the time, but you'll have to wait and see.
So thank you all for everyone who followed this over the last month, and of course thanks to everyone who supported my show. Roundup coming sooner rather than later, I hope. See you all in August when we start all over again in Edinburgh.
Saturday 2nd June: And here we are. It's the moment of truth. Who is my pick of the fringe?
Last year's Brighton Fringe went from one extreme to the other. Two plays were outstanding and got my Ike Awards, but I also saw one play that was awful. This year, the range hasn't been quite so extreme. Nothing quite made it as an Ike-winner this time, but neither did anything make me leave cursing the fact I'd wasted an our of my life. Even so, there were various plays that didn't make it on to this list. All had good points, and nothing was irredeemably awful, that bad points outweighed the good more often than normal.
But enough of a preamble, here we go. The full list, for the first time including plays at Sweet, is: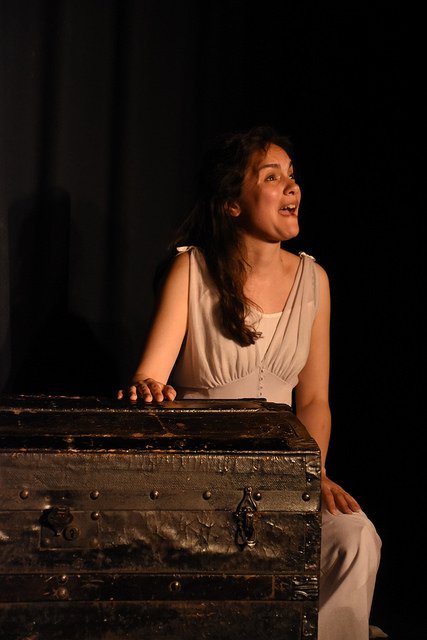 Pick of the fringe
Bin and Gone*
Metamorphisis*
Apparatus
The Owl and the Pussycat
Antigone Alone*
Always, With a Love That's True
Honourable Mention
Beasts
The Erebus Project*
Larkin Descending
Wan In, Wan Oot*
Brighton Queen of Slaughtering Places
One-Woman Alien*
* indicates shows at Sweet which were subject to embargo (with rules bent for Wan In Wan Oot, as that deserved a bigger audience). Bear North and Susan Harrison is a Bit Weepy will also get a mention in the roundup, but I left these two off the list as I didn't count these as theatre.
I'll be writing about the Sweet shows in the roundup when I have the time (I'll try to get them finishes before the Edinburgh Fringe this time). Well done to everyone in the list.
Now all we have left to do is look at who gets the Brighton Fringe awards. Coming up tomorrow.
Friday 1st June: I was going to have a final look at reviews, but it's been quiet. Whaddya Know, We're In Love got a good review from FringeReview; other than that, not much else to report. I had been keeping my eyes peeled for reviews of Doktor James, but nothing there yet. But that probably doesn't matter – I have reports of two sell-outs at the moment, and the verdict of children trumps anything that boring old grown-ups say.
I don't know if this is any different from previous years, but review coverage seems to have been a bit random this time round. Some shows from groups with superb reputations have had little no review coverage. And some plays, performed by groups that are starting from scratch in Brighton, and didn't – as far as I noticed – have anything particularly eye-catching compared to other groups, got quite a lot of coverage. Obviously there's a lot of luck involved in who gets reviewed by individuals reviewers/publications, but I'd have thought that with several major publications in play this would even out a bit. But no, still pretty random. Not really anything to conclude, just an observation.
Tell you what, since you've been following it this long, I'll give you my pick of the fringe a day early. Tomorrow, okay? Isn't that exciting?
Thursday 31st May: Now let's look ahead to Edinburgh, the big one. Coming up on Wednesday next week, there will be news on registrations. With Brighton growth stalling for now, will Edinburgh get to extend its commanding lead?
But before then, there is a row over unpaid work. Not actors, this time, but techies – and, if I my say so, I'm surprised this issue hasn't reared its head before. Zoo Venues advertised for technicians who would get travel, accommodation, and a subsistence allowance, but no actual pay. Zoo is far from the only venue that advertises this, but BECTU and Equity decided this was one advert too many and vowed to "exploitative" and "completely unacceptable" unpaid work.
I'm at a loss over what to think of this issue. For performers, most people agree that you should be able to do a show off your own back if you want, BECTU included. I would be the first to protest if it was any other way. Unpaid work off my own back at fringes (not Edinburgh but still the same principle) was how I got myself taken seriously enough to get paid opportunities. Yes, self-funding two Buxton Fringes and one Brighton Fringe was far from cheap, but with all opportunities to be noticed closer to home shut off to me, that's what I had to do. The other reason to take part is that people love doing this. I love doing this too, but making a name for myself was my primary reason. Other people might simply do it to have fun. Either way, you can guess the reaction I would give if someone told me I shouldn't have been allowed to do this in the name of protecting myself from exploitation. So far, the principle that artists should be allowed to get their work out however they choose has held up very well.
But venue staff is a lot less clear-cut. If we stick with the example of theatre technicians – and in the case of Edinburgh Fringe, these positions are reputedly long hours – the benefits are not the same. What do they have to gain from unpaid work? You cannot build a reputation as a techie the same way you can build a reputation as a performer. Now, in theory you could use your experience at the Edinburgh Fringe to boost your chances for job applications that home, but that's not too different from the existing practice of unpaid interns, which is rife with stories of exploitation. The other reason applies though, that plenty of people would love to spend a month doing a fringe festival, especially if someone else is paying your expenses. But is that a good enough reason? Does this come at the expense of people who need the paid work?
I suppose that one factor to consider is the cash flow. In smaller venues (especially at smaller fringes), it's vital that volunteers happily put their time in for free, otherwise they can't run. In a concert at the Royal Albert Hall, where paying front of house and techies is peanuts compared to the cash flow, that practice would be scandalous. I'm honestly not sure where Edinburgh Fringe venues fall on this scale. Insistence of paying all venue staff could end up at considerable expense on the performers. Or it might be the landlords of the venues who end up taking the hit. Who knows?
But this is only one half of the question. It's all very well discussing what's fair. It's another matter deciding how to do it. What we have to be aware of is that there isn't that much the Festival Fringe Society can do beyond research the issue. It would be very controversial for them to start refusing to admit groups or venues based on who pays who how much (not to mention open to a huge amount of abuse), but even if we were okay with that, it wouldn't take much for the supervenues to break away and start their own festival if they were told how to operate. As for the idea that the Festival Fringe Society could somehow force private landlords to charge less for accommodation, dream on. So what other options are there? Naming and shaming? Enforcement of existing laws? Lobbying for law changes? Nothing quick and easy, that's for sure.
I am glad that Equity and BECTU are bringing this issue up, because a discussion is long overdue. But it's not going to be an easy one. How to achieve what we want is going to be just as hard as deciding it. Prepare for a long debate.
Wednesday 30th May: We're approaching the end now. Two final recommended shows coming up, and that's for Brighton Fringe 2018. Both are on Friday and Saturday. Isobel Rogers returns with Elsa for another two performances, both 9.15 p.m. at Komedia. I've written about her before, but this is a unique mix of storytelling and music which is wroth seeing as something different.
Or if this sounds a bit too high-brow for you and you'd rather have some toilet humour, Imaginary Porno Charades is also on at Sweet Werks at 10.00 p.m. Long-standing Brighton Fringe favourite Jo-Jo Bellini is being guest host for these two 90-minute game shows, proving once and for all that women are just as good as the men for immature toilet humour. If you can't wait, I wasted my time producing this the other day, and whilst I can't guarantee The Big Gang Bang Theory or Brighton Cock will feature, that's the sort of imaginary porno you can expect.
Four days to go, time to wind up. Any burning issues you want me to cover before we're done?
Tuesday 29th May: Word coming back from Sunday's FringeReview discussion on reviewers now. As I suspected, the most provocative thing about "Should we ban reviewers?" was the title. The only suggestion that Paul Levy seriously floated was the option of refusing a review request if they've treated you unfairly in the past. There isn't a recording of the debate itself, but we do have a recording of a discussion afterwards between various Fringereview bods, which gives an flavour of the debate.
Based on this and other feedback from my spies, there wasn't much division. I'm told that it was pretty much universally accepted, by performers and reviewers alike, that you are completely within your rights to refuse a review request from any publication you want. To be honest, at a festival fringe, that would be pretty uncontentious. With plays competing with each other for reviews, any sensible reviewers would just use their time giving another show publicity instead. The only thing that might cause a stink is if so many performers refuse to give press tickets to a publication they don't have anyone to cover – but if it came to this, it would probably be game over for that publication, and any complaints over being refused access would probably be answered with examples of the sort of reviews that caused them to get blacklisted in the first place.
Richard Stamp says:
"At many festivals (including Brighton and Edinburgh), accredited reviewers can get press tickets without any further hurdles. That's why accreditation at Edinburgh is such a big deal. Some venues opt out of this and run their own systems. In Brighton the Warren and Sweet opt out, in Edinburgh the Big Four, Traverse, and some other perceived "prestigious" venues opt out. Regardless of venue a show could always choose to have no press allocation at all (it could still let reviewers in through company comps). But the thing to understand is, hurdles to issuing tickets are also hurdles to getting a review. In Edinburgh particularly, I know which requests will go through quickly and easily, and which ones I'm going to have to chase. I'm as short on time as everybody else is, so if it's a 50/50 choice between two shows, which one am I going to go for? So in an environment where most shows do in fact want all the reviews they can get, there's an argument for having a lightweight process that serves the greater good of the greater number."
(As an aside, I got the impression from the discussion that not all venues give performers a choice over accepting review requests. Both managed venues I've worked with gave me the choice over this: Underground Venues as and when requests came in; and Sweet Venues working to a default of accepting requests and not telling you, but giving the option to pick and choose if you wish. Do some venues not do this? I'd be nervous over that.)
The thing that might be more controversial would be to refuse review requests from specific reviewers. I don't believe this was suggested, but I wish it had because it I'd love to see how this would go. It is rare that a review publication gets so notorious that no performer will touch them – not if they want to still be in business next year, that is. Individual reviewers, however, do. But it's a lot harder to say no to them. Unless the review request gives the name of the reviewer, the only way to refuse a bad reviewer is to say no to the whole publication. In that respect, I can see why performer would want the right of refusal for an individual reviewer. But could that be open to abuse? Refusing a specific reviewer for writing a hit piece is one thing, refusing a specific reviewer for simply not liking what you did before is another matter. But how do you tell one from the other? I'm honestly at a loss over whether this should be legit.
This discussion, of course, only applies to fringe-scale productions. For large theatres, where reviewers are competing for press tickets, it's a very different argument. Are we any closer to getting an answer to this debate? Maybe, maybe not. But I do think we're a bit closer to working out which "cruel" reviewers Paul Levy was talking about. FringeReview, like a number of review publications, sees itself as a peer reviewer, with all their reviewers being experienced fringe performers themselves. But in the post-debate discussion, he talked about people who claim to be experiences fringe performers, who on closer discussions have done barely anything – and yet see themselves about knowing everything about theatre, which makes it okay to tear down everyone else. Now we're getting somewhere. Next question: who? We know you know. Go on Paul, you can tell us. Go on, go on, go on, go on, go on, go on.
Monday 28th May: Another Brighton Fringe break now, for an update on nymphgate. For anyone who missed this fiasco back in early February, this is a stupid stunt carried out by Manchester Art Gallery when they removed Hylas and the Nymphs from their walls – officially, it was to "start a debate", but it was bleeding obvious which side they were on. Unfortunately for them, instead of getting the public validation they sought, they were met with universal condemnation. Turns out they'd underestimated this painting's popularity, because the response almost unanimously rejected every one of their arguments.
I wrote about this at the time because it had become a censorship issue. Whilst taking a painting down for a week wasn't censorship in itself, I had a suspicion the real motive was to test the water for more widespread culture policing. If that was their motive, they're not going to be trying this again in a hurry, so I should really have let it go. But the thing that riled me was Manchester Art Gallery's inability to acknowledge a single criticism, let alone admit they lost the argument. When the painting was re-hung amidst fanfare over this wonderful debate we were having, they said they'd follow this up with a chaired panel debate, inviting speakers with a wide range of opinions, more details shortly. Then nothing was said for weeks. They they released a series of articles branding the entire backlash as online vitriol. I even started thinking they were planning to can the debate quietly and hope no-one noticed.
But wait. The debate they promised has finally taken place. They have kept their promise. Well, some of it. One would have thought if they were keen on this debate, they'd have held it sooner when the issue was still fresh in people's minds. The title of the debate is "Who decides what goes on display?" (um, you do, you've made that pretty clear), and they were going to "present their thoughts on the inherited problems that exist in gallery collections and displays and discuss who might get to to decide how gallery exhibitions might be made differently," yet again starting the debate with a loaded question. The "wide range of opinions" was quietly replaced with the director of the gallery and the curator who was behind the removal. No opposition. Still, it could have been worse. Before pulling out at short notice, Ellen Mara De Wachter was going to join them on the panel – at the height of the controversy she wrote a god-awful article rebranding this kind of cultural authoritarism as "curatorial activism".
However, after three months of ignoring me, someone from Manchester Art Gallery replied to me saying that strong critical opinions were aired during the discussion, the debate was frank, forthright and honest, and a video of the event will be posted as soon as they can. Very well, I will give this a chance. It will take a lot to regain my trust after so much stonewalling and dismissal of dissent, but who knows. So here's the deal: I am going to create a list of questions I and others want answers to. Obviously the panel can only answer questions asked of them, but they will get more respect from me if they go out of the way to address these criticisms, less respect if they try to evade them. That's it, all I can do now is wait for the video. What I say next is in their hands. Continue reading →