Oh heck, is it September already? Okay, let's get a move on, because autumn and winter tends to be my busiest season for plays that catch my eye. As always, a reminder that this should be treated as a cross-section of what's worth seeing rather than a definitive and exhaustive list. There are always some excellent plays going on that don't make it to this list simply because I don't know enough about them. Check my recommendations policy if you want a longer explanation for how this works.
Right, let's get straight to it.
Safe choices:
Four plays make it to safe choice this time. A lot of them are plays that I saw before and loved, but plays can also make it to this list on the strength of the script or the performer if I've heard enough. Whatever the reason, these are plays that I'm confident you will like if you like the sound of the description of the play, and is also expected to have wide appeal. They are:
This was previously recommended in my spring/summer recommendations, but this is a play on a long run stretching into autumn, so in it goes again. To repeat this quickly, Taking Steps is unusual for an Ayckbourn play in that it's one of the few plays of his that really only works when staged in The Round – this one being three storeys of a house all playing on the same level on the stage – so if you only see one production of this play, see this one. Just don't expect this to be a light-hearted undemanding Ayckbourn farce, because that does exist. It runs until 5th October on various dates at the Stephen Joseph Theatre.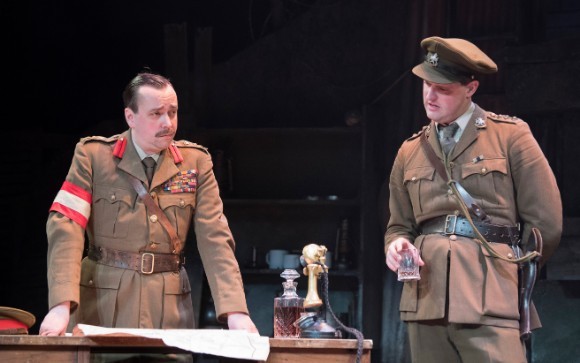 In general I don't pay much attention to touring shows that have already had a decent West End run, because they get more than enough attention without my help, but I had to include this play about the satirical magazine said to be the forerunner to Private Eye. At least, that's what Ian Hislop thinks, having penned the play with co-writer Nick Newman. With World War One possibly the lowest point in British history for freedom of the press, especially on the front line of the trenches, this sort of rag couldn't have been popular with all the top brass in the military. Or it could have been argued as morale booster for men badly needing camaraderie to get through the war. It seems that argument won, as the magazine lasted until the end of the war with two final issues called "The Better Times". Continue reading →