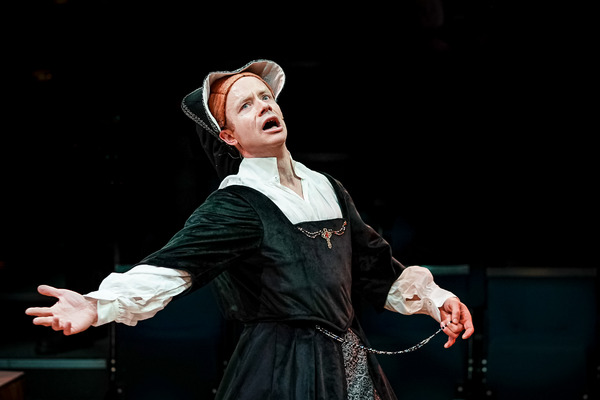 Already a surefire hit for a New Vic Christmas production, the re-instatement of one historical character is a show-stealer.
Before everything got interrupted by the event, I had a a backlog of reviews, which I decided to clear as and when the respective theatres starting moving back to life. First off the mark is the New Vic, so let's catch up on their Christmas production back in January. Before The Event. (Remember, don't think about The Event.)
This is common knowledge to the New Vic regulars, but for the rest of my followers, the New Vic has one of the most lucrative Christmas seasons around. Whilst most pantos will settle for a run of six weeks or so, the New Vic runs for almost three months, due in a large part to attracting every school in Staffordshire (more or less). And with good reason too: artistic director Theresa Heskins has made this one of her top specialities. Last year's Wind in the Willows showed what she is capable of producing (made even more impressive by a minor ensemble actor standing in for Mr. Toad at the last moment and making it look like the part had been written for him all along), and this year it's the turn of the classic tale The Prince and the Pauper.
Mark Twain, best known for Tom Sawyer and Huckleberry Finn, wrote this tale as a foray into "historical fiction" with his fictionalised story of boy king Edward VI and a street child he trades places with. However, being American, Mr Twain wasn't that clued up on British Tudor history, whilst on this side of the pond every child has Divorced Behead Died etc. drilled in history lessons. As a result, some of the historical characters are people who we Brits neither recognise nor care about, whilst some better-known figures don't really feature – and this is where Theresa Heskins takes the opportunity to make her mark. Out go a few stuffy Palace officials, and in come Princesses Mary and Elizabeth – and it's future Mary who steals the show.
The credit for future Queen Mary goes to New Vic stalwart Gareth Cassidy. As a rule of the thumb, any New Vic production that requires clowning will snap him up – he was Passpartout in their smash Around the World in Eighty Days, and played one of the clowns in The 39 Steps, also enjoying a lot of success (until being interrupted by The Event). In this story, it's still a clear six years before she gets to indulge in her favourite pastime of Protestant burning, so instead she has to settle for her second favourite pastime of being a religious killjoy. Any hint her sister Elizabeth or anyone else shows of having find and in glides Mary to give a lecture of the sinful nature of enjoyment. And when I say "glides", I mean a robotic dress that moves around stage of its own accord whilst Gareth/Mary gives her righteous proclamations. With Gareth also playing several musicians and ensemble characters, you can frequently see him leaping in and out of the self-propelled dress, which make it even funnier.
However, it's not all fun and slapstick. One of the touches I really like about Theresa Heskins' Christmas productions is just the right amount of scariness. It's a family-friendly Christmas show so you can only use this sparingly, but the few times it's done it's very effective – if you notice. The scene where Prince-a-like Tom, suddenly presiding over the King's counsel and deciding the fate of a mother and daughter accused of witchcraft is a good example. To the undemanding primary school child it's a simple moment of "Phew, good job Tom's a nice boy," but look a bit closer you see the look of terror and subsequent relief of the faces of the accused. The role of Henry VIII is also handled sensitively. He is an old man who wants nothing more that his country to be left in safe hands, and although in hindsight he back the wrong horse, there's quiet tragedy to the boy he mistakenly believes is his son.
If there'as one thing that didn't quite hit the right notes, it's the use of the "hero", Miles Hendon. I'm not sure whether this is down to the original text or the way the story was adapted, but I've never been that taken in by the plot device of hero character appearing halfway through a story to sort everything out. Given that the play has already taken liberties with the plot quite successfully, I would have considered having Pauper-impersonator Edward befriended by all of the circus troupe who introduced the story rather than just one suddenly-introduced character as something more fitting to the play.
But that's as far as the criticisms go. This went down a storm in Newcastle-upon-Lyme and Stoke, and it's easy to see why. I didn't even get round to the praise for identical twins Danielle and Nichole Bird playing Prince and Pauper, but for the New Vic to manage such a specific casting requirement and find two people who did the job so brilliantly is testament to how highly regarded the Christmas productions are. The next Christmas production is going to be very different, but if anyone can rise to the challenge it's going to be the New Vic and Theresa Heskins. Very interested to see what they do.
(Don't think about The Event.)