Okay, here we go. Now that an extremely busy fringe season is out of the way, it's time to catch up on all the other plays I've seen since we got going. I am planning to do most of these in the order I saw them, which I'm afraid will mean several plays are going to get reviews several months later. However, I am bumping this first article up the list due to a sort-of review request. It came to my attention that I was supposed to be invited to one of these plays, but the invitation never reached me. The details are far too boring to go into, but I thought I'd get this one out when things are still fresh.
So … Unlike the Festival Fringes, which have been running to a sort-of-normal since June, most theatres outside of London have opted for a September relaunch. And with that, a lot of eyes have been on the relaunch plays. Live Theatre and Alphabetti have both run plays for three weeks. At the moment, there is a lot of enthusiasm to praise everything simply for getting on stage. But, folks, I don't hand out high praise as a participation prize. You still have to earn it. So, how did these do?
Pod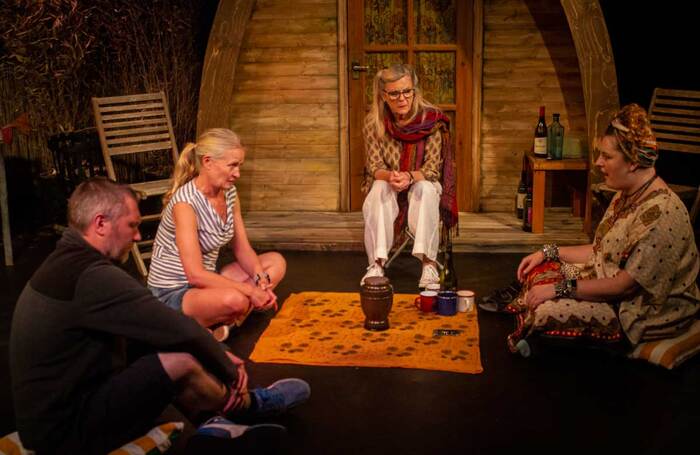 Pod isn't actually Alphabetti's reopening play – they have been bolder than most of their north-east counterparts and have been phasing in performances since April – but such was the fanfare around this one it may as well be their relaunch play. Coracle Theatre has been one of Alphabetti's closest collaborators; indeed, they opened Alphabetti in its current venue the first time round. So whilst this play is a catch-up from a heavily postponed 2020 programme, it was good choice for a relaunch.
There are two key writers to Coracle, Lizi Patch and Arabella Arnott, but all the plays I've seen make use of what I call the "snapshot" format. The time-frame itself is no more than a few days, but the backstories that feed into these moment go back decades. In this case (and this play written by Arnott), the snapshot takes place over a glamping weekend. Iris is gathering together her two daughters for what would have been her husband's 56th birthday. Rose arrives first, with husband Dan eager to go on a 20-mile run. You might think that, being a bloke, he's doing it so that he can go on about having done a 20-mile run, and you'd be sort-of-right, but this is a distraction. The real story is the fraught relationship with the three women.
It is when Iris arrives with long-term live-in daughter that we start to see the problem. Without consciously realising it, Daisy is self-obsessed. The first sign is letting her mother do all the carrying, and it goes downhill from there. She has some annoying new-age ideas about anger management and blaming everyone else for not embracing calmness (and definitely not her fault for with winding up her very pro-NHS nurse sister with some "novel" theories about Coronavirus), and when she says with a straight face she's an "influencer", it's enough to make anybody suddenly want to excuse themselves for a 20-mile run.
Daisy isn't entirely wrong though. Her conviction that there's something different about her that stops her fitting in might look like she's trying to be unique and special, but there's a little more to it than that. I won't give away what she's got right and wrong, but it does following one of Arnott's specialities that I saw in Overdue: building up what looks like plot twists, only for them to turn out to be distractions for different plot twists. What I can say is that the power of family features very strongly as the story goes on. Families, it seems, have ways of learning to understand each other and accept each other for who they are long after most friendships would be pushed to breaking point.
The set of the glamping pod was pretty cool, and I suppose my only regret was, having gone through so much trouble for that, we don't hear much about the glamping experience itself. The play could just have easily been called Tent. But that's the smallest of issues. Once again, Coracle have covered a lot of ground thoughtfully and intelligently. The play has wide appeal and was an ideal choice for Alphabetti's relaunch. The run has now finished, but you can still catch the play online until Saturday 25th.
Shine
Live Theatre has gone for an even safer bet. Like many theatres in the same situation, they went for a revival of a previously successful play that only needed a low budget – in this case, a solo play. I didn't see this the first time round; I can't remember exactly what stopped me, but I remember being busy at the time. I was, however, a little wary of a solo autobiographical play, simply because I know from experience there's a lot of ways to do this badly. If you want to see what they are, you can go to item #9 of this list, but the repeat offender is people who seem to think their ordinary life stories up to their mid-twenties are more interesting than they really are – often seemingly with the backing of a major theatre. But having heard so many good things about this from last time round, it was time for me to give this a chance.
Well, that worry was put to rest pretty quickly. The one think you cannot accuse Kema Sikazwe (aka Kema Kay) of is having an ordinary life story. Nor can you accuse Live Theatre of cherry-picking one person's story as validation of a simplistic message. This is about as unusual as a personal story gets: born in Zambia to one of the wealthiest well-connected families, where a few years in Britain does wonders for your status back home, political turmoil back home turns a short-term residency into a permanent stay. With Kema arriving in Newcastle aged three, the story almost begins as an outsider's guide to Geordieland, with customs and dialects taken for granted in the Toon observed through a fresh pair of eyes. Then comes the rough and tumble of secondary school, in one of Newcastle's rougher areas. If there is a single theme to be drawn from the play, it starts here: fitting in.
An easy mistake here would have been to simplify the subject of "fitting in" to national origin or skin colour. It's a lot more complicated than that here. The school falls into groups, with the Asians seemingly just as powerful a force as the chavs – and yet Kema's older brother has little trouble falling in with the crowd. Kema finds his own voice through rap – after all, this is a story of how he got to where he is now as a professional actor-rapper-singer – but even this is conflicted between doing his own thing and doing what's expected of a rapper. Inevitably, some pretty nasty racism raises its head, but even that is tied up in complex relationships to social expectation. When Kema's temper finally snaps and he lashes out at someone who was basically asking for it, this earns him more respect at school than he's ever had before – but that is not a good thing.
Alongside this, there are the parallel story threads of Kema's family, both in Newcastle and back in Zambia. And all of this, of course, is interspersed with rap in his own style, and not a 50 Cent-copycat. The only downside to this format is that it doesn't lend itself well to the tried and tested format of building tension throughout the play to a climax, but that's how real life works. If there is a moral to this story, it's that whilst fitting in might seem like a good idea, it's usually better in the long run to be yourself. Credit to Kema Sikazwe and Graeme Thompson for making an complex story accessible to so many, and credit too for Emma Baliey for the pretty awesome set where Kay performs his raps to.
So good comebacks for Alphabetti and Live. Northern Stage's first major production is still to come. Join me later to see if Road makes it the hat trick that's needed so much.